Beef soboro is an easy weeknight dinner. Ground beef is flavored with a delicious Japanese sauce, and eaten over hot rice with an egg on top. This recipe comes together in no time at all!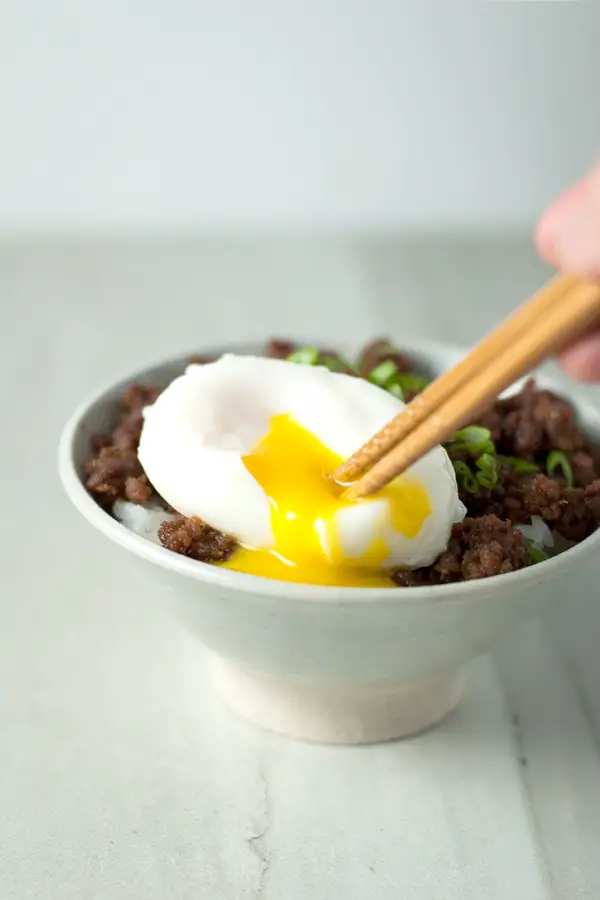 I mentioned before in my Keema curry post the necessity of having easy ground beef recipes in my arsenal. I go through phases where I really plan out my week, and I know on Sunday night what I'll be making for the entire week. Those are good good times and I feel really put together.
Aaaand then there's the flip side. I'm scrambling around at 4 pm trying to figure out what I'm going to make for dinner. Want to know what we had for dinner tonight? Blueberry pancakes, bacon, and a kale and beet smoothie to make the meal healthy. I'm not even kidding.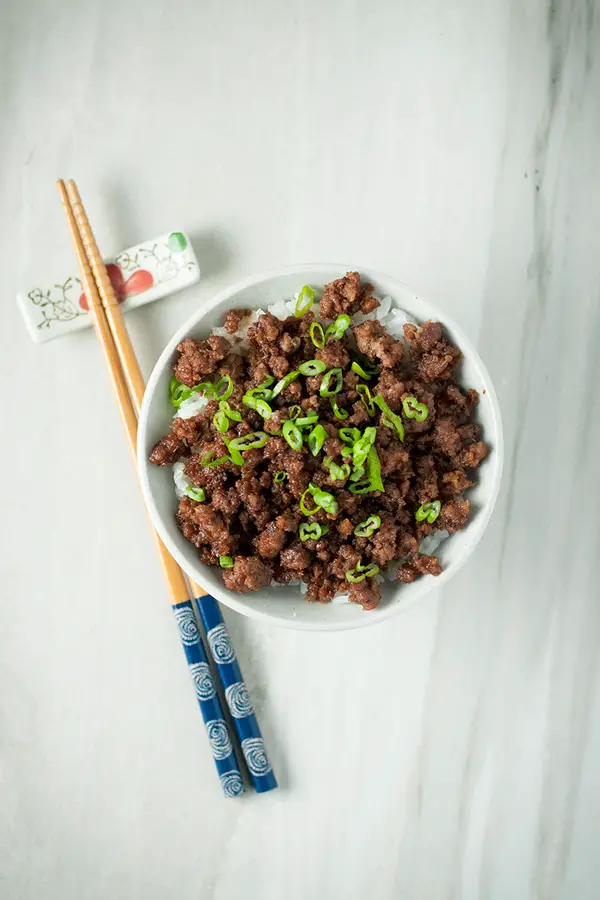 Actually, the kids LOVE those kinds of dinners and it usually means they will just sit there and eat, instead of getting up every 5 seconds, and complaining about how they don't like *insert basically any ingredient* every 10.
Okay, so usually I'm in between those two extremes, and I have a decent dinner prepared. And decent dinner is really really easy when it's this beef soboro. I always have the sauce ingredients on hand, and I always have ground beef in the freezer, so this is a meal I can make anytime. It's definitely one of my go-to's!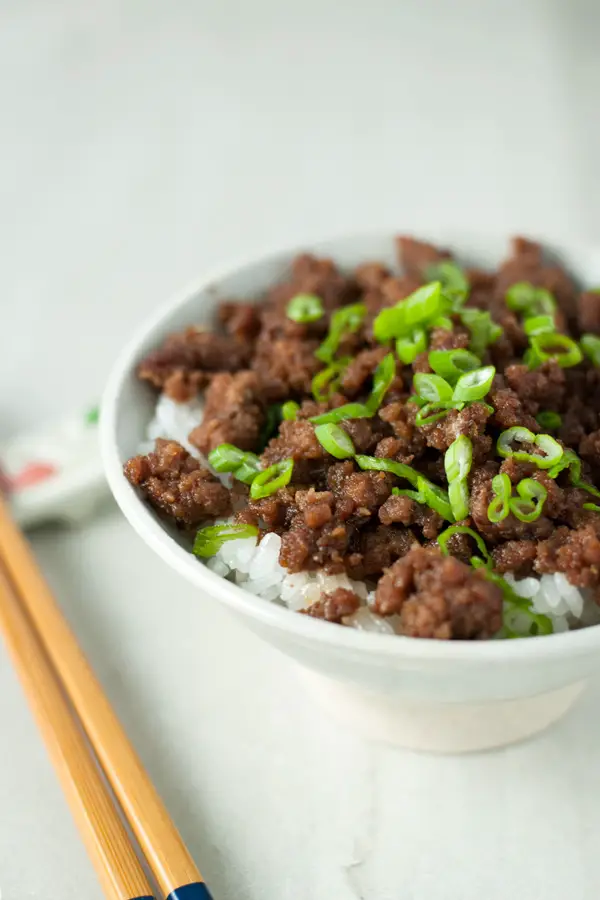 Not to mention, the kids eat this one up! Well, as long as I leave the green onions off the top. Compromise, my friends.
Add this quick and easy beef soboro to your weeknight dinner list!
By the way, if you don't have mirin
and sake
, they are essential for Japanese cooking, so I highly recommend getting both! You can click the link to see it on Amazon. Buy it online or go to your local Asian market!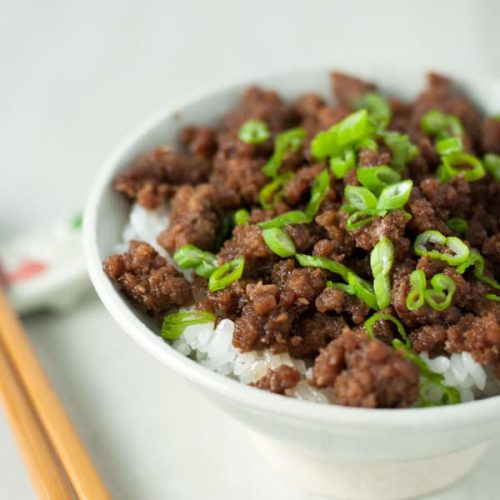 Beef Soboro
Ground beef is flavored with a delicious Japanese sauce, and eaten over hot rice with an egg on top. This recipe comes together in no time at all!
Instructions 
Make Sauce
Combine ginger, soy sauce, mirin, sake, and sugar in a small bowl. 

1 Tablespoon grated ginger,

4 Tablespoon soy sauce,

3 Tablespoon mirin,

3 Tablespoon sake,

3 Tablespoon sugar
Cook Meat
Heat a nonstick frying pan over medium high heat and cook the ground beef, breaking it up into small pieces.

We don't want any big chunks here! Actually, the pictures you see above are too big of chunks. I like mine a little more chunky, but that's technically not the correct way. Do what you want! You can either use chopsticks (a bundle of chopsticks is the traditional method), or a whisk to break the meat up into small pieces. 
Combine
Once the meat is nearly cooked through, add the sauce and stir until the beef has absorbed the sauce and the pan is mostly dry. 
Serve
Serve over hot rice and top with green onion and egg. I poached mine, but you can sunny-side-up it, of throw just a raw egg yolk on there!  
Notes
Adapted from: cookpad (Japanese)
You can also use ground pork as an alternative for Pork Soboro
Nutrition
Nutrition Facts
Beef Soboro
Amount per Serving
% Daily Value*
* Percent Daily Values are based on a 2000 calorie diet.