Experience the taste of Hawaii with this easy haupia recipe! The tropical flavor of creamy coconut milk makes this traditional Hawaiian pudding a favorite at luaus and potlucks. With its smooth, velvety texture and rich coconut flavor, this traditional coconut milk dessert is perfect for anyone who wants to experience a taste of island life.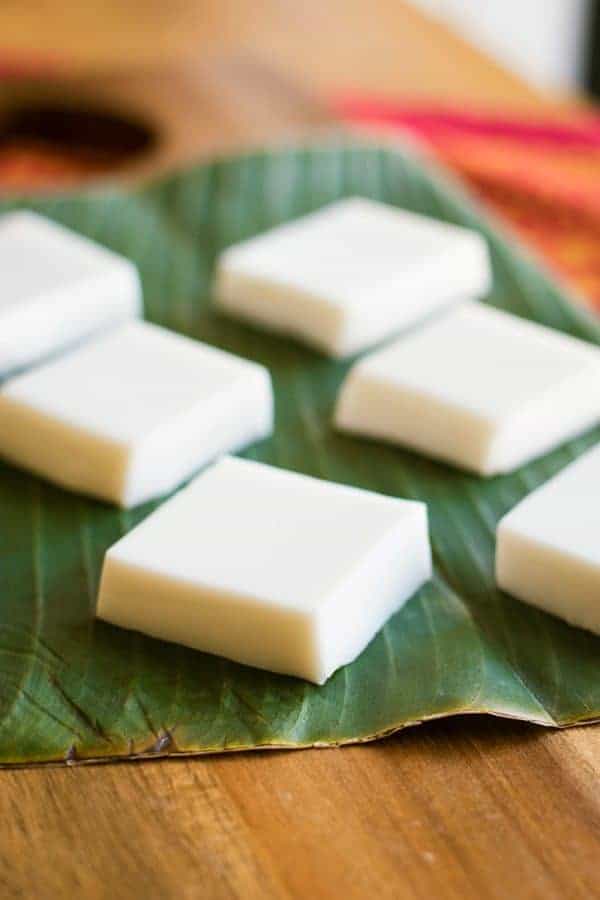 Made with 4 simple ingredients, coconut milk, sugar, cornstarch and water, the haupia recipe is a gluten-free and dairy-free dessert making it perfect for anyone with dietary restrictions.
A while ago, I posted a recipe for Hawaiian style haupia chocolate pie. I figured it's about time that I post a basic Hawaiian haupia recipe.
The Haupia recipe is easy
Haupia really is simple. It's just a few ingredients, and it comes together quickly. No special equipment, no special ingredients. It's one of the easiest Hawaiian inspired coconut milk recipes you can find.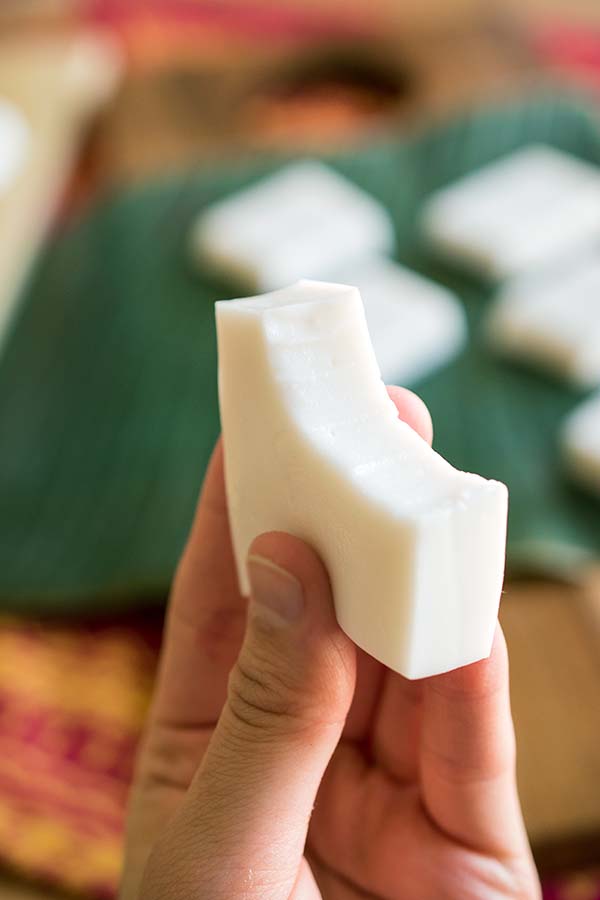 I personally like mine in pie form, because… well, there's chocolate in it. But I will say, sometimes it's better to just eat it plain, because it's so refreshing! It really is one of the best Hawaiian coconut milk desserts.
Haupia pudding or jelly like squares?
My husband loves haupia. When I asked him for a bit more info on what traditional haupia should be like, he said, well… it should be firm enough that you can pick it up and eat it.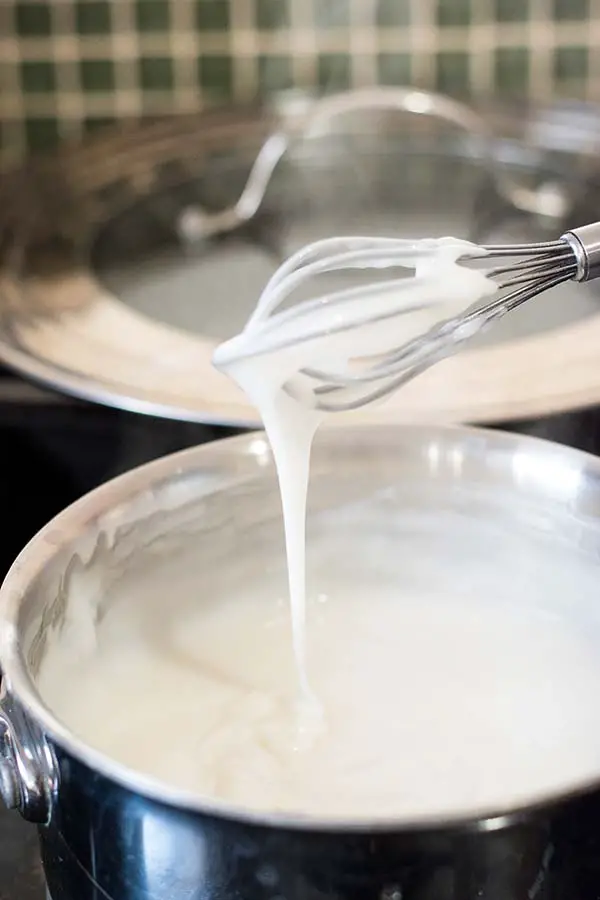 I then asked my sister in law how she eats hers. Well, she said, I think the authentic way is to have it closer to a custard, and you eat it with a spoon!
So, my husband is born and raised in Hawaii, as is my sister in law. But, I trust her more, heh heh.
She looked into it a little more for me and told me authentic Hawaiian coconut haupia should probably be somewhere in between custard and jelly like squares.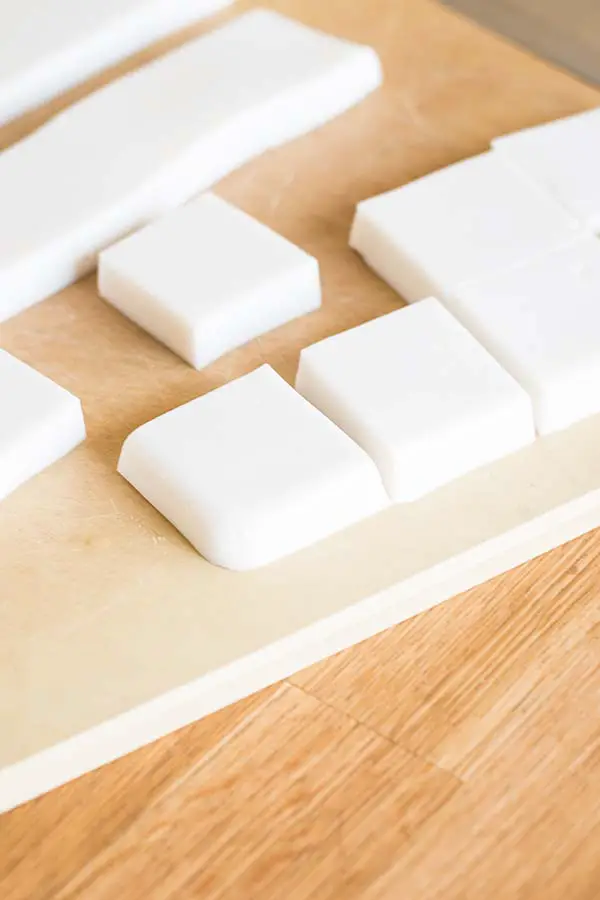 Well, my husband likes his in Jelly like squares, so that's what I've decided to share with you today. It's also easier to eat, because you can just pick it up and eat it.
If you want it to be softer, the solution is easy. Just add a little less cornstarch! You can play with the amount, maybe starting at 4 tablespoons instead of 5. Totally customizable to your tastes!
Haupia with Hawaiian pineapple
Pineapple and coconut flavors go well together so it naturally some people like to add pineapple to this recipe. I don't normally add pineapple but adding crushed pineapple before serving can add a little more tropical flavor.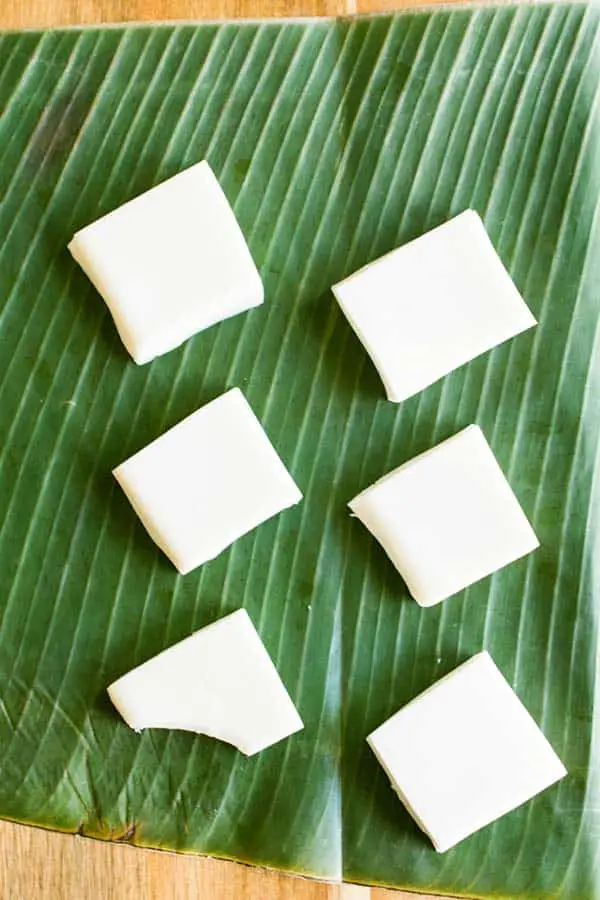 Next time you're feeling like you need a little tropical kick in your life, give this haupia a try!
Coconut Milk Desserts
Try some of my other Hawaiian dessert recipes. My Butter Mochi and my Chocolate Ganache Tart are two of my favorite Hawaiian desserts with coconut milk. Give them a try!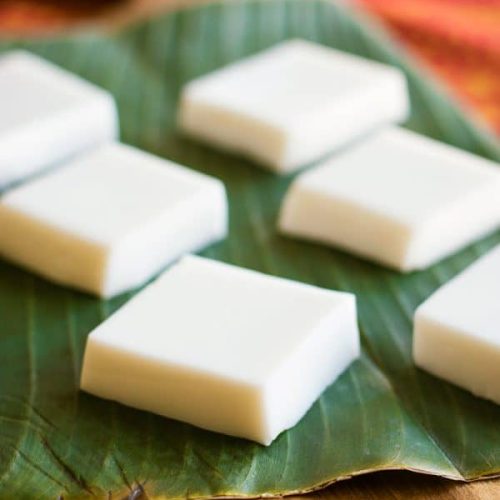 Haupia (Hawaiian Coconut Pudding)
Hawaiian haupia is fresh and simple. A favorite at Hawaiian luaus and potlucks, this basic recipe is easy and quick to make. Only four ingredients!

Instructions 
Cook coconut milk
Place coconut milk in a small saucepan over medium heat.

1 can full fat coconut milk
Mix
Meanwhile, combine sugar and cornstarch in a bowl, and add the water. whisk until completely combined.

5 Tablespoons cornstarch,

3/4 cup water,

5 Tablespoons granulated sugar

When the coconut milk just starts to simmer, add the sugar/cornstarch mix, and whisk.

Keep whisking constantly until the mixture thickens and starts looking slightly translucent. This took me about 10 minutes.

When you bring your whisk up, the haupia should flow off of it and you can see the trace of it for a few seconds before it "melts away".
Set
Pour into the 8×8 pan and allow to cool on the counter before refrigerating.

Refrigerate until solid and completely cooled.
Cut Into Squares & Serve
If you are using the full 5 tablespoons, you should be able to pull the sides away from the pan and invert the whole thing onto a cutting board. 

If it seems too soft for that, just cut it while in the pan. Cut into 2 inch pieces (16 pieces total) and serve. 
Notes
Adapted from: Hawaiian Electric
I used Thai Kitchen Organic Coconut Milk
, and it was a 13.66 oz can. As long as it's around 14 oz it will be fine. PLEASE make sure you are using canned coconut milk, not the drink type that comes in cartons in the refrigerated section (like Silk brand).
If you want your haupia to have more of a pudding consistency, use less cornstarch. You can try 4 tablespoons, or if you want it even less firm, try 3!
Nutrition
Nutrition Facts
Haupia (Hawaiian Coconut Pudding)
Amount per Serving
% Daily Value*
* Percent Daily Values are based on a 2000 calorie diet.