Chocolate dipped strawberry hi-hat cupcakes- a play on the classic romantic treat, the buttercream uses freeze dried strawberries to get its beautiful pink hue and intense strawberry flavor.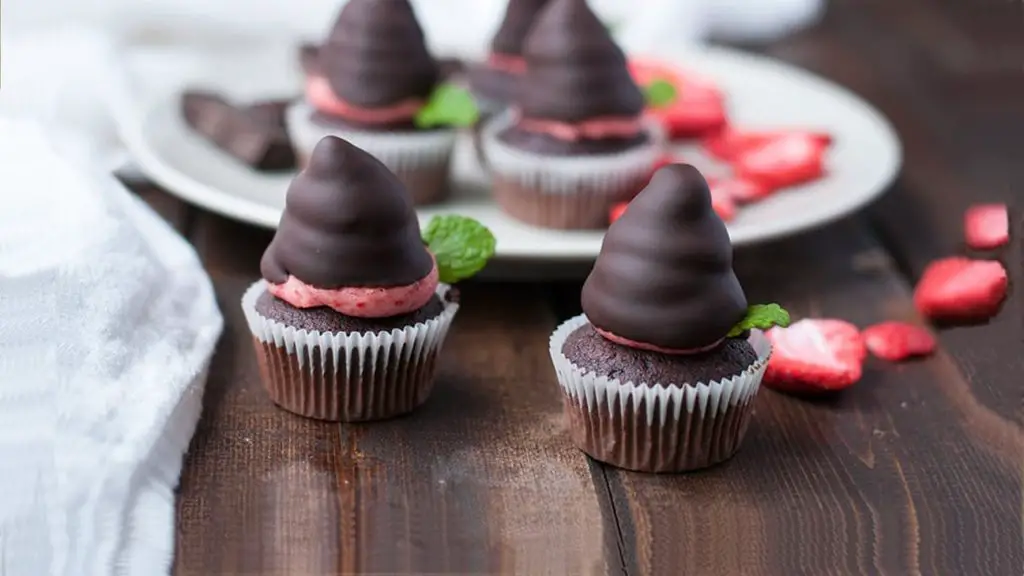 The first time I saw a hi-hat cupcake, on Pinterest, I fell in love. They are just so pretty and FUN! They kind of remind me of those dipped cones you can get at DQ. I'm usually not a fan of food coloring and artificial flavors, but for some reason I always find myself getting the cherry dipped cone at DQ. I hate myself during and after eating it, and yet it's what I get every time. Such a mystery.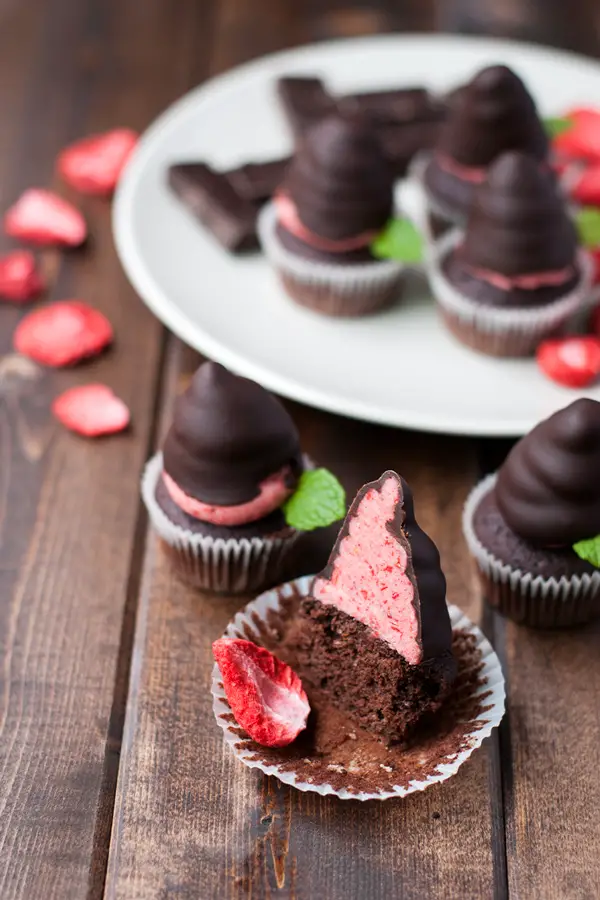 Well, these strawberry hi-hat cupcakes have neither artificial colors OR flavors. Yep, that vivid pink hue is au naturale, baby.
I got the idea to make this cupcake when I was trying to brainstorm fun Valentine's day ideas. What's more classic on Valentine's day than chocolate covered strawberries? (Answer: Roses. But do we eat those? Exactly)
I made this great connection in my head. Chocolate dipped strawberries… chocolate dipped hi hat cupcakes… chocolate dipped strawberry hi hat cupcakes…
Oh YES I was onto something! Seriously, I thought I was such a genius, and then I went to Pinterest and saw that, of course, someone had already done it. Oooooof course. I mean, are there any untried food ideas left in the world? I feel like we are all just tweaking and "adapting" each others' recipes over and over.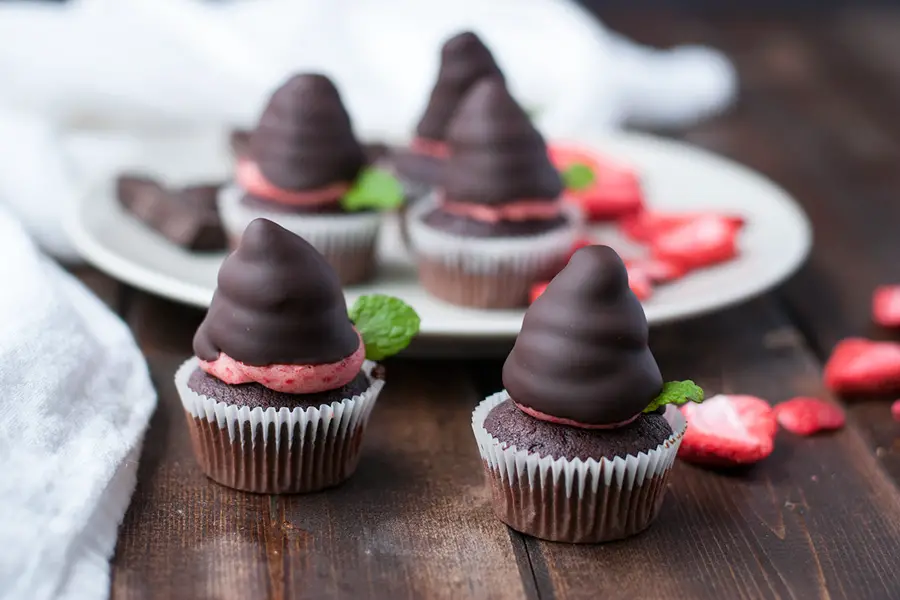 BUT I took it a step past just regular hi-hat cupcakes because I wanted my buttercream to actually resemble a chocolate dipped strawberry. Because that's just adorable. The outrageous (albeit awesome) amount of frosting on a regular hi-hat is like, 5 strawberries-worth. Mini cupcakes are the perfect size! Plus, you won't feel overwhelmed. I mean, you can eat one and be done. Or you can eat 5 and be done. Whatever you want.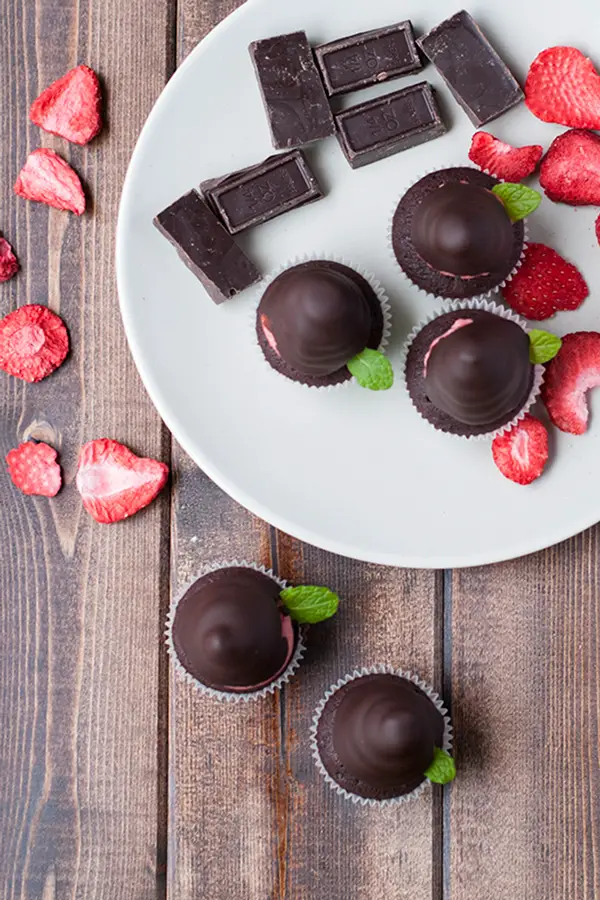 A few notes: 1. I've seen freeze dried sliced strawberries at Trader Joe's, Target, and online. 2. This buttercream is stiffer than your average swiss meringue, but that works well for dipping. Probably would not work as well for frosting a cake. 3. The mint is supposed to represent the stem, DID YOU CATCH THAT?! 4. Swiss meringue buttercream is a little more work but the taste makes it worth it! It's less sweet than your normal American buttercream, which works well with the strawberry and the chocolate coating.
And also, here's how big the strawberry hi-hat cupcake is. Aww, so cute!
AND ALSO here's my first video everrrrr how exciting. Be sure to check out some other cake and gourmet cupcake recipes I have!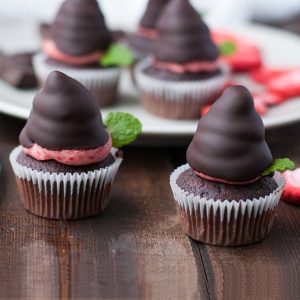 "Chocolate dipped strawberry" hi-hat cupcakes
"Chocolate dipped strawberry" hi-hat cupcakes- a play on the classic romantic treat, the buttercream uses freeze dried strawberries to get its beautiful pink hue and intense strawberry flavor. 
Ingredients  
Strawberry Swiss Meringue Buttercream
Instructions 
Make the cupcakes: Preheat oven to 375 Degrees F. Line your mini muffin pan(s) with 36 mini cupcake liners. 

In a small bowl, combine boiling water and cocoa powder and stir until smooth (again, make sure you are using dutch process cocoa). Allow to cool. 

Whisk together the flour, baking powder, and salt. In a large bowl, cream together the softened butter and the sugar. Add the egg, mix, scrape down the sides, and mix in the vanilla. Add the flour mixture and mix until just combined. Add the cocoa mixture and, using a rubber spatula, stir in until smooth. 

Fill the muffin cups about 2/3 of the way full (or equally amongst the 36). Bake for about 10 minutes, or until a toothpick inserted comes out clean. Remove from oven, allow to cool on a wire rack.

Make the buttercream: Clean the bowl of your stand mixer, the whisk attachment, and a handheld whisk, to make sure there is absolutely no oil on them. In the bowl, whisk together the egg whites and sugar. Set over a small saucepan with about an inch of simmering water (medium low heat), making sure that the bottom of the bowl doesn't touch the water. Whisk the mixture continuously until hot to the touch and no longer grainy. 

Move the bowl back to the stand mixer. Using the whisk attachment to whip the egg whites into a meringue. This will take several minutes. Once the bowl is completely cooled and the meringue is whipped up, fluffy, and glossy, stop the mixer and switch out the whisk attachment for the paddle. Add the butter one tablespoon at a time until all the butter is incorporated.

While your buttercream is whipping up, crush the strawberries into a powder. I do this by cutting a tiny hole in the top of the bag (if you bought a one ounce bag of strawberries) and using my hands or a rolling pin to crush to a fine powder. Make sure the hole is small, enough to get the air out but not big enough for the powder to come out of. 


Warning: your buttercream may turn into a goopy separated mess, if the meringue and the butter are not at the same temperature. If it does, try mixing it for a little longer, cranking up the speed. If it doesn't come back together after a few minutes, try taking a couple spoonfuls out, place in a microwave safe bowl, and microwave for a few seconds to melt it (don't make it too hot!). Drizzle the melted buttercream back in while whipping, and it should come back together!

Frost: Using a large round tip, frost the cupcakes, piping the buttercream tall, to form a "strawberry" shape. Once the buttercream is piped, place the cupcakes in the fridge to firm up.

Dip: Melt your chocolate and crisco (optional but makes for easier and smoother dipping) either in a double broiler or in the microwave. If you use the microwave, make sure to take it out every thirty seconds and stir, to prevent burning/scorching. Place melted chocolate in a container that is not too wide, and deep enough that you can dip your buttercream in it. Holding the cupcake by the base, dip the buttercream into the frosting, leaving a bit of pink showing around the base. Allow the chocolate to cool and harden completely. 

Garnish with mint leaves to make the strawberry "stems"
Notes
Chocolate cupcake recipe adapted from: Joy of baking.
Feel free to use your favorite cupcake recipe!
Nutrition
Nutrition Facts
"Chocolate dipped strawberry" hi-hat cupcakes
Amount per Serving
% Daily Value*
* Percent Daily Values are based on a 2000 calorie diet.