Elevate your fried foods with this easy Tonkatsu sauce recipe that doubles as the perfect chicken katsu sauce! Tangy, rich, and made with just a few simple ingredients, this sauce is a versatile condiment that pairs perfectly with almost any of your favorite deep-fried foods.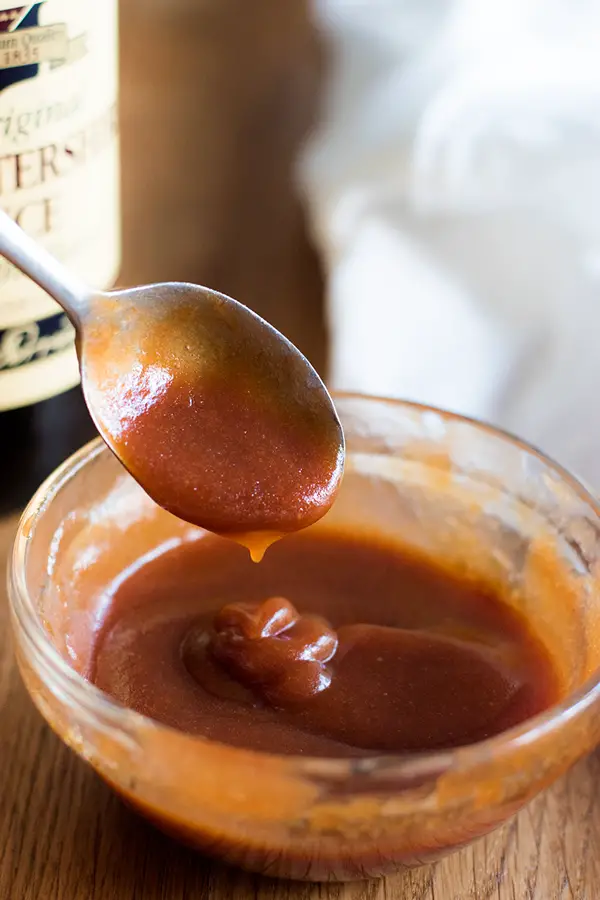 Growing up, whenever we had chicken katsu, Tonkatsu, or korokke, we always had the Bulldog brand sauce along with it. And you know what? I never liked it. *gasp* I know. My brothers would pour a bunch on, and I would just very lightly put a few drops on mine. Weird kid. I also didn't like to dip my fries in ketchup.
Well, I dip my fries in ketchup now, but I like to make my own sauce. It's super simple to make and keep at home and it makes a great chicken katsu sauce.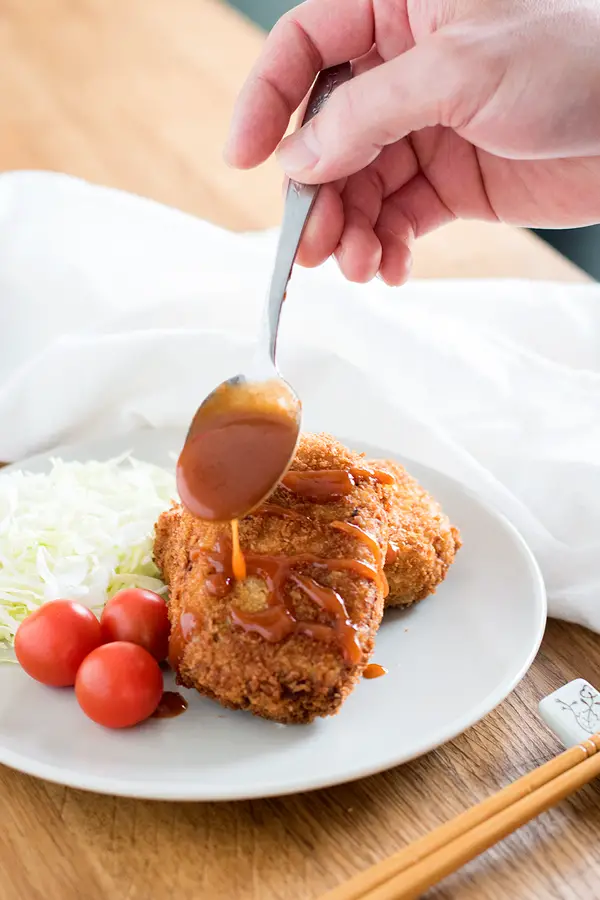 This Tonkatsu sauce recipe is great because it's made with ingredients that many people have on hand! Ketchup, butter, worcestershire sauce (can't pronounce it, but I THINK I spelled it right, haha), soy sauce, and a little bit of garlic powder.
The ketchup base is a great canvas, and the worcestershire sauce adds a very *zingy* taste to it. Like, kind of tangy, kind of a hint of spicy… and the soy sauce brings a little oomph of umami to it.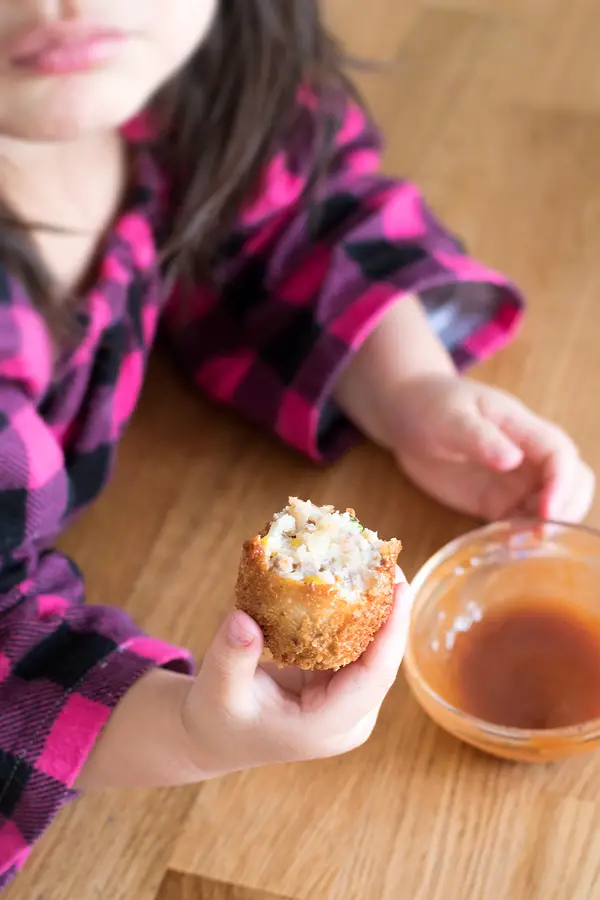 This sauce can be used for soooo many more things than just Tonkatsu. Try it out as a chicken katsu sauce recipe or the next time you make your favorite fried food! Or you can try non fried food. I haven't tried dipping veggies in it, but I could see it working!
This tonkatsu sauce goes well with my Japanese potato croquette recipe (korokke), a type of dumpling which uses potatoes inside and beaten egg and Japanese style panko bread crumbs outside . As you can see in the picture above, my 3 year old was loving it!
Tips For Creating The Perfect Katsu Sauce
Creating your own homemade Tonkatsu sauce is a wonderful way to enhance your Japanese dishes. Feel free to use this recipe as a starting point and experiment with different variations. Here are some things tips to consider:
Quality Ingredients: To ensure an authentic and flavorful sauce, star by choosing high-quality ingredients. Opt for a good-quality soy sauce and Worcestershire sauce. You can try adding apple or tomato puree, or a touch of Dijon mustard for added depth.
Sweetness and Tang: You can make your sauce more sweet or tangy to your personal taste. Gradually add sugar or honey to the sauce, tasting as you go, until you reach the desired level of sweetness. For a more tangy flavor, add rice vinegar or apple cider vinegar in small increments, to find the perfect tangy taste.
Umami Enhancers: Elevate the umami factor of your Tonkatsu sauce by incorporating additional ingredients. Ketchup and garlic powder both provide umami flavor enhancement, you can experiment with the levels of each to find your preferred taste. Onion powder also provides added flavor complexity. Experiment with these umami-rich ingredients to find your desired taste profile.
Smooth Consistency: If you decide to add thinker ingredients like purees, blend the ingredients together using a blender, food processor, or immersion blender to achieve a smooth consistency and texture.. This will ensure a uniform consistency and help break down any chunky ingredients for a silky finish. If desired, strain the sauce to remove any remaining lumps or bits.
Allow Flavors to Meld: After preparing the sauce, let it rest for at least 30 minutes before serving. This allows the flavors to meld together, resulting in a deeper, more well-rounded taste. You may find that the sauce tastes even better when left to sit for a few hours or overnight in the refrigerator.
Adjust Seasonings: Taste the Tonkatsu sauce and adjust the seasonings to your preferences. If you prefer a spicier sauce, consider adding a dash of chili powder or some of your favorite hot sauce. Take note of your personal preferences and tailor the sauce to suit your taste.
Refrigerate for Flavor Development: For even more flavor development, refrigerate the sauce for a few hours or overnight before using it. This resting period allows the ingredients to meld further, resulting in a richer and more robust Tonkatsu sauce.
Experiment and Personalize: Don't be afraid to experiment with the ingredients and ratios to suit your preferences. You can add a bit more sweetness, tang, or umami elements until you achieve your desired flavor profile. Feel free to make the Katsu sauce recipe uniquely yours.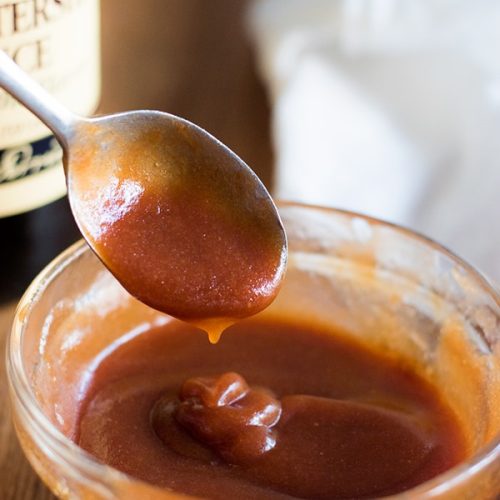 Tonkatsu Sauce
This tonkatsu sauce recipe is easy to make and is tangy and rich. It makes a great katsu chicken sauce and is perfect for dipping all your favorite fried food! 
Instructions 
In a small bowl, melt the butter. Add the rest of the ingredients and mix well. If your ketchup, etc. are refrigerated, it may cause the butter to solidify and your sauce to turn grainy. If this happens, you can pop it in the microwave for a few seconds to smooth it out. Serve with tonkatsu, chicken katsu, korokke, or even dip your fries in it!

1 Tablespoon unsalted butter,

1/4 cup ketchup,

1 Tablespoon worcestershire sauce,

1 t soy sauce,

pinch garlic powder
Nutrition
Nutrition Facts
Tonkatsu Sauce
Amount per Serving
% Daily Value*
* Percent Daily Values are based on a 2000 calorie diet.
What is Tonkatsu Sauce? Tonkatsu Vs. Tonkotsu?
What is Tonkatsu?
The Japanese tonkatsu 豚カツ is directly translated as "pork cutlet." It is a traditional Japanese pork cutlet that is usually deep fried in Japanese style panko breading giving it a golden brown color. It is then served with tonkatsu sauce and steamed rice.

Image courtesy of Kgw1226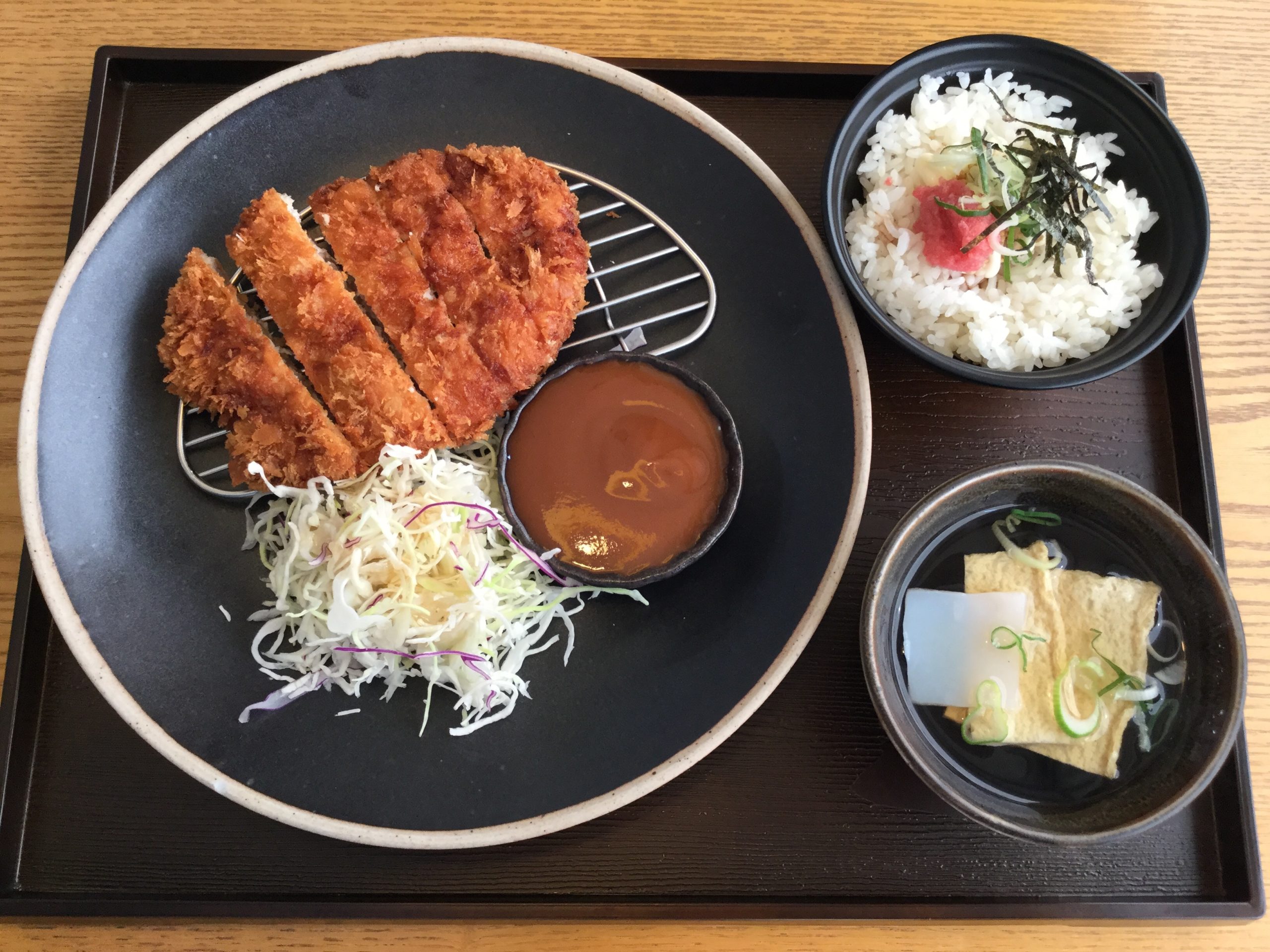 What is tonkatsu sauce?
Tonkatsu sauce is a thick sweet and savory Japanese sauce that can be served with tonkatsu (pork cutlet) or other fried foods. Some people might call it katsu sauce when served with katsu chicken (panko breaded chicken cutlets, chicken breasts or thighs.)
What is tonkatsu sauce made of?
Traditional Japanese tonkatsu sauce, such as the Bulldog brand and other commercial brands are made with fruit and vegetable purees and pastes, malt vinegar, yeast and other spices. Other variations are sometimes made with brown sugar.

Homemade tonkatsu sauce is easy to make and tastes great! It can be made with five ingredients that most people already have at home. Butter, ketchup, Worcestershire sauce, soy sauce and garlic.
What is Tonkotsu?
Tonkotsu and tonkatsu are similar sounding words but are actually two different dishes. The word tonkotsu 豚骨 comes from two words "ton" 豚 which means pork and "kotsu" 骨 which means bone. It is a type of ramen which uses pork bones boiled for several hours a to make a flavorful broth.