These adorable cupcake toppers are easy to put together, and taste delicious. Santa cupcakes are sure to be a hit at any Christmas party!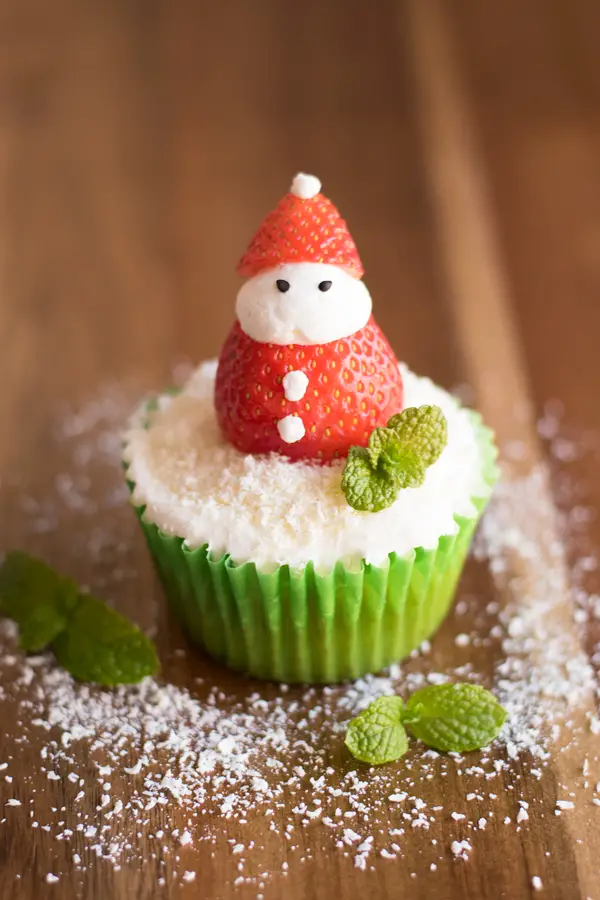 Christmas is just around the corner, and I wanted to get one more recipe/idea for you guys. This isn't much of a recipe, since it's just the top of the cupcake, but the star is the Santa, and it doesn't really matter which cupcake you use for the base! I used these same Santas on a strawberry mousse cake last year, and they are just as irresistible as Santa cupcakes!
I'm pretty careful with my food dye usage, and I avoid it when at all possible. I love using fruit for its amazing colors! Plus fruit tastes better than just piling on frosting, in my opinion.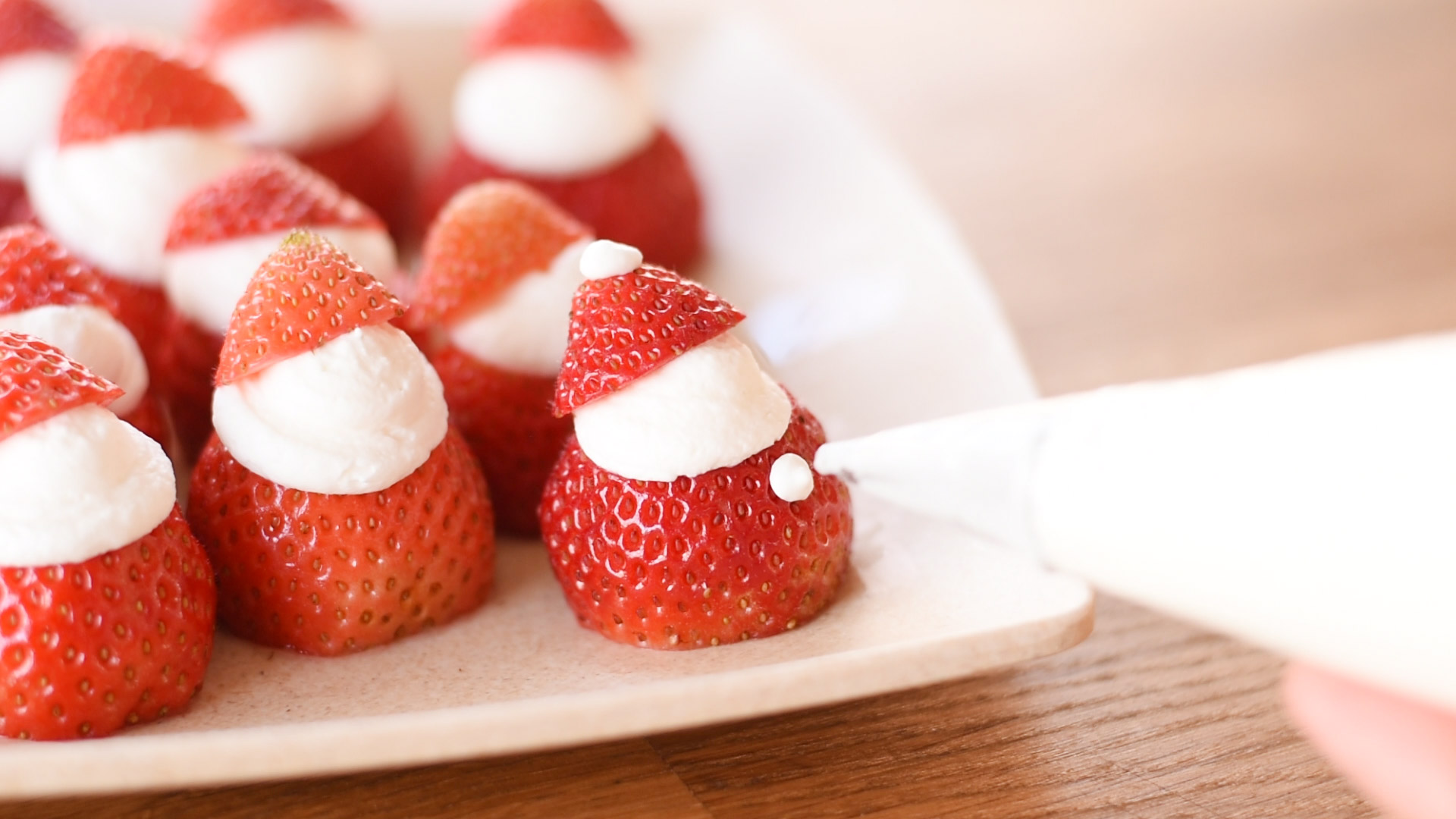 Speaking of frosting, I used whipped cream because I like it better than frosting. In this situation, I think it also makes a nicer shape. That being said, if you have a light frosting that pipes well, you MAY be able to use it instead.
The way I got my whipped cream to hold its shape is by stabilizing it. That just means to add some gelatin
(instructions in the recipe) to thicken it up a bit. It doesn't affect taste, and makes it SO much easier to work with! I used the Wilton 2A
and Wilton 3 decorating tips, and thought they were the perfect size.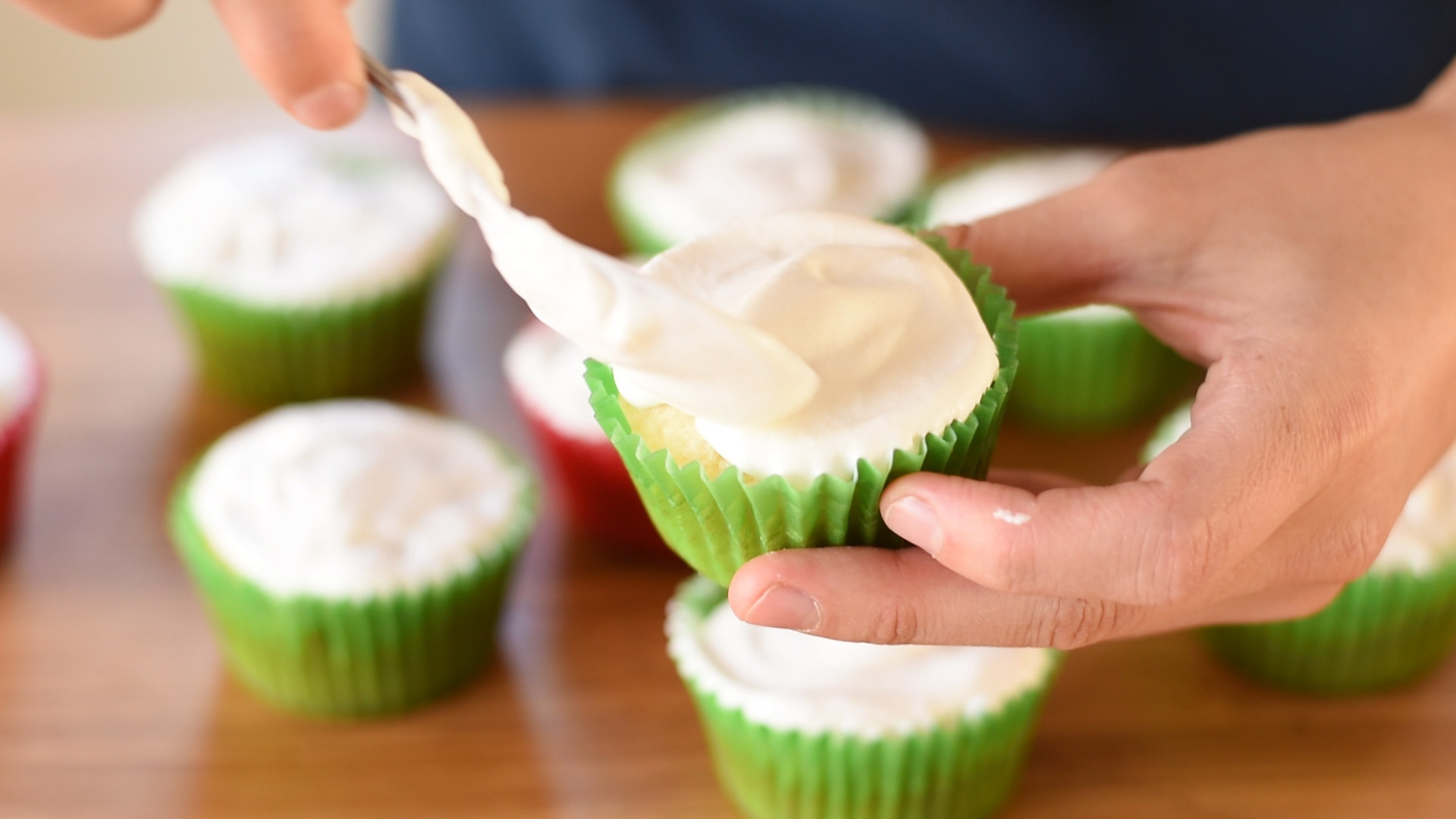 The "snow" is just grated white chocolate. Or shaved. Whatever you want to call it. To do this, it is important to use a bar of chocolate instead of chips. I just shaved all of mine into a bowl and then sprinkled it over the top of the cream. Si te gusta nuestro plato, definitivamente te gustará jugar craps online de nosotros.
I used plain cupcake liners, but I think they would be EXTRA cute with these Santa cupcake liners
or these little bit fancy ones
.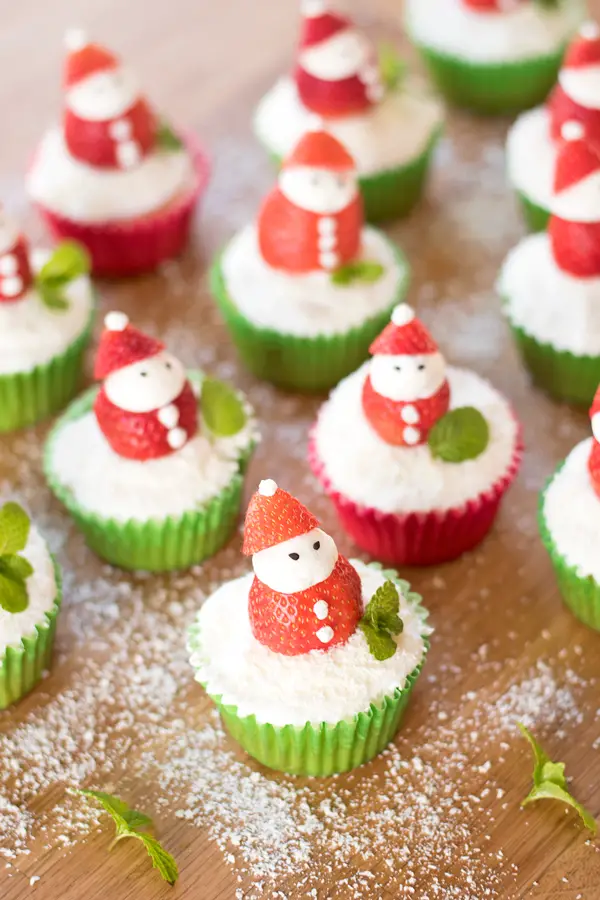 I hope you give these Santa cupcakes a try for your next Christmas party or to eat on Christmas day! Make sure to check out my hedgehog cookies for another cute and festive treat!
And check out the video below so you can see exactly how I made these!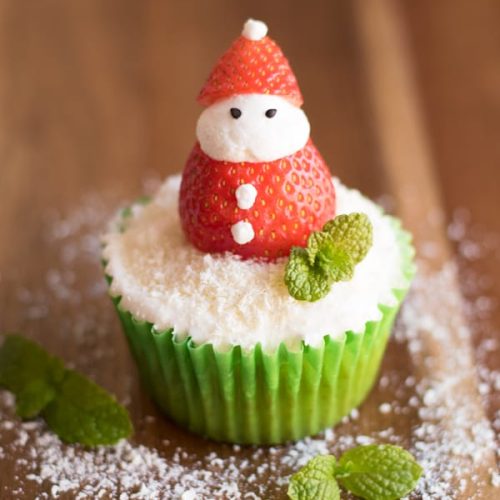 Santa Cupcakes
These adorable cupcake toppers are easy to put together, and taste delicious. Santa cupcakes are sure to be a hit at any Christmas party!
Instructions 
Cut the stems off of the strawberries, and then cut about 2/3 of the way up to create the body and the hat. Set aside.

In a very small microwave safe bowl, sprinkle the gelatin over the cold water and bloom. 

In a large bowl, combine the cream and the sugar, and whip until slightly thickened. Place the bowl of gelatin in the microwave and microwave for just a few seconds until the gelatin is melted. Make sure you don't go for more than a few seconds or else it will boil! Add the gelatin to the whipped cream while whipping. Go until the cream is nice and stiff, and then STOP! Don't go too long! Place a few spoonfuls into a piping bag fitted with a narrow tip (I used wilton 3), and then about triple that amount into another piping bag with a bigger tip (I used wilton 2A). 

Use the remaining cream in the bowl to frost the cupcakes. You may or may not need to use all of it. Save any remaining cream in case you need more for the Santas. Sprinkle the white chocolate liberally over all of the frosted cupcakes. 

To make the Santas, use the bigger piping tip bag to pipe a nice round blob onto the top of the body portion of the strawberry (see video above). You want it to have a nice round shape because it gives a more jolly plump look! Now place the strawberry hat on the blob of cream at an angle (see video and pictures), so that a lot of cream is showing at the front, and the strawberry top and bottom are nearly touching at the back. Use the narrow piping tip to pipe a dot on the top of the hat, and two to three buttons down the front. Place two sesame seed eyes on the cream face. I wet the tip of my finger just a little bit, so the sesame seed sticks to my fingertip, and then gently place it on the cream. 

Place the Santas on the cupcakes, and garnish with mint, if desired. You will want to keep these in the fridge if you aren't eating them soon, because of the whipped cream. 
Notes
I used 12 cupcakes because I baked a dozen, but I had left over cream. You should be able to make at least 18 cupcakes with the amount of cream. 
Calorie count is based on an average vanilla cupcake having around 200 calories. 
Nutrition
Nutrition Facts
Santa Cupcakes
Amount per Serving
% Daily Value*
* Percent Daily Values are based on a 2000 calorie diet.