Impress your guests with this stunning and delicious Strawberry Crepe Cake! This easy-to-follow recipe will guide you through creating layers of delicate crepes, fresh whipped cream and juicy strawberries. Perfect for any occasion, this dessert is sure to be a crowd favorite.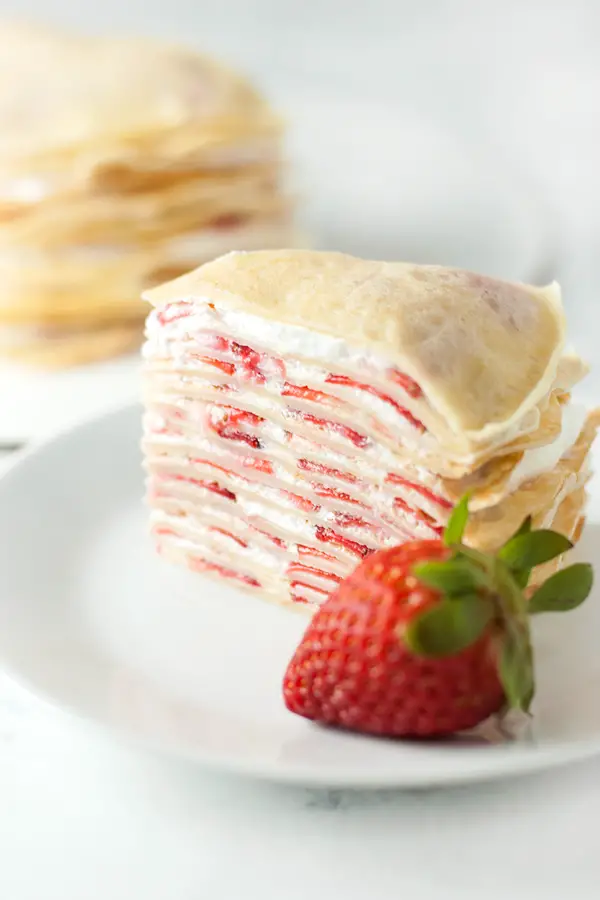 Layered Mille Strawberry crepe cake: A Beautiful Layered Dessert
Crepe cake, Mille crepe cake, whatever you know it as, this beautiful layered dessert will have your guests ooh-ing and aah-ing. What is it about layered desserts that just makes your heart flutter?
I think part of the reason is that we think layered cakes are a lot of work, or that they are hard to make. I wish I could tell you that this cake comes together in a snap, but, well, you gotta make all those crepe layers. That being said, this strawberry crepe cake is easy to make and totally doable!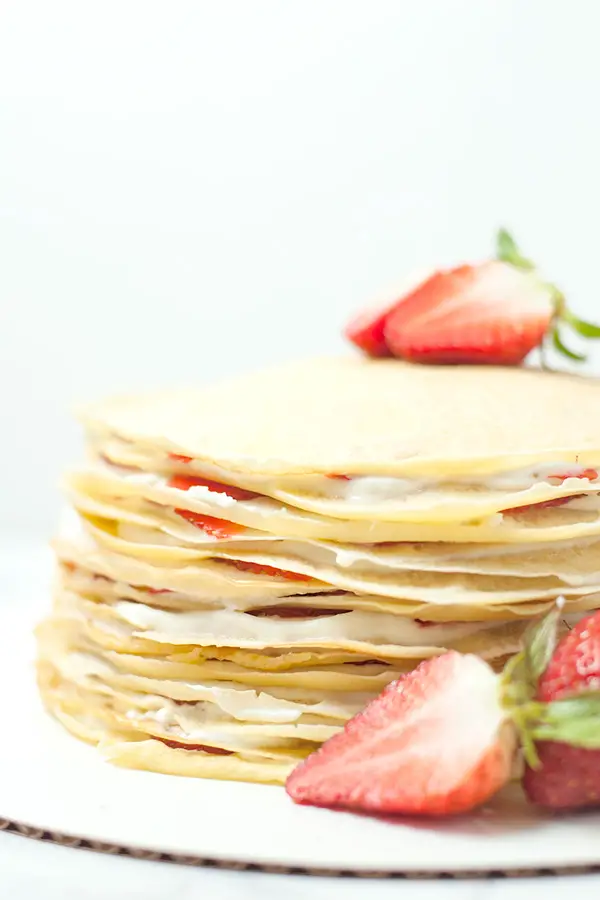 The Best Crepe Cake Recipe
Most crepe cakes I see around just have some sort of cream in the middle, but I wanted to make this one extra special. My husband loves strawberries, so I thinly thinly sliced fresh strawberries and added them to every layer!
A great way to thinly and uniformly slice your strawberries is to use a mandolin. Check out the video below to see how I did it. I got mine at the 100 yen (dollar) shop in Japan, but I'm pretty sure you can find them for cheap online too.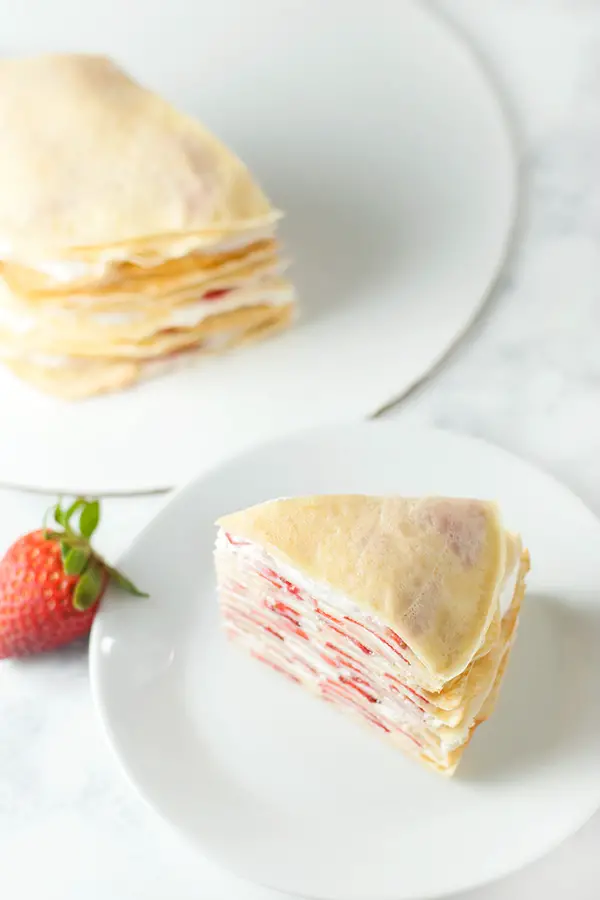 By the way, what is it about crepes and ruining the first one? As in, whenever I make crepes, crepe cakes, anything crepe-y, my first one always goes straight into the trash. It just never turns out right! For this strawberry crepe cake recipe, there's room for some mistakes. I tossed my first layer, and then ditched a couple others that weren't round enough. Look how tall it is still!
One of the keys is having a really good non-stick skillet. High quality kitchenware really does make a big difference. That said, if it's missing a few layers, it'll still look great, so don't stress too much!
Another thing? Don't stress if your crepe isn't a perfect circle. In the video below, you'll see that some of my layers were a little wonky, but I think it adds to the ruffle-y look that gives a lot of character to the finished cake. Really, it's rather forgiving, so give it a shot!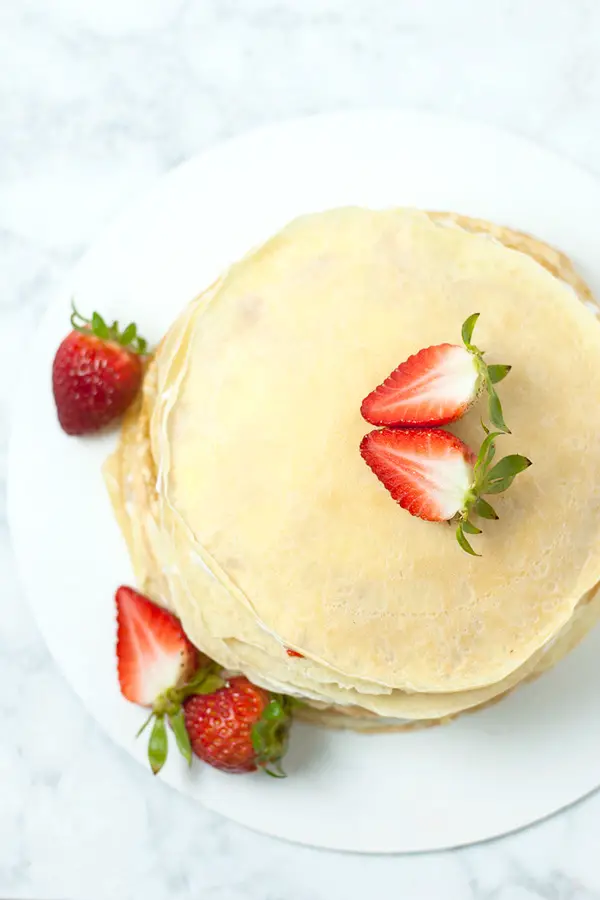 I hope you'll like this strawberry crepe cake! Watch the video below for a quick tutorial, and check out some of my other dessert recipes.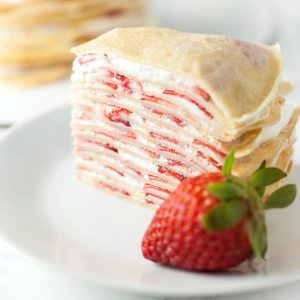 Strawberry Crepe Cake
Filled with whipped cream and strawberries, this fancy looking strawberry crepe cake comes together easily to make an impressive and delicious dessert. 
Instructions 
Prepare The Batter
Heat the milk until just warm. Whisk together the flour, baking powder, and sugar. In a large bowl, whisk the eggs and add about 1/3 of the milk. Whisk to combine. Add the flour in 1/3-1/2 at a time, whisking to fully incorporate.

2 eggs,

2 T granulated sugar,

1 cup all-purpose flour,

1/2 t baking powder,

400 ml milk

When batter is mostly smooth, add the rest of the milk, and mix. Add the melted butter and vanilla, and whisk to combine.

2 T butter,

1/2 t vanilla extract

Strain the batter through a mesh sieve into another bowl, to remove lumps. Allow to set in fridge for about half an hour.
Prepare The Filling
Slice the strawberries as thin and evenly as you can, or use a mandolin to slice them. You may want to leave a few strawberries, for garnish, as you may not need the entire pound for the layers (depending on how many layers you make). 

Whip the cream with the sugar until medium stiff peaks form.

1 cup whipping cream,

2 T granulated sugar
cooking the crepes
Heat a nonstick skillet to medium heat. Pour about 3T of batter and swirl around until you have a thin circle.

Wait a minute or two until you are able to flip. When cooked through, remove from pan and place on a plate.

Have a couple of plates out, so you don't stack the hot crepes right on top of each other. Once they are cooled a bit, you can layer them. Repeat with remaining batter.
assemble the cake
To assemble: On the first crepe, spread a thin layer of whipped cream and a layer of strawberries. Place another crepe on top and repeat until you get to the final layer.

Before setting the final crepe on top, cover the last strawberries with another thin layer of whipped cream. This is to keep the strawberries from showing through the top layer.

Garnish cake with whipped cream and strawberries, if desired. 
Nutrition
Nutrition Facts
Strawberry Crepe Cake
Amount per Serving
% Daily Value*
* Percent Daily Values are based on a 2000 calorie diet.