This cookie cutter candy chocolate recipe is a great activity to do with kids! Melted chocolate is poured into cookie cutter molds and topped with all sorts of fun toppings!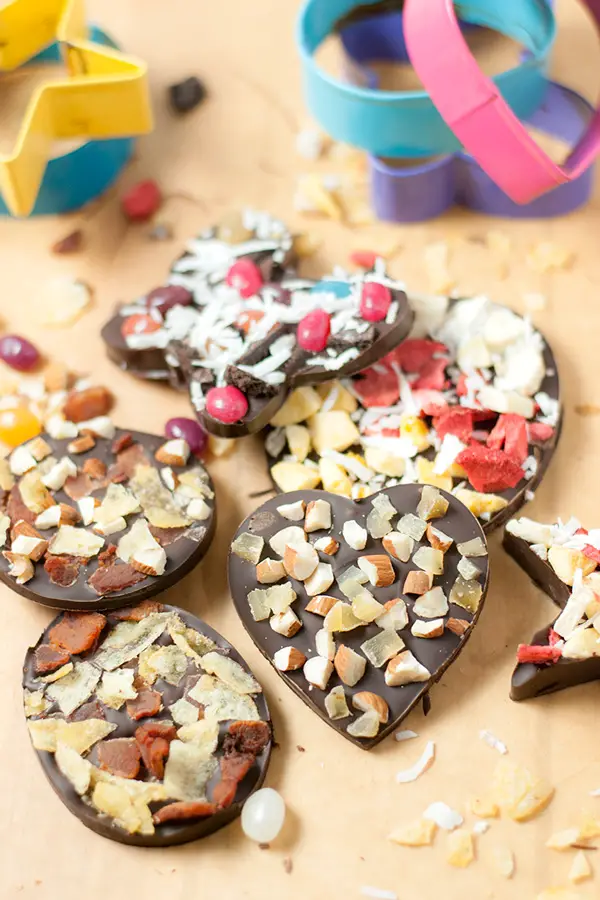 Today's post is part of a blogger Easter "virtual party"! Check out great Easter recipes from my blogger friends! Links are at the bottom of the post!
A couple of weeks ago I posted my rosemary sea salt chocolate bark, geared more towards adults. Today I want to share a fun chocolate bark activity for kids!
How many of you parents like to cook with your kids? I'm in the kitchen so much, you would think I'd let my kids join in once in a while, right? I'm actually guilty of the opposite. I'm constantly telling my kids to "go play", "go outside", "shall we turn on a movie?"(their favorite).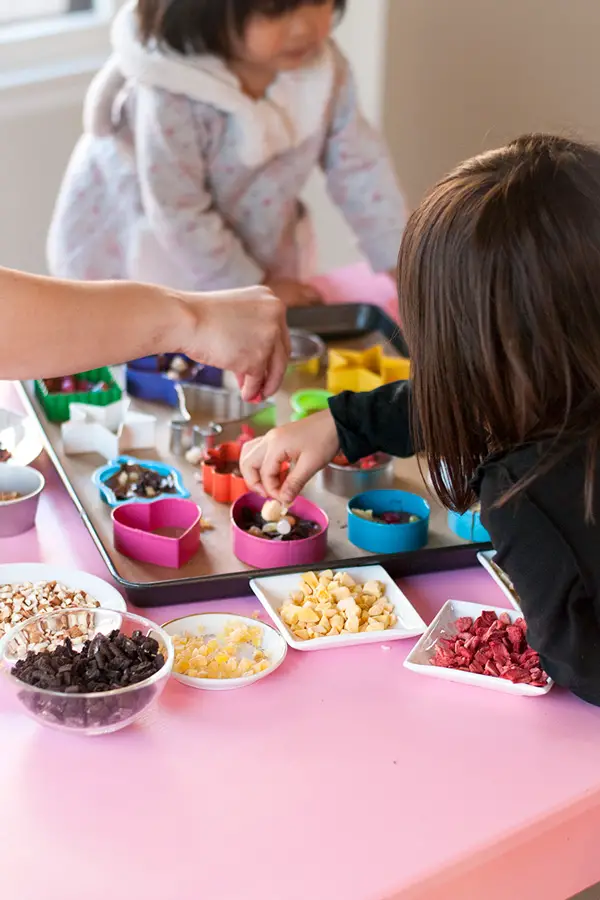 The problem is, when kids mix things in a bowl… some of it always ends up on the table, and the floor, and their hair…
I let them help me occasionally, when I'm feeling extra patient. It often turns out well, and is a positive experience for us all. On the flip side, I've also found myself snapping and nagging at them, and I'm afraid that I will make the kitchen a negative place for them. How sad would that be?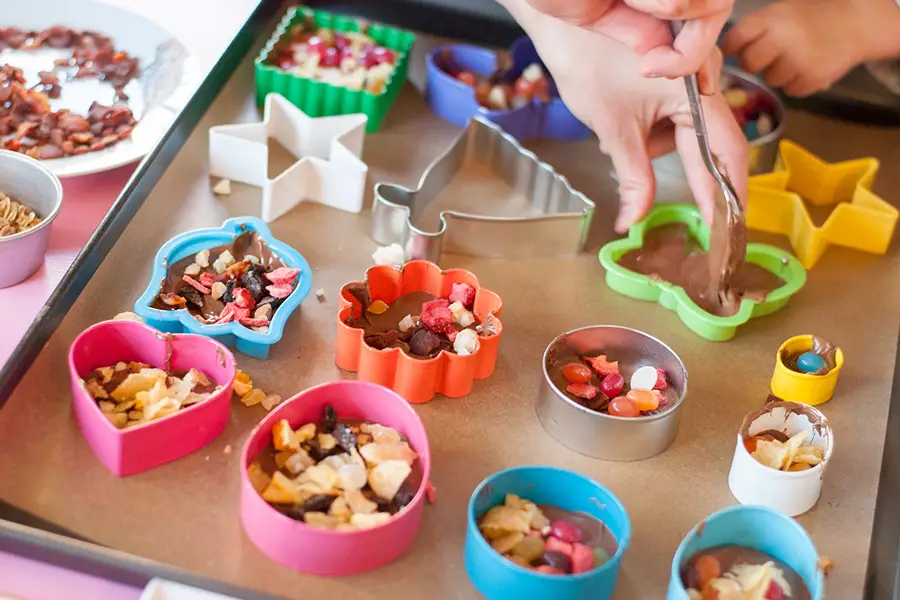 But THIS cookie cutter candy chocolate recipe, if you can even call it that, is perfect for kids! It's such a fun and easy project where you can give your kids lots of creative freedom. Be prepared to do a little sweeping afterwards, but you don't have to worry about spills "messing up" your final product.
It's really really simple. Melt the chocolate, pour into the cookie cutters, and top top topping away! Depending on the age of your children, they can even pour the chocolate into the molds!
The two issues I ran into are: 1. I didn't get the milk chocolate melted enough to pour well, so it was a bit more blobby and I had to spread it out with a spoon. No problem, still turned out fine. 2. If a child bumps the cookie cutter after you put the chocolate in, it will have a little bit that sticks out. You can see that in several of the pictures. Also no big deal.
Candy Chocolate Recipe Toppings
Really, this recipe is easy and fun, and you can get SO creative with the toppings on the cookie cutter chocolates!
Here are the toppings I chose:
Jelly beans, freeze dried fruit (strawberries, mangoes, bananas), shredded coconut, crumbled bacon, potato chips, granola, chopped almonds, crumbled oreo-type cookies, and candied ginger.
Honestly, my kids would've been even happier if I had sprinkles and more candy.
So what are you going to put on yours?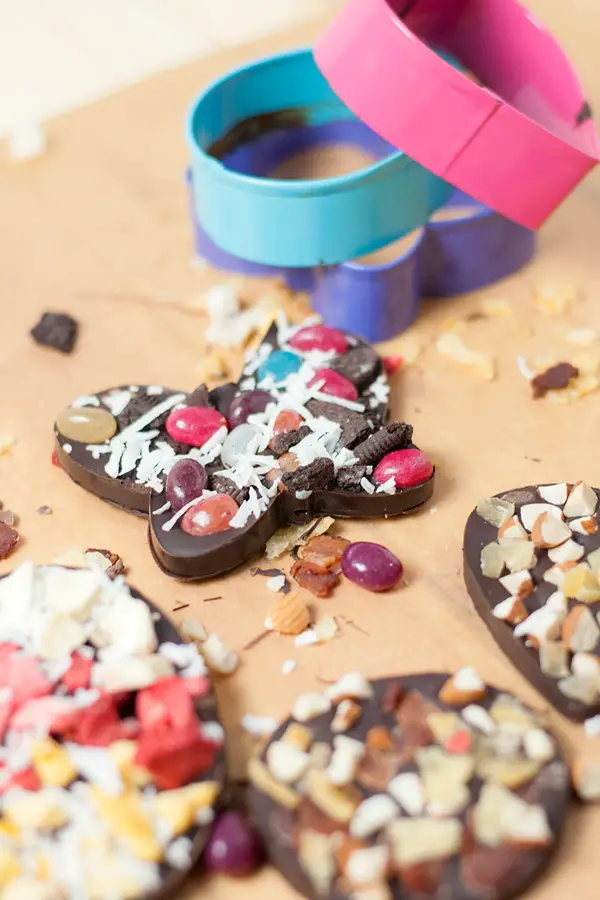 This would be such a fun activity to do on Easter as a family. Also, make sure to check the links below for other Easter recipe ideas!
Easter Recipes
#BloggersDoEaster
Spring Roasted Carrot Noodle Salad with Thyme Vinaigrette from No Spoon Necessary
Earn Serious Bunny Points, And Make Easter Basket Cupcakes from The Sweet Nerd
Maple Bacon Deviled Eggs from Beyond Mere Sustenance
Lemon Curd Pavlova from Seasons and Suppers
Blood Orange Wheat Ale Pound Cake with Blood Orange Glaze from Beer Girl Cooks
Easter Mini Egg Cookie Bars from Salt and Lavender
Ham and Cheese Scones from Kevin is Cooking
Marbled Easter Egg Truffles from Sugar Hero
Angel Food Cupcakes with Compote Filling from Meg is Well
Spring Green Salad with Asparagus from Seasonal Cravings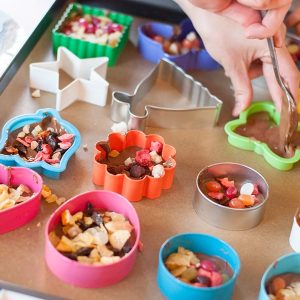 These cookie cutter chocolates are a great activity to do with kids! Melted chocolate is poured into cookie cutter molds and topped with all sorts of fun toppings! 
Instructions 
Prep
Grease each cookie cutter. Spray cooking spray onto a paper towel, and rub along the inside of each cutter.

Line a large baking sheet, or two regular sized baking sheets, with parchment paper. Place cookie cutters on parchment paper. Make sure to choose cookie cutters that have a relatively flat bottom. If it's too lopsided or bent out of shape, chocolate can leak out from the sides.

Prepare all of your toppings, and place them in small bowls around the baking sheets, so you have easy access to them all.

freeze dried fruits,

sprinkles,

crumbled cookies,

bacon,

potato chips,

chopped nuts,

etc. etc. etc.!
Make Chocolate
Place the chocolate, chopped in pieces, in a microwave safe/double boiler safe bowl.

Melt the chocolate over a double boiler, or in the microwave in thirty second increments, stirring well after each, until melted.
Assemble
When the chocolate is melted, pour about an ounce of chocolate into each cookie cutter, while holding  the cookie cutter steady with the other hand.

If the chocolate doesn't spread into all the corners, use a spoon to spread the chocolate out. 

Immediately start topping the chocolate with the different toppings. Gently press the toppings into the chocolate to make sure it sticks. 
Cool
Allow chocolate to cool and harden.

You may want to place it in the fridge to help it harden quicker.

Once completely hardened, gently press the chocolate around the edges and pop out of the cutter.

If it doesn't come out easily, try warming the sides up with your hands, to slightly melt the chocolate. 
Store
Store in a cool place, or in the fridge in a sealed container.
Notes
The number of cookie cutters your chocolate will fill will depend on their sizes.
I advise against using cutters with lots of small angles or sharp corners, as they don't come out of the molds as easily, and may break apart. 
You can easily change the amount of chocolate you use, depending on how much you want to make. 
Nutrition
Nutrition Facts
Cookie Cutter Candy Chocolate Recipe
Amount per Serving
% Daily Value*
* Percent Daily Values are based on a 2000 calorie diet.