This Pink Ombre No-Bake Rare Japanese Cheesecake recipe is not only visually stunning, but it's also incredibly easy to make. The cheesecake's pink Ombre color is all natural and comes from the addition of freeze-dried raspberries. Unlike traditional cheesecake, Japanese rare cheesecake is made with Greek yogurt which gives it a creamy, tart and tangy taste.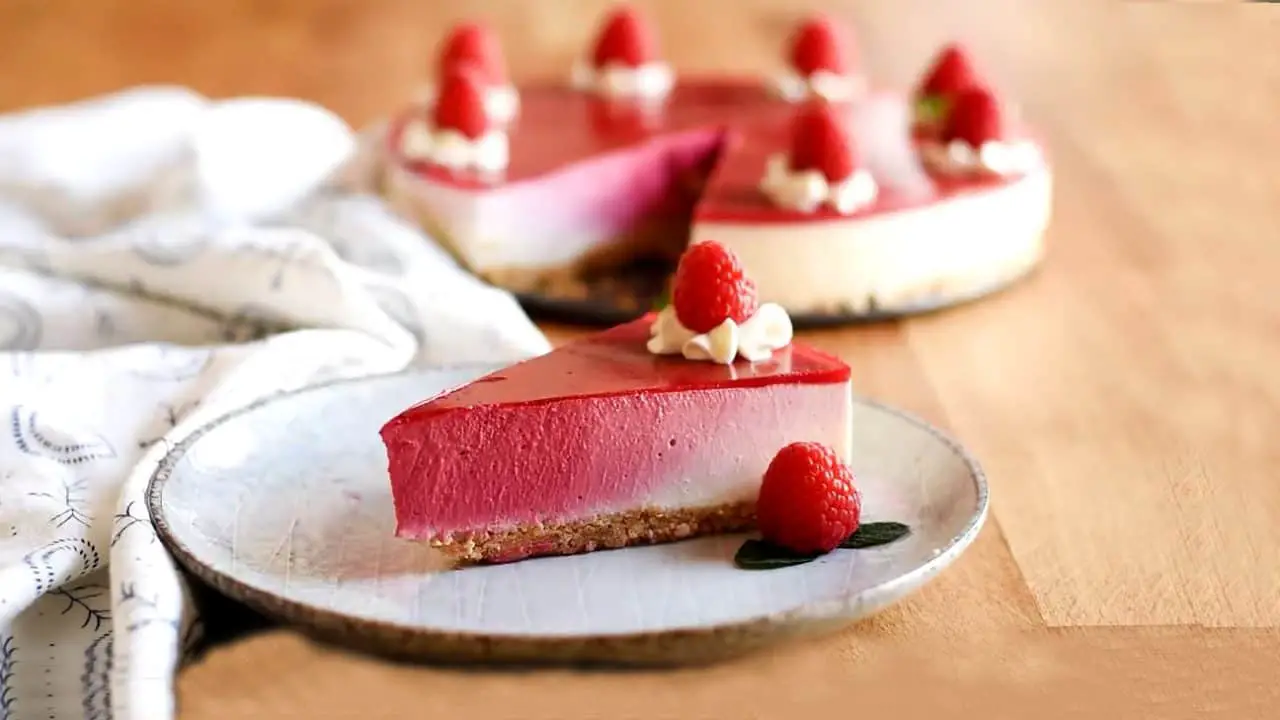 Valentine's day is coming up, so I needed to make something PINK! It's perfect, isn't it?
Japanese Rare Cheesecake
The style of this Japanese cheesecake is a no bake cheesecake called "rare" cheesecake. Japanese no bakes cheesecakes are different from American ones because they use yogurt. It's more tart, and a little less sweet. Just how I like it. I used thick Greek yogurt for this recipe, and the result was silky smooth!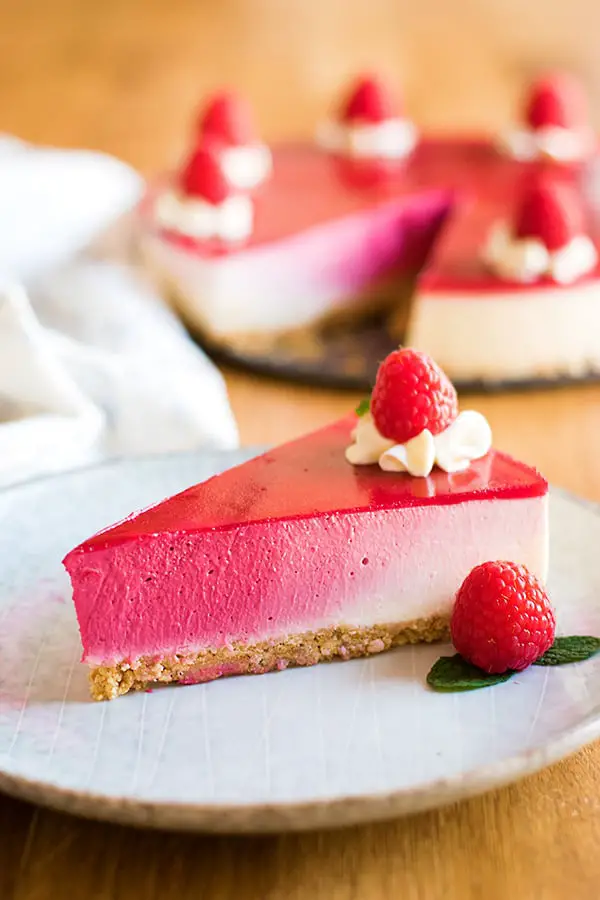 Pink Cheesecake With the Natural Color and Flavor of Freeze Dried Raspberries
I try to avoid food coloring whenever possible, and I found a great alternative for this recipe. Freeze dried raspberries
 (you can buy it at this link, but you can also find them at Trader Joe's and Target)! I took a bag of freeze dried raspberries and I crushed it up until it was a powder, and ran it through a strainer
to get rid of the seeds. It adds color AND flavor! So not only is the color ombre, the flavor is too. It goes from very very raspberry to medium raspberry, to plain. So fun for a pink Japanese cheesecake!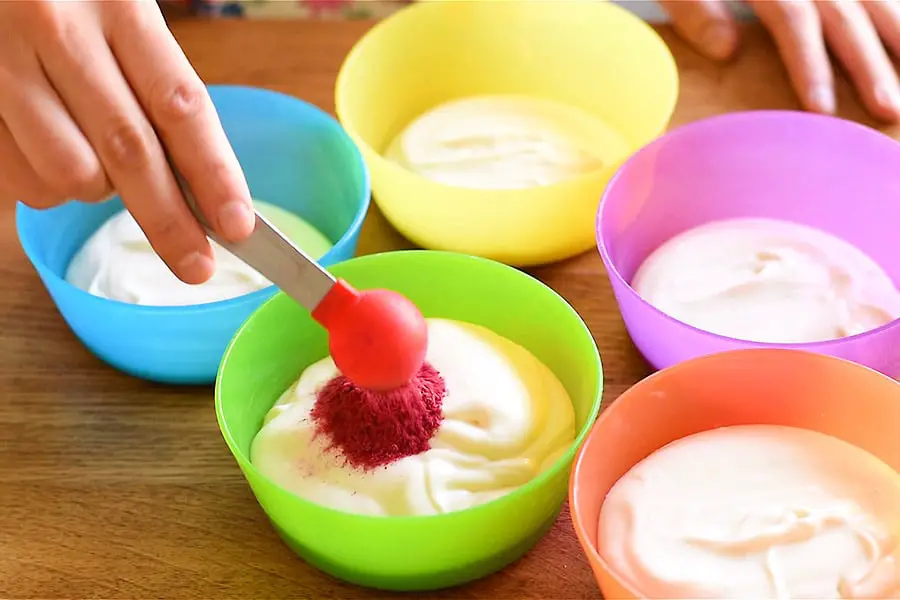 You can keep your cheesecake's top simple, or you can try adding a layer of raspberry jelly! I personally liked the shiny red top, because then the ombre is kind of like a surprise, when you serve it! You can also garnish it with whipped cream and raspberries. I used my favorite piping tip, Wilton 2D
.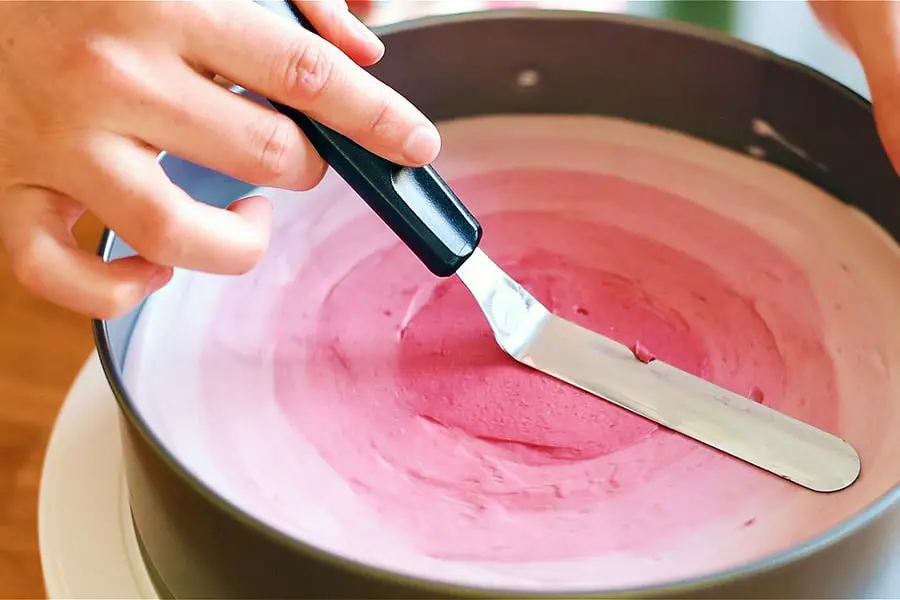 You'll need a 9 inch springform
 pan (<- that's the one I have, but I bought mine in a three size set). I use my springform pan all the time in baking. I really think it's worth getting one! You can probably get it at Michael's with a coupon at a good price, or by checking out the equipment section below.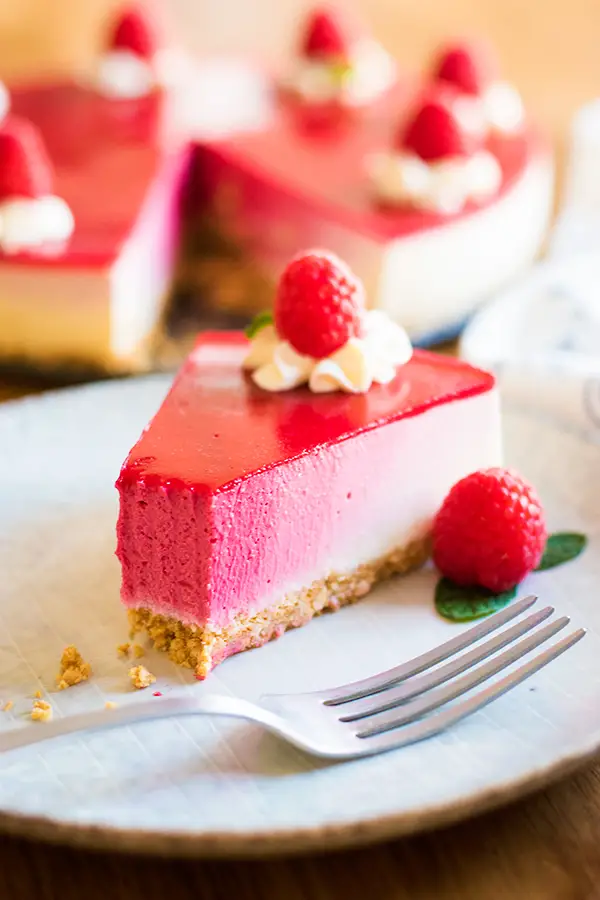 This ombre pink cheesecake recipe is a little bit of work, but it is really just SO pretty, it's totally worth it! Plus, you'll save yourself from a headache because this is a no bake ombre cheesecake. Check out the video below to see how I made the pink ombre cheesecake!
If you are a cheesecake fan, you can also also try my Meyer Lemon White Chocolate Cheesecake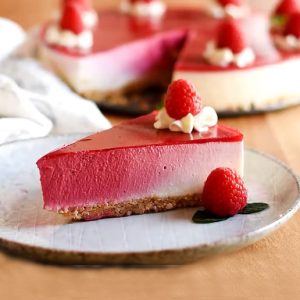 Pink Ombré Cheesecake
A perfect no bake ombré cheesecake recipe! This pink cheesecake is colored completely naturally, with freeze dried raspberries!
Instructions 
Prepare the Crust
Bring the cream cheese, yogurt, and cream to room temperature.

Crush the graham crackers and mix with the melted butter in a bowl. Press it into the bottom of a 9 inch springform pan. Set aside in refrigerator until ready to use.

1 package graham crackers,

5 Tablespoon unsalted butter
Bloom Gelatin
Put cold water in a very small container, and sprinkle the gelatin over it and allow it to bloom. If the gelatin isn't all being absorbed, you can try stirring it up. Set aside about 1 tablespoon of the cream.

3 Tablespoon cold water,

1 Tablespoon gelatin
Prepare Cheesecake Filling
In a large bowl, whisk together the cream cheese and the sugar.

2 8 oz blocks cream cheese,

1/2 cup granulated sugar

Add the (remaining) cream, yogurt, and lemon juice, and stir well until completely smooth.

If the batter is very thick, it won't pour well. You want it to be a pourable consistency. If it isn't, try popping it in the microwave for a few seconds to loosen it up.

1 1/4 cup full fat Greek yogurt,

300 ml whipping cream,

1.5 Tablespoon lemon juice
Crush and Strain Freeze Dried Raspberries
Crush the freeze dried raspberries in the bag it came in. I usually just open it up and press all the air out, zip it back up and crush it with my hands.

1 bag freeze dried raspberries

Pour the raspberry powder into a very small eyed strainer/sieve over a bowl to remove seeds. Remove any extra seeds that fell through the strainer. Set aside.
Add Gelatin to Batter
Pour the 1 tablespoon of cream into the gelatin and microwave for 5-10 seconds until it is all melted. Stir the mixture up and pour into the big bowl of cheesecake batter, and stir well to combine.
Color the Cheesecake Batter
Get five small bowls (I use my kids' Ikea bowls), and ladle the cheesecake batter into them.

Here's the trick. You want to leave some of it white, and you want to put a little bit less in each successive bowl. Meaning, you'll have the most white, and then a little less in each bowl after that. Start adding the powdered raspberries to the small bowls. You want the bowl with the most cream cheese to be the lightest, so start by adding a half teaspoon of raspberry powder and see how you like the color. There isn't a set in stone amount you should add, so try experimenting. Just make sure not to run out before you get your darkest one colored! The bowl with the least amount of batter should be the darkest.
Assemble the Cheesecake
Pour the white batter into the spring form pan and smooth it out.

Next, pour the lightest pink into the center of the pan. Use a small whisk, spoon, or spatula to spread it out a bit.

Repeat with the next darkest batter, until all of the batter is in the pan.

If the top is not totally smooth (it depends on how loose your batter is), use an offset spatula to smooth it out. The offset spatula method can also help blur the lines between the colors, giving a smoother ombre look.
Refrigerate and Serve
Refrigerate the cheesecake for at least two hours. When you are ready to eat it, run an offset spatula or a butter knife around the inner edge to separate the cheesecake from the pan. Add additional garnish, or a smooth jelly topping (see note)

jelly topping, raspberry, whipped cream garnish
Notes
If you want a smooth red jelly topping, you can use the recipe from my mousse cake and replace the 150g of strawberries with 150g of raspberries. You can refrigerate the cheesecake for an hour, add the jelly topping, and then put it back in the refrigerator for another hour or two. 
You only need a little bit of whipped topping, and 8 raspberries, to decorate it like the one in the pictures.
Nutrition
Nutrition Facts
Pink Ombré Cheesecake
Amount per Serving
% Daily Value*
* Percent Daily Values are based on a 2000 calorie diet.