A sponge cake enrobed in strawberry mousse and topped with strawberry jelly. Light, fresh, with a little tartness. Add Santa strawberries for Christmas!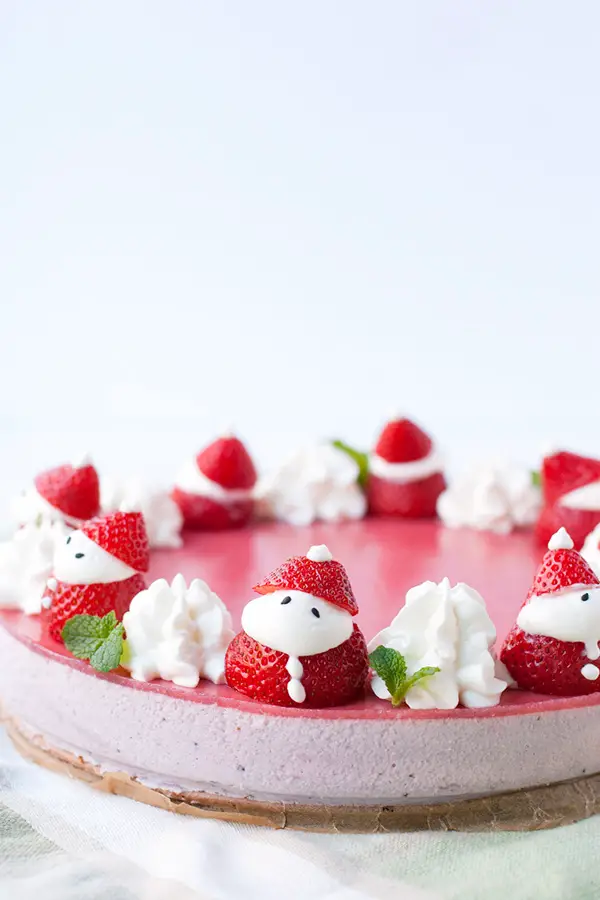 It's already December but I just don't feel very Christmas-y yet. I think December just snuck up on me too fast, and I'm in denial about it… Anyways, this strawberry mousse cake is my big leap into the Christmas spirit.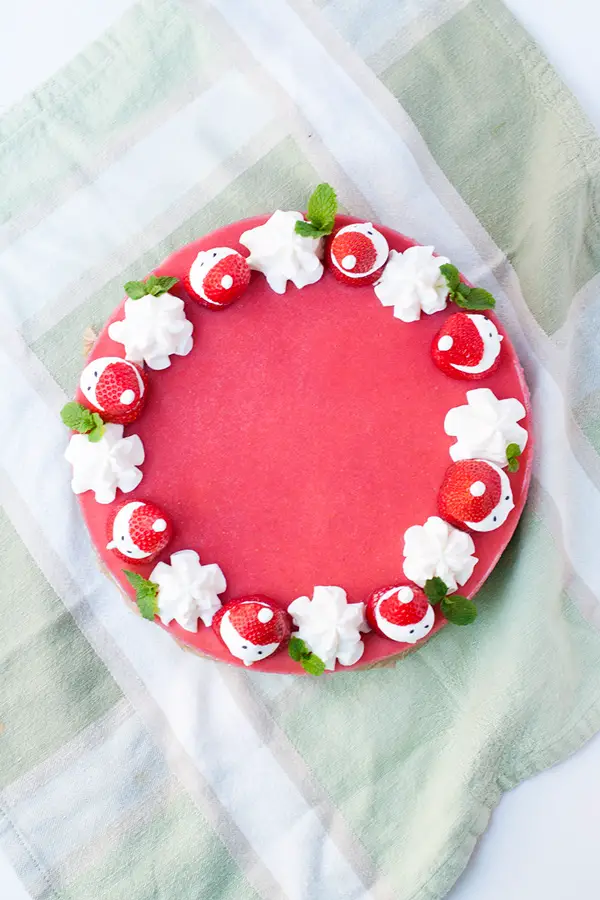 Strawberry mousse cake is always a good option. Soft pink is very spring-y, strawberries=summer, and… I don't know about fall. Maybe not fall. But just by adding these cute little Santa strawberries on top, you get a perfect Christmas cake.
Now, I'm going to warn you, this isn't just a mix it up and throw it in the oven kind of cake. It takes some effort, but it is well worth it. I like to make this to serve when guests come over for dinner, or if I'm having a get together.
Growing up, it was one of my mom's go-to cakes. She'd make strawberry sponge cakes a lot, but when she wanted to up the wow-factor, she took it a step further and made it a mousse cake. She also introduced me to the Santa strawberries. Aren't they adorable? Well, even if it isn't Christmas, this strawberry mousse cake is still a showstopper with regular strawberries on top.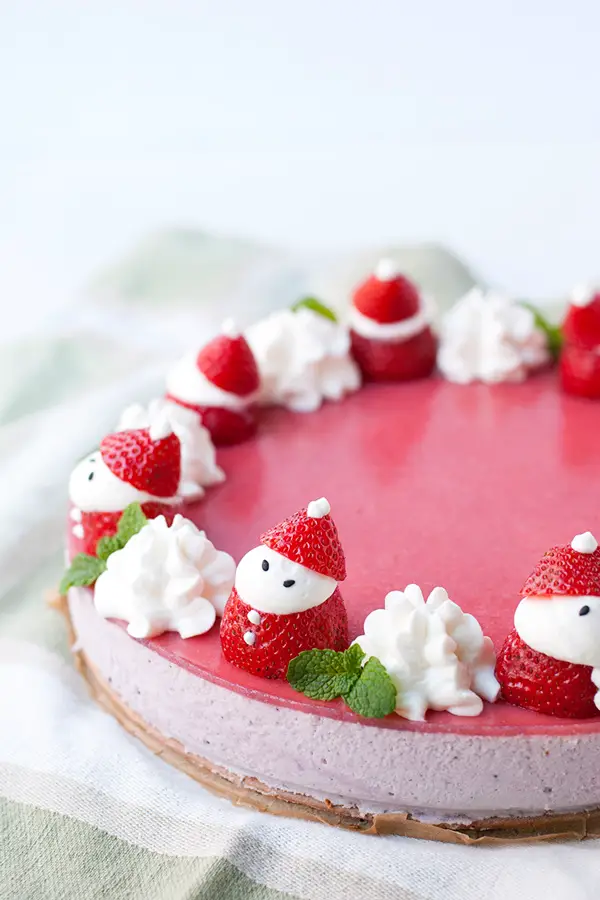 Some notes about this cake: you need a springform pan, and it's not a super sweet dessert. Okay so first, the springform pan. You gotta have it, because you harden the mousse in the mold and take it off afterwards. Imagine trying to dig the cake and mousse out of a regular cake tin. Not happening. Second, this is a Japanese style cake, and that means it's sweetness level is not at the American standard. That's a good thing, by the way. It's light and refreshing, and you don't feel like you're in a food coma after eating a slice. Well, that can be good too but… Anyways, it's light and fluffy and a little tart from all the fresh strawberries you put in it.
Go ahead, impress your guests with this one, or any of my other dessert recipes.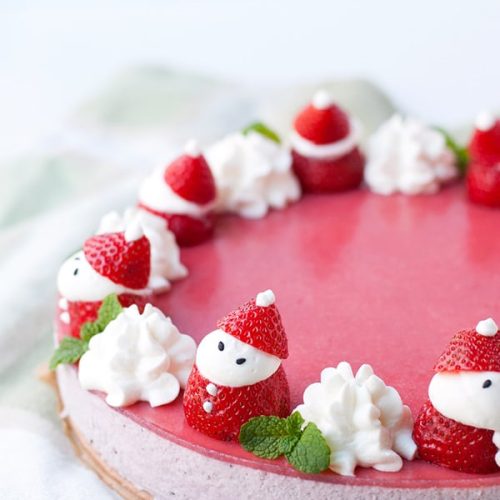 Strawberry Mousse Cake
A sponge cake enrobed in strawberry mousse and topped with strawberry jelly. Add Santa strawberries for Christmas!
Ingredients  
Instructions 
Prep
Line the bottom of a 9-in. springform cake pan with parchment paper.

Set aside your 8 best looking strawberries for topping the cake.
Cake
Get a medium and a large bowl out. Make sure the medium bowl is *spotless* as you will use it for whipping egg whites.

Separate the eggs, putting the whites in the medium bowl and the yolks in the large bowl.

Pour about half of the sugar in with the yolks.

Using a hand mixer, beat the egg whites, adding the remaining sugar in increments, until stiff peaks form.

Beat the egg yolks and sugar until fluffy and pale yellow in color.

Add the melted butter, milk, and light corn syrup, and beat to combine.

1 Tablespoon light corn syrup,

1/2 Tablespoon butter,

1 Tablespoon milk

Sift in the cake flour and beat to combine. Do not over-beat, but just until combined. You may need to scrape down the sides and stir with a spatula.

Add 1/4-1/3 of the egg whites to the batter, to lighten.

Mix until completely combined, and add the remaining egg whites.

Gently fold until combined.

Pour into prepared springform pan, and bake for about 15 minutes or until lightly golden and toothpick comes out clean.

Set aside, and when cool to the touch, remove spring form outer shell and wash.

Once cake is cooled, cut about 1/2-1 cm width of the outside circumference and remove.

We will not be using this, so feel free to snack on it. Now we have a smaller circle of cake, so the cake will be completely hidden by the mousse. 
Strawberry Mousse
Sprinkle the gelatin over the 50ml of water and stir if it doesn't fully combine on it's own.

Let bloom for about 5 minutes.

4 teaspoon powdered gelatin,

50 ml water

Meanwhile, remove stems from strawberries, and place in blender or food processor to puree.

Place puree in a medium or large bowl.

In a small saucepan, heat the milk and sugar together and stir until barely simmering.

100 ml milk,

45 g granulated sugar

Remove from heat and add the gelatin.

Stir until melted and fully combined.

Add the gelatin mixture to the strawberry puree and stir together to combine.

1.5 Tablespoon lemon juice

In a separate bowl, whip the cream until very soft peaks form (80% whipped).

150 ml heavy whipping cream

Pour the whipped cream into the strawberry mixture and fold in until combined.

Place outer springform back onto the base with the cake on it, and pour the mousse over the cake.

Smooth the top, and place in fridge for 30 minutes to set.
Strawberry Jelly
When mousse has set in the fridge, sprinkle gelatin over the 1 T water and allow to bloom.

1 Tablespoon water,

1 teaspoon powdered gelatin

Meanwhile, puree the strawberries, and add to a small saucepan with the sugar.

150 g strawberries,

15 g granulated sugar

Stir and heat over medium heat until barely simmering.

Remove from heat and stir in the gelatin.

Pour through a sieve to remove the seeds.

Once the mixture is no longer hot, pour over the mousse and return to the fridge to firm up.
Topping
Remove the cake from the fridge and run a thin, sharp-bladed knife around the cakes edge.

Remove springform side.

Decorate your cake with the whipped cream and strawberries. Add mint for garnish. 

mint leaves for garnish,

sweetened whipped cream
Santa Strawberries
If you would like to make Santas, take the 8 topping strawberries, and cut the top 1/3 off.

This will be your hat.

8 nicely shaped strawberries

Pipe whipped cream onto the bottom half, and gently place hat on top.

Use black sesame seeds, flax seeds, mini chocolate chips, etc. to make eyes.

Pipe a small dot of cream on the tops of the hats, and buttons on the front. 
Notes
Mousse recipe adapted from: Cookpad (Japanese). 
Nutrition
Nutrition Facts
Strawberry Mousse Cake
Amount per Serving
% Daily Value*
* Percent Daily Values are based on a 2000 calorie diet.