Experience the classic taste of Japanese desserts with Strawberry Mochi (Ichigo Daifuku) – a harmonious blend of fresh strawberry, red bean paste, and soft mochi. Imagine juicy fresh strawberries wrapped in sweet red bean paste, all enclosed in a velvety mochi exterior. Whether you've grown up tasting daifuku or are completely new to it, this recipe is designed through the process of crafting this beatiful and delicious dessert.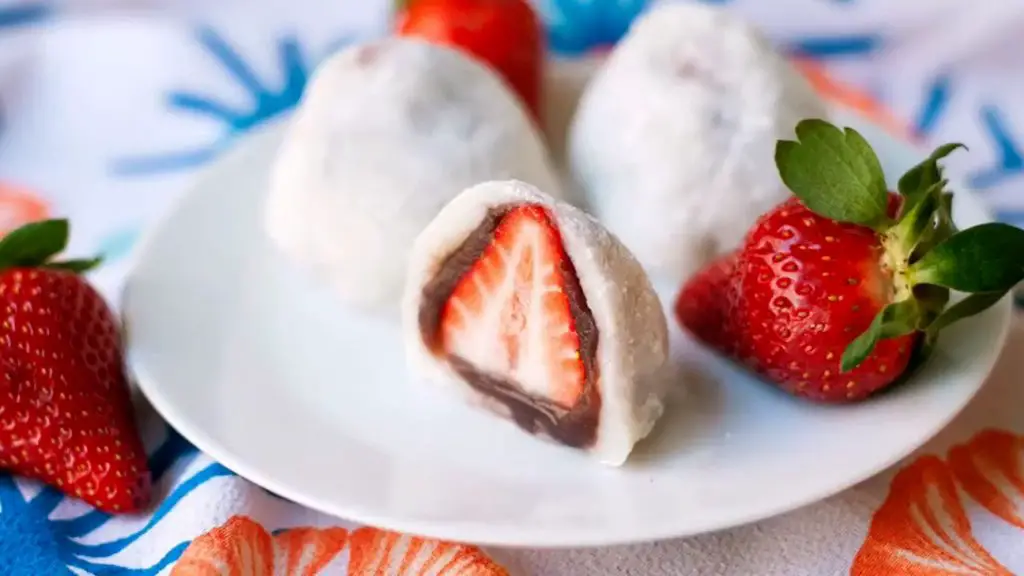 Fresh fruit desserts are the perfect way to start spring. I love this recipe because it's just so FRESH and JUICY. Truly. Mochi is amazing, but when you add a tangy, sweet, and juicy strawberry in the middle? Perfection.
Call it Strawberry Mochi, Strawberry Daifuku or Ichigo Daifuku
So I'm calling it strawberry mochi here, because if I called it strawberry daifuku, or Ichigo Daifuku, people may not know what it is. Daifuku is mochi filled with red bean paste. So, daifuku is more specific than mochi. This recipe could technically just be strawberry wrapped in mochi with no red bean paste, or maybe even pink "flavored" mochi. Nope, gotta have the layer of red bean in there.
Don't be intimidated, these actually have a very easy ingredients list, and come together fairly quickly. Many recipes call for "shiratama-ko", which I cannot always find at my local (non-Japanese) Asian store. I decided to make these with regular mochiko, which you can find at basically any Asian market or online, and they turned out amazing! I buy the white box with the blue star on the front. You'll see it.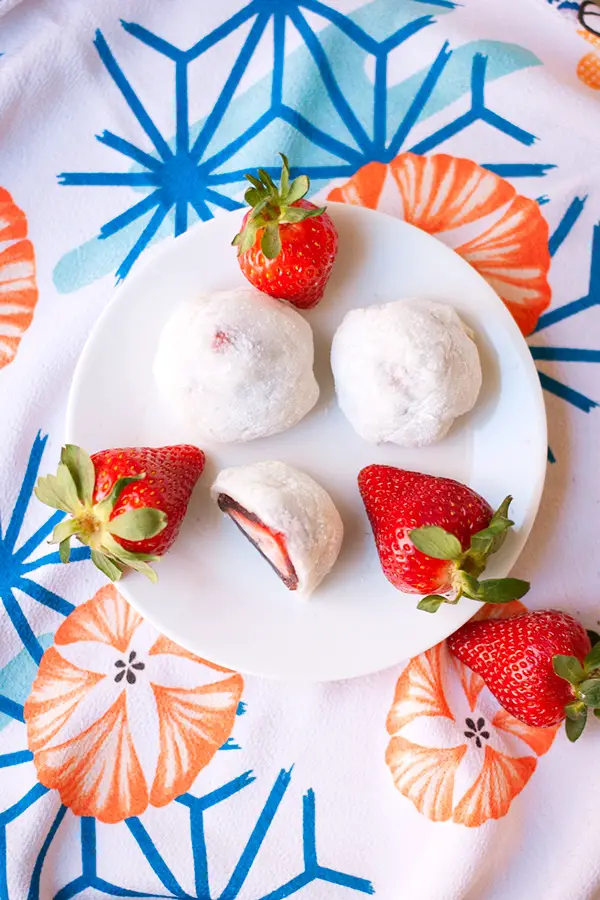 You'll definitely impress and delight your friends with this fun mochi or any of my other mochi recipes including my most popular recipe, Hawaiian butter mochi. Watch the tutorial below to see how easy it is!
Tips for Making the Perfect Strawberry Mochi (Ichigo Daifuku)
Selecting Strawberries: Choose firm and fresh strawberries that are similar in size. This ensures even cooking and a consistent taste in each mochi.
Red Bean Paste: While you can make your own, if you're short on time, pre-made red bean paste (anko) can be bought from most Asian supermarkets. If you prefer a less sweet filling, consider getting "less sugar" or "reduced sweetness" versions.
Mochi Consistency: If the mochi mixture feels too sticky, gradually add more cornstarch or potato starch while kneading. Conversely, if it's too dry, sprinkle a little water until you achieve a pliable texture.
Prevent Sticking: When working with mochi, keep your hands and work surface generously dusted with cornstarch or potato starch. This prevents the mochi from sticking and makes the wrapping process smoother.
Microwave vs. Steaming: This recipe uses a microwave for convenience, but you can also steam the mochi dough over a pot of boiling water for about 20-30 minutes or until translucent and stretchy.
Storage: Strawberry mochi is best consumed fresh, but if you need to store them, use an airtight container and keep in the refrigerator. Consume within a day or two to enjoy them at their best.
Serving Suggestion: Before serving, let the mochi sit at room temperature for about 10-15 minutes to soften slightly. This enhances the chewy texture of the mochi.
Variations: Feel free to experiment with other fillings like matcha-flavored red bean paste, sweet potato, or even ice cream for a modern twist.
Presentation: Place the finished mochi seam side down on a serving plate for a cleaner appearance. A garnish of mint leaves or a light dusting of matcha powder can add an elegant touch.
Taste Testing: Especially if it's your first time making Ichigo Daifuku, consider making a single piece first to taste-test. This allows you to adjust the sweetness or consistency before making the entire batch.
Happy mochi-making!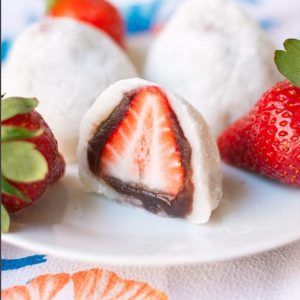 Strawberry Mochi (Daifuku)
Strawbery Mochi, or strawberry daifuku, is a delicious Japanese dessert. A whole strawberry is covered in a layer of red bean paste and wrapped in mochi. 
Instructions 
Wash and Cut Strawberries
Wash strawberries and pat to dry.

Cut off the stems with paring knife.
Wrap Strawberries in Red Bean Paste
Take a tablespoon or so of red bean paste, and wrap around the strawberry to fully cover. Using plastic wrap will make this easier and keep it from sticking to your hands.

Wrap all of the strawberries and place in the refrigerator.
Make the Mochi
Mix the mochiko and sugar in a large microwave safe bowl.

Stir in the water and mix until fully combined.

Cover the bowl with plastic wrap and microwave for one minute.

Remove from microwave and stir. Microwave for 30 second increments until mochi is smooth, thick, and pliable. ( See video above for visual. The amount of time may depend upon the microwave strength. Approximately 4 times total.)
Wrap the Strawberries in Mochi
On a clean work surface, sprinkle a generous amount of starch, and add the mochi onto it. Put starch on your hands, to prevent sticking.

Cut the mochi into twelve equal sized portions.

Flatten the mochi into a circle, and place a red bean wrapped strawberries, tip down in the center of the mochi.

Wrap the strawberry with the mochi, pinching the bottom closed.
Refrigerate
If you are not eating immediately, cover lightly with plastic wrap and store in the refrigerator. 
Nutrition
Nutrition Facts
Strawberry Mochi (Daifuku)
Amount per Serving
% Daily Value*
* Percent Daily Values are based on a 2000 calorie diet.
What is daifuku?
Daifuku (大福) sometimes also called daifuku mochi (大福餅) is Japanese dessert made of glutinous rice flour, bean paste and a sweet filling. It is a small round mochi with a sweet filling. The filling, strawberries are popular, are coated with bean paste wrapped in a layer mochi made from mochiko or sweet rice flour.
Is Daifuku Gluten free?
Yes! Because it is made with sweet rice flower, daifuku is gluten free and suitable for a gluten free diet.
Are there other kinds of daifuku?
Yes. There are different types of daifuku filled with different fillings. Here are a few:

Yomogi Daifuku (よもぎ 大福)
Any kind of daifuku which uses kusamochi (草餅), translated as "grass mochi." This type of mochi is made with and herb, yomogi (mugwart) which gives it a green color.

Ume Daifuku(梅 大福)
Ume daifuku is another popular daifuku that is filled with sweet ume paste (plum).

Yuzu Daifuku (ゆず 大福)
This type of daifuku is made from the Japanese yuzu fruit. This citrus looks a bit like a grapefruit mixed with a lemon. It is known for unique flavor and strong citrus smell.
Daifuku (大福) sometimes also called daifuku mochi (大福餅) is Japanese dessert made of glutinous rice flour, bean paste and a sweet filling. It is a small round mochi with a sweet filling. The filling, strawberries are popular, are coated with bean paste wrapped in a layer mochi made from mochiko or sweet rice flour.