Raise a glass to homemade apple jelly that looks like beer! This unique and fun recipe is the perfect way to impress your guests with a playful twist on a classic treat. With its golden amber color and frothy bubbles, this homemade apple jelly will have everyone doing a double take.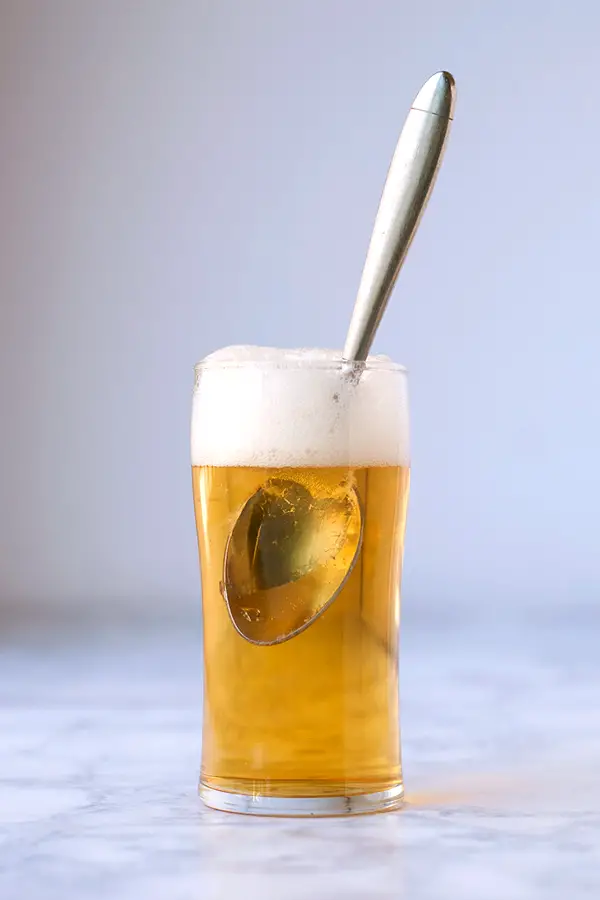 Does this picture confuse you? Like, how is that spoon just hanging out in that beer? Oh, maybe it's a photo of the spoon falling into the beer and they snapped the picture at the perfect moment?! Or… maybe you read the title and you already know that it's just apple jelly that really looks like beer.
I was trying to think of what to post for St. Patrick's Day. I feel like I should have at least one recipe for each holiday, but St. Patrick's Day really stumped me. I don't drink alcohol, and I don't really like using too much food coloring. So, basically every recipe is out, unless I make a salad. That's green!
I was explaining my predicament to a friend of mine, who said, "well… can you maybe do something that's like, not actually beer? Like, fake beer? Haha." And I thought, um… yeah … THEN I had an epiphany. Apple jelly "beer"! Thanks friend, for the odd suggestion that was actually a great idea!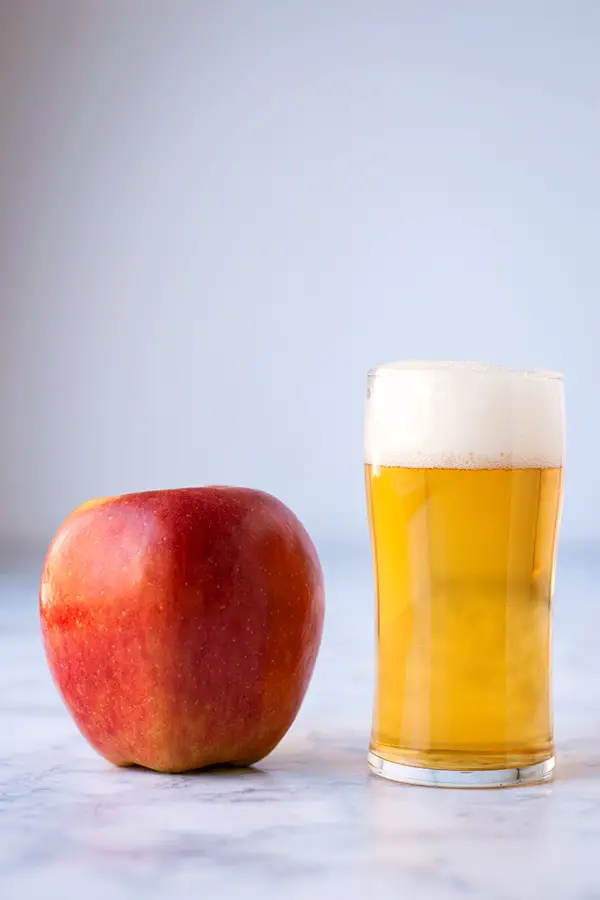 A couple years ago, my mom was going to pull a prank on her co-worker. I don't know the exact details, but it revolved around apple jelly that looked just like beer. Apparently she had seen it floating around some Japanese recipe sites.
I quickly googled it and found several recipes. It couldn't be easier! Apple juice, gelatin, and some sugar if you want to sweeten it up a bit are all you need for apple jelly "beer".
You want to make sure to use one of those "from concentrate" cheap apple juices that are clear, found in the non-refrigerated juice aisle. If you use the cloudy fresh squeezed stuff, it'll taste great but it obviously would not get the beer look we are going for.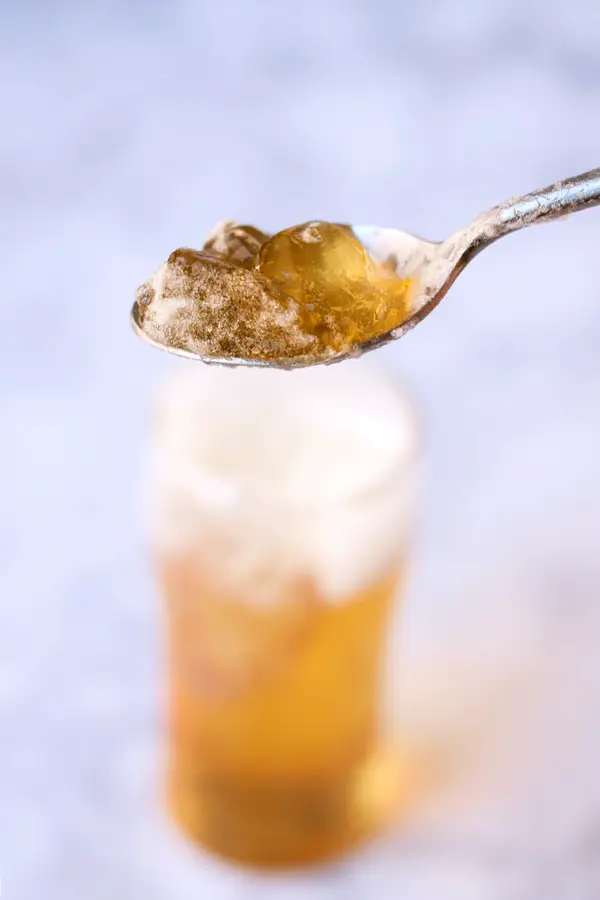 So what will you make this apple jelly "beer"? A prank? Maybe you are going to give it to your kids on St. Patrick's Day while you drink your Guinness? I'm sure there are mixed opinions on giving your kid something that looks like beer, but hey, I gave it to my four year old and she's doing alright.
Check out the video below for a quick tutorial, and take a look at some of my other fun jelly and gelatin recipes!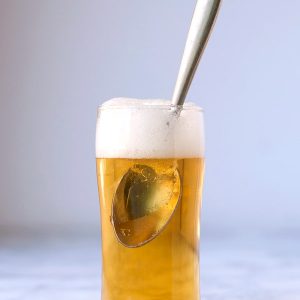 Apple Jelly "Beer"
This non-alcoholic apply jelly "beer" is made with just a few simple ingredients and looks JUST. LIKE. BEER. It is easy, fun, and quick to make. 
Instructions 
Prepare 2-3 glasses to pour apple jelly mixture into. The number of glasses you need will depend on their size. Try pouring the apple juice into the cups beforehand to see how many you will need. Account for foam at the top. 

Pour about a quarter to half of a cup of the apple juice into a medium bowl and sprinkle the gelatin over it. Set aside for a few minutes to bloom the gelatin. (optional: stir 1 T of sugar into the remaining apple juice) Heat the remaining apple juice until very hot, and pour over the bloomed gelatin. Mix gently with a whisk until melted. Nestle the bowl in a larger bowl of ice water, and stir gently until mixture has cooled down. Remove from the ice water bowl and whisk vigorously to create foam. You want about 2/5 of the mixture to be foam. Pour into cups and top with the foam. Place in the refrigerator for a few hours to firm up. Do not cover with plastic wrap, as it will stick to the foam. 
Nutrition
Nutrition Facts
Apple Jelly "Beer"
Amount per Serving
% Daily Value*
* Percent Daily Values are based on a 2000 calorie diet.