Roasted almonds are covered with a crunchy caramelized shell, dipped in milk chocolate, and dusted with cocoa powder. These chocolate covered caramel almonds are an addictive snack… you won't be able to stop at one!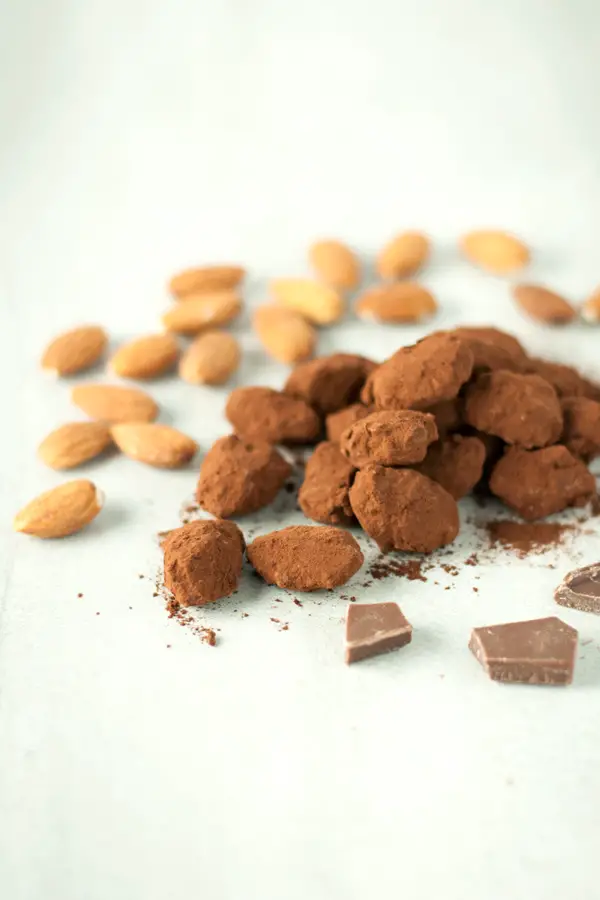 These chocolate covered caramel almonds were supposed to make it onto the blog before Valentine's. So, what happened? Basically, I have no one to blame but myself, and my disorganized ways. I based these off of a recipe from a cookbook that I have, but I made some changes that I wrote down on a little scrap of paper.
Well, I have two little kids and a baby, and little scraps of paper tend to end up with one of these three fates:
Scribbled all over and then cut up by my kids.
Accidentally thrown into the recycling bin when I do a quick cleanup.
Falls to the floor and goes right into baby's mouth.
It's amazing how quickly my 9 month old can scoot over to any type of paper that falls to the floor. It's her favorite food. I have to dig the pulp out from her clenched jaws.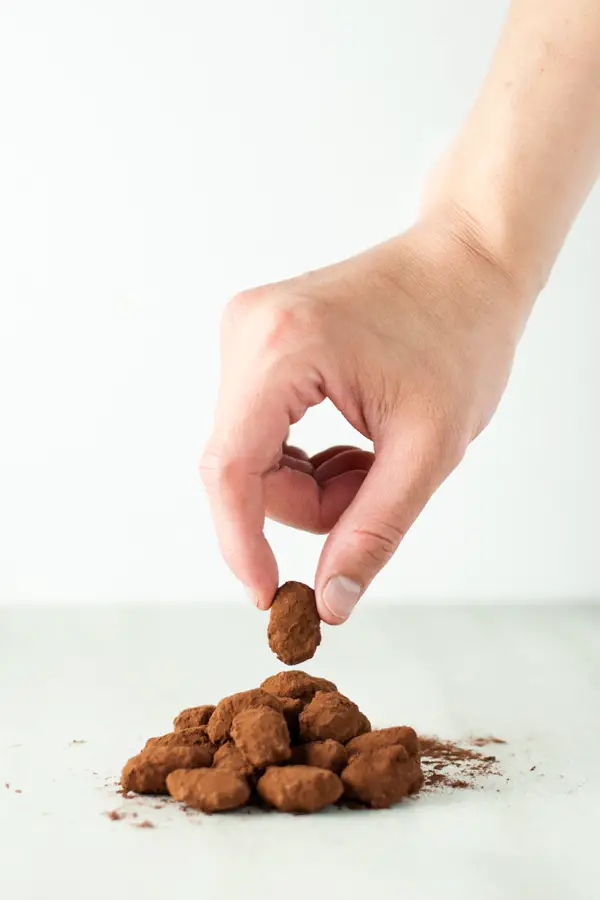 Anyways, I lost the recipe right before I was going to write it up. I had the pictures taken and everything! And with this and that, I just didn't get around to remaking them to double check the ingredient amounts. This isn't the first time I've had this happen to me… so now I make sure to jot my notes down on my phone.
Last night I hosted a bookclub meeting at my place, so I thought it would be a perfect opportunity to remake these! They are roasty from the almonds, have a nice crunch from the caramelized sugar, and finish with a smooth chocolate coating and rich cocoa powder dusting.
These chocolate covered caramel almonds are so good, I can sit down with a bowl and eat an absurd amount before my husband walks over and says, wait, how many have you eaten?! Then I tell him to go away.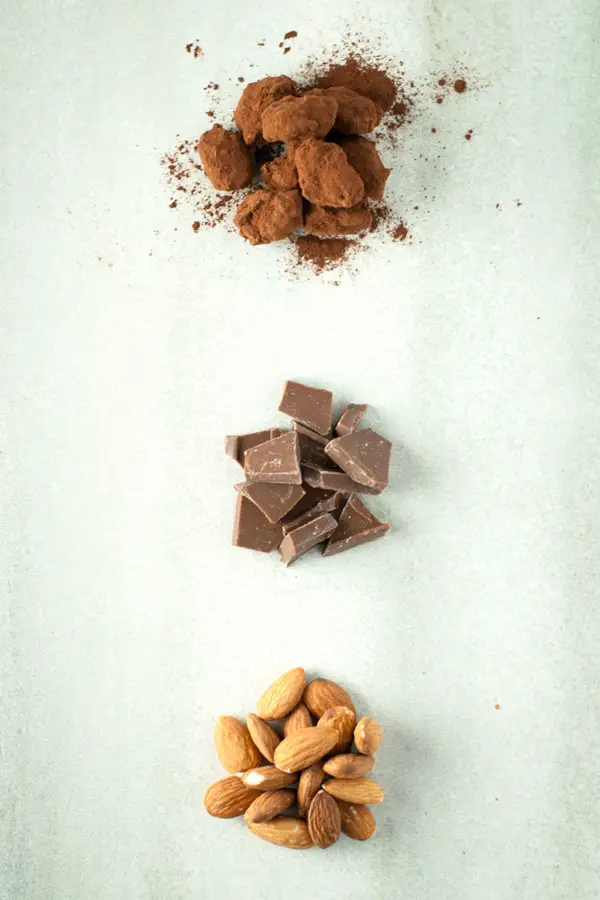 Anyways, these chocolate covered caramel almonds would've been a great Valentine's treat, but let's be real. They're great any time. Chocolate is great anytime, so be sure to look at my other chocolate recipes.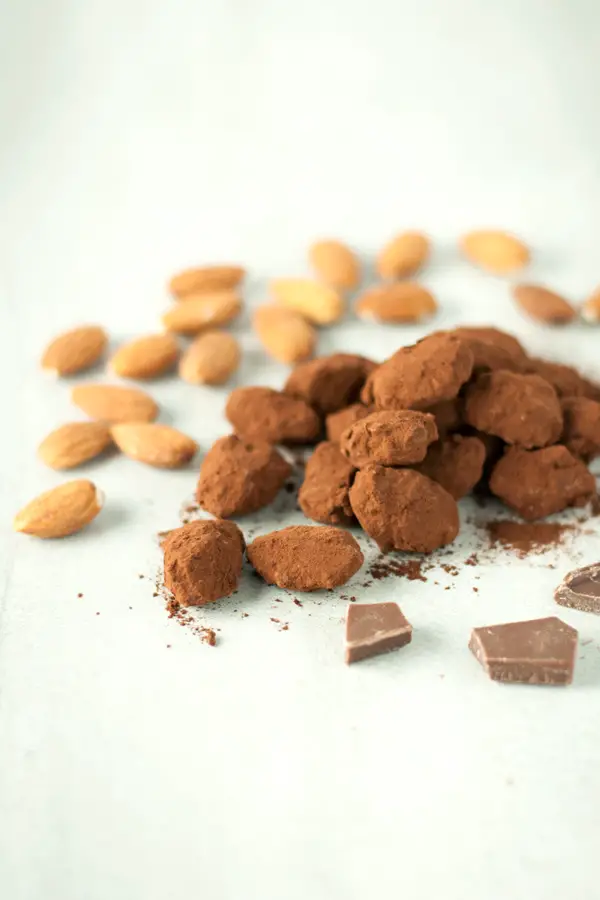 Chocolate Covered Caramel Almonds
Roasted almonds are covered with a crunchy caramelized shell, dipped in milk chocolate, and dusted with cocoa powder. These chocolate covered caramel almonds are an addictive snack, and you won't be able to stop at one! 

Instructions 
Preheat oven to 350 degrees F. Place almonds on a baking sheet and roast for about 7 minutes. Keep an eye on the almonds to make sure they don't burn. The almonds are done when they have a nice roasty flavor and are slightly darkened. 

Set out a silpat mat or parchment paper. When almonds are done roasting, combine the sugar and water in a small saucepan over medium heat and stir until it starts to simmer. Add the almonds and stir continuously. The sugar will eventually crystallize and become grainy and white. Keep stirring, and the sugar will melt again and start turning amber. The sugar will caramelize and turn a deep amber color. Make sure to watch carefully so you don't burn the sugar! Remove from heat, add the butter and stir to combine the butter fully with the sugar. Quickly spread the almonds out on the mat. Take a fork or chopsticks and separate the almonds from one another. Allow to cool. (For method two, below, cool the almonds in the fridge)

Meanwhile, prep the chocolate for dipping. Place cocoa powder in a small container and set aside. Break chocolate into pieces and place in a double boiler. Alternately, place in a glass bowl over a saucepan with about an inch of water. Bring water to a low simmer, and place bowl on top of the saucepan, making sure the bottom doesn't touch the water. Note: Do not let any water come in contact with the chocolate or else it will seize and be ruined. Stir the chocolate until completely melted.

You can choose either method, below. 

Method one- ice method: Place some ice in a large bowl. Place the almonds in a medium bowl and nestle over the ice. Pour about 1/4 of the chocolate over the almonds and stir until the almonds are covered and chocolate starts turning white-ish. Remove from ice and stir until chocolate is mostly solid. Return to ice and add another 1/4 of the chocolate. Repeat until chocolate is gone. If too much chocolate gets stuck to the bottom of the bowl, place over the saucepan with the hot water for a few seconds. The residual heat should be just enough to soften the chocolate at the bottom. Once the chocolate is solid, toss the almonds in the cocoa powder to coat. 

Method two- easier/uglier method: Place refrigerator chilled almonds in a large bowl and pour the chocolate over them. Stir until fully coated.  Spread the almonds out over a silpat mat or parchment paper and place in the fridge to chill and harden. Once the chocolate has set, remove from fridge and toss in cocoa powder to coat.

Method one tends to result in better looking shapes. Method two, at least for me, resulted in less uniform chocolate coverage, and flat spots. That being said, it's less work and is easier. They basically taste the same, so choose whichever method suits you. 
Notes
Using roasted almonds from the store will work, but roasting your own almonds will result in a deeper, more roasty flavor. 
Dutch process cocoa powder has a less bitter/intense flavor, and I prefer it for coating applications.
Adapted from Orange Page- 初めてのお菓子 cookbook
Nutrition
Nutrition Facts
Chocolate Covered Caramel Almonds
Amount per Serving
% Daily Value*
* Percent Daily Values are based on a 2000 calorie diet.