Gateau au chocolat, or ガトーショコラ in Japan, is a simple but popular French chocolate cake. This version uses almond flour, making it a gluten free gateau and grain free treat.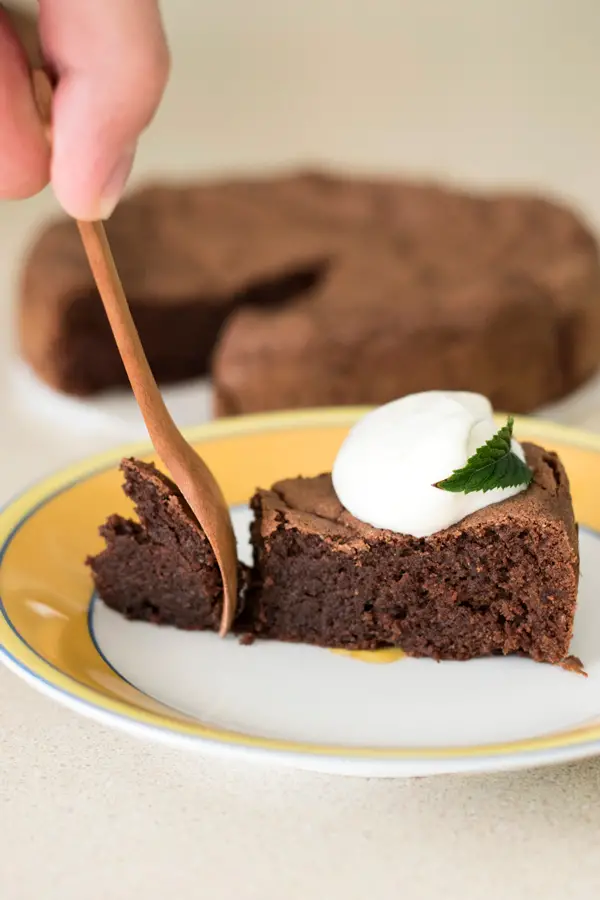 A long long time ago (last month), I made this gluten free gateau for my birthday. It's rich, it's dark, it's chocolatey, and I looooove it. I grew up eating this cake. It's popular in Japan and I thought it was popular in America, but I've found that many people haven't heard of it! What?!
Gateau au chocolat just means chocolate cake in French. But to us here in America it means a dense single layer cake, sans frosting… because you don't even need it. I like standard American chocolate cake, don't get me wrong…but my heart really lies with French chocolate cake.
And then there's this craggy top that is wonderfully rustically pretty.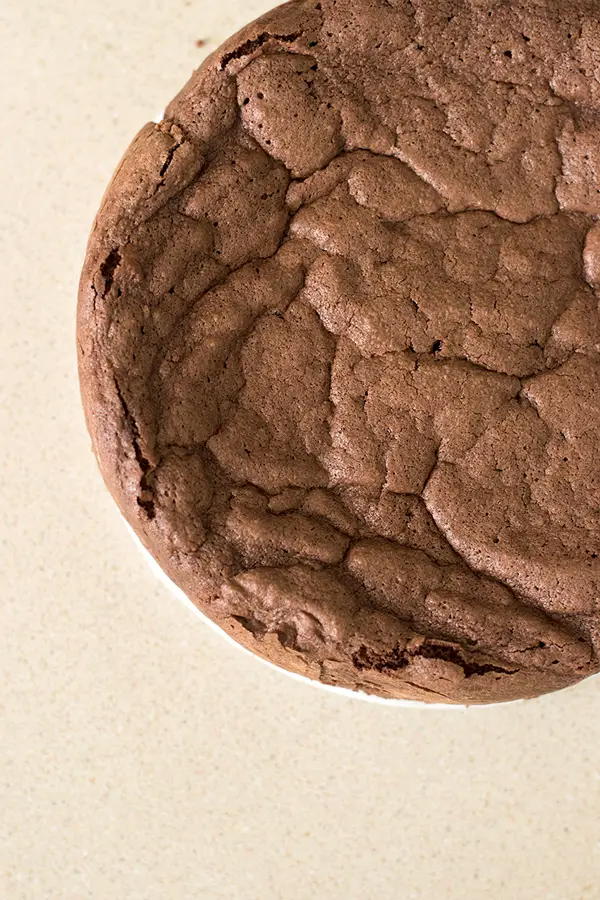 Oh, and I like mine dark. I used my fav chocolate brand, Amano, which I discovered when I was in college. They were right up the street from where I lived, and I visited their warehouse and was BLOWN AWAY by how good it was. It was my first foray into the wonderful world of single origin dark chocolate, and I haven't looked back. They sent me some bulk Madagascar chocolate, which was delicious, and then I made it again with my favorite bar, Dos Rios. They both worked wonderfully, but I especially loved the floral notes from the Dos Rios.
This gluten free gateau has a really simple ingredients list, so using quality chocolate is a must. The flavor notes from the bar really came through in the final product, and I was really pleased with the results. You can use grocery store chocolate chips, but may I suggest using your favorite single origin bar for an extra special experience?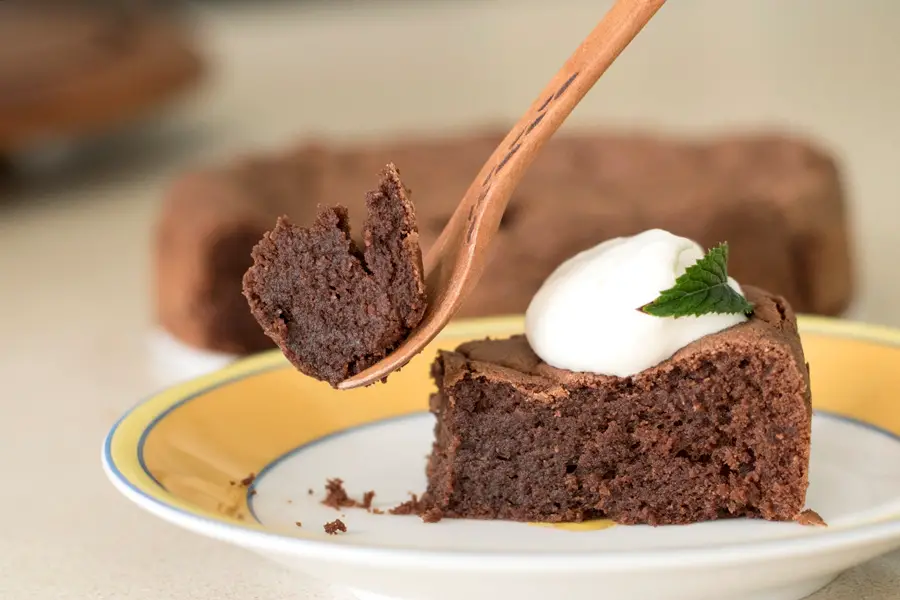 I also decided to make a gluten free gateau and grain free by using almond flour. There wasn't a huge reason, but it's always nice to have the option, especially for when you need a treat to make for someone with dietary restrictions.
This simple cake is best when topped with a dollop of cool whipped cream. Give it a try. You may even find that you prefer French chocolate cake over the tall frosted American kind… gasp! You should also check out my other cake and cupcake recipes!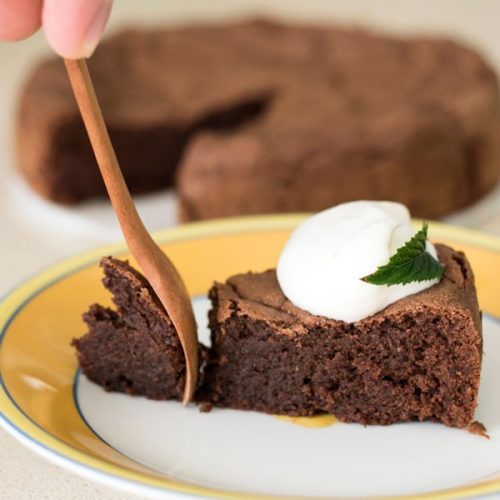 Gluten Free Gâteau (French Chocolate Cake)
Gateau au chocolat, or ガトーショコラ in Japan, is a simple but popular French chocolate cake. This version uses almond flour, making it a gluten and grain free treat. 
Instructions 
Preheat the oven to 350 degrees F. Prepare a 6 inch spring form pan by lining the sides with parchment paper. 

Melt the chocolate in a small glass bowl, either over a double boiler or in the microwave. If you use the microwave, make sure to only heat it in 30 second intervals, stirring after each time, so as not to burn the chocolate. 

Get two small or medium mixing bowls. Make sure one of them is COMPLETELY oil free, as you will be using it to whip egg whites. I always wash the bowl before using it, just in case. 

Place the softened butter in the other bowl, and using a spatula, mix it until it is smooth. Add the almond flour and stir until completely combined. Add the egg yolks, and put the egg whites in the other (super duper clean) bowl. Mix the egg yolk almond flour mixture well, and add the melted chocolate. Stir until combined, and set aside. 

Using a (super duper clean) hand mixer, start beating the egg whites. Once the egg whites start to foam up a bit, add 1/3 of the sugar at a time, beating well after each addition. Beat until stiff peaks form.

Add about 1/4 of the whipped egg whites to the chocolate mixture, and fold in until well combined. Add half of the remaining egg whites and gently fold in, and then add the remainder and gently fold in. Pour into the cake pan, and bake at 350 for a little over 30 minutes, or until a toothpick comes out clean. Remove the springform and peel away the parchment paper. Allow to cool and eat with a dollop of whipped cream. 
Nutrition
Nutrition Facts
Gluten Free Gâteau (French Chocolate Cake)
Amount per Serving
% Daily Value*
* Percent Daily Values are based on a 2000 calorie diet.