This stovetop cake with pomegranate cream is easy to make and you don't need an oven! Chocolate and pomegranate come together to make a rich but fresh dessert.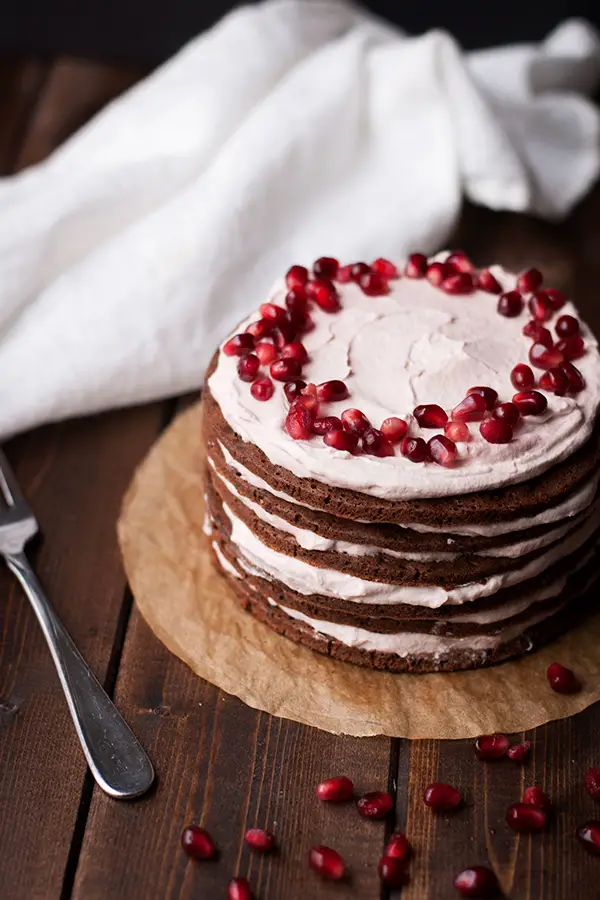 So I just came back from a trip to Maui to visit my husband's family. I haven't posted in TWO WEEKS! Which I guess isn't that long, but by the end of the trip I was itching to get back into the kitchen and make something.
The day I got back from Maui, I went to the store to restock the kitchen and came across some pomegranate arils. I usually am not a huge pomegranate eater since they are a tad expensive (especially when they are just the arils), but something stopped me from walking away that day. I thought, I just flew for almost an entire day with three little kids, so I should treat myself. So into the basket they went. And then I added a container of pomegranate juice, because I had a dessert idea brewing in my mind… with a delicious pomegranate cream on top.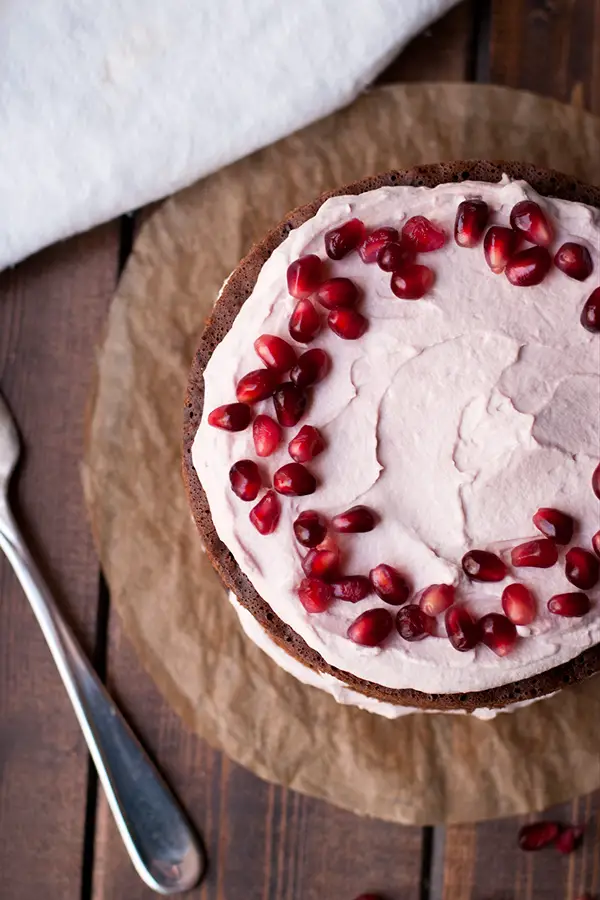 Aren't pomegranate arils just beautiful? I knew I wanted to pair that rich ruby color with chocolate, to make a perfect Valentine's day dessert… although this could work any time of the year. I mean, fruit and chocolate. Can't go wrong.
This cake is extra special because it's made SANS OVEN! So, yes, basically it's kind of sort of a pancake cake, but, not really. It's a cake, and it's made in a pan, but it doesn't have the texture, bite, or flavor of a pancake. It's much better!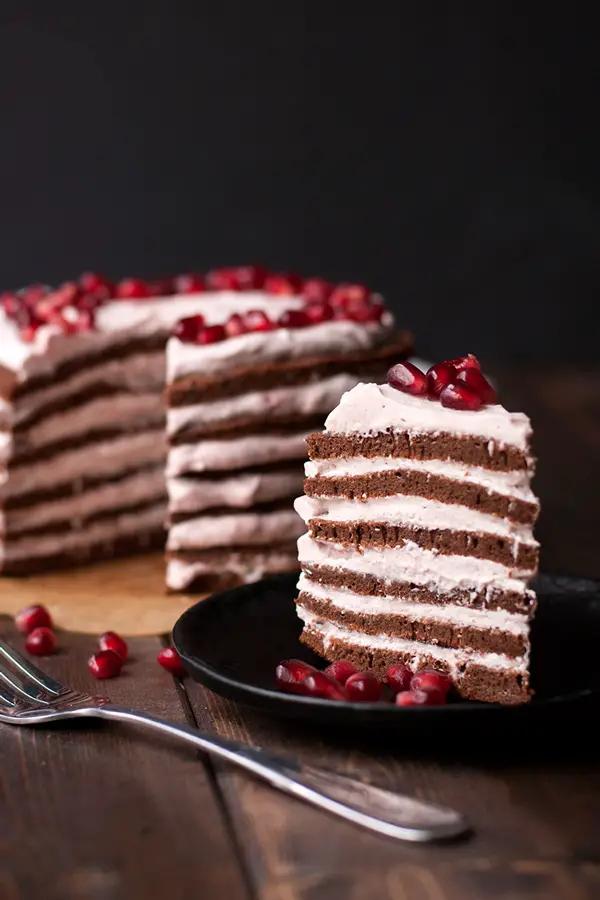 It's easy to make. You mix up the batter, and then you cut out a parchment paper to fit in the bottom of your skillet (I used my 9 inch). You heat it over medium low, pour some batter, throw on the lid, and let it cook through. Peel off, repeat. I used the one piece of paper for all my layers. Then, to make it pretty, I used my big round cookie cutter. It's a little over 5 inches in diameter, so actually, it's probably not for cookies… I wonder what it's for?
You can choose to make your cake whatever diameter you want. Just make sure you pour bigger than the diameter of the round cutter you are using. Smaller diameter means more layers and a taller cake. Don't get too crazy or you'll get the leaning tower of cake!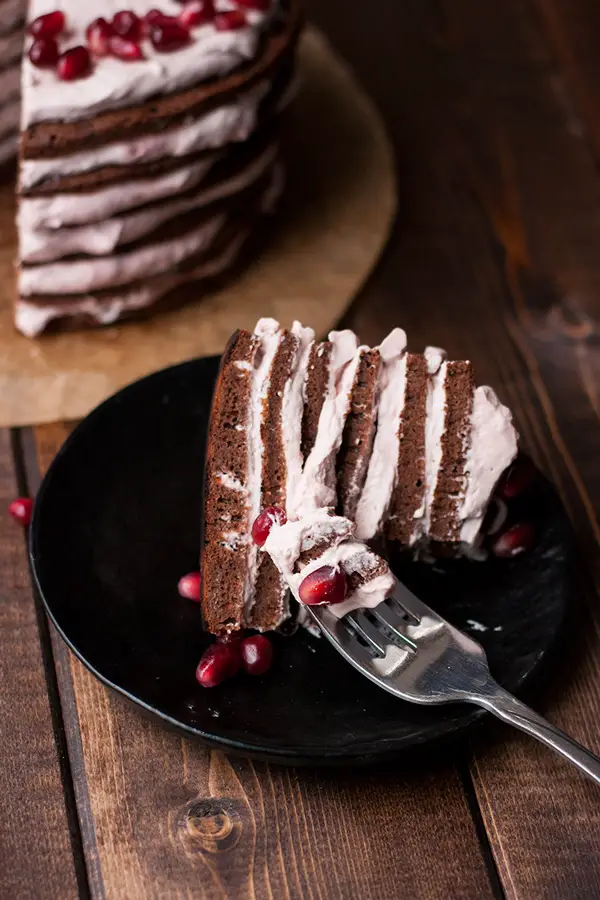 As for the pomegranate cream, just whip some cream, and some syrup and vanilla, and you're done! So simple to make and so delicious! This was so much fun to come up and I love desserts. If you can't tell already, go look at my other dessert recipes. I hope you love them as much as I do!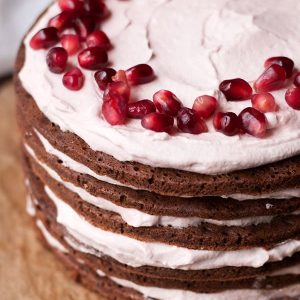 Chocolate Stovetop Cake with Pomegranate Cream
This stovetop cake is easy to make and you don't need an oven! Chocolate and pomegranate come together to make a rich but fresh dessert.
Instructions 
Prep Pomegranate Cream
Take one cup of pomegranate juice and heat in a small saucepan over medium high heat. Allow to simmer away until it reduces to about 1/4 cup. Place in a container and allow to cool while making the cake.

1 cup 100% pomegranate juice
Mix Chocolate Cake
Place eggs in warm-hot water bath while you measure out your other ingredients.

Sift together the cake flour and cocoa powder.

90 g cake flour,

30 g cocoa powder

Combine milk with butter and melt.

2 T milk,

25 g unsalted butter

Crack warm eggs into large mixing bowl and beat with hand mixer until slightly frothy.

Add in the sugar and beat until light and fluffy and tripled-quadrupled in size.

Add 1/3 of the flour mixture to the eggs and fold in. Add 1/3 of the butter mixture and fold in. Repeat until all the ingredients are combined. If adding vanilla, add with the last bit of butter. 
Cook Cake Layers
Heat a 9-inch (or whatever size you are using) skillet over medium low heat.

Cut a piece of parchment paper to fit the bottom of the skillet and place on the skillet while heating.

Using a ladle, scoop the batter onto the parchment paper and use the bottom of the ladle to spread it out a little. 

The batter should be about 5mm in thickness. Make sure your diameter is larger than the diameter of the round cutter you will be using to cut it. 

Place lid on skillet and cook through. This should take anywhere from a couple of minutes to 6 minutes. 

Cake is done when it springs back when poked in the middle and doesn't stick to your finger. 

Using tongs, remove the parchment paper and peel the cake off and set aside. 

Repeat with the remaining batter. Using the round cutter, cut out the circle and discard (read: eat) the outer scraps. 

Set aside. 

Large round (cookie) cutter
Mix Pomegranate Cream
Place 1 cup heavy whipping cream in a large bowl and add the powdered sugar.

1 cup heavy whipping cream,

2 T powdered sugar

Whip the cream until medium peaks form.

Add the reduced pomegranate syrup and vanilla, and whip until stiff peaks form. Make sure not to overwhip, or your cream will start turning into butter and won't be smooth and shiny.

Optional: For a firmer cream that tastes the same, sprinkle 1 t of gelatin over 1 T of cold water and allow to bloom for a few minutes, while initially whipping the cream. When you add the pomegranate syrup, heat the gelatin in the microwave for about 5 seconds. Watch closely. You want it to melt, but not boil! While whipping the cream and pomegranate, drizzle in the melted gelatin. This will result in a cream that will hold up better to multiple layers, and won't gush out the sides when slicing the cake. 

1 T cold water,

1 t gelatin,

1/4 t vanilla
Assemble
Spread a layer of pomegranate cream over each layer of cake and stack. The amount you use per layer will depend on the diameter of cake. On the top layer, add some more cream, and garnish with pomegranate arils.

Refrigerate to set the cream.
Notes
Stovetop cake idea from Orange Page Cookbook- はじめてのお菓子
Nutrition
Nutrition Facts
Chocolate Stovetop Cake with Pomegranate Cream
Amount per Serving
% Daily Value*
* Percent Daily Values are based on a 2000 calorie diet.