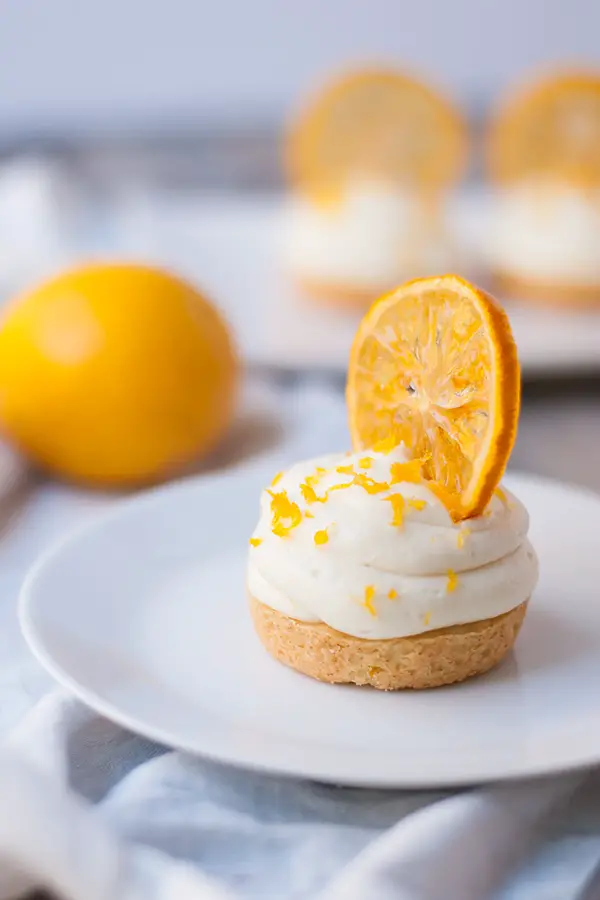 What I really wanted to name this post, is meyer lemon white chocolate cheesecake mousse bites, because I feel like it's a little more accurate. Unfortunately, it's a little bit too long. But that's basically what this is. It's lighter and fluffier than a regular no-bake cheesecake, and they are individual portion sizes! Whatever it is, it's decadent, beautiful, and delicious!
The other day, when I was at Costco (I feel like I have been saying this line a lot lately), I came across a big bag of Meyer lemons. Meyer lemons are a little smaller, a little sweeter, and a little more orange colored than regular lemons. Supposedly they are a cross between a mandarin orange and a lemon? Anyways, they are still sour and I wouldn't recommend just eating it straight, but they have a unique fragrance and flavor that sets it apart from regular lemons, and they are delicious! So, into the cart it went.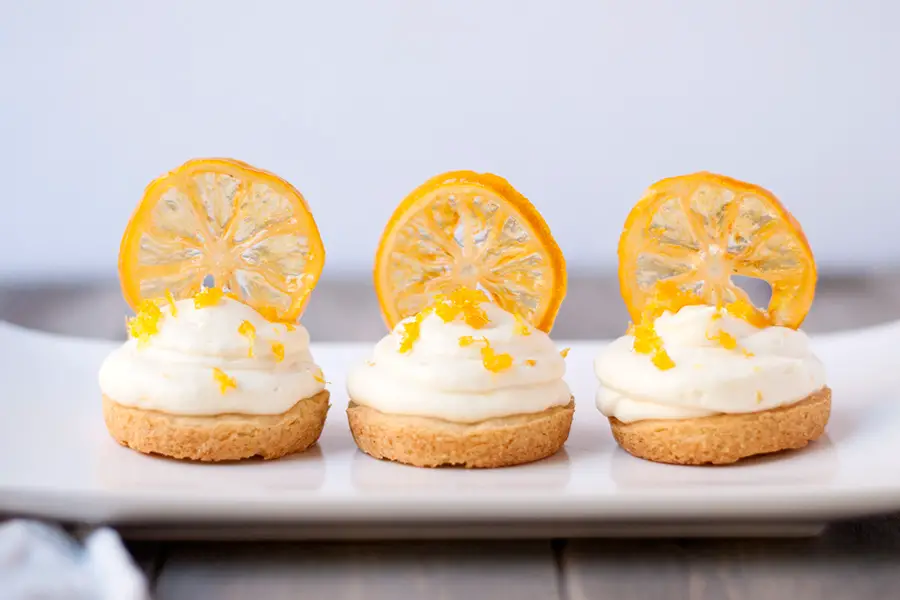 I actually don't really like lemon desserts all that much. Lemon bars? Meh. Lemon meringue pie? ehhhhh, no thanks. But when lemon is combined with white chocolate, it changes things. I mentioned before that, well, I'm not a huge fan of white chocolate either (unless it's caramelized, of course)! What is it about these two ingredients, both of which I am lukewarm about, that works so well together? Actually, I don't know the answer to that. It just does.
What I DO like, is individual portion desserts. Like these muffin tin almond tarts. I like the look, the size, and the portion control (unless you eat more than one, which, actually, is pretty likely if you are… me). They are also perfect to bring to parties or get togethers, because each person can grab one and you technically don't even need a plate or a fork!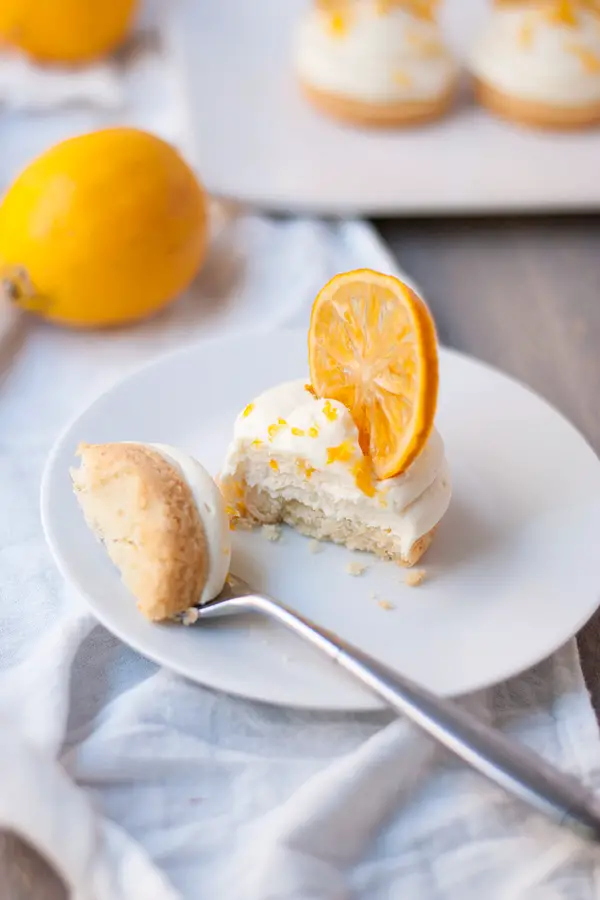 Meyer lemons are seasonal, and you'll (usually) only be able to get your hands on them during fall and winter, so… GO! Make these now!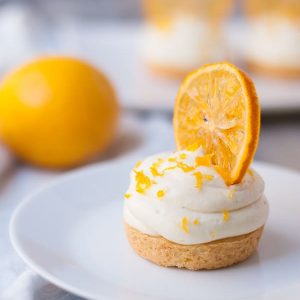 Meyer lemon white chocolate cheesecake
A light and fluffy no bake cheesecake flavored with meyer lemon and white chocolate tops a shortbread crust baked with meyer lemon zest. The perfect combination of sweet and citrus! 
Instructions 
Prep
Spray or butter/oil up a 12 muffin tin.
Shortbread Crust
In a medium bowl, cream together the butter and powdered sugar until light and fluffy.

1/2 cup butter,

1/4 cup powdered sugar

In another bowl combine the flour and baking powder & meyer lemon zest.

1 cup all-purpose flour,

1/8 t baking powder,

1 t meyer lemon zest

Add to butter mixture. Mix until combined.

Divide into 12, and press into muffin tin.

Bake for 10-15 minutes or until the edges are lightly browned.

Remove from oven, allow to cool slightly, and remove rounds from tin.

Set aside.
Cheesecake Mousse
In a small saucepan over medium heat, bring lemon juice to a simmer, and reduce to about 2t (Yes, 1/2 cup to 2 t!), watch closely near the end, once most of the water has evaporated. We want a strong lemon flavor! 

1/2 cup meyer lemon juice

Heat milk in a microwave safe bowl, in the microwave, until hot but not boiling.

Remove from microwave and add the white chocolate.

Stir stir stir until chocolate is melted and smooth.

Set aside to cool. 

In a large mixing bowl, cream together the cream cheese and 2 T of the sugar.

4 oz cream cheese,

3 T sugar

Add the vanilla, the reduced lemon juice, and beat to combine.

Add the melted white chocolate and beat again to combine. 

In a medium size mixing bowl, whip the heavy cream with the remaining 1 T sugar.

3 T sugar,

1/2 cup heavy cream

Fold the whipped cream into the cheesecake mixture until combined.

If it's a little runny, place in the refrigerator to firm up a bit. 
Assemble
Pipe the cheesecake mousse onto the individual shortbread rounds, and top with lemon zest sugar (combine 2 parts lemon zest to 1 part granulated sugar, or to taste), and a candied meyer lemon slice.

candied meyer lemon slices,

meyer lemon zest, granulated sugar

Return to refrigerator until ready to serve. 
Notes
For candied meyer lemon slices, I used the instructions from: she wears many hats, but I only needed one cup of water and one cup of sugar. You can also use store bought. 
Nutrition
Nutrition Facts
Meyer lemon white chocolate cheesecake
Amount per Serving
% Daily Value*
* Percent Daily Values are based on a 2000 calorie diet.