This creamy Chocolate Ganache Tart recipe is the perfect dessert for coconut lovers. The velvety filling is made with rich milk chocolate and creamy coconut milk, nestled in a crunchy graham cracker crust, and topped with toasted coconut flakes and macadamia nuts. Follow our easy recipe and enjoy a slice of paradise!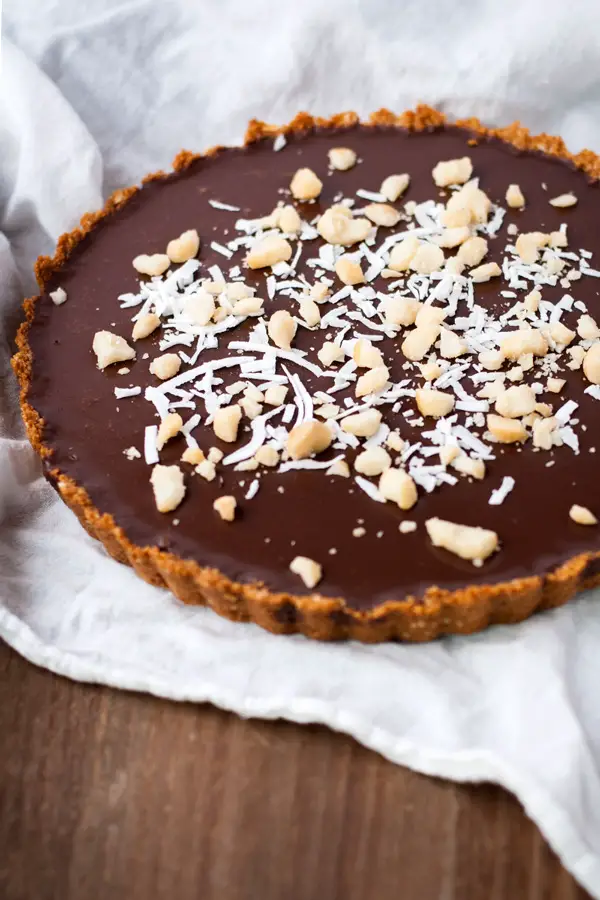 The other day I got a Christmas care package in the mail from my mother-in-law, who lives in Hawaii. Obviously it was filled with toys for the kids, but there were a couple of things for me in there too! Namely, a bag of dry roasted and salted macadamia nuts. In the past she's sent the chocolate covered toffee mac nuts which I LOVE, but when I saw the plain salted ones, I thought, "oooh I should make something with these!" And so this chocolate ganache tart with macadamia and coconut was born.
Chocolate Ganache Tart Recipe
I kept the recipe really simple. Graham cracker crust, ganache filling, and macadamia nut and coconut topping. It's the holidays, aren't we all crazy busy?! But of course I had to include some chocolate.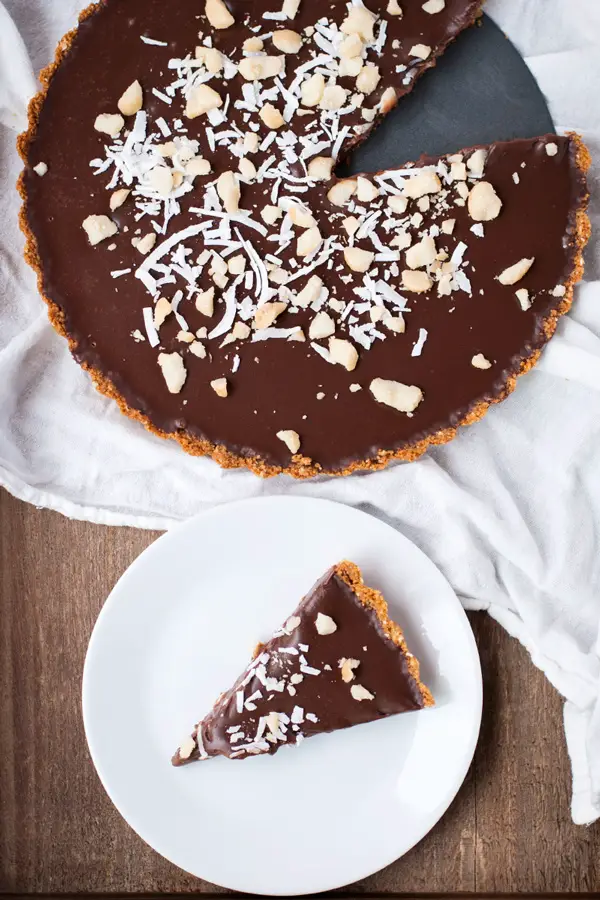 To add a little Hawaiian flavor note into the chocolate ganache tart, I added coconut flakes to the crust, and used coconut milk instead of heavy cream for the ganache. To make the coconut milk thick enough, you will first need to get all of the thick cream out of the can, and then top it off with the more watery left overs. If you shake the can up and use the mixed up coconut milk, your ganache will probably not set hard enough.
Now, this tart is SUPER RICH! The filling is just straight chocolate and coconut milk (which also means it'll be delicious… use good quality chocolate please!), so I wanted to take the sweetness of the crust and toppings down a bit. No additional sugar is added to the graham cracker crust, and I used unsweetened coconut flakes. If you want it to be sweet sweet sweet, then feel free to use sweetened coconut flakes.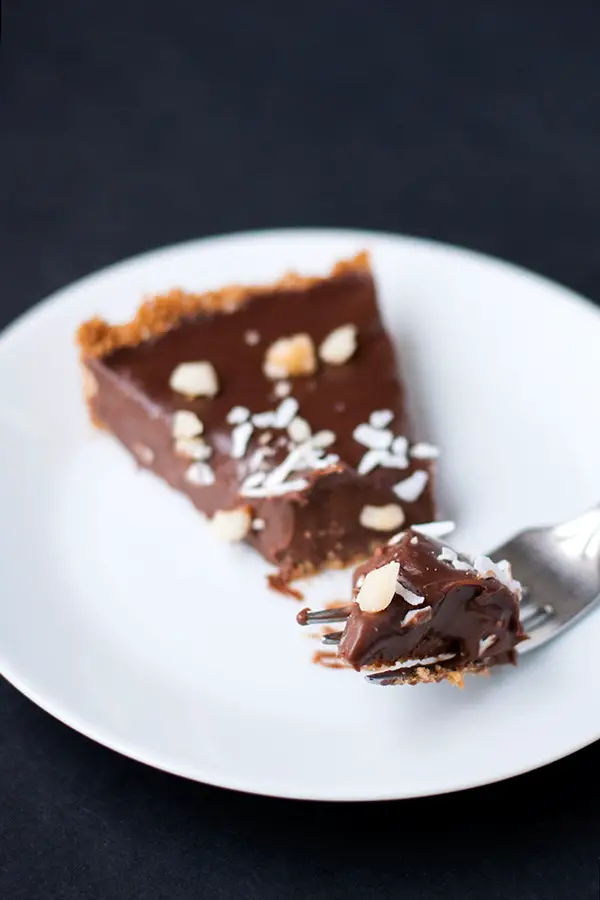 So, for the picture, I didn't put all of the nuts and coconut on… I thought it was enough. When I started eating it, the salty macadamia nuts on top were so good that I added the rest of it on. So, realistically, your chocolate ganache tart should be covered with nuts and coconut flakes. If you need a tart pan, here's one you can get on Amazon.
Yum yum yum :), have fun!
Looking for another delicious coconut dessert? Try my Hawaiian butter mochi recipe. A chewy, buttery mochi with a tropical Hawaiian twist.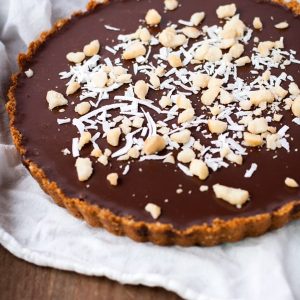 Chocolate Ganache Tart with Macadamia and Coconut
A graham cracker crust tart is filled with a sweet ganache made from milk chocolate and coconut milk. Salted macadamia nuts counter the sweetness and add a nice crunch!
Instructions 
Make the ganache
Open your unshaken coconut milk can. Scoop out all of the cream into a 2 cup measuring cup. Fill the measuring cup to the 1 1/4 cup line with the rest of the liquid. Set aside remaining liquid for another use. (I recommend putting it in a smoothie!)Cut milk chocolate into small pieces or shavings (not necessary if you are using chips).

Put the coconut milk in a medium bowl and microwave until very hot and just starting to simmer.

Add the milk chocolate to the coconut milk and stir until completely melted and smooth.

Set aside. 

12 ounces good quality milk chocolate,

1 can coconut milk
Make the tart crust
In a food processor, combine all of the ingredients and pulse until completely combined.

Press into a 9-in. tart pan and bake until golden, 10-12 minutes.

Let cool for about 10 minutes.

9 graham crackers,

6 T unsalted butter,

pinch of salt,

1/4 cup unsweetened coconut flakes
Assemble
Pour the ganache into the baked and slightly cooled tart crust, and allow to cool completely.

Transfer to fridge for several hours or overnight to set.

Once set (top is no longer jiggly), crush macadamia nuts in a plastic bag and garnish with the macadamia nut pieces and coconut flakes

1/2 cup dry roasted and salted macadamia nuts,

1/4 cup unsweetened coconut flakes
Notes
This tart is very rich, so I used unsweetened coconut flakes. You can use sweetened flakes for a sweeter crust and topping. 
Nutrition
Nutrition Facts
Chocolate Ganache Tart with Macadamia and Coconut
Amount per Serving
% Daily Value*
* Percent Daily Values are based on a 2000 calorie diet.