These adorable hedgehog cookies are topped with chocolate coconut spines, and will be sure to delight kids and adults alike.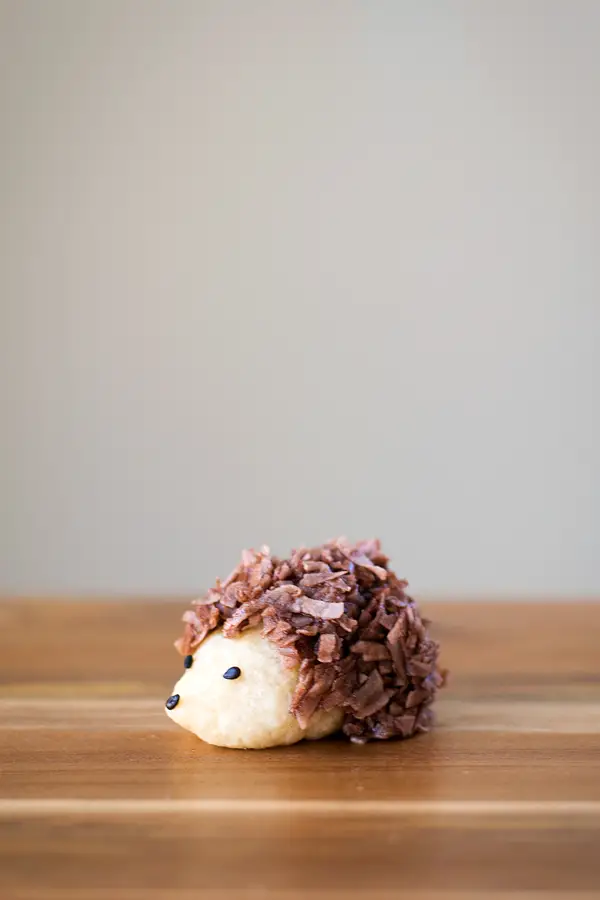 Christmas is coming up, and I wanted to share a cookie recipe… because is it really Christmas without cookies? (Last year I made Swedish pearl snowball cookies and milk chocolate lacey cookies!)
This hedgehog cookie, as you can see, is totally adorable. I mean, look at this little guy, SO CUTE! Hedgehogs are already a super cute animal, so of course it would make a cute cookie!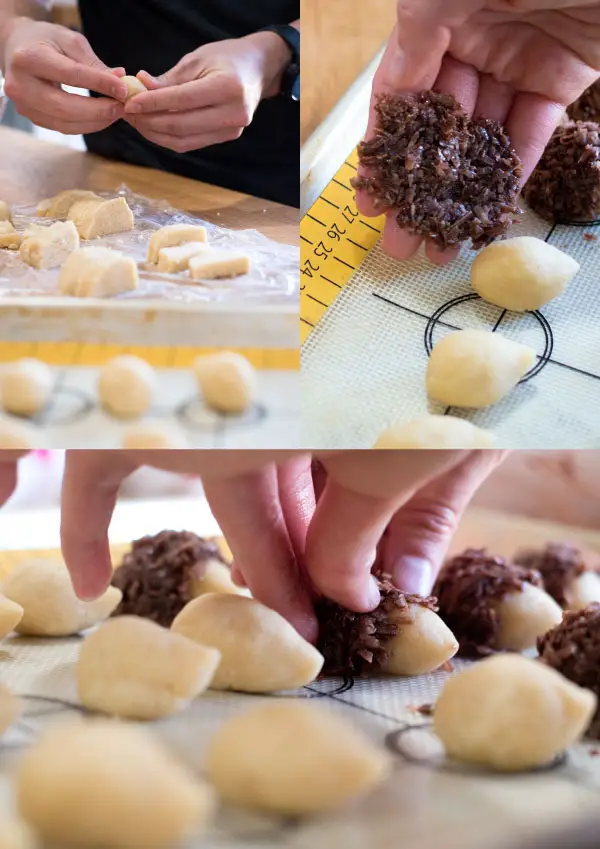 Most hedgehog cookies I've seen online involve shaping the cookie, baking it, dipping it in chocolate and then dipping it in nuts or sprinkles. Those are cute too, don't get me wrong, but I think the coconut really makes the difference here. It's just so… quilly.
Actually, as I was writing the description for this cookie, I learned that hedgehogs do not have quills. That is for porcupines only, apparently. Hedgehogs have spines. Which sounds silly because who doesn't have a spine? But they are called spines, so what can you do.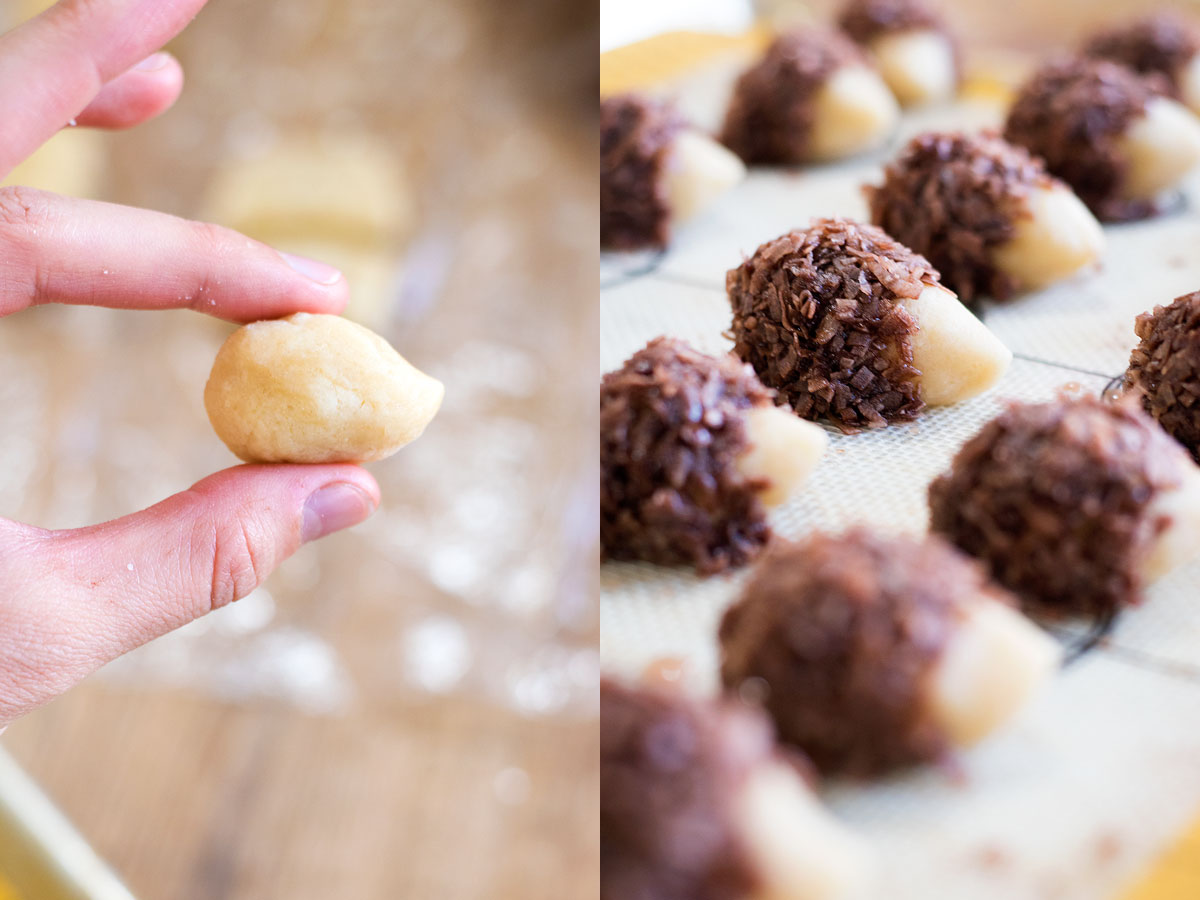 The key to an ultra-cute hedgehog is good shaping and good sesame seed placement. As you can see in the photo above, you shape it into a teardrop-like shape, then you slightly flatten the bottom, and I like to turn the nose up a little bit. My husband is the one shaping it in the top picture, and he is better at it than me! He's a designer, so he's got an eye for this sort of thing. What a great skill to have, amiright?
As a warning, the dough for this cookie is really quite crumbly and not the easiest to work with. But we need a dough that hardly expands when baking, so you'll just have to work with it. Sorry! I find that it helps to take each piece and squeeze it a few times to warm it up before shaping. Also, we're mostly just concerned with the nose. If the back of the cookie has a small crack or isn't shaped the best, well, it will be covered up with coconut so who cares?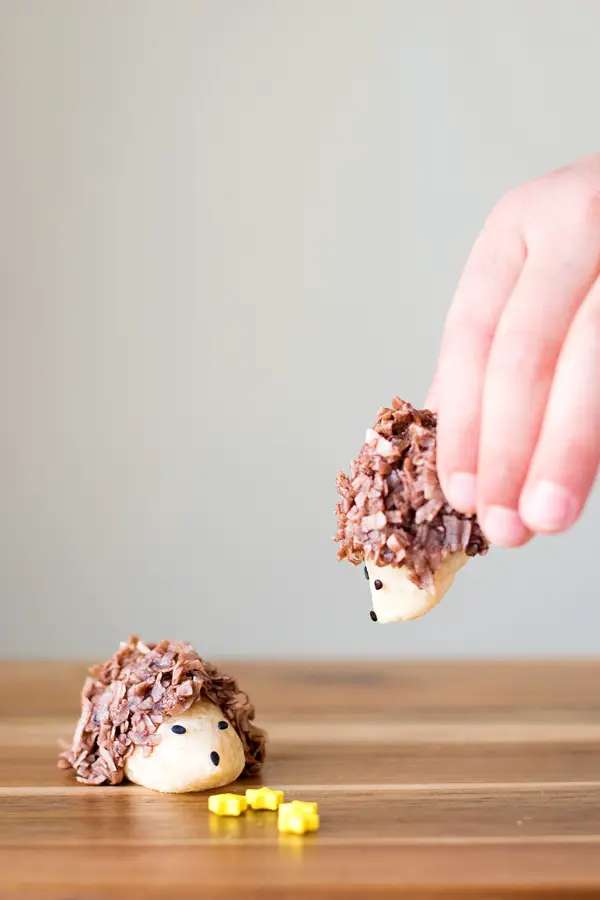 Seriously though, look, they are eating little candy stars! GAH! So cute!
A couple more points. I like to take the coconut mixture and flatten it out like a little blanket (see picture above), drape it right over the back 2/3 or so of the cookie, and then use my fingertips to form it nicely around the cookie. Make sure not to start the coconut too far back, or else the head will look too big and the proportions won't be right.
I also find that the placement of the sesame seeds is pretty critical in the cuteness factor of these little guys, so play around with it until you find the perfect placement! You can also use melted chocolate and pipe the eyes and nose, but I like the simplicity and sharpness of the seeds. Up to you!
Yes, these hedgehog cookies take a little effort, but you can be sure that it will be met with squeals of excitement and "OH MY GOSH SO CUTE!"s, so it's totally worth it.
The specialty ingredients here are almond flour
and black sesame seeds
 which you can either get online, or at most grocery stores.
Since it's Christmas, I got together with some bloggers to do a #VirtualCookieExchange ! Check out their creations below!
What Should I Make For · Ugly Sweater Gingerbread Cookies
The Sweet Nerd · Gingerbread Cookies – All Spruced Up
The Beach House Kitchen · Hot Chocolate Marshmallow Cookies
Beyond Mere Sustenance · Brandy-Spiked Mexican Hot Chocolate
Seasons & Suppers · Lemon Pistachio Shortbread Cookies
Ciao Chow Bambina · Lemon Drop Italian Cookies
The Busy Spatula · S'mores Cookies
Salt & Lavender · Vegan Gingerbread Cookie Bars
Meg is Well · Bradshaw Cookies: A Sour Cream Cookie with Cream Cheese Frosting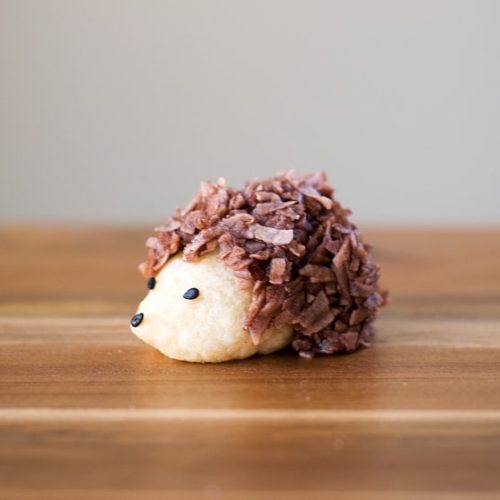 These adorable hedgehog cookies are topped with chocolate coconut spines, and will be sure to delight kids and adults alike. 
Instructions 
Prep
Ready a cookie sheet with either parchment paper or a silicone mat. 
In a medium sized mixing bowl, combine the flour, sugar, and almond flour.

150 g all purpose flour,

40 g granulated sugar,

30 g almond meal/flour

Add the melted butter and the milk, and stir with a spatula to combine.

Use your hands to fully combine, and then squeeze it together into one solid ball.

60 g unsalted butter,

2 Tbsp milk
Place the ball on a sheet of plastic wrap, wrap it up, and shape into a log.

Squeeze it tight while you shape it, so the dough sticks together and doesn't crumble.

Cut the log in half (2 pieces), cut the two pieces in half again, and then cut the pieces in half again.

You should now have 8 pieces.

Now take each piece and cut it into thirds, to get 24 pieces.

Take each piece, and using your palm and fingertips, shape into a teardrop shape (see pictures above), with a point that will be the hedgehog's nose.

Don't worry too much about how pretty the back looks, as it will be covered with coconut.

Shape the nose to point up a little bit, for a cuter face.

Flatten the bottom just a little, so it won't roll on the cooking sheet.

Place on the cookie sheet and start the coconut mixture.
Make Coconut Mixture
In a small saucepan, add an inch of water and bring to a simmer.

In a glass, heat safe bowl, combine the egg white, sugar, and cocoa powder with a whisk.

1 large egg white,

50 g granulated sugar,

2 tsp cocoa powder

Place the bowl over the small saucepan (the bowl needs to be bigger than the saucepan so it won't fall in).

Whisk continuously until the mixture is no longer gritty and the sugar has fully dissolved.

Remove from heat and add the unsweetened shredded coconut and mix to fully combine.

80 g unsweetened shredded coconut
Shape
Take about 1.5-2t of the coconut mixture and place on the palm of your hand, or your fingers (see pictures above), and gently press until you form a little coconut "blanket".

Drape the blanket over the hedgehog body, and using your fingertips to pack and form the coconut around the body, leaving the face and nose uncovered.

Note: don't leave too much of it uncovered, or else the proportions will not look right. See photos above to get an idea of how much should be covered.
Bake
Bake in the oven on the middle rack for 25-30 minutes.

Remove from the oven and allow the cookies to cool completely before touching them.

The coconut can be quite soft until it fully cools. 
Make Hedgehog
When the cookie cools, mix a pinch of sugar with an equal amount of water in a very small dish, and stir until combined.

Place some black sesame seeds in the sugar water (this is to help it stick to the cookie).

Using your fingertip, take a sesame seed and place it on the face portion of the cookie.

I used a toothpick to help get it off of my fingertip, and to push the seed into the correct place.

Place two sesame seeds for eyes, and one for the nose.
Nutrition
Nutrition Facts
Hedgehog Cookies with Chocolate and Coconut
Amount per Serving
% Daily Value*
* Percent Daily Values are based on a 2000 calorie diet.