Made with sweet rice flour and rich, creamy coconut milk, this Hawaiian butter mochi recipe is the perfect blend of sweetness and chewiness that will bring the taste of Hawaii to your kitchen.
Looking for a great holiday treat? Try this delicious and easy PUMPKIN mochi!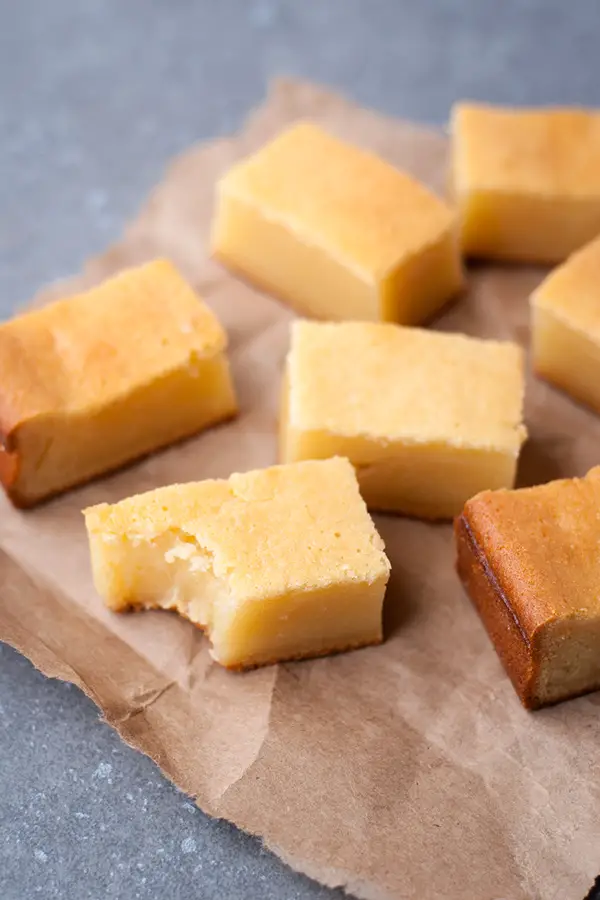 Hawaiian Butter Mochi is a blend of cultures
Butter mochi was a great discovery for me when I "discovered" Hawaii via my now-husband. Butter mochi is another classic local style Hawaiian treat that is a hybrid of cultures. Now, don't quote me on this, but I believe it's a mix of Filipino bibingka and Japanese mochi. I like to think of it as Hawaiian mochi or coconut mochi.
I learned today that bibingka is made out of cassava, which I have never used or eaten before. But, the similarity is the coconut. While Japanese recipes don't tend to use coconut, this butter mochi cake recipe has an entire can of coconut milk in it! It kind of adds a slightly tropical hint to it. In my opinion, this is the best hawaiian butter mochi recipe out there. But I am probably biased. 🙂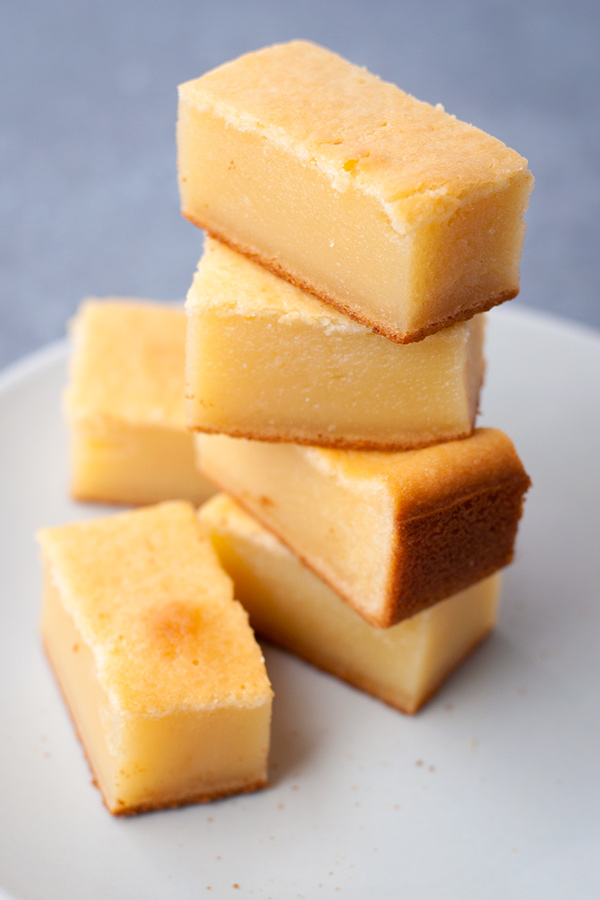 An Easy Butter Mochi Recipe
This is such an easy butter mochi recipe. Ridiculously easy. You barely even have to measure anything, because you just dump a can of this, a can of that, and a box of mochiko.
(By the way, lately I've been seeing mochiko at my regular grocery store. I found it in the healthy/natural foods section by the gluten free baking ingredients!)
ALL you have to do is mix, pour, bake, cut. SO easy and the result is so delicious! Fattening, yes, but delicious. And isn't it okay to indulge sometimes?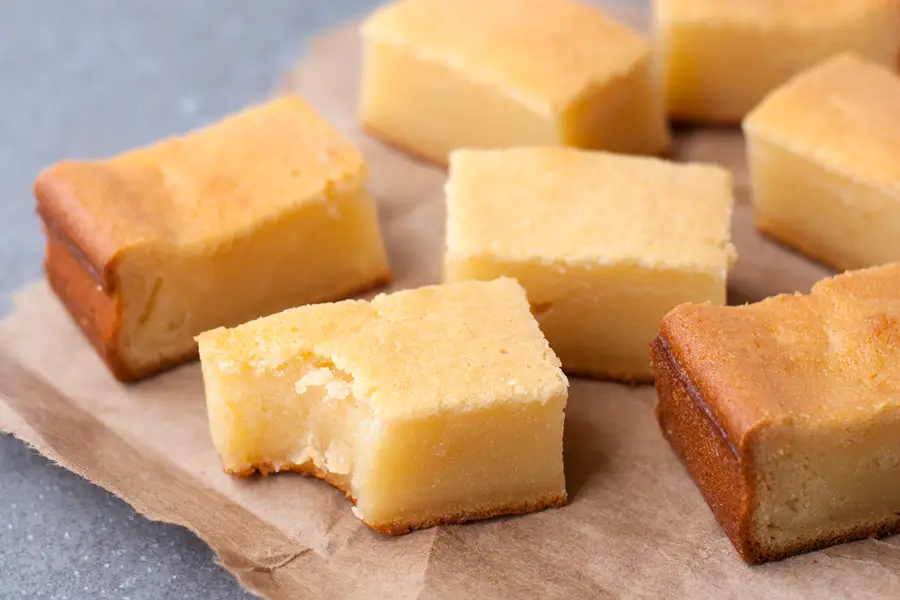 This recipe makes a 9×13 inch pan full of japanese butter mochi, so you'll want to bring this to a potluck or at least have someone to share it with. I had my husband take most of it to work and it was a hit!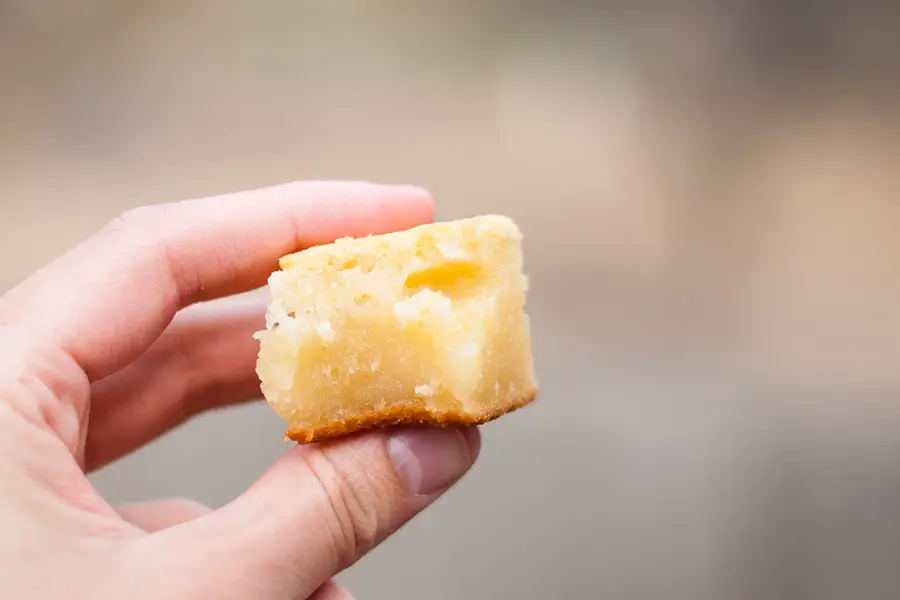 Mmm, I just love the bouncy texture of mochi. I mean, it looks kind of like a piece of cake, but you bite in to it and… yum.
Hawaiian Mochi Variations
Add coconut or fruit to make coconut or blueberry mochi
Some people like to add shredded coconut on the top of their butter mochi, but I like mine plain. Actually, wait… I've never had it with shredded coconut. Maybe I'll try it next time! Coconut mochi, I bet it would be good…Some people also use other fruit like blueberries or bananas, I haven't tried this either but banana or blueberry mochi cake could also be tasty if you want a different variation.
Even if you aren't a baker, you can definitely make this, so please give it a try! If you enjoy this recipe, try my black sesame ice cream. It is a great Japanese treat.
Recipe Tips: How To Make The Best Butter Mochi
Use high-quality ingredients: Since this recipe relies on simple ingredients like coconut milk, mochiko flour, and butter, it's important to choose high-quality products for the best flavor and texture. Look for brands that have a rich and creamy coconut milk and fresh mochiko flour.
Measure accurately: While the recipe mentions that you don't have to measure everything precisely, it's still a good practice to measure the ingredients as accurately as possible, especially when it comes to baking powder. Accurate measurements ensure consistent results.
Mix the batter thoroughly: When mixing the melted butter, sugar, and eggs, make sure to mix well after adding each egg to incorporate air into the batter. This will result in a lighter and fluffier texture.
Allow the batter to rest: After mixing all the ingredients together, let the batter rest for a few minutes before pouring it into the pan. This will allow the mochiko flour to hydrate and the flavors to meld together.
Grease the pan properly: Make sure to grease the 9×13 inch pan thoroughly to prevent the mochi from sticking. You can use butter or cooking spray to grease the pan evenly.
Bake with caution: Keep an eye on the mochi while it's baking, as the edges can brown quickly. If you notice the edges getting too dark before the center is fully cooked, you can cover the pan with aluminum foil to prevent further browning.
Cool before cutting: Once the mochi is baked, allow it to cool to room temperature before cutting into pieces. This will ensure clean and neat slices without the mochi sticking to the knife.
Experiment with variations: While the recipe is delicious on its own, feel free to experiment with different variations. You can add shredded coconut on top before baking for added texture and flavor. You can also incorporate fruits like blueberries or bananas into the batter for a fruity twist.
Share and enjoy: Hawaiian butter mochi is a wonderful treat to share with friends and family. It's perfect for potlucks, gatherings, or as a holiday treat. The recipe yields a generous 9×13 inch pan, so make sure to spread the joy and enjoy it with loved ones.
Store properly: If you have any leftovers, store the butter mochi in an airtight container at room temperature for up to 3 days. You can also refrigerate it for longer shelf life. Before serving, you can warm it slightly in the microwave to regain its soft and chewy texture.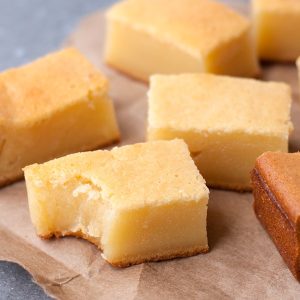 Hawaiian Butter Mochi Recipe
Made with sweet rice flour and creamy coconut milk, this Hawaiian butter mochi recipe will bring the taste Hawaii to your kitchen.
Instructions 
Preheat and Prepare
Preheat oven to 350 degrees F, and grease a 9×13 inch pan.
Mix Batter
Mix the melted butter and sugar until combined.

1 stick unsalted butter,

2 cups granulated sugar

Add the eggs, one at a time, mixing well after each.

Stir in vanilla. Pour in the mochiko and add the baking powder. Stir until mostly combined.

1 teaspoon vanilla,

16 oz mochiko flour,

2 teaspoon baking powder

Stir in the evaporated milk, stir in the coconut milk.

1 can evaporated milk,

1 can coconut milk
Bake, Cut and Serve
When batter is totally smooth, pour into pan and bake for one hour.

Remove from oven and allow to cool to room temperature.

Remove from pan and cut into pieces on a cutting board. 
Nutrition
Nutrition Facts
Hawaiian Butter Mochi Recipe
Amount per Serving
% Daily Value*
* Percent Daily Values are based on a 2000 calorie diet.