This pumpkin mochi recipe combines the flavor of pumpkin pie with the soft & chewy texture of Japanese mochi. Follow this step-by-step guide to make this pumpkin mochi cake.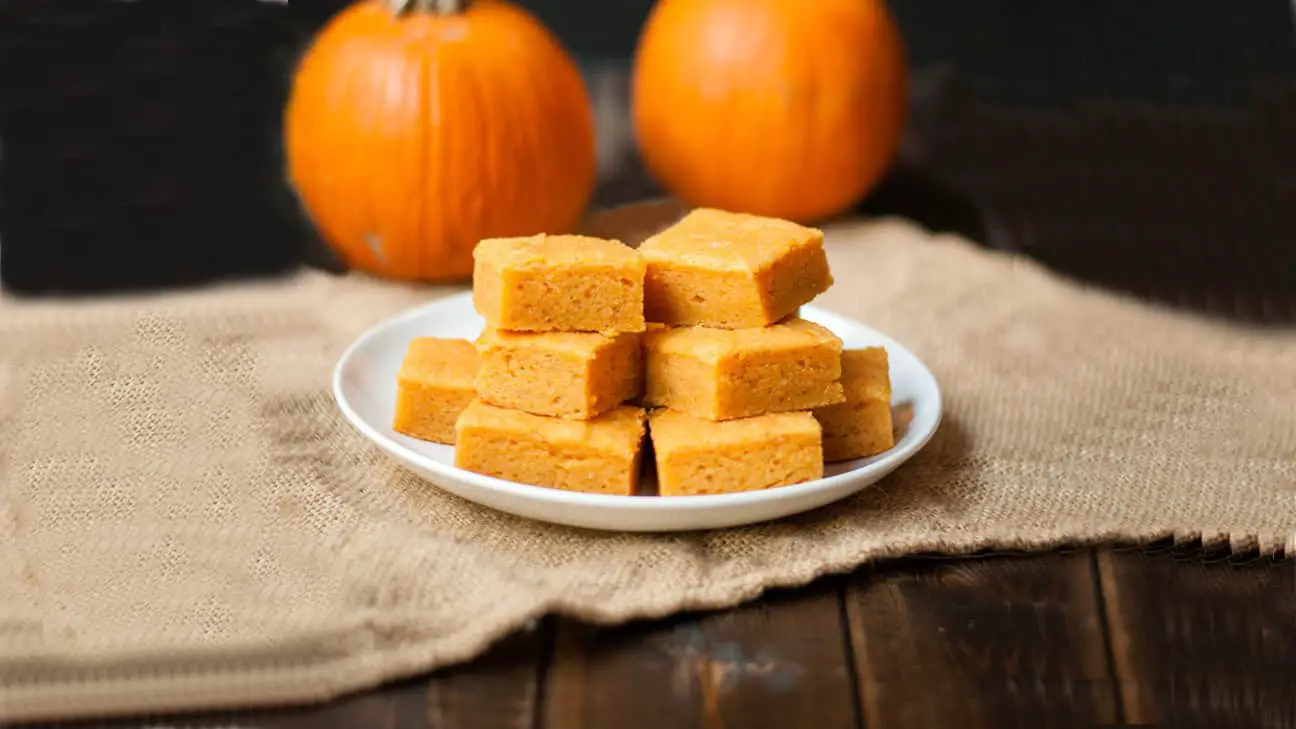 When you think of mochi, you usually think of Japan. Mochi has always been one of my favorite treats, because the texture is Ah-mazing. My mother has an electric mochi pounder machine where you just put the mochi rice and water in and it does the rest. We always made a bunch of fresh mochi during the new years, and we'd freeze them to last for the rest of the year… but actually eat it up within a few weeks. Actually, we'd overindulge and get a little sick of it, so we'd be good til the next new years anyways! Ha.
Pumpkin Mochi Cake
On my first visit to Hawaii, I was introduced to mochi a little different from the Japanese type I ate growing up. I think of these as "Japanese inspired". The two types I tried were chi-chi dango and butter mochi. Chi-chi dango is a soft, squishy, colorful, and yummy, aaaand I think I need to post a recipe for it! Butter mochi is rich, dense, chewy, and, obviously, buttery (I am also planning on posting a recipe for this, hopefully soon). They are both really good!
On one of my trips to Hawaii, my husband's grandmother made pumpkin mochi cake. It's a variation of the butter mochi, rich and dense. It was flavored like a pumpkin pie, but had a great chewy bite to it.
I'm not a huge pumpkin fan, and while I like pumpkin pie, I don't really crave it.
These are a great alternative for me, because I like the texture of it better than pumpkin pie, and it's portable and easier to eat. My kids love it- I just cut it up into squares and they grab it and go! The dense texture means there aren't crumbs falling all over, so when they (of course) immediately walk over to the shag rug black hole of crumbs and small toys, I don't have to worry about it!
Pumpkin Mochi Recipe
For this recipe, I made my own puree, but only because we had gone to the pumpkin patch the day before, and I had bought a pie pumpkin specifically to make something fall-y. The recipe just calls for a can of pumpkin puree, and that's a-ok. Actually it's better because it's way easier and just a few cents more expensive. The recipe also calls for a jelly roll pan, and I had to go look up what that was. I mean, what is a jelly roll? I Googled it and the first thing that came up was a rapper! Anyways, turns out it's a roll cake, but I ain't got a jelly roll pan (the sides are a bit higher than cookie sheets), and the original recipe makes a TON of pumpkin mochi and I don't know what to do with that much. So, I halved it and baked it in a 9×9. Unless you are planning on taking this to a potluck, I'd do the same.
As a side note, we had a church Halloween party on Friday night and I'm sitting here typing this while eating my kids' candy. I pick out the best ones and eat them, and then I'll dump the rest into our candy bowl we are passing out to trick or treaters. On Halloween tomorrow, my kids will get a bunch more and I will again pick through and take my favorites after they go to bed, and then dump about 90% of the rest. Am I the only one who does that? Well, I can probably only get away with it for a couple more years. My daughter is 4 and doesn't notice these things yet. I just don't want her to be eating so much candy, ya know? And I like milk duds… will it hurt her if I take all of them? No. It won't. That's right.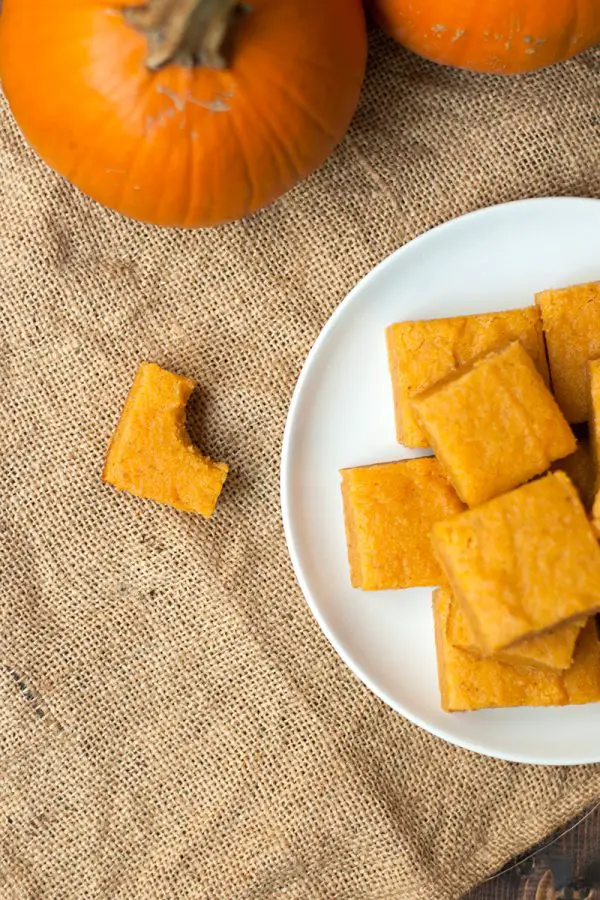 So, this fall, when you want to adventure outside of the typical pumpkin pie, try this pumpkin mochi!
If you want to try a more traditional Japanese mochi recipe, try my Strawberry Mochi (Ichigo Daifuku いちご 大福)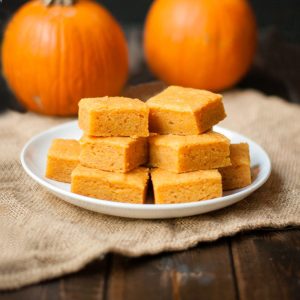 Pumpkin Mochi
A Hawaiian mochi dessert flavored like a pumpkin pie, but with a dense, chewy bite!
Instructions 
Mix
Combine wet ingredients and mix well.

1 stick butter,

2 eggs,

7 oz sweetened condensed milk,

15 oz pumpkin puree,

1 t vanilla

Whisk together dry ingredients.

1 1/2 cups mochiko (glutinous rice flour),

3/4 cup granulated sugar,

1 t baking powder,

1/4 t cinnamon,

1/4 t ground ginger,

1/8 t nutmeg,

1/8 t clove

Add the dry ingredients to the wet, and mix well to combine.
Bake
Pour into the greased pan

Bake in oven for 50-60 minutes and allow to cool before cutting and serving.
Notes
Adapted from my Hawaiian grandmother-in-law's recipe.
Nutrition
Nutrition Facts
Pumpkin Mochi
Amount per Serving
% Daily Value*
* Percent Daily Values are based on a 2000 calorie diet.