This authentic Japanese custard pudding know as Purin in Japan is the Japanese version of the popular Spanish and Mexican flan pudding. Follow this step-by-step Purin recipe guide to make this classic Japanese dessert.
Creating this sweet delight involves easy-to-pick ingredients like sugar, eggs, milk, and a dash of heavenly vanilla. Ensure you've an adult to assist with the caramelisation - you wouldn't want burnt sugar spoiling your masterpiece! Now let's create some magic with a whisk!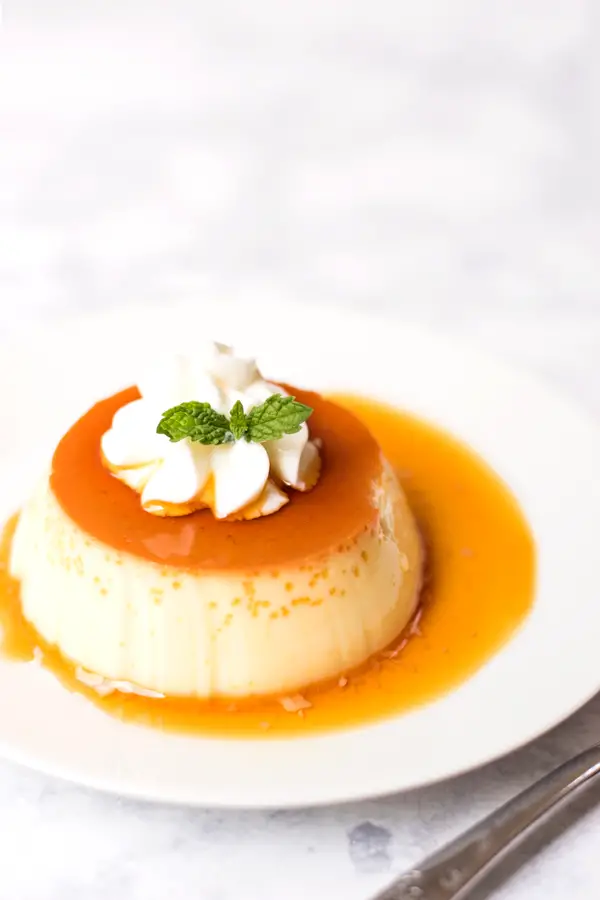 Japanese Flan
One of my favorite desserts growing up was the simple and humble プリン aka purin. It's basically the Japanese version of flan, or caramel custard. The pudding portion is creamy, and the caramel on top with its slight burnt sugar bitterness…how can I make that sound more appetizing?! You know what I'm talking about right? Anyways, it's delicious and pairs so well together.
In Japan, purin is really popular, and you can get it in all forms- anywhere from a trendy cafe to a convenience store. There are also different candies and treats that are "purin flavored". I've seen purin kitkats, pocky, and even gum!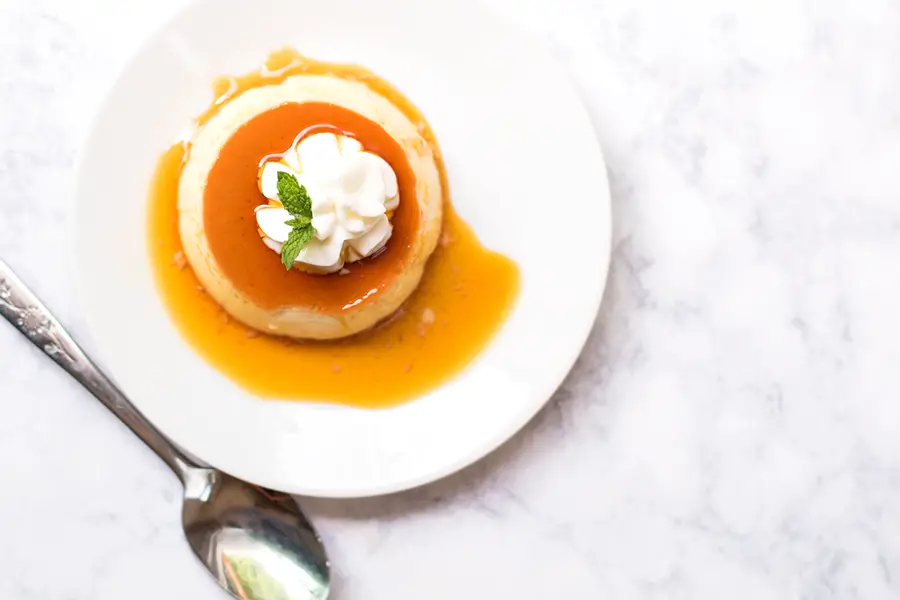 How to Make Purin: The Purin Recipe
There are two main ways to make purin. Baked/steamed and gelatin. You'll also want these pans to get the right shape. Today I'm sharing with you the baked method. I also plan on adding a gelatin version, so keep an eye out! The ingredients list is SO simple. Sometimes, the simpler the ingredients are, the yummier the end product.
The Purin recipe includes just a few simple ingredients. All you need is sugar, water, eggs, milk, and vanilla. That's all!
The hardest part of purin is making the caramel, because if you let it go too long, the sugar will burn, but if you don't let it go long enough, the caramel flavor is too muted. Try and go until it is a dark brown. If it's too light, it won't have enough flavor. And guess what? It's just sugar and water. If you go too long and burn it the first time… well, you can just dump it and try again! Ha! Guess who's done that before?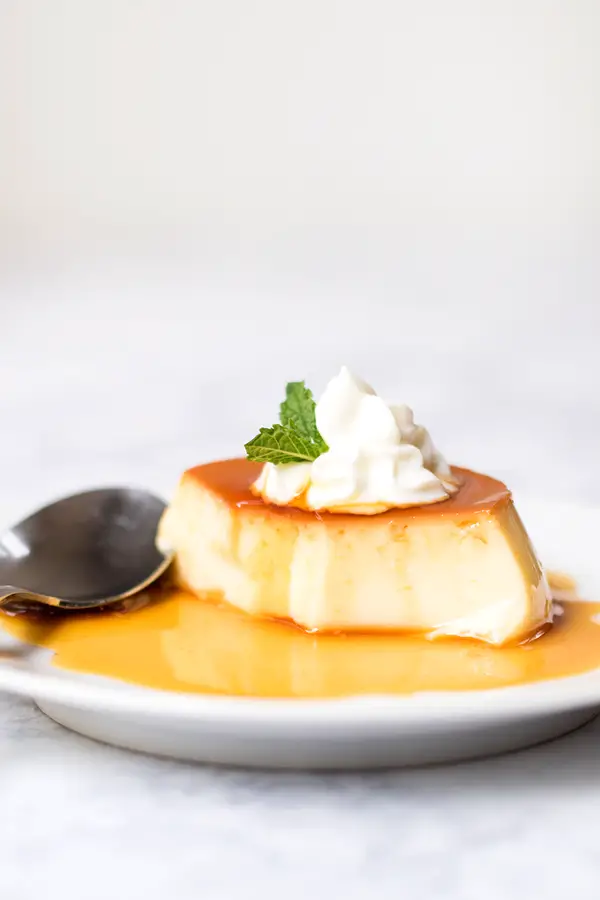 I want to tell you something funny. Usually when I make purin pudding, I don't bother with any type of topping. I just eat it, ya know? But I wanted to put a cute little dollop of whipped cream on top to make it look nicer for pictures. BUT I realized I was out of cream! So, for these pictures, I piped some plain greek yogurt on top! Ha! You can't even tell can you?! Can I call myself a food stylist now?
If you liked this recipe, (which I hope you do), check out pudding dessert recipes!
Tips for Making Authentic Japanese Pudding (Purin):
Caramelizing the Sugar: When preparing the caramel sauce for your Japanese pudding, take care not to let the sugar burn. Achieve a deep brown color for a rich caramel flavor that complements the creamy pudding. Remember, practice makes perfect when it comes to caramelizing sugar.
Strain for Smoothness: To ensure a silky-smooth texture in your Japanese purin, strain the mixture before pouring it into the ramekins. This step helps remove any lumps or impurities, resulting in a velvety custard.
Water Bath Technique: Use the water bath method by placing the ramekins in a larger pan filled with hot water during baking. This technique guarantees gentle and even heat distribution, preventing the pudding from cracking and ensuring a consistent texture.
Timing is Key: Keep a close eye on the baking time, adjusting it as needed based on the type of ramekins you use. Glass or ceramic ramekins may require a slightly longer baking time to achieve the perfect Japanese flan consistency.
Chill for Deliciousness: After baking, allow the purin to cool completely in the ramekins, and then refrigerate them before serving. The chilling process enhances the flavors and sets the custard to its ideal firmness. Japanese pudding is traditionally enjoyed cold.
Unmolding with Finesse: Gently run a knife along the edges of the ramekins to loosen the Japanese purin before carefully flipping it onto a plate. This way, the luscious caramel sauce will elegantly coat the top, making it visually appealing. Alternatively, savor the pudding directly from the ramekins for a more casual experience.
Optional Garnish: For a delightful finishing touch, consider adding a dollop of whipped cream and a sprig of fresh mint to your Japanese pudding. These optional garnishes enhance the overall presentation and add a touch of elegance.
Making authentic Japanese pudding (Purin) requires patience and practice, particularly when it comes to achieving the perfect caramelization and texture. Embrace the process, enjoy experimenting, and soon you'll master the art of creating this delicious Japanese dessert, also known as Japanese purin or Japanese flan.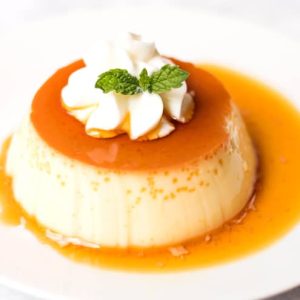 Japanese Custard Pudding (Purin)
This baked Japanese custard pudding, known as purin in Japan, is creamy, delicious, and easy to make! 

Ingredients  
caramel sauce
1/3

cup

sugar

3

Tablespoons

water

1

Tablespoon

water

to add at end
Instructions 
Check out the video above to see me make these!

Preheat oven to 320 degrees F. Prepare 6 ramekins. I used special metal purin cups that I got in Japan, hence the shape. See video above.  

In a small pan over medium high heat, add the sugar and 3T water and quickly stir together. Stop stirring, and allow the sugar water to come to a simmer. Cook the sugar until it is a deep brown, and is caramelized. Add 1 T of water to the caramel, to help loosen it up. Careful! It's hot and may splatter a bit! Quickly pour caramel into the 6 ramekins. 

In a large microwave safe bowl, heat the milk until warm to the touch. Whisk in the sugar until combined. Whisk together the three eggs in a separate bowl. Add the whisked eggs to the milk/sugar, and whisk to combine. Add the vanilla and whisk to combine. Pour through a strainer, and divide the strained liquid among the 6 ramekins. 

Place the ramekins in a 9×13 cake pan (or a pan with sides that are about as tall or taller than the ramekins). Boil water, and pour the hot water in the cake pan (don't get any in the purin!), about 1/2-3/4 of the way up the sides of the ramekins.

Transfer to the oven and bake for 40-50 minutes, or until the custard is soft but set, and no longer too liquidy. (note: a reader informed me that when using  glass/ceramic ramekins it needed to bake on the longer side, about 50 minutes)

Remove from oven, and allow the purin cups to cool completely. These are best served cold, so let them cool in the fridge before serving! 

To remove purin, run a knife along the edge of the ramekins and flip onto a plate, so the caramel sauce is on top. Or eat it straight from the ramekin!

Garnish with some whipped cream and mint, if desired. 
Nutrition
Nutrition Facts
Japanese Custard Pudding (Purin)
Amount per Serving
% Daily Value*
* Percent Daily Values are based on a 2000 calorie diet.