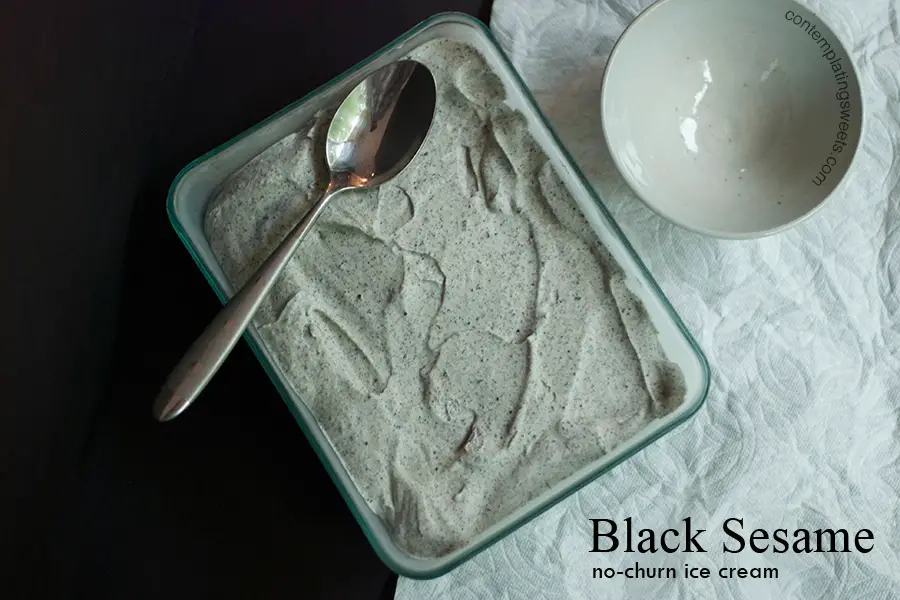 I LOVE all things black sesame. The weird gray color, the roasty toasty flavor, the way it works in both savory and sweet… I especially like the sweets. When I visit Japan, I always make sure to eat a black sesame soft serve cone. And pudding. Annnnnnd cake. Can't get enough, seriously.
Today I'm introducing an easy no-churn black sesame ice cream that anyone with a blender and whisk can make in just a few minutes. The black sesame ice creams that I've seen via blogs I follow and Pinterest searches usually ask for black sesame paste. Honestly, you may be able to get that in California or places with a high Japanese population, but here in the Midwest the best I can do is a container of the plain ol' seeds. I wanted to make a recipe that would only require seeds, to make it more accessible.
Have you heard of no-churn ice cream? It's so easy, and it means that you can make homemade ice cream even if you don't own an ice cream maker. Like me. It's just a combination of condensed milk and whipped cream. I was a little skeptical at first, but once I tried it out I was converted! Its texture is creamy and you can easily scoop it with a spoon.
So how about it?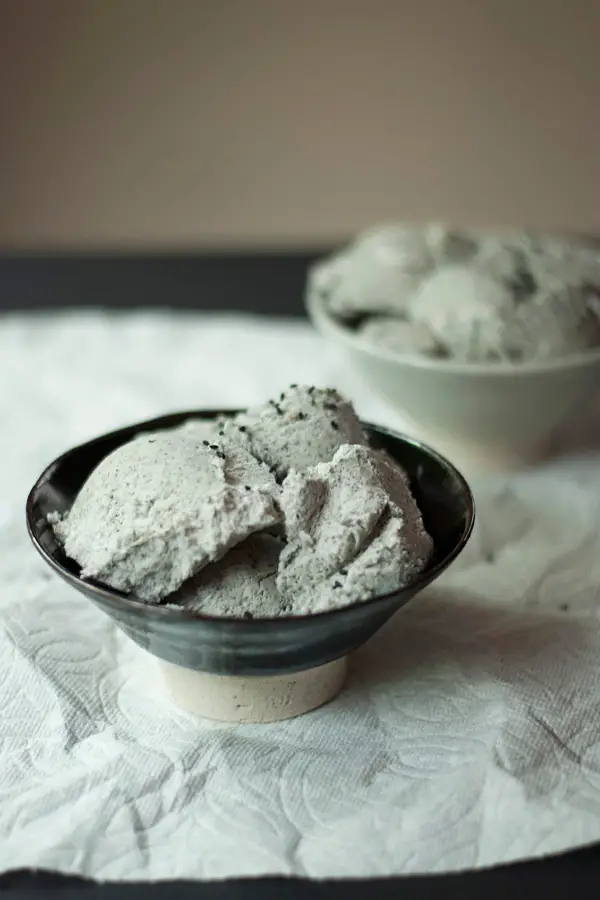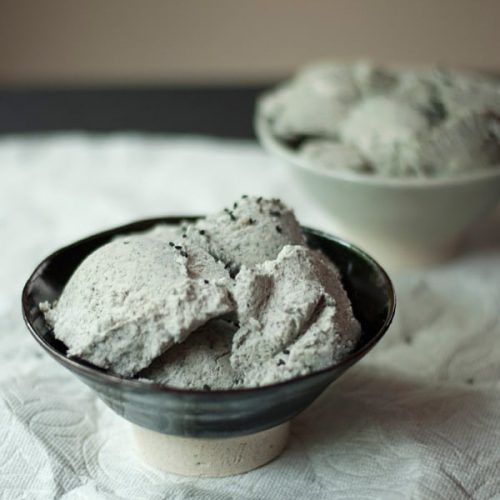 No-churn Black Sesame Ice Cream
An easy 3 ingredient black sesame ice cream. No ice cream maker required!
Instructions 
Prep Seeds
Toast your sesame seeds in a pan over medium heat.

Stir the seeds around and heat until the seeds start giving off a nutty aroma. Watch it closely so you don't burn them!

1/2 cup black sesame seeds

Put the seeds in either a blender or food processor and process to a powder.

Make sure not to over-process. We are going for a dry powder and if you go too long the oils will start to process and become more butter-like. Think quick pulses!

Add the condensed milk and pulse to combine.

1 can sweetened condensed milk
Whip Cream
Whip the cream to medium peaks.
Combine Mixtures
Fold the sesame mixture into the cream.

Tip: add a dollop of cream to the sesame mixture first to lighten it, and then add back into the bowl of cream. Fold gently so that you don't deflate the mixture too much.
Set
Freeze for 6 hours, overnight, or until it's completely frozen.
Nutrition
Nutrition Facts
No-churn Black Sesame Ice Cream
Amount per Serving
% Daily Value*
* Percent Daily Values are based on a 2000 calorie diet.