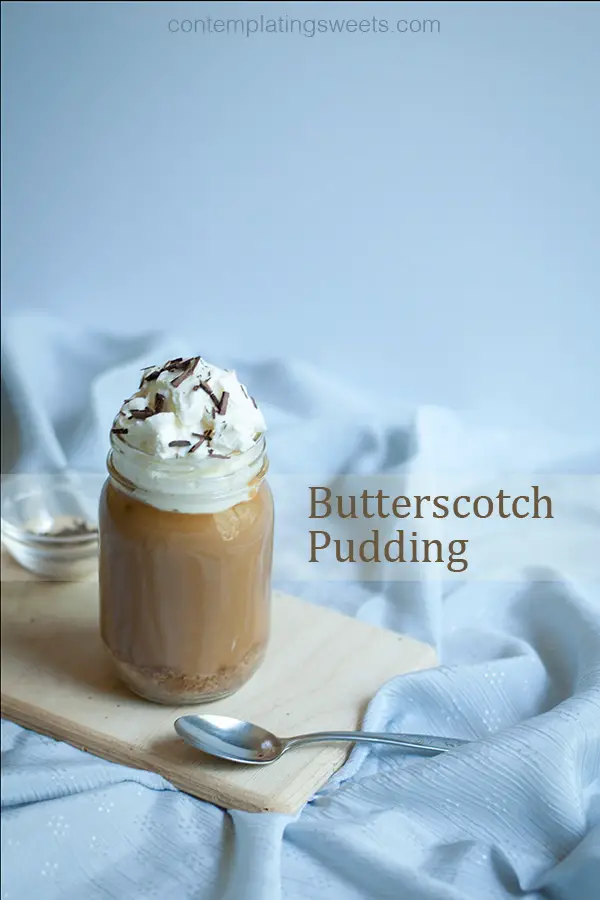 My husband and I visited my brother in Provo, UT and we went to a cool little restaurant called Communal. Basically, a trendy place that serves food made with local ingredients. All of the food was great, but what I loved the most was the butterscotch pudding. Mmm, it was way too rich and between four people we could barely finish it, but it was SO good. There was a cookie crust at the bottom and whipped cream on the top and the pudding was a little runnier than your average pudding. Interesting, but it worked.
Some days, I suddenly think about that pudding and start craving it. Really, it's too rich for an average day, but if you're feeling extra blue or you want something extra sweet, this will be just what you need.
I put it in a mason jar because that's what it was served in at the restaurant. A mason jar's worth is definitely not one serving. It's probably closer to 3, but my husband and I finished it off pretty easily. But the amount in the recipe makes for an awkward 1.5 mason jars worth. So either double the recipe or put them in smaller containers. The cool, whipped cream topping really balances out the richness of the pudding, and the graham cracker base… I mean, who doesn't love a graham cracker crust? It all comes together beautifully. A rich delicious sweet treat.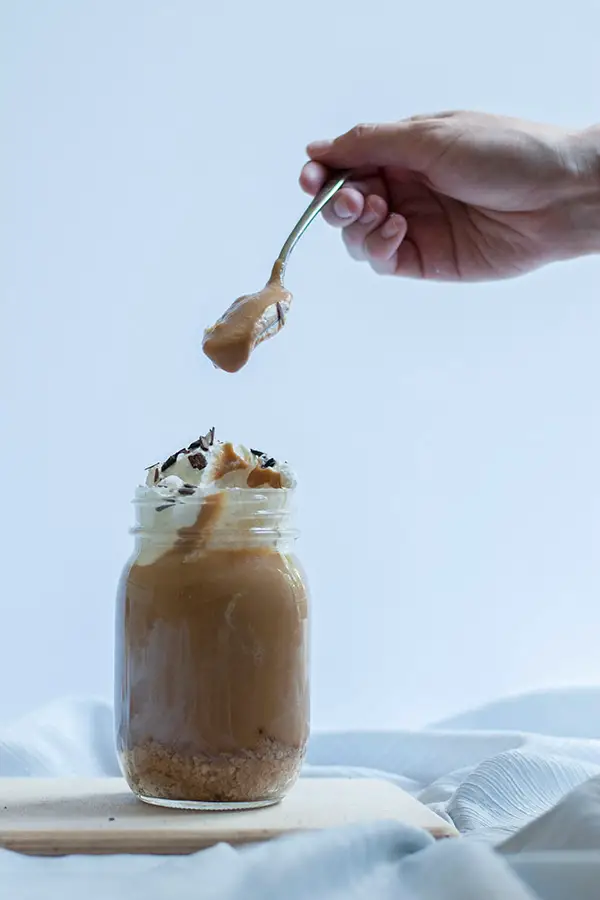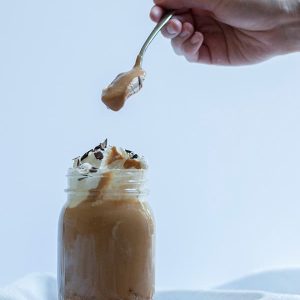 Butterscotch Pudding
A rich butterscotch pudding with a graham cracker base and whipped cream topping.
Instructions 
Prep
Combine graham crackers, butter, sugar in food processor and combine. Divide between containers.

3/4 cup graham crackers,

3 T butter, softened,

2.5 T sugar
Cook
Place cream, milk, and dark brown sugar in a saucepan over medium heat. Bring to a simmer (do not boil) and stir until the sugar is dissolved. Remove from heat.

1 cup cream,

1 cup whole milk,

1/2 cup dark brown sugar

Combine sugar and water in a medium saucepan and heat over high heat. Stir until sugar dissolves and remove any sugar crystals on the side. Bring to a boil and cook until the mixture becomes a dark copper color.

1/2 cup sugar,

1/4 cup water
Combine
Turn off the heat and add the cream mixture while whisking. Whisk until fully combined.

Slowly add the mixture to the egg yolks while constantly whisking. When fully combined, return to pan.

Keep cooking at low temperature until pudding becomes a little thickened.

Note: Keep it at a lower heat and do not let the pudding go over 180 degrees F, or it will start to curdle. If this happens, take it off the heat and use a stick blender to give it a quick whiz. Make sure not to blend too much, or you will thin out the pudding.

When the pudding has thickened a little (it will thicken more in the fridge), take it off the heat and stir in the vanilla.

Divide among the containers and let it cool. Refrigerate. When cool, top with whipped cream. Garnish with chocolate shavings.
Nutrition
Nutrition Facts
Butterscotch Pudding
Amount per Serving
% Daily Value*
* Percent Daily Values are based on a 2000 calorie diet.