These melt-in-your-mouth snowball cookies are bursting with mini chocolate chips, and Swedish pearl sugar adds a fun bite!
I LOVE browsing specialty stores. I'm talkin' the ones that have fancy cheeses and chocolates and ingredients that you can't find at a normal store. I usually end up walking out with a ten dollar chocolate bar and a five dollar bottle of some kind of fancy soda. The other day I was walking around a store called Better Cheddars and saw some Belgian pearl sugar, which I use to make liege waffles (recipe here! And check out waffle luv copycat… waffle luv copycat liege waffles). Anyways, my husband said I should grab TWO boxes so that we will never have a craving to make some and realize we are out of pearl sugar. When I got home and took the boxes out to put away, I realized… I had bought one box of Belgian, and one box of Swedish pearl sugar!
Swedish pearl sugar is small pieces, versus the large Belgian chunks. I looked at the back and saw that you can sprinkle them on top of cinnamon rolls and the like… But to me it kind of reminded me of how pretzels look like, with the big salt pieces. I LOVE the bite of pearl sugar, so I wanted to incorporate it into a dessert instead of just sprinkling it on top.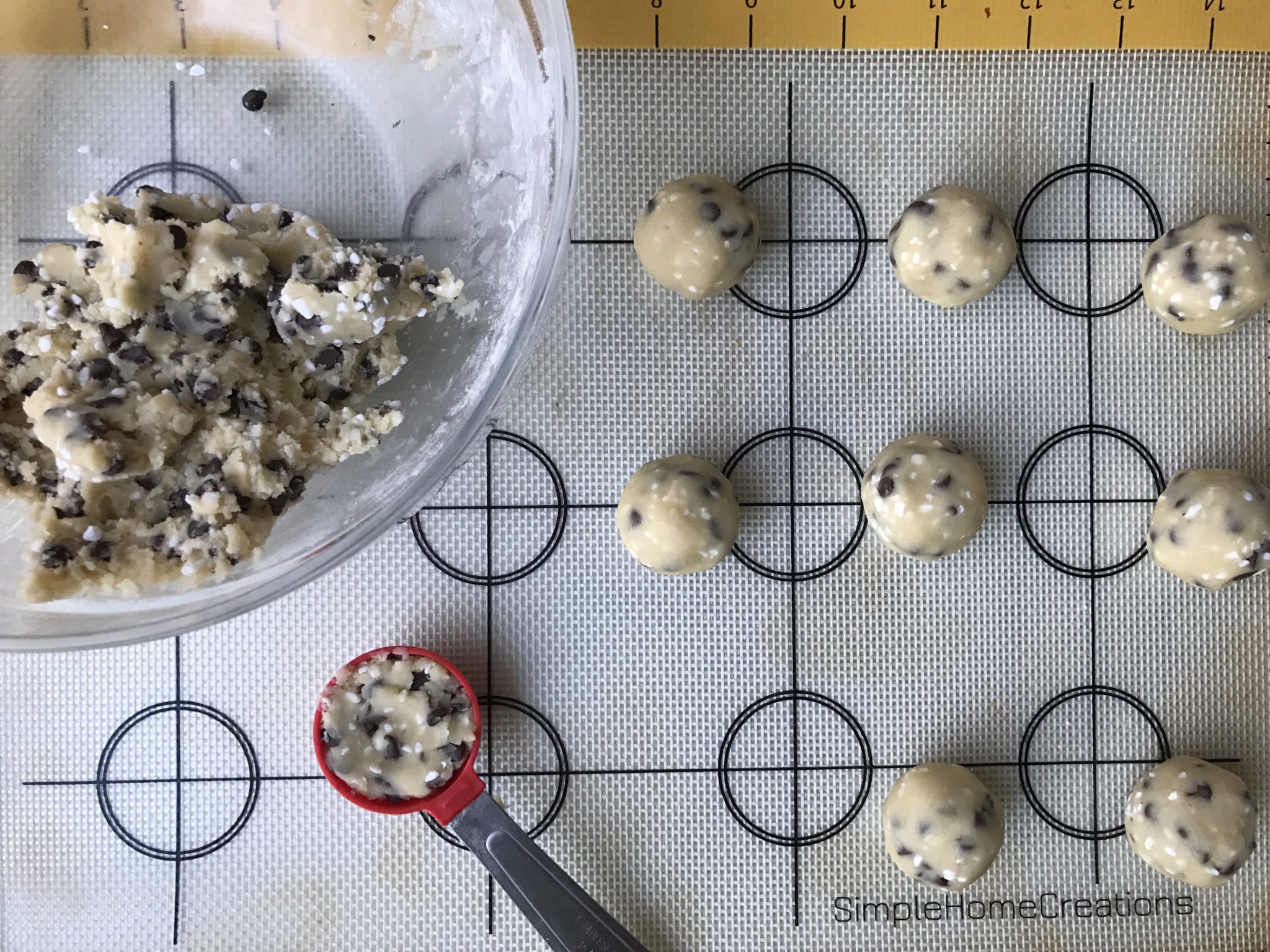 Anyways, long story short, I racked my brain for days thinking of how I can use them, and one day as I was walking along the grocery aisles, I saw that the mini chocolate chips were on sale. I thought, small pieces of sugar should go with small pieces of chocolate… and put it in my basket.
And that's how this recipe came about. These snowball cookies are packed with mini chocolate chips and Swedish pearl sugar. The pearl sugar gives it this fun bite that's hard to describe… But it really adds a uniqueness to these snowball cookies that I think you'll love!
Need some Swedish Pearl Sugar
? (affiliate link) Happy baking!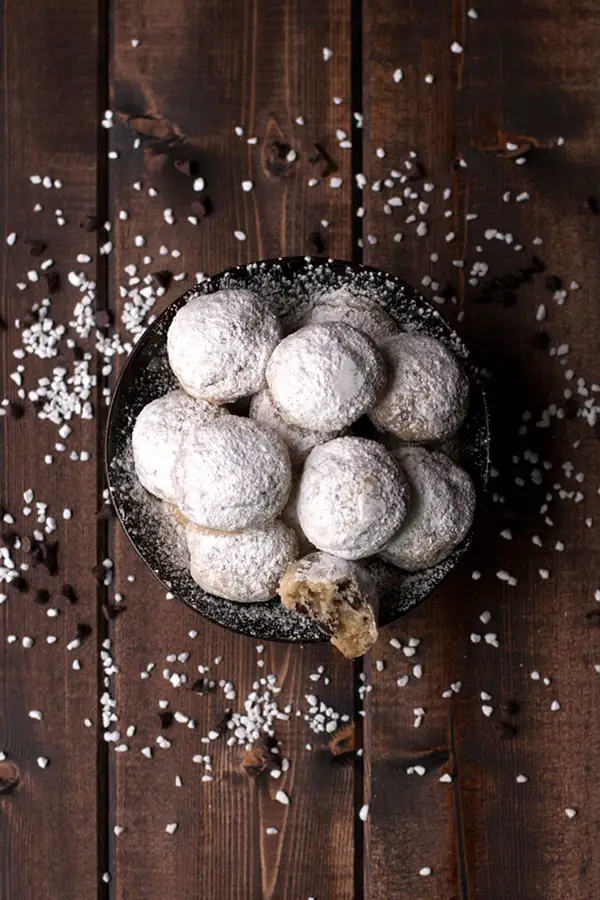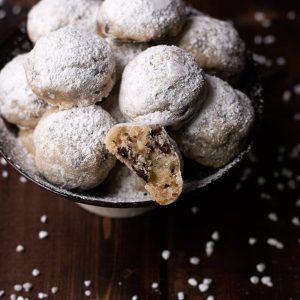 These melt-in-your-mouth snowball cookies are bursting with mini chocolate chips, and Swedish pearl sugar adds a fun bite! 
Instructions 
Prep
Preheat oven to 375 degrees F.
Make dough
In a medium mixing bowl, cream together the room temperature butter, vanilla, salt, and powdered sugar until light and fluffy.

1 stick unsalted butter,

1 t vanilla,

1/4 t salt,

2 T powdered sugar

Add the flour in 1/4 cup at a time and beat well after each addition.

Add the pearl sugar and chocolate chips and fold in using either a wooden spoon or hands.

3 T Swedish pearl sugar,

1/2 cup mini chocolate chips
Make snowball
Take 1 tablespoon of dough at a time and roll into balls.

Place on silicone baking sheet and bake for 10-12 minutes or until very lightly golden.

Let rest for a few minutes and then transfer to a wire rack to cool.

Sift powdered sugar over the cookies once they are slightly cooled. 
Notes
Swedish pearl sugar can be bought at specialty stores or -> Lars' Own Swedish Pearl Sugar, 10 Ounce
 (affiliate link)
Nutrition
Nutrition Facts
Swedish Pearl Snowball Cookies
Amount per Serving
% Daily Value*
* Percent Daily Values are based on a 2000 calorie diet.