These cookies chocolate orange cookies are made with a rich chocolate dough and filled with a creamy orange filling that perfectly complements the chocolate flavor. This step-by-step recipe will help you create the perfect chocolate sandwich cookies. These orange cream cookies that will leave everyone craving more.
Thank you Bob's Red Mill for sponsoring this post. Create a care package for a loved one today and don't forget to include some baked goods made with Bob's Red Mill products!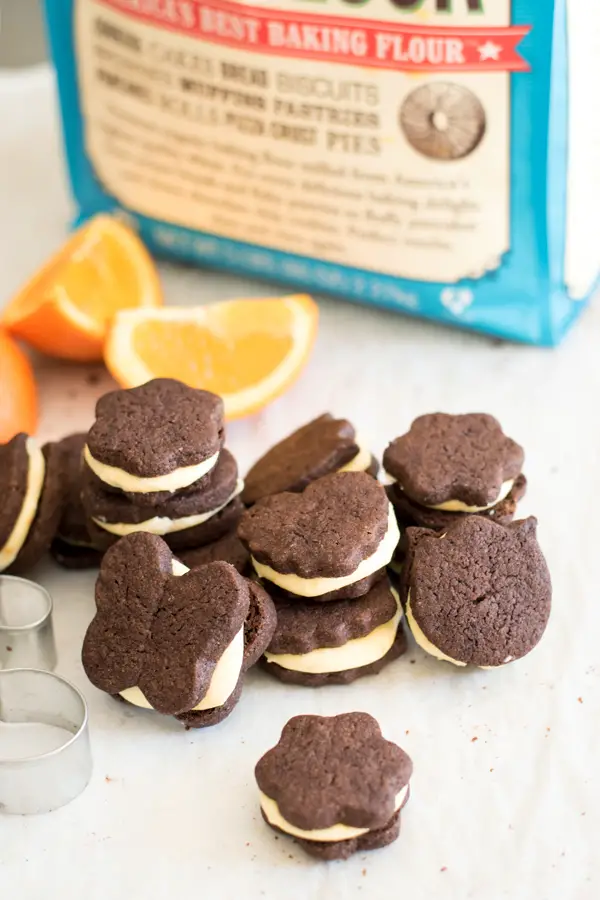 So I just got back from a three week long stay in Utah. I would call it a vacation, but honestly, I still had to take care of my kids. The baby did NOT sleep well throughout it… so, I don't know if vacation would be the right word.
While I was in Utah, I got to meet up with someone I met online. No, not on a dating site! She's actually a fellow food blogger, and I reached out to her because she is half Japanese, like me! But then things got interesting. It turns out she was in Utah, the state I just left, and it turns out our moms are really good friends! What?!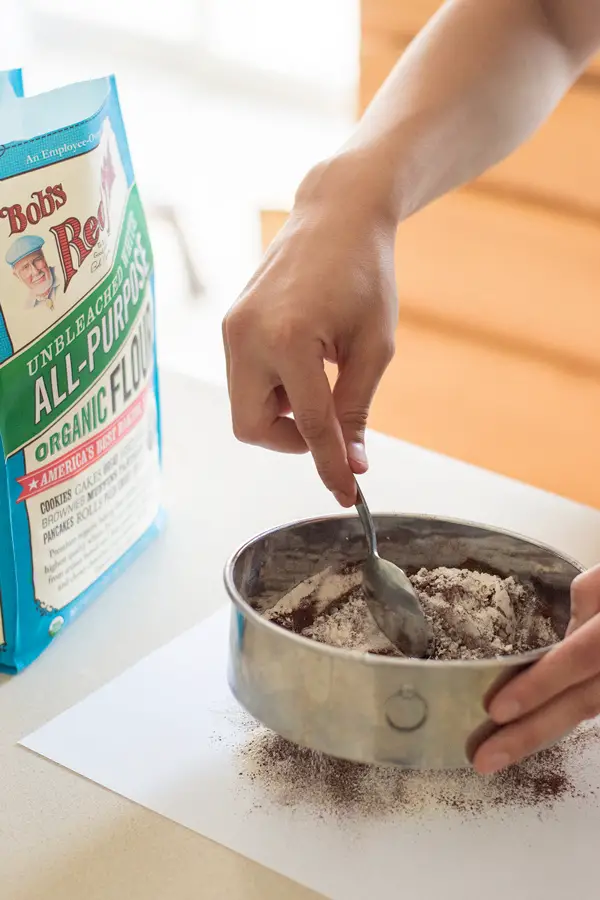 Talk about a small world. Anyways, we became texting BFFs, and had been chatting for over half a year before we finally got to meet in person (oh man, this really does sound like an online dating story). Her younger kids matched up in age with my older ones, so we spent a good amount of time together while I was there.
Since we are both big foodies, I wanted to make her and her family something yummy as a little gift before we headed back to Kansas. I decided to go with chocolate sandwich cookies, because they are so cute and giftable!
Also, I've been trying to bake more with my kids! Did you know? Psychologists have found that baking for others makes the baker feel as good as the recipients! So while we made something to give away, we got to feel great just from making it! (well, we ate some of the cookies too…)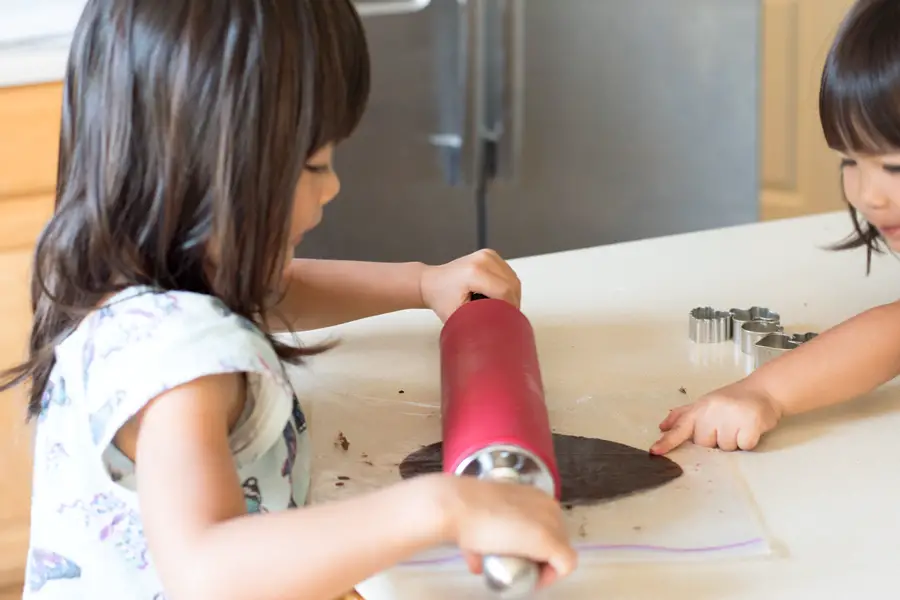 My oldest daughter wanted to help me make the cookies, and we put together a care package for her to give to her new friends. These cookies come together really easily, and she got to help in quite a few of the steps. I used Bob's Red Mill organic all purpose flour. I really believe that in baking, using high quality ingredients is key.
My daughter's favorite step was cutting the cookies out. My younger daughter was also able to help! But seriously, I was constantly snapping at them to make the cuts close together, because the first thing my younger daughter did was just pick a random spot and BAM. NOOOO! START AT THE EDGE!!! Typical. So, I did have to be strict and micromanage during that part… we still had fun, I promise.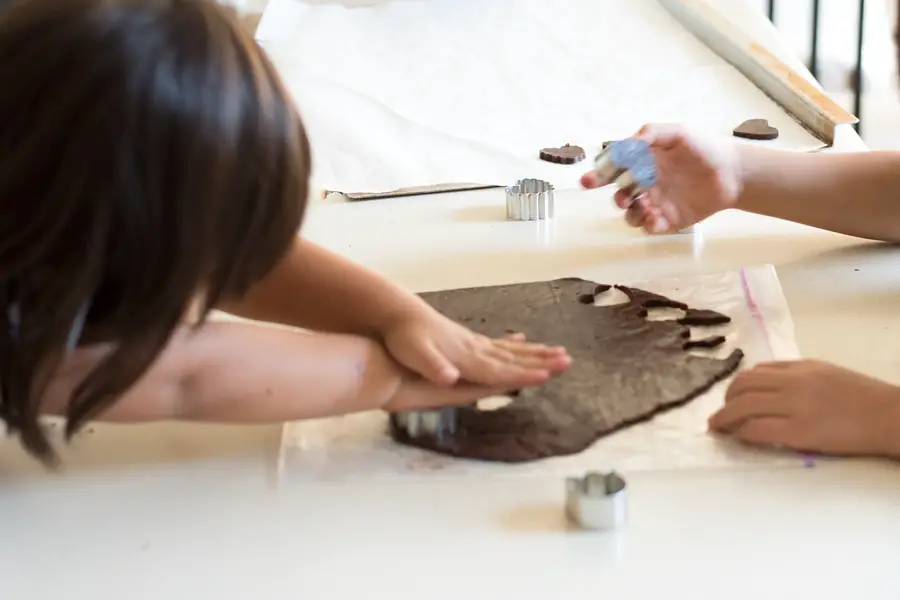 I thought about what type of buttercream to sandwich. I was initially leaning towards strawberry, but thought that might look too Valentines. Luckily, most fruits pair wonderfully with chocolate, so there were lots of options. I tasted the cookie on its own, and it had a pretty strong chocolate flavor, so I decided to go with a fresh orange buttercream.
The buttercream is made with orange zest and fresh squeezed juice, and the freshness complemented the chocolate really well.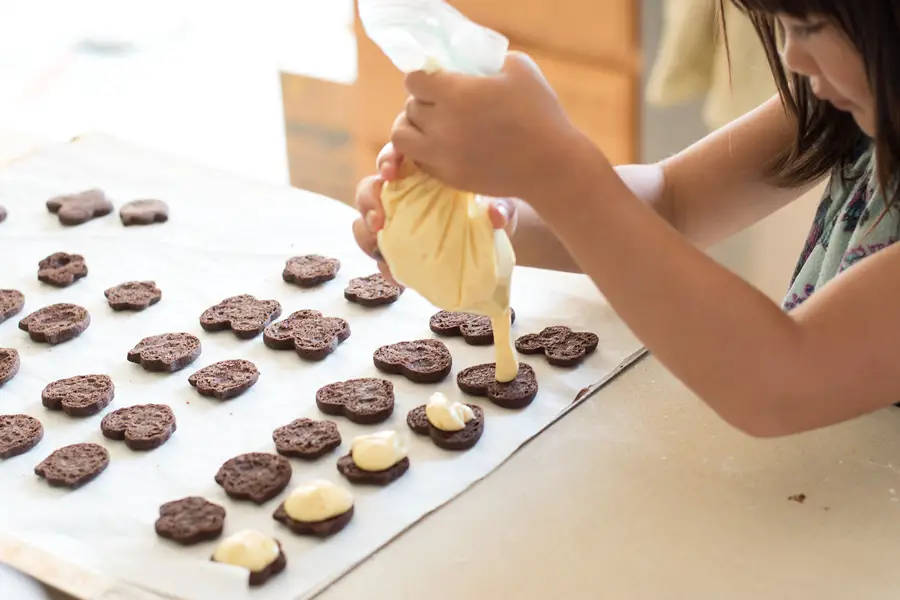 After we made the cookies, it was time to choose what to add into our care package. My friend was kind enough to lend me like… ten or more picture books for the kids while we were in town. She and I both LOVE books, so I thought a book would be the perfect gift.
I chose a graphic novel of a movie series her kids loved. I got a text from her later, saying her kids were watching the movie while following along in the graphic novel. How fun! My daughter also made a card with lots of drawings on it to give to them. Aww, so cute.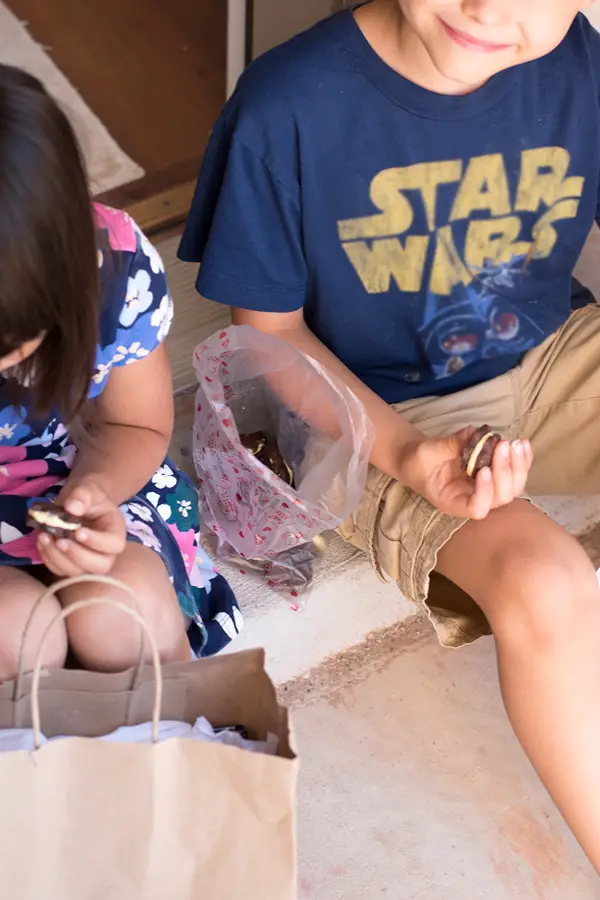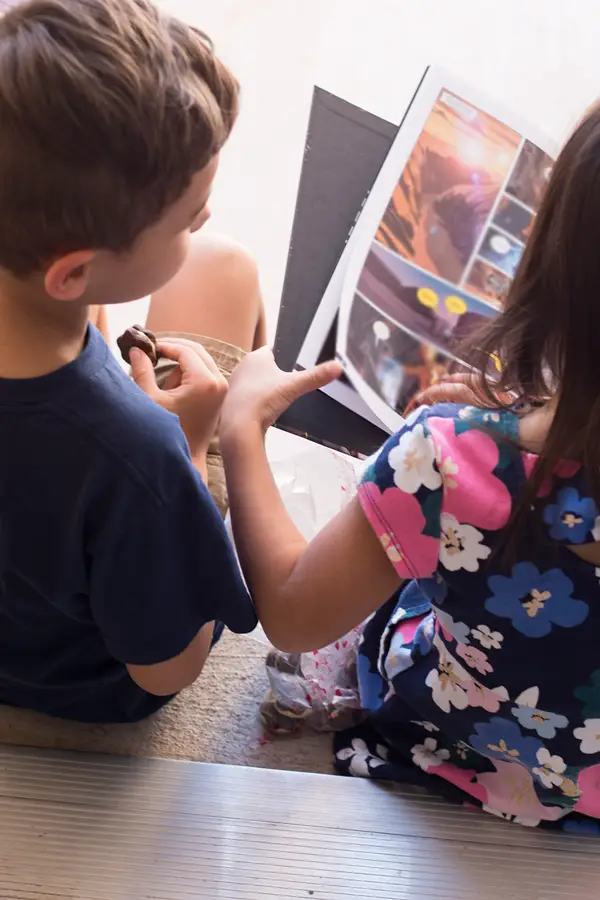 My daughter was so happy to give her new friends a gift. Oh, and the cookies? Gone, in like, ten seconds.
I can't wait for our families to get together again the next time I'm in town! I'm glad my daughter and I were able to do a little something to show our love for our long distance friends!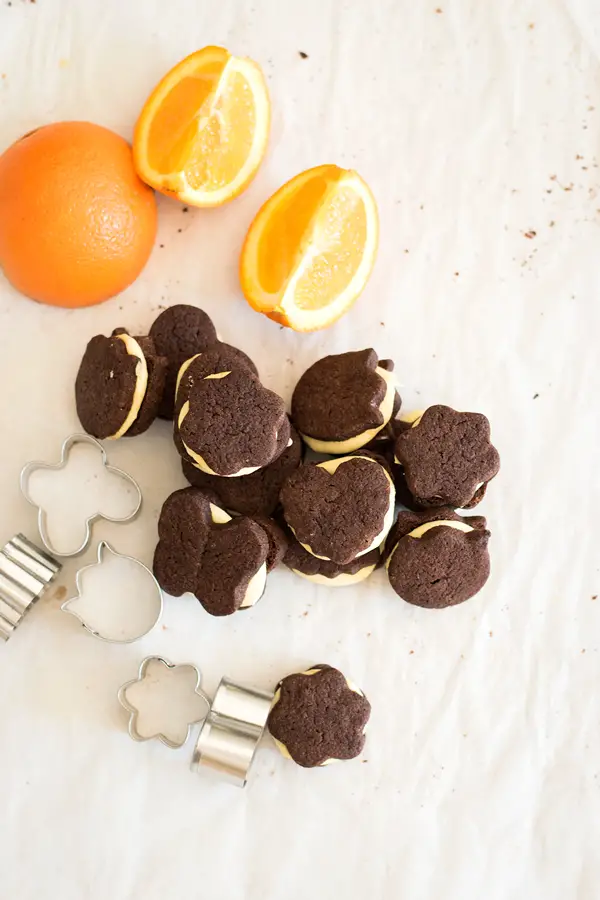 Try making these chocolate orange cream sandwich cookies! You'll love them! And check out my other cookie recipes!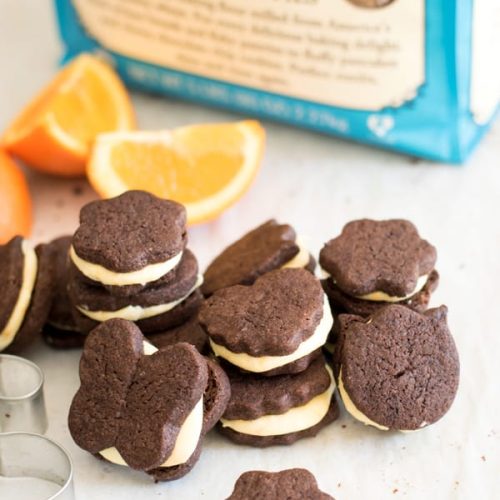 These adorable chocolate orange sandwich cookies have an intense chocolate flavor that pairs perfectly with the fresh orange buttercream. 
Instructions 
Mix
Using a hand mixer, beat the softened butter and sugar together in a medium sized mixing bowl until fluffy.

5 T unsalted butter,

1/4 cup granulated sugar

Add the egg yolk and vanilla, and mix well.

1 egg yolk,

1/4 t vanilla extract

In a separate bowl, or on a sheet of paper, sift the flour, cocoa powder, and baking powder. 

2 T dutch cocoa powder,

1/2 cup all purpose flour,

1/4 t baking powder

Add the powder to the butter mixture and use a wooden spoon or a silicone spatula to combine.

Once the dough has come together, place in a gallon size zip bag, and roll out to about 3-5 mm thickness (based on preference, if you want crunchier or softer cookies).

Chill in the refrigerator for one hour. 
Bake
After chilling, preheat the oven to 350 degrees F, and remove the dough from the bag.

Use small cookie cutters to cut shapes out of the dough.

Place on a cookie sheet with parchment paper.

This is a small batch recipe, so using smaller cookie cutters will result in more sandwich cookies.

Bake for 10 minutes.

Allow to cool, and move to a wire rack.  

Note: roll out the remaining dough, rechill, cut, and bake. 
Mix
In a small mixing bowl, cream the butter until it is light and fluffy.

Add a half cup of powdered sugar, along with the orange zest and vanilla, and beat until combined.  

1.5 cups powdered sugar,

1 t orange zest,

1/2 t vanilla extract

Add another half cup, mix, and add the remainder and beat until combined.

Finally, add the orange juice and beat to combine.

4 t fresh squeezed orange juice
Put the buttercream into a small zip bag and cut a small tip off the bottom corner of the bag.

Have the cookies prepared, by flipping them over and matching them up.

Pipe the buttercream onto one cookie, and sandwich it with the other cookie.

Place in the refrigerator to chill and harden.

Some people say you should never serve buttercream refrigerated, but I think it works great in this recipe, and it keeps it from gushing out the sides. If chilled buttercream isn't your thing, keep it room temperature.
Notes
Make sure your cocoa is dutch cocoa, as natural cocoa (such as Hershey's brand) will not work as well. 
Nutrition
Nutrition Facts
Chocolate Orange Sandwich Cookies
Amount per Serving
% Daily Value*
* Percent Daily Values are based on a 2000 calorie diet.

I was selected for this opportunity as a member of CLEVER and the content and opinions expressed here are all my own.