These lightly sweet black sesame cupcakes are full of toasty sesame flavor, and pair perfectly with the peanut butter sesame frosting.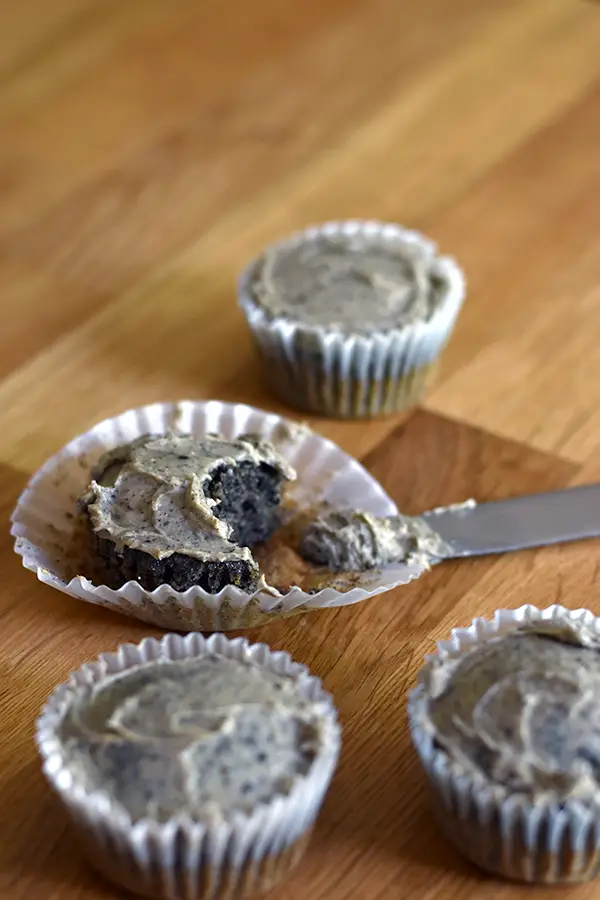 So, Halloween is coming up. Halloween is all about the black colored foods, and I'm all about black sesame. I posted a black sesame ice cream and black sesame pudding last year, and this year I'm back with black sesame cupcakes!
Black sesame though. I love it so much. It's got such an amazing nutty toasty roasty flavor that really shines through in desserts.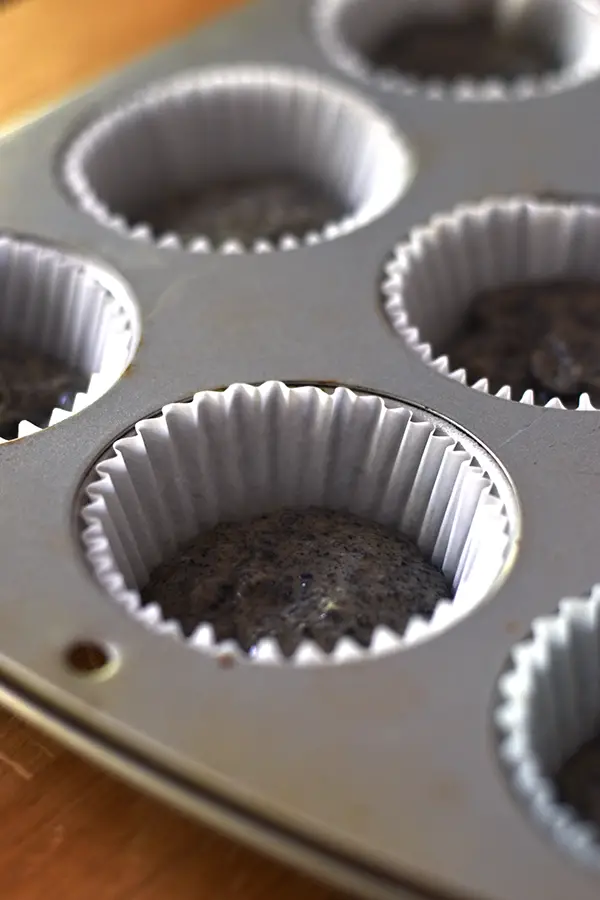 FYI, my daughter looked at the picture above and asked why the cupcakes looked so little. These are BEFORE they went in the oven! Haha. Just to show that you don't put too much in each liner.
I feel like I say this all of the time, but this recipe is not TOO sweet. The black sesame cupcakes aren't super sweet, and the little dab of frosting on top brings it to just the right level of sweetness. For me, at least. If you want a little more sweetness, you can try doubling the frosting!
And it has SO much black sesame in it. I really didn't skimp on the black sesame, because I wanted it dark and I wanted it flavorful. The black sesame flavor holds its own against the peanut butter frosting.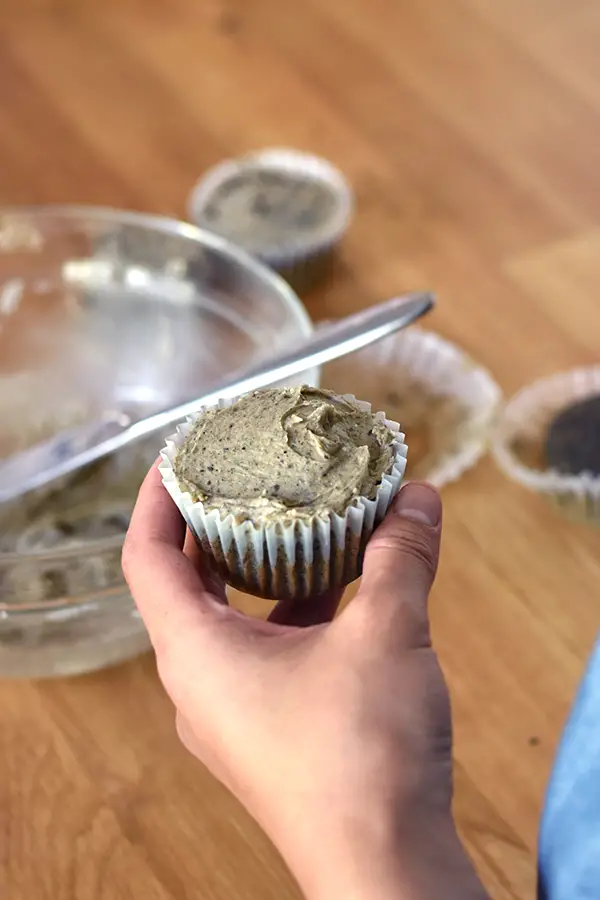 Speaking of which, peanut butter and black sesame. Who would've thought? A while back, I tried a black sesame macaron with peanut butter frosting and was BLOWN AWAY. It's such a great combination! I just HAD to try it in my own recipe.
So there you have it. A cool looking black colored treat. Perfect for Halloween, perfect for… not Halloween aka any time.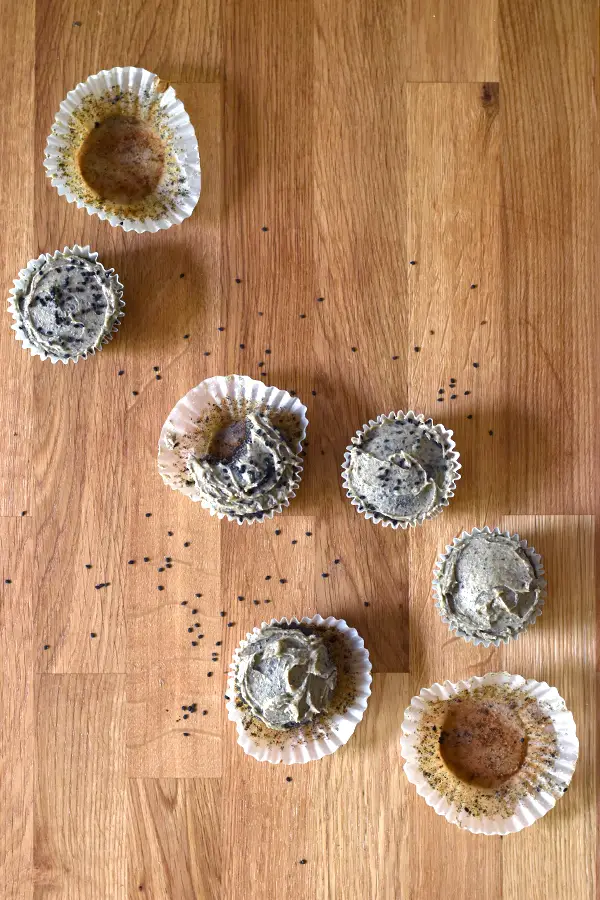 ALSO!!! A few blogger friends and I got together and we all made dishes for Halloween! Mine were obviously the black sesame cupcakes. Check out their posts for some great recipes!
The Missing Lokness- Hong Kong Black Sesame Rolls
Pups with Chopsticks- Black Sesame Creme Brulee
What to Cook Today- Totoro Black Sesame Chiffon Cake
Chopstick Chronicles- Black Sesame Mushi Pan (steamed bun)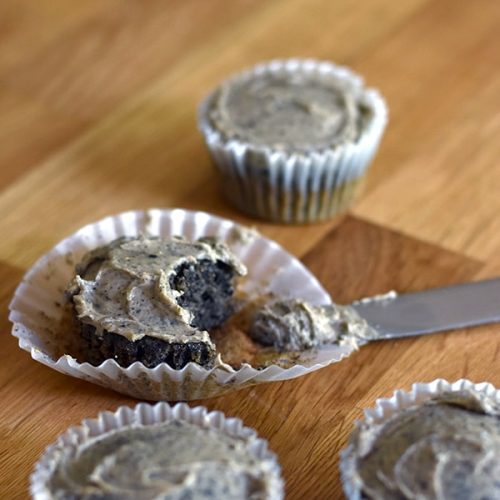 Black Sesame Cupcakes with Peanut Butter Frosting
These lightly sweet black sesame cupcakes are full of toasty sesame flavor, and pair perfectly with the peanut butter sesame frosting. 

Ingredients  
Peanut butter sesame frosting
Instructions 
Preheat oven to 350 degrees F and line a cupcake pan with 12 liners.

Grind the black sesame seeds to a powder in either a blender, grinder, or with a mortar and pestle/suribachi.

In a medium bowl, cream the butter and the sugar together. When nice and fluffy, add the egg, egg yolk, and vanilla, and beat again to combine. 

In a separate bowl, whisk the ground sesame seeds, flour, and baking powder together. Add half of it to the butter mixture and stir to combine. Next, add half of the milk, and mix. Finally, add the remaining flour, mix, and the remaining milk, and mix until fully combined. You want it to be fully combined, but you also want to be careful not to OVER mix it. Divide among the 12 cupcake liners, and bake for about 15-17 minutes or until a toothpick comes out clean, when inserted. Cool on a wire rack. 

Prepare the frosting: In a medium sized mixing bowl, cream the butter and the powdered sugar together. Add the vanilla, black sesame, and peanut butter, and mix to combine. Spread lightly over the cooled cupcakes. The frosting is meant to be a thin layer, and there will be just enough to frost all twelve cupcakes. If you really really like your frosting, consider doubling the recipe. 
Notes
If you don't have a mortar and pestle, and you are grinding your seeds in a blender, add the seeds for the frosting and grind it all at once. Once ground, it will be about 1.5 T that you need to reserve for the frosting. 
Nutrition
Nutrition Facts
Black Sesame Cupcakes with Peanut Butter Frosting
Amount per Serving
% Daily Value*
* Percent Daily Values are based on a 2000 calorie diet.