Crispy cookies with toffee, almond, and milk chocolate. Easy to make and incredibly delicious! Similar to Lacey's cookies from Trader Joe's.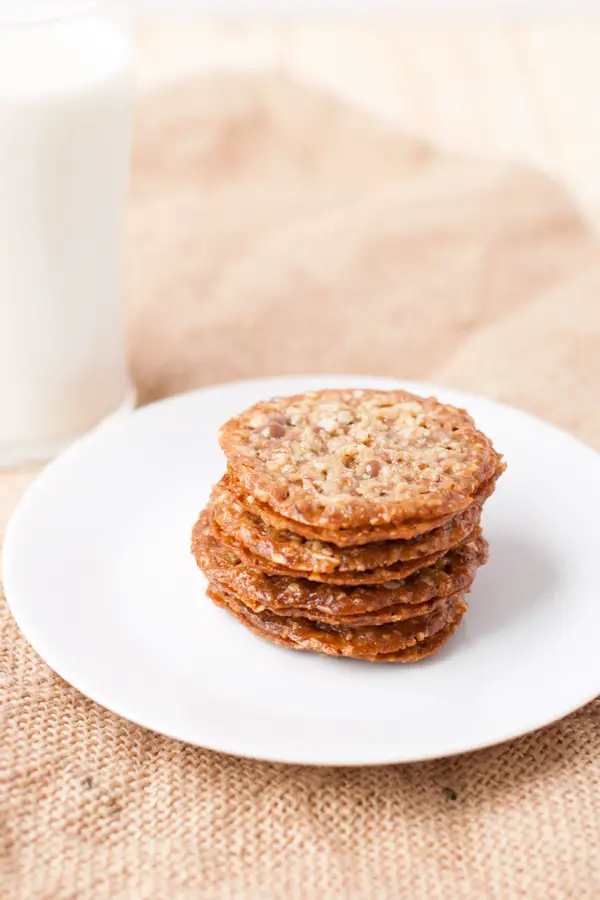 Anybody else love Trader Joe's? Good price, fun selection, small, friendly… little kid carts that you try and sneak past so your kids don't see… Anyways, love it. It's a little far away so it's always a bit of a treat to go. Speaking of treats, that's probably the best thing about the store… so. many. treats. One of my favorites is their Lacey's cookies. Have you tried them before?
They are crispy, almondy, toffee-y, chocolatey, and incredibly addictive. I usually don't buy them because my husband doesn't love that they use dark chocolate. In other words, he doesn't eat any and I eat the whole container by myself after the kids go to bed. And we all know that the best time to eat dessert is late at night right before going to sleep!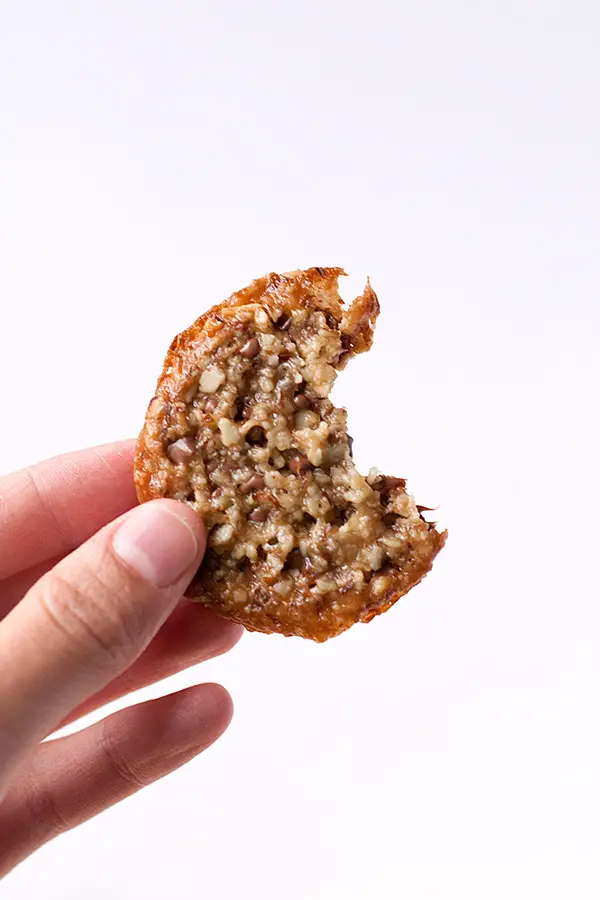 Don't have a Trader Joe's nearby or want make these at home? Try this recipe. It is easy to make with only 8 ingredients which you might already have on hand.
It's almost Christmas and I've been thinking about cookies, cookies, and cookies. I decided to kick off my cookie baking with a milk chocolate version of these laceys (you're welcome, husband). By the way, they are traditionally called Florentine cookies, but I think the Lacey's cookies might be more well known.
These are absolutely delicious, and you won't be able to stop at just one! They'd also make a great gift… Christmas cookie exchange anyone? Happy baking! Make sure you have a glass of milk with these!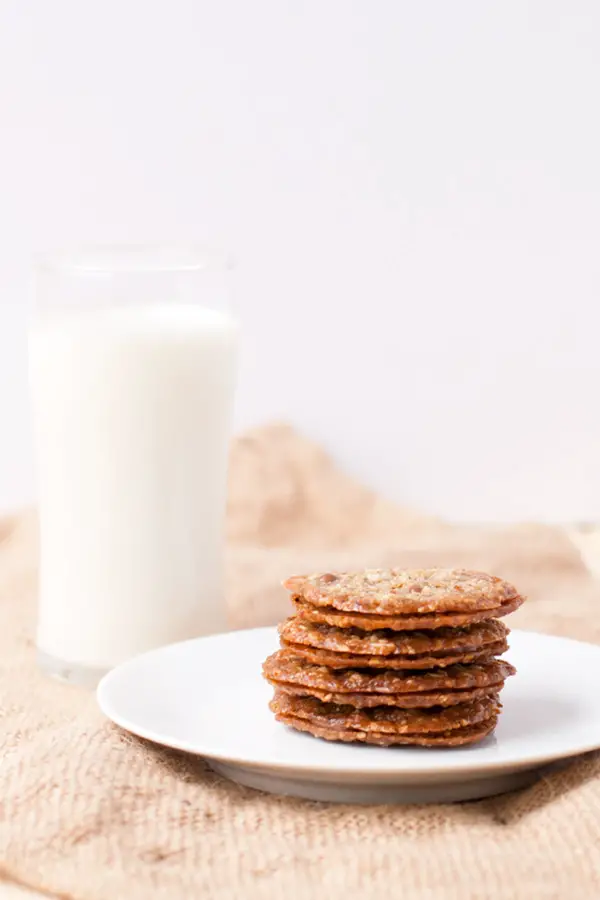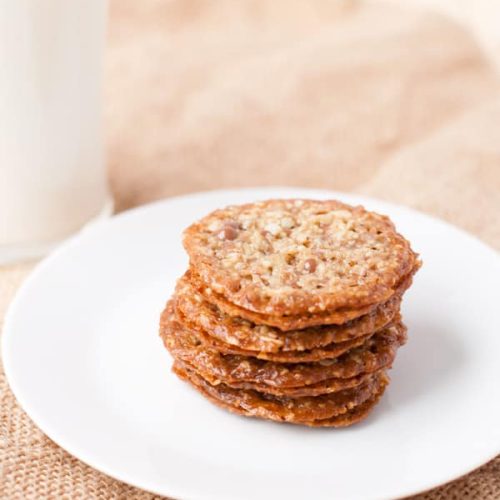 Crispy cookies with toffee, almond, and milk chocolate. Easy to make and incredibly delicious!
Instructions 
Make Dough
Pulse the almonds in a food processor until finely chopped.

Combine almonds, flour, and salt in a medium bowl.

1.5 T all purpose flour,

1 pinch salt

In a saucepan over medium heat, combine the butter, sugar, and corn syrup.

6 T brown sugar,

3 T butter,

1 T light corn syrup

Bring to a boil while stirring occasionally, to completely dissolve the sugar.

Let boil for about a minute, remove from heat, and stir in vanilla.

Pour the mixture into the almond bowl, and stir to combine.

Set aside for about a half hour, to cool.
Bake
Line cookie trays with parchment paper.

Using a teaspoon, scoop batter one teaspoon at a time onto the parchment paper.

Roll into balls, and place with at least 2-3 inches of space between each cookie, as they will spread while baking.

Bake one pan at a time, for 8-10 minutes, or until flat and a golden brown color.

Cool on the baking pan for a few minutes, and transfer to a wire rack.
Chocolate Filling
Once all cookies are baked, place 4 oz of good quality milk chocolate in a microwave safe bowl, and microwave on 50% power for one minute.

Remove and stir, and heat for additional 30 second increments until melted.

Match each cookie with a similar sized pair.

Flip one cookie over, spoon some melted chocolate on, spread around, and place the other cookie one top.

Set aside to cool and set. 
Store
Store in an air-tight container. You may want to place parchment paper between cookies if you are stacking them. 
Nutrition
Nutrition Facts
Trader Joe's Lacey Cookies Recipe
Amount per Serving
% Daily Value*
* Percent Daily Values are based on a 2000 calorie diet.