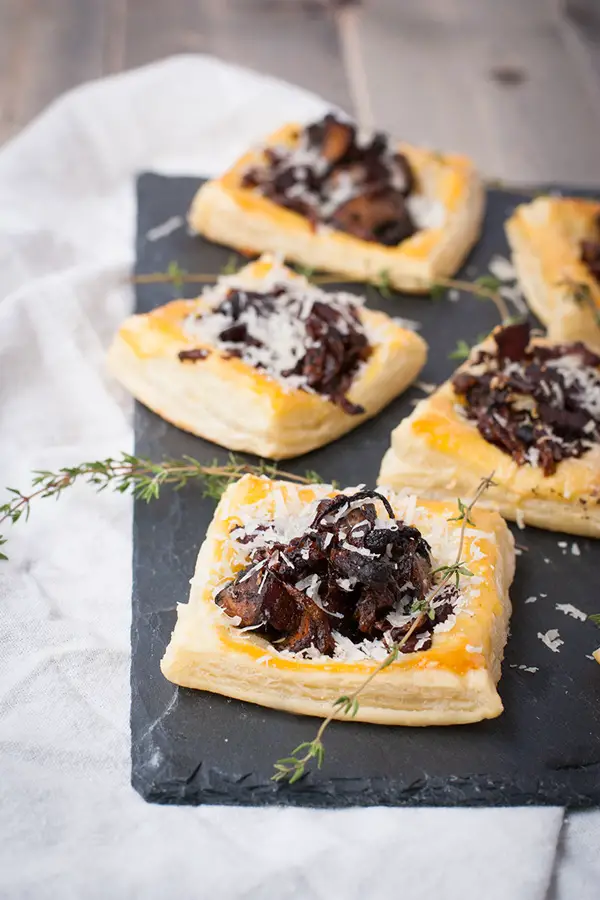 Umami- different from savory… not exactly "salty", but a flavor profile that brings a depth and deliciousness to foods. You'll find it in soy sauce, anchovies, tomatoes, parmesan, and these umami puffs. These puffs are topped with umami filled crimini mushrooms, bacon, caramelized onions, and parmesan cheese. Each ingredient is delicious on it's own, and with their combined powers… oh boy.
Sure, caramelizing onions can take a while, but they are well worth the effort. I always find myself picking at pieces to see "if they are done yet"… like every few seconds. As a matter of fact, I can single handedly eat an entire onions worth in one sitting. Yeah, a whole onion.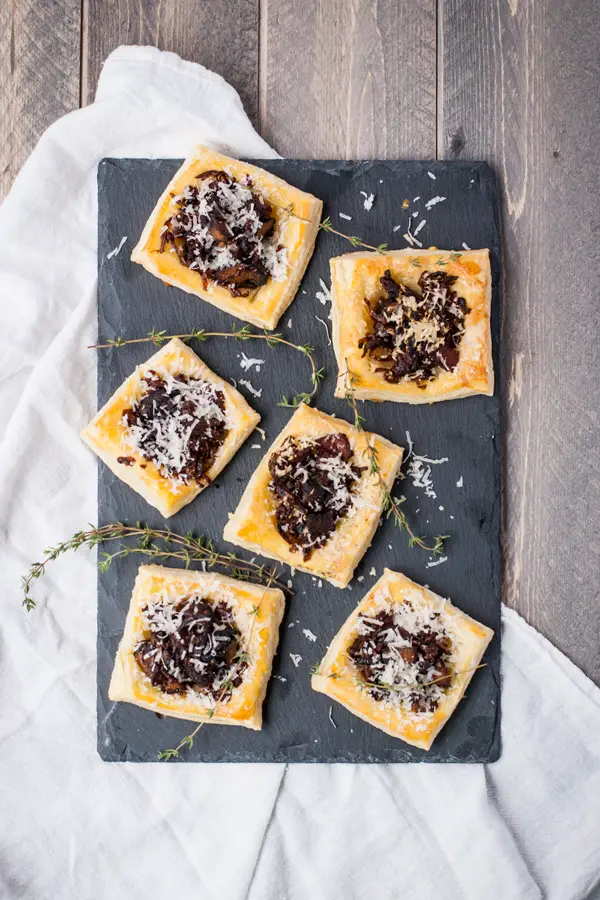 To make up for the caramelizing onions taking forever, I used puff pastry to make things quick once you have your ingredients assembled. Just spoon the mixture on the dough and throw it in the oven!
There is just so much umami flavor in these little puffs, I dare you to stop at one! They are perfect for party appetizers, or as a side with your dinner. Or… well, you could even eat these as a light dinner on their own!
Ok, and for those of you who don't like mushrooms… ugh, come on, they are SO good! But, I guess you can leave them out. I think you should try it though, just chop it up smaller and you will forget they are there (maybe)!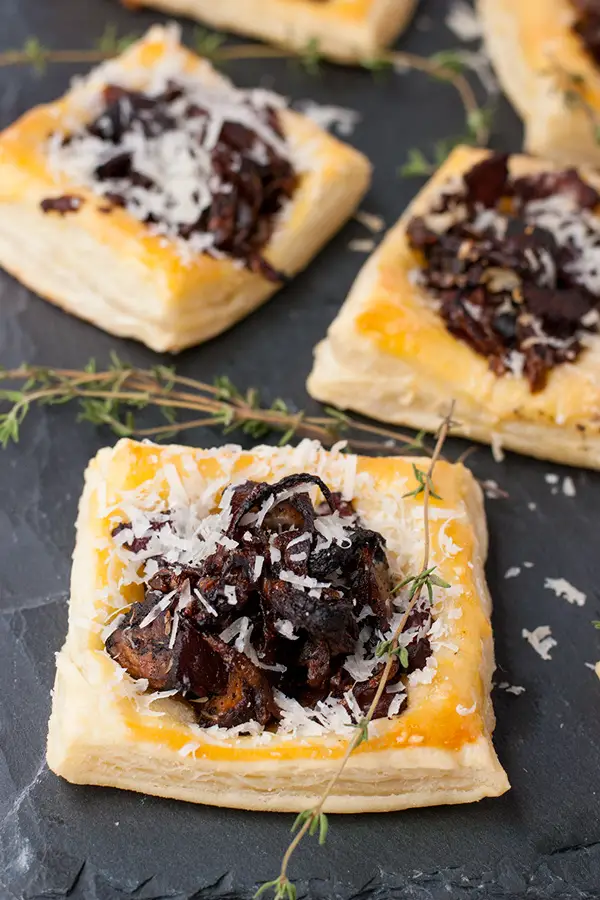 You can make the filling earlier in the day and just pop it on the puff pastry and throw it into the oven right before your guests arrive! Try this at your holiday party!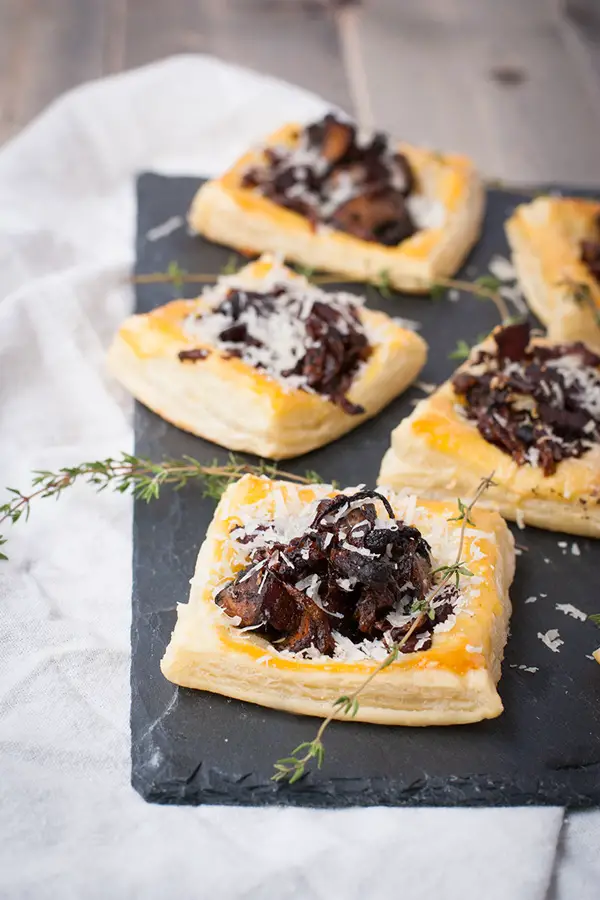 Perfect Umami Puffs
Full of umami packed ingredients, these puffs are perfect for a party appetizer or side dish.
Ingredients  
1

T

butter

balsamic vinegar, white wine, or chicken stock

for deglazing pan

10

crimini mushrooms

1

t

dried thyme

1

t

balsamic vinegar

5

slices

thick cut bacon

parmesan cheese

for topping

2

sheets

puff pastry

1

egg
Instructions 
Caramelize the onions: Thinly slice the onions and heat a large saucepan over medium-low heat. Melt the butter and add the sliced onions. Stir occasionally, and cook until onions are soft, caramelized, and a nice brown color. If frond is sticking to the bottom of the pan and won't come up with stirring, add a small splash of balsamic vinegar (or chicken stock or white wine), and deglaze the pan. Onions are done when they are very soft and sweet, about 40 minutes to an hour.

Preheat oven to 425 degrees F. Take puff pastry out of freezer and set aside to thaw. Chop the bacon and cook over medium heat until crispy. Quarter (or cut into sixth for larger pieces) the mushrooms and saute in 1 T of left over bacon grease (or regular oil such as canola) over medium heat. When softened, add balsamic vinegar and dried thyme and stir, cooking for a minute or two longer. 

When puff pastry is sufficiently defrosted, unfold and lay out on a cutting board. Cut each sheet into 6 squares. Taking a paring knife, cut another square inside each square, about 1/2 inch in from each side. We want to set the filling on the smaller square and have the sides puff up around it. Beat the egg with a splash of water and using a pastry brush, brush the egg wash onto the puff pastry (you can just do the outer portion since the middle will be covered with the onion mixture). Combine caramelized onions, bacon, and mushrooms in a bowl, and spoon onto the centers of each puff. 

Bake in oven until lightly browned and puffed, about ten minutes. Remove from oven and grate parmesan cheese over each piece. 
Notes
Feel free to change the amounts of each ingredient according to taste.