Rich chocolate fudge pairs perfectly with a little tang and tartness in these strawberry balsamic brownies. The perfect sweet and fresh dessert.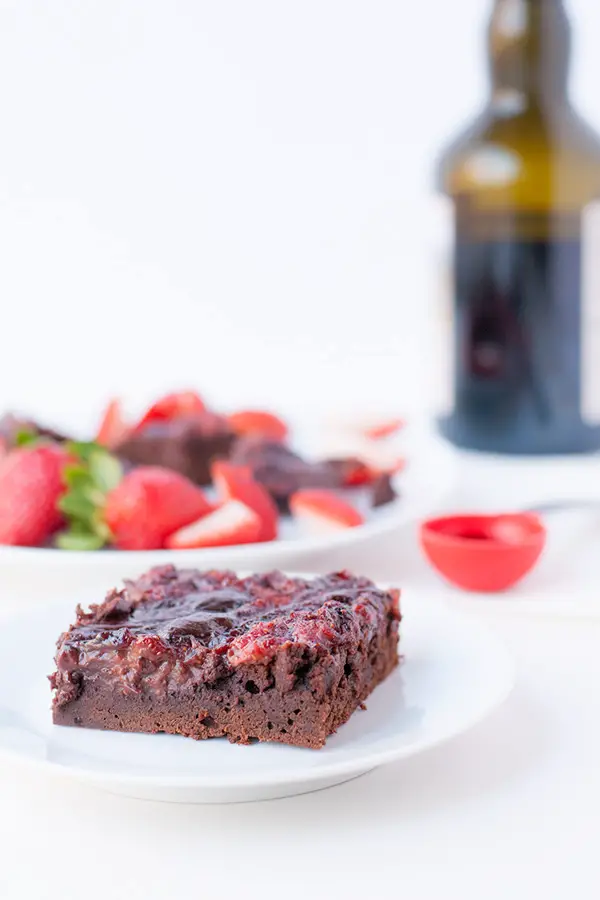 When I think of desserts I want to make, I like thinking outside of the box. I mean, there are a million brownie recipes out there, right? I had some leftover strawberries from making my strawberry mousse cake earlier in the week, and I wanted to use them in brownie form because December 8th (today!) is national brownie day. I walked to my pantry and opened it and saw balsamic vinegar… which totally goes with strawberries, duh!
So I'm thinking, strawberries go with chocolate, because chocolate dipped strawberries. Strawberries go with balsamic because strawberry balsamic vinaigrette. Balsamic and chocolate… Hmm. Well, we'll just say that works too. Therefore by some mathematical property, they should all come together deliciously in these strawberry balsamic brownies.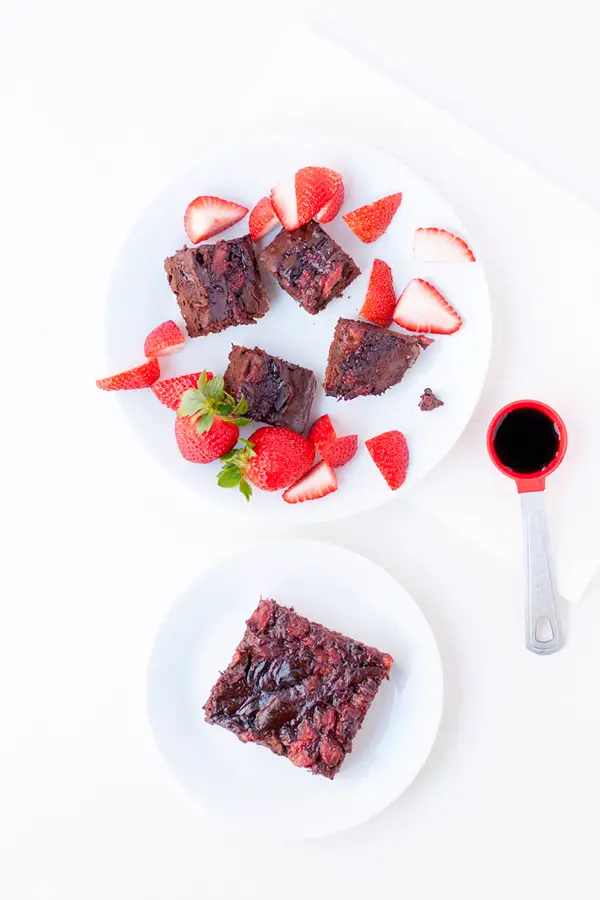 And they did! The thing I love the most about these is that you have a super rich fudgy brownie, which is maybe a little too much on it's own, and you add a little tart and tangy. It balances the rich and sweet, and adds a little punch of fresh.
I also tried to lighten this up a little bit by switching out half the butter with plain greek yogurt and reducing the amount of sugar. Let's be honest, there's still a ton of sugar in it, but we're eating strawberry balsamic brownies here, not muffins! You can also just add the strawberry topping to your favorite brownie recipe!
Happy baking!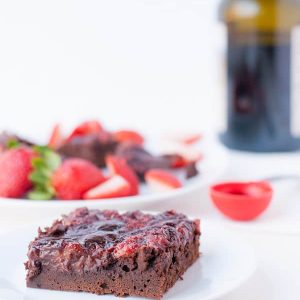 Strawberry Balsamic Brownies
Fudgy brownies topped with a swirl of fresh balsamic strawberries. Rich chocolate pairs perfectly with a little tang and tartness. 
Instructions 
Prep
Preheat oven to 350 degrees F. 
Mix
Melt the butter and mix with yogurt in a large bowl.

1/2 cup butter,

1/2 cup plain greek yogurt

Add the sugar and beat with a hand mixer.

1 cup granulated sugar,

1 cup brown sugar

Add in one egg at a time, beating well after each addition.

In a medium bowl, whisk together the cocoa, flour, and salt. Add to the wet ingredients and use a spatula to mix together.

Smooth the top and set aside. 

1.5 cups all-purpose flour,

1 cup cocoa powder,

1 t salt
Cook Sauce
In a small saucepan over medium heat, combine the strawberries, sugar, and 1 T balsamic vinegar.

1.5 cups chopped strawberries,

1 T sugar,

2 T balsamic vinegar

Bring to a simmer and cook, while smashing down the strawberries with a spatula. 

When the mixture has reduced a little, remove from heat and stir in the second T of balsamic vinegar.

Add spoonfuls of strawberry mixture over the brownie mixture and swirl it in. The strawberry mixture should mostly remain on the top, so don't mix too much!
Bake & Serve
Sprinkle the chocolate chips over the top and place in oven. 

1/4 cup semisweet chocolate chips

Bake for 30-45 minutes or until toothpick comes out clean (make sure you aren't poking through a chocolate chip or it might not look clean!). 

Remove from oven and allow to cool.

Cut into squares and serve!
Nutrition
Nutrition Facts
Strawberry Balsamic Brownies
Amount per Serving
% Daily Value*
* Percent Daily Values are based on a 2000 calorie diet.