A layer of milk kanten and a layer of mizu yokan, studded with strawberry chunks, makes for a beautiful and refreshing summer treat.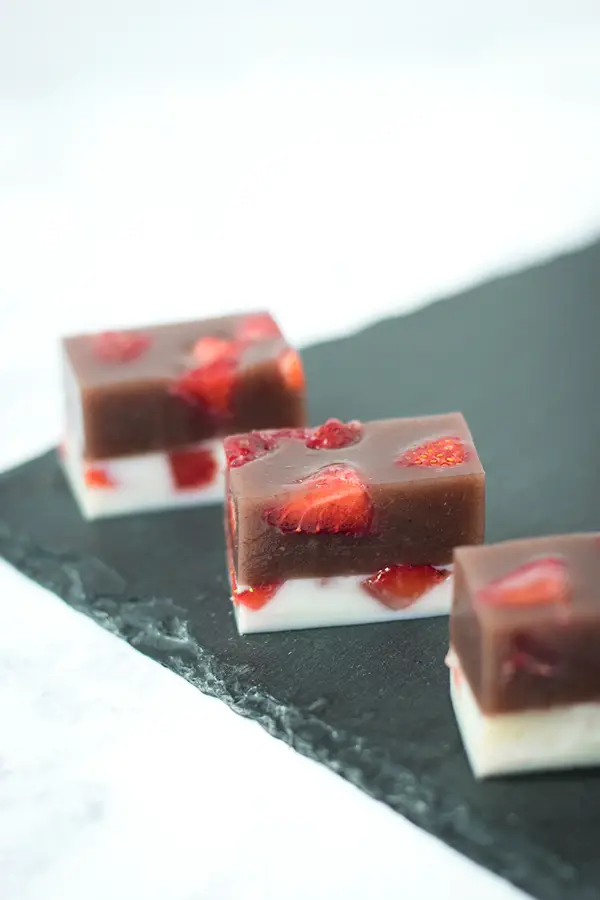 Mizu yokan is a common and delicious Japanese dessert, especially popular in the summer. It's basically a red bean jelly, made with kanten. Powdered kanten is similar to agar agar, as they are both made from a seaweed, but their textures are slightly different. Kanten is a little firmer, and has a nice silky texture.
You'll need koshian, which is a smooth sweet red bean paste. Although you can get it on Amazon
(affiliate link, just because), it's a lot cheaper at the Asian store, so I would go there. You will also need kanten, which you can find in the Japanese section of most well stocked Asian stores. Here's a picture of a couple of different brands, for reference.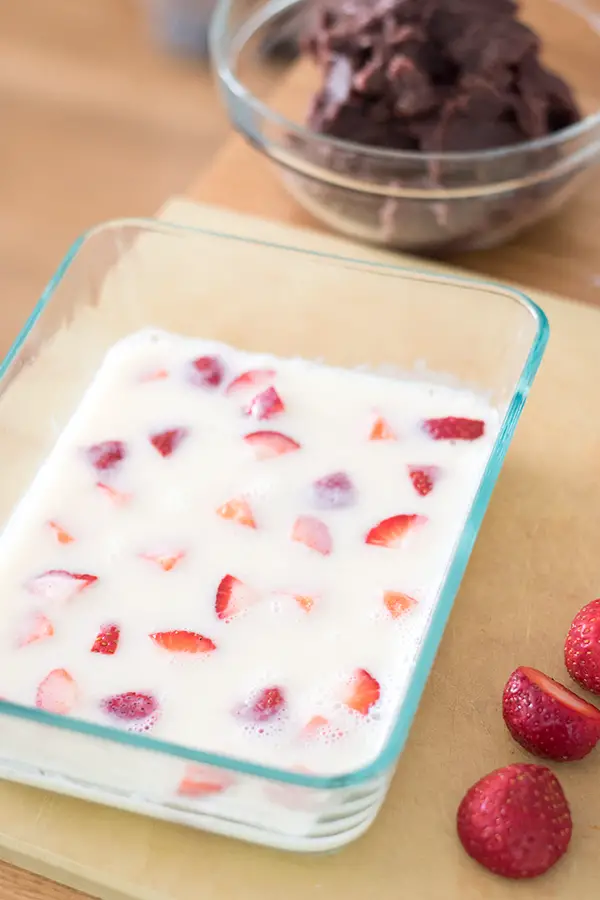 Alright, let's talk about why I made it strawberries and milk. Follow my logic here, okay? Strawberry mochi/daifuku is absolutely delicious (strawberries enrobed in sweet red bean paste and mochi). Strawberries and condensed milk is amazing. It's my favorite way to eat strawberries. Therefore, the three things combined should also be delicious.
Got it? Agree? And isn't it so pretty? I just love the layers!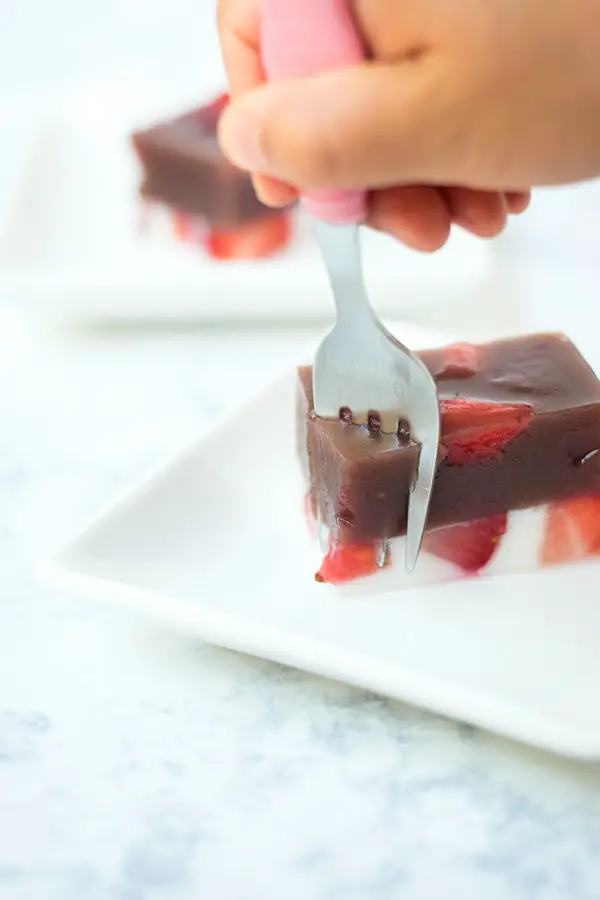 This dessert is smooth, silky, refreshing, and not overly sweet. The sweet red bean flavor, balanced out so nicely by the strawberries, and the mellow milk kanten. It's a unique combination, and I love it!
It is seriously dangerous to put it in front of me. I can just keep eating it and eating it… seriously good to eat it on a hot summer day.
By the way, if you don't want to do the milk layer, double the yokan and just make strawberry yokan! Then you can use one 500g bag of koshian, one 4g stick on kanten, and 500ml of water. So easy! But I do recommend trying it with the milk kanten on the bottom, yum.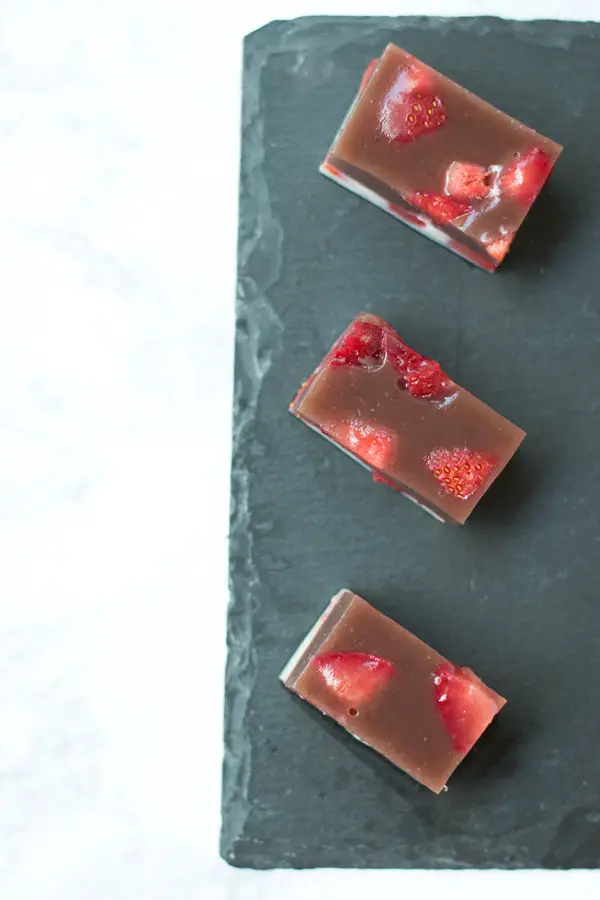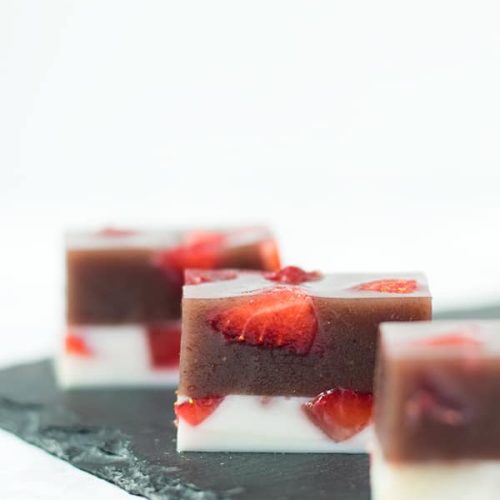 Strawberries and Milk Yokan
A layer of milk kanten and a layer of mizu yokan, studded with strawberry chunks, makes for a beautiful and refreshing summer treat.
Instructions 
Prep Strawberries
Dice the strawberries and set aside. 
Milk Kanten
In a small saucepan over medium heat, combine milk, sugar, and kanten powder and stir until kanten is completely dissolved.

250 ml milk,

1 T sugar,

1 t kanten powder

Bring to a boil, turn down the heat, and simmer for 2 minutes.

Remove from heat, stir in the condensed milk, and pour into a 6inx8in container.

Place half of the strawberries into the mixture, spread out evenly.

Place in refrigerator to set, while making the yokan portion. 
Yokan
Clean out the saucepan, place over medium heat.

Combine the water and kanten, stir until dissolved, bring to a boil and reduce heat.

1 t kanten powder,

250 ml water

Simmer for 2 minutes and remove from heat.

Stir in the koshian until fully combined.

250 g koshian (smooth sweet red bean paste)

Gently spoon the mixture over the milk kanten.

The mixture is hot, so if you pour it, it can break through the milk kanten.

Spread the remaining strawberries throughout the Yokan mixture, and allow to cool. Refrigerate until fully cooled.
Serve
To serve, cut into rectangles. 
Nutrition
Nutrition Facts
Strawberries and Milk Yokan
Amount per Serving
% Daily Value*
* Percent Daily Values are based on a 2000 calorie diet.