This yogurt mousse is an easy, lightened up dessert, delicately sweetened with Welch's Chia Strawberry Fruit Spread.
This shop has been compensated by Collective Bias, Inc. and its advertiser. All opinions are mine alone.#Welchs #WelchsChia #CollectiveBias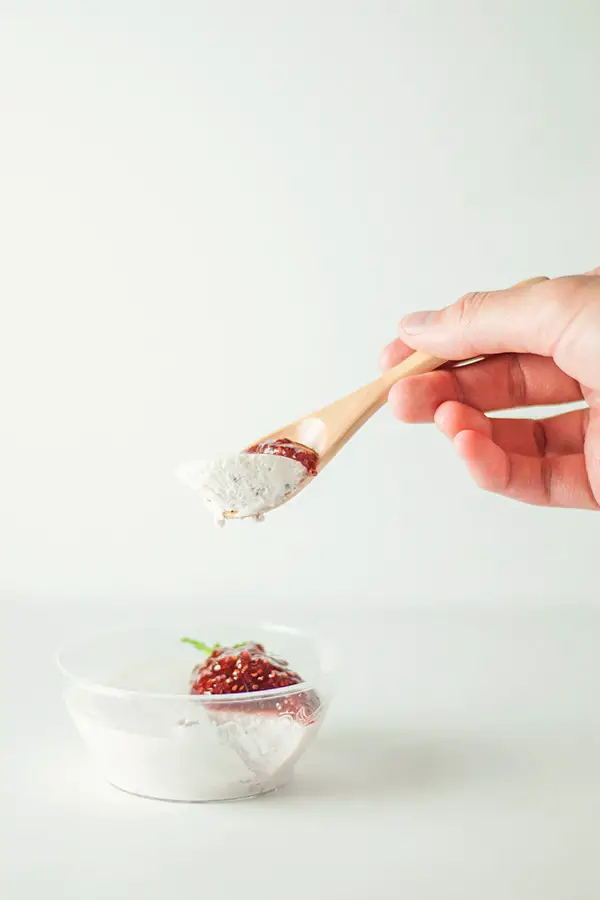 Today I'm sharing with you a lightened up dessert that you can feel pretty good about eating. I mean, it's not totally guilt free. It's not like, sweetened with dates, and vegan (it's actually quite far from vegan. sorrynotsorry). But it is simply made with ingredients that you can feel good about.
Do you have any New Years resolutions? I totally forgot this year. I don't know, I've been busy, I guess! I never keep them anyways, and I'm pretty sure I just say the same thing every year. Exercise more, eat healthier, lose baby weight. Same ol' same ol'. Unfortunately, I eat a lot of sweet things. I blog about food though, and mostly desserts! What can I do?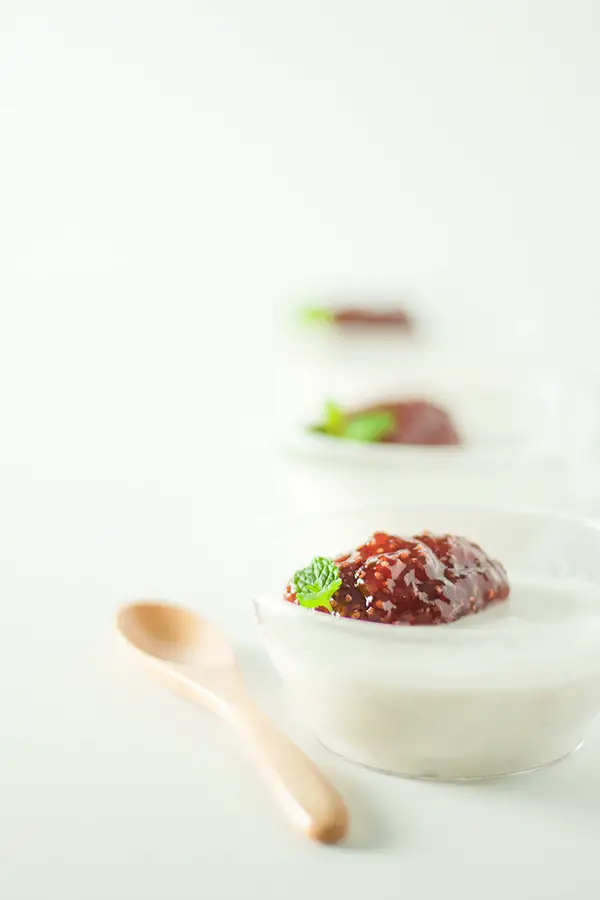 I suppose one step is to at least occasionally introduce you to desserts that are a little more on the healthier side, right? So that's what I'm doing today. I think this would actually be a good Valentine's dessert for someone who wants to keep things lighter. The yogurt mousse is an off-white, sliiiiightly leaning towards pink, and the topping is red. Pink(ish… okay fine, off-white) and red. Perfect.
First, that red stuff that I so artfully placed on top of the mousse. It's Welch's chia strawberry fruit spread. It's like jam but… it uses chia seeds (700 seeds per serving!) to get that "jam" consistency. Cool huh? Chia seeds are super good for you, so it's kind of a cheater way to get some extra goodness in your diet. The ingredient list is pretty simple, without any GMO's, preservatives, artificial stuff, or high fructose corn syrup. You can read all about it at Welch's website. It also comes in their classic concord grape!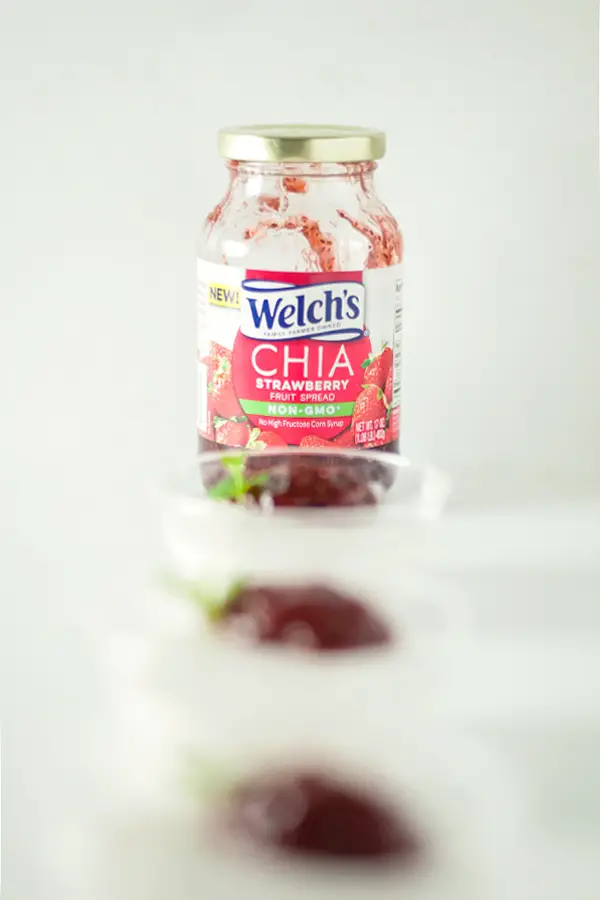 This mousse has no extra added sugar (note: there's sugar in the spread), and it's rather lightly sweetened. If you have a sweet tooth, just spoon a little more of the spread on top, to taste. Disclaimer though… it's not low fat. It has cream in it, and I personally used full fat Greek yogurt in it. You can sub a lower fat Greek yogurt, but you gotta keep the cream.
Can I tell you something though? I don't think high fat dairy products are necessarily bad for you. In moderation. I mean, I feel good about giving this to my kids, because I give them 2% or whole milk (per pediatrician instruction) and I always give them full fat Greek yogurt!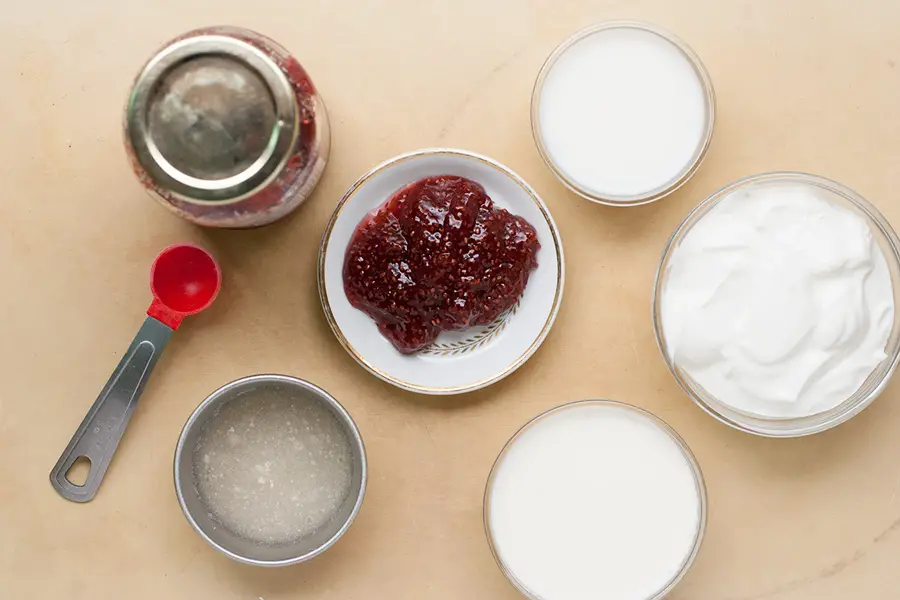 It's such a light fluffy dessert that I actually found myself eating it for breakfast. I mean, follow along here…if you can have jam on toast of breakfast, and you can have yogurt with granola, then why can't you have yogurt mousse that's only sweetened with jam/fruit spread? RIGHT? Genius.
By the way, I picked up the chia spread at Walmart. It's in the Jelly, PB, ketchup aisle. You know the one. I think I might go back and get the chia grape when I run out of the grape jelly I have in the fridge. Honestly, it's about the baby steps when it comes to eating healthier. Grape spread with a bunch of chia seeds is an upgrade from just grape jelly. HEY! I'm fulfilling my New Years resolutions that I didn't even make this year. Woohoo!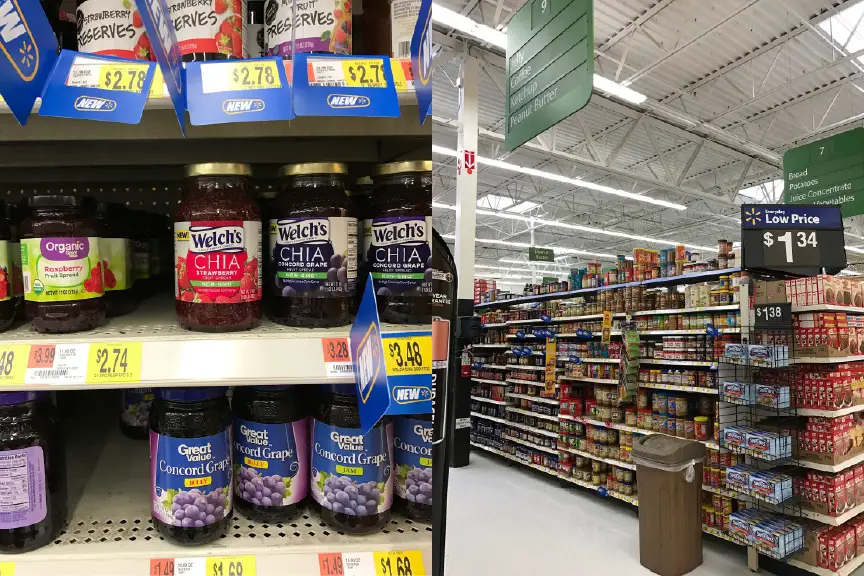 How's this for an artsy little picture? My husband was helping me take pictures and he said, "Oooh! Why don't we do one where… The spoon is vertical". And there you have it, folks. Vertical spoon. What do you think? Totally artsy and cool? Or so awkward looking?
Anyways, I hope you will give this yogurt mousse a try! Feel free to mix it up by using other flavors as well! It's quite versatile! And as I mentioned before, you can also switch up the fat contents of the dairy products (except the cream, cream is cream and you can't whip milk). Have fun, I won't tell anyone that you ate it for dessert and then breakfast the next morning!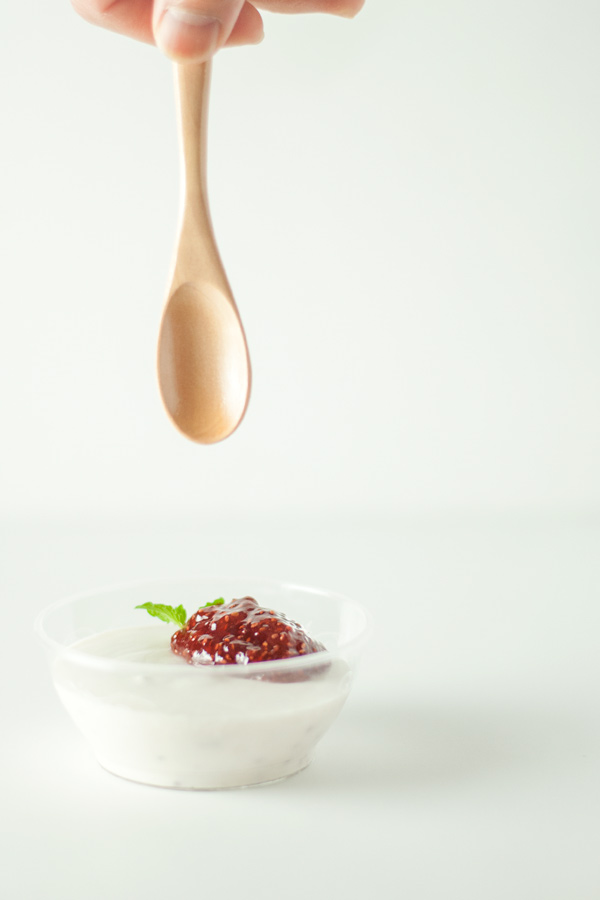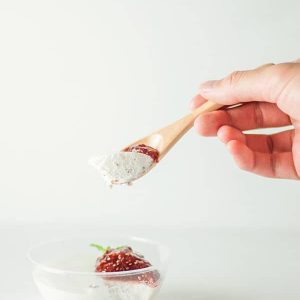 Greek Yogurt Strawberry Mousse
This yogurt strawberry mousse is an easy, lightened up dessert, delicately sweetened with Welch's Chia Strawberry Spread.
Instructions 
Bloom the gelatin by sprinkling it over the cold water in a small container. Set aside.

In a small saucepan over medium heat, combine the milk and the chia spread and heat until hot, but not simmering.

Add the bloomed gelatin and stir in to melt. If milk gets separated/curdled, don't worry, it won't affect the final outcome. Set aside to cool down.

Whip the cream until soft peaks form. Fold in the yogurt, and add the milk/chia spread mixture (should no longer be hot to the touch).

Stir until fully combined, and ladle into individual containers.

Cool in the fridge for at least a couple of hours.

Before serving, spoon some extra chia spread on top, to taste, and garnish with mint. 
Nutrition
Nutrition Facts
Greek Yogurt Strawberry Mousse
Amount per Serving
% Daily Value*
* Percent Daily Values are based on a 2000 calorie diet.