This delicious salmon gratin recipe gets an extra boost of flavor and nutrition from crimini mushrooms and broccoli, and a generous sprinkling of melted mozzarella cheese. It's a perfect way to enjoy a healthy and satisfying meal that's also easy to make.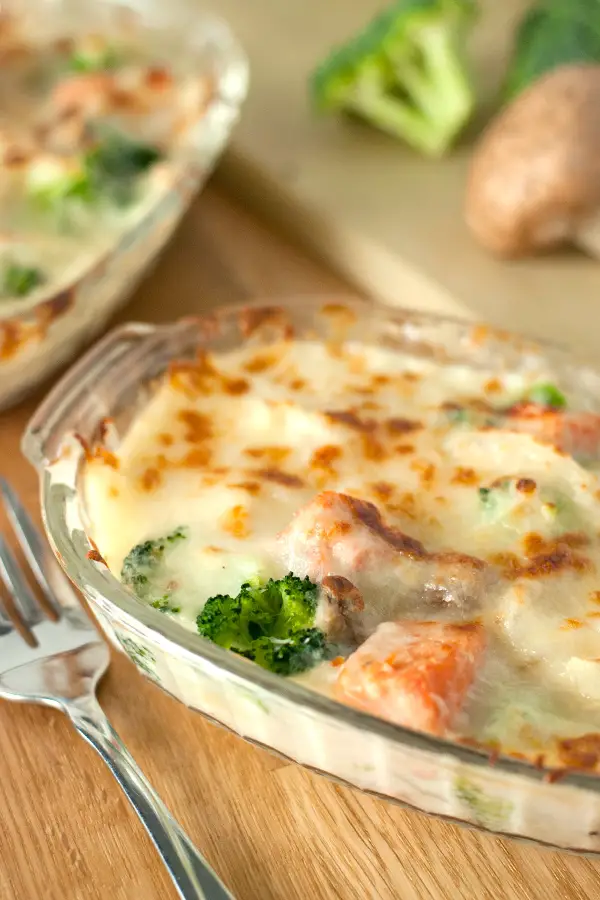 Gratin is a French dish… originally. But strangely enough, it's really popular in Japan!
So Japan does this thing where… they take things from other countries and then go crazy with it. Liiiiike have you ever had Japanese crepes? Oh baby. And how about cars? Any type of electronic device? Yeah, Japan is all about taking things from other countries and making it better.
You might not think gratin, which is basically any dish that has either a cheese or breadcrumb (or both) topping that gets browned in the oven, would be very Japanese. But, it's just one of those things that took off, and now it's a typical weeknight meal.
I thought it was a popular dish in America, since I grew up eating it, but turns out it's actually not so common. My husband had never heard of it before, which made me realize… I had eaten it because my Japanese mother made it as a Japanese dish, not an American one.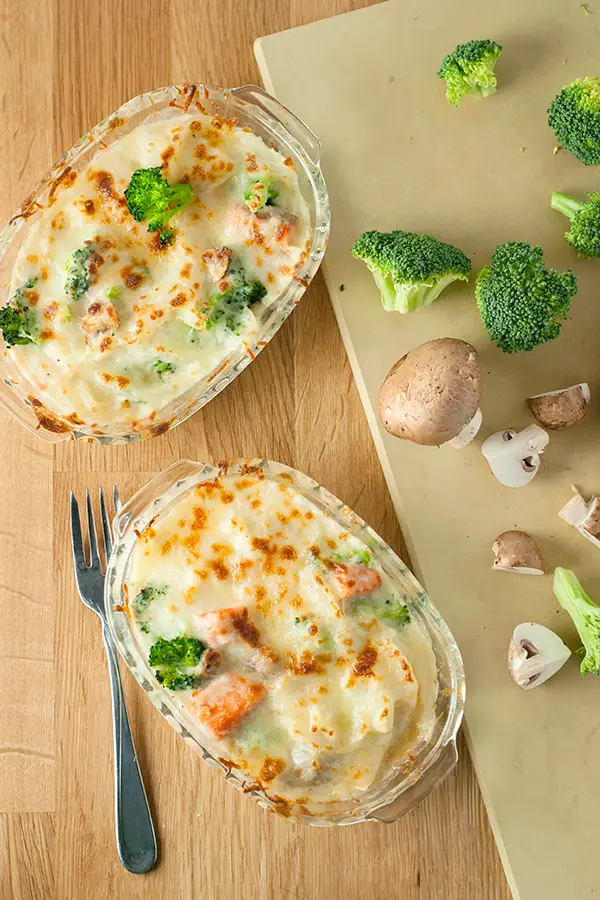 Weird. I mean, doesn't it just seem so… American? A white sauce, cheese, bread… a lot of times it'll have potatoes or pasta in it… It seems so American! Well, I guess we DO eat scalloped potatoes a lot here. But there just isn't the variation that you see in Japan.
The recipe I'm sharing with you is a healthy salmon gratin, with lots of vitamins and nutrients! It's packed with salmon, mushrooms, broccoli, and onion! If broccoli and mushrooms aren't your thing, you can substitute other veggies in there. Just make sure you cook or steam them first. The oven stage is just to melt the cheese and brown the top. Most importantly, this dish is very light and low-calorie, so you don't have to worry about being overweight. It will also be a perfect lunch while playing slot machines for real money.
This gratin is easy to prepare, and SUCH a comfort food. Not to mention, if you make it in the individual dishes, it's kind of a fun presentation. Of course, if you don't have individual gratin dishes, you can make it in a bigger dish and just scoop it onto a plate!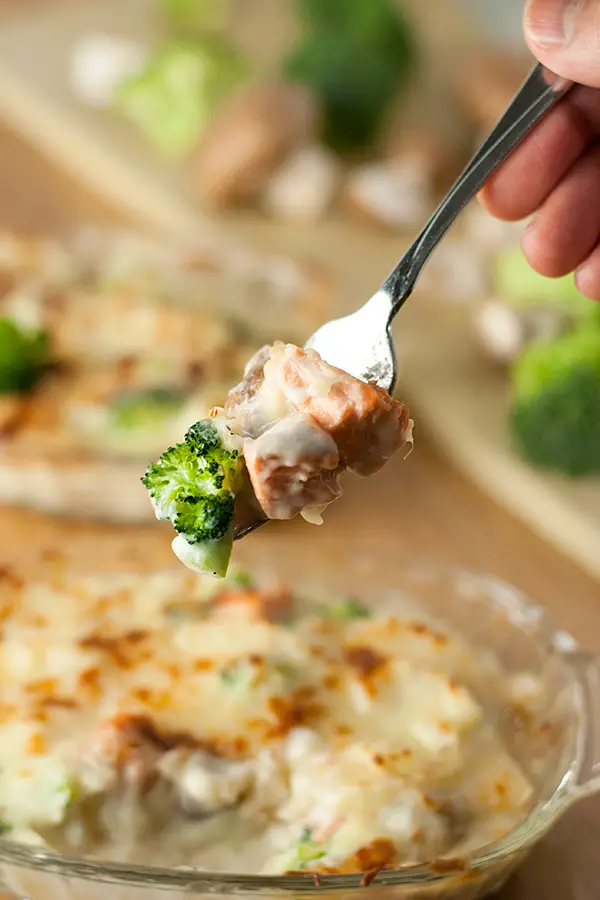 Look at thaaaat. Mmmsalmonyumyumyum.
p.s. need a gratin dish
?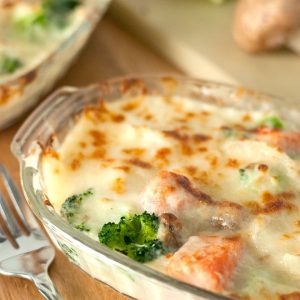 Salmon Gratin
This salmon gratin combines tender salmon, sautéed mushrooms & broccoli, and creamy sauce, topped with melted mozzarella cheese. Delicious!
Instructions 
Make White Sauce
Combine the thinly sliced onion and flour.

6 Tablespoon all purpose flour,

1 small onion, thinly sliced

Heat a skillet over low heat and add the butter.

Add the onion and cook until no longer powdery and white.

Add the milk a little bit at a time, stirring well after each addition.

Once the milk is added, continue to stir until thickened.
Cook Salmon & Veggies
Preheat oven to 350 degrees F.

Cut the broccoli florets into bite sized pieces and either boil in salted water, microwave and salt, or steam and salt.

Cut salmon fillets into bitesized pieces and salt.

Cut mushrooms into quarters (or in half, or in sixths according to size).

Heat a nonstick pan over medium heat and brown the salmon pieces.

Remove salmon and saute and salt the mushrooms. 
Bake
Put the broccoli, mushrooms, and salmon into either individual gratin dishes or a casserole dish.

Pour white sauce on top and lightly stir to help bring pieces to the top.

Sprinkle the cheese over the top and cook in oven until melted.

Do a quick pass under the broiler to brown the top more, if desired. 

mozzarella or white cheese blend
Notes
Recipe adapted from Mebae "&" magazine, February edition (Japanese). 
Nutrition
Nutrition Facts
Salmon Gratin
Amount per Serving
% Daily Value*
* Percent Daily Values are based on a 2000 calorie diet.