A Hawaiian classic: The ahi tuna poke bowl is chunks of Ahi tuna and onions tossed in a sesame soy sauce marinade. An easy and delicious sashimi style dish.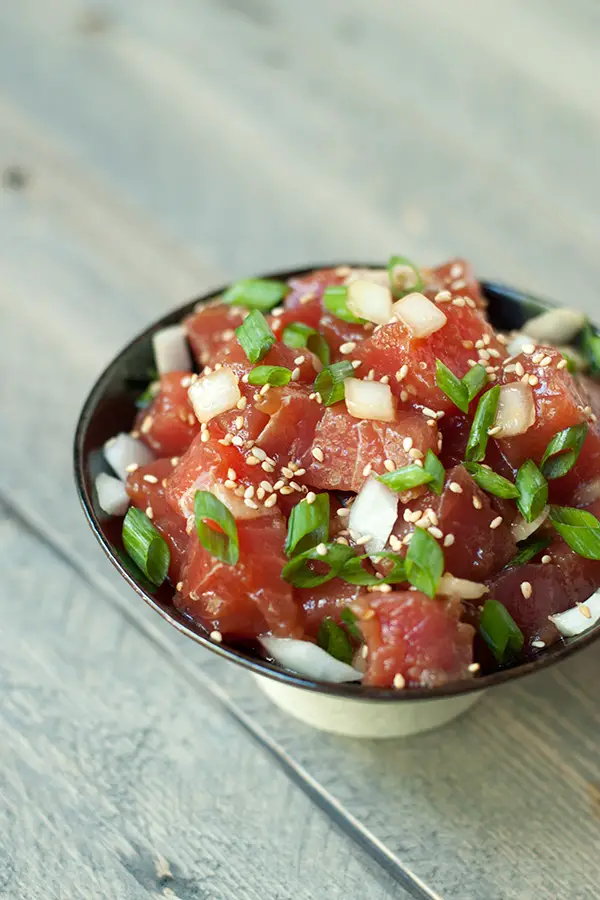 what is hawaiian poke
Poke, pronounced poh-keh is a Hawaiian word meaning to "slice or cut crosswise into pieces"… But to anyone who is from Hawaii, poke is a popular dish made with chunks of raw ahi tuna tossed in a soy sauce based marinade. My husband is from Hawaii, so whenever we visit his family, he gets his fill of poke along with a few other Hawaiian food staples.
Even though I'm half Japanese, I grew up in a household that doesn't eat fish. Whaaat?! I have my siblings to blame for that. If my mom cooked fish, they would turn their nose up at it. Because of this, I always thought I didn't like fish. To top it off, my Japanese mother doesn't like raw fish, so I NEVER had sushi or sashimi growing up. I thought it was gross. Why would you eat RAW MEAT?!
Anyways, after meeting my to-be husband in college, I was introduced into the world of sushi, and found out that it was actually… really good! However, after years of thinking I couldn't eat raw fish, it's still hard to kick that initial feeling of revulsion when I go to eat sashimi. I usually do better with maki (rolled) sushi where there's rice and other things to balance it out.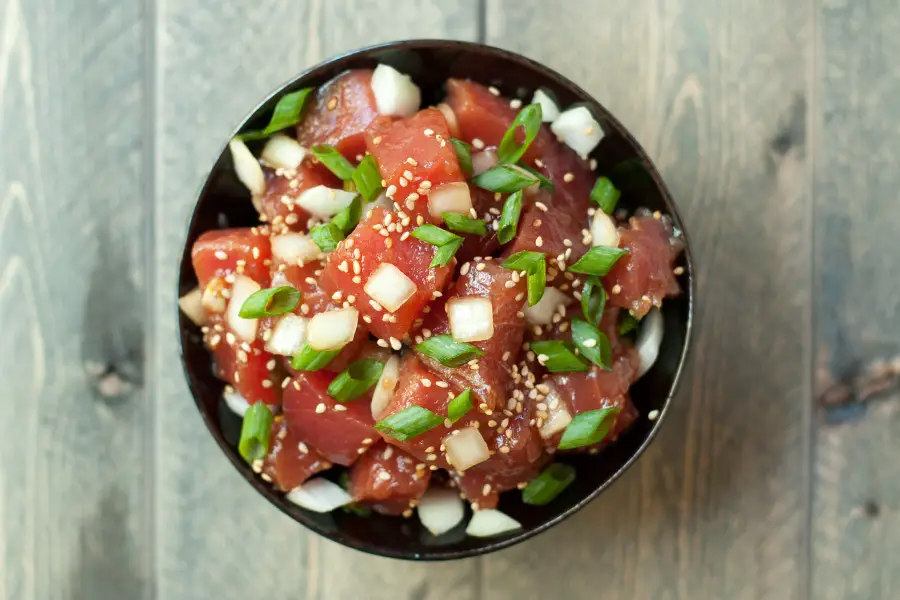 What I'm TRYING to say is… I like this stuff in moderation. I can eat a little bit of it, and then I'm good. When I made this and we had it during lunch, I ate, maybe… 5 or 6 pieces. The flavoring was really yummy! But that was enough for me. My husband, on the other hand, ate like, half of it in one sitting. I'm saying he ate a half pound of raw tuna, people. In one sitting. He loves the stuff. He finished the rest of it off within a day.
Is it weird that I'm posting a recipe that I don't love? I'm posting this because I know there are lots of people who DO love it. Including my husband. He's so happy when he eats things that remind him of home, so I am more than willing to make something even if I just sorta pick at.  According to him, this recipe was "spot-on", and I trust him… he grew up eating the stuff.
If YOU love eating hunks of raw fish, then you should definitely make this Hawaiian ahi poke! Look at it, isn't it beautiful?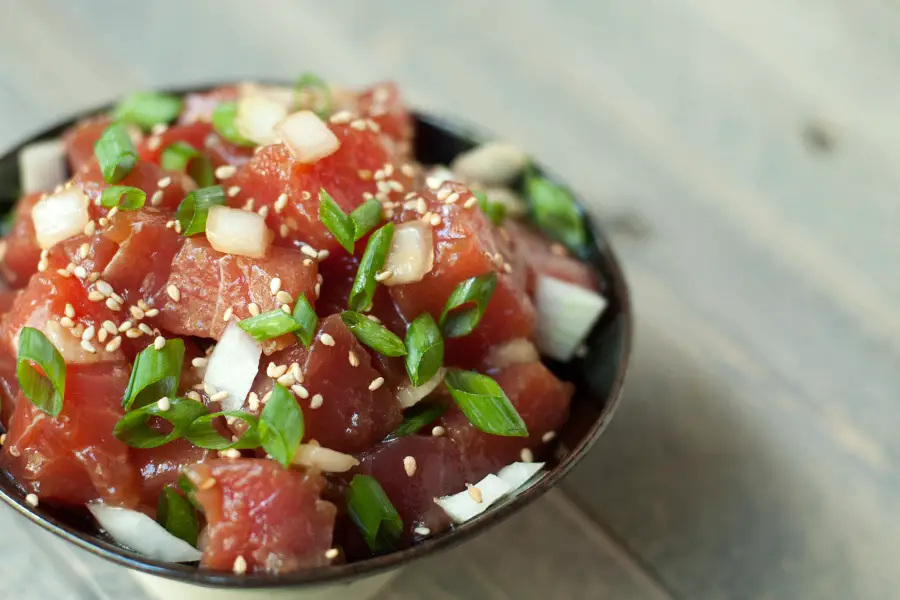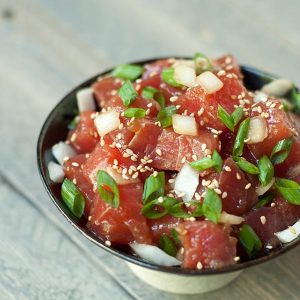 Hawaiian Ahi Tuna Poke Bowl
A Hawaiian classic: chunks of Ahi tuna and onions tossed in a sesame soy sauce marinade.
Instructions 
Mix & Chill
Combine ingredients in a large bowl and lightly mix.

1 lb raw ahi tuna, cut into 1/2″ chunks,

1/4 medium sweet onion, chopped,

1-2 scallions, thinly sliced,

1-2 t white sesame seeds,

2 T soy sauce,

1 T toasted sesame oil,

1 t honey,

1 t grated ginger,

crushed red pepper

Add salt to taste if necessary.

Cover and refrigerate for a couple of hours before serving.
Notes
Feel free to add more of the soy sauce, sesame oil mix, or adjust the amounts to taste.
Nutrition
Nutrition Facts
Hawaiian Ahi Tuna Poke Bowl
Amount per Serving
% Daily Value*
* Percent Daily Values are based on a 2000 calorie diet.