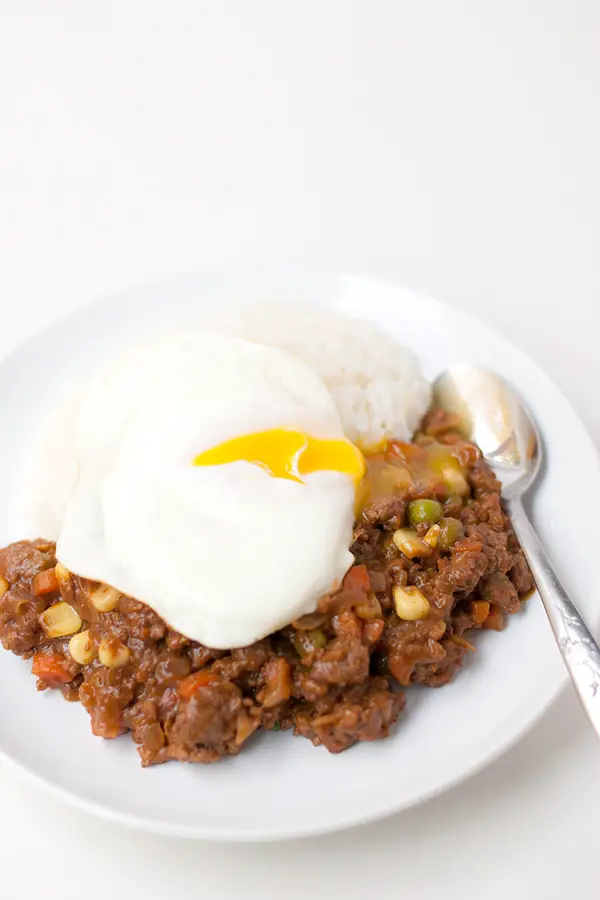 Before I start, I gotta ask… How can you make ground beef look appetizing in a picture? I don't know. I tried, you guys. I did. I think I did alright, but trust me when I say, this recipe is delicious.
I'm always on the lookout for ground beef recipes, because they are usually quick and easy to make. Here's my thought process: oh shoot, dinner is in a half hour and I'm still in my pj's (this happens more often than you would think. Is it still pj's if you wear them all day?)… What's in the freezer? Chicken and ground beef. Okay, we had chicken the last three nights so…
You get the idea. This keema curry recipe is meaty, spice-y (not to be confused with spicy), and a little tangy. As an added bonus, it's got your veggies right in there, so you don't have to make a side dish. Just cook some rice and serve. Keema is a traditionally South East Asian dish, where minced meat is mixed with spices and some veggies. This Keema curry has Japanese influence, in that it uses Japanese curry cubes. You can typically find Vermont, Golden, and/or Kokumaro in the United States. You'll likely find all three at an Asian store, but I've seen Golden curry at normal grocery stores in the Asian section. My personal favorite is the green Vermont box, which is medium hot.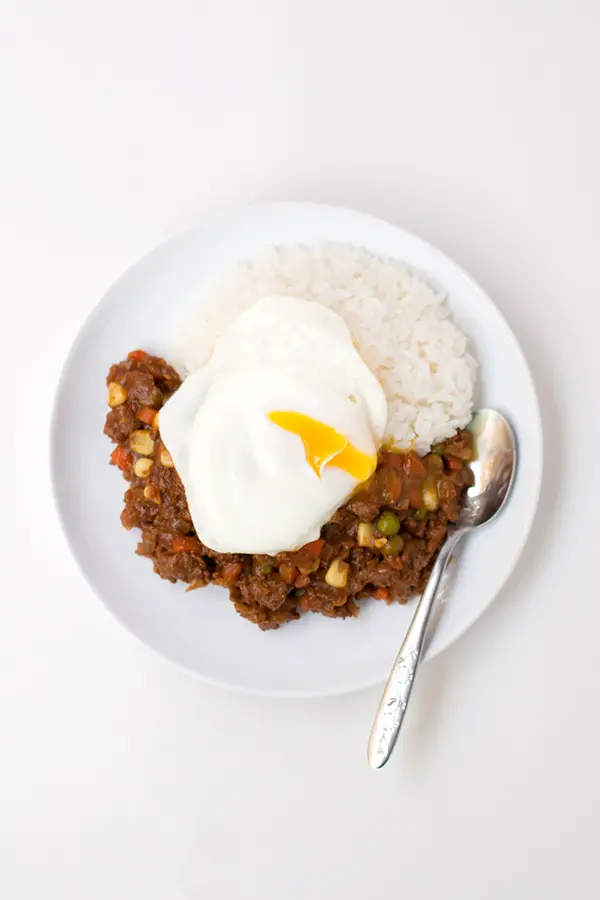 A discovery I made wayyy too late in my life is that a fried egg is SO GOOD on curry. Now whenever I make any type of Japanese curry (once every few weeks at least), I put an egg on everyone's dish. My mom, who is Japanese, is very unJapanese in the sense that she doesn't like raw egg (or raw fish for that matter), so I grew up thinking I didn't like my eggs runny. How sad. Anyways, I've been enlightened, and my kids will spend their childhood breaking their yolks onto toast, curry, whatever, everything. Actually, when I made this for dinner, my 2 year old picked up her egg and slurped the egg yolk out. Haha. Kind of gross when you eat it like that, but ok.
Another great thing about this curry is that it's not soupy like your typical curry. It's more of a "dry" curry, which means you can do something really yummy with the left overs…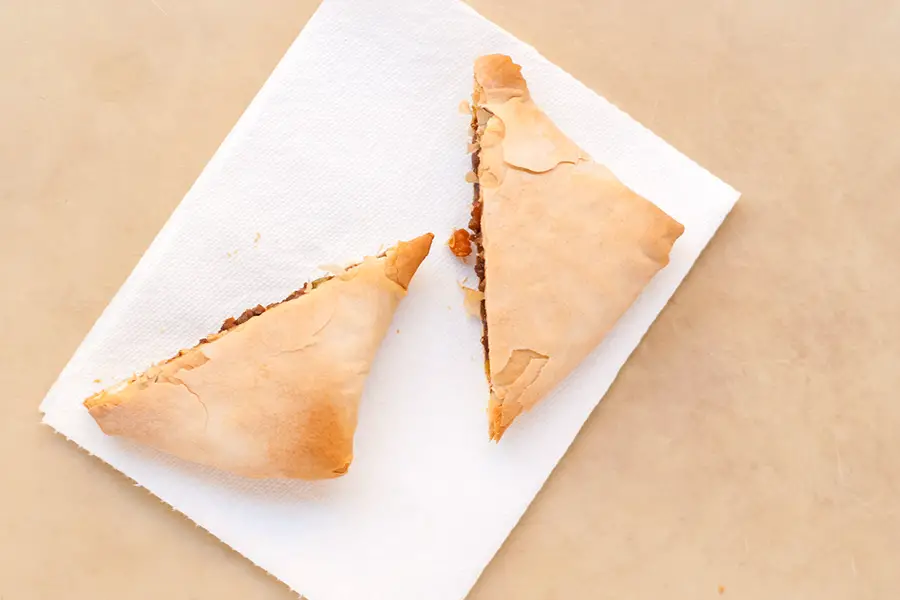 Yesssss, we can wrap it in filo dough and make a curry pocket! We ate these the next day for lunch. Be careful though, filo dough is messy and flaky and it gets all over! I made my kids eat theirs outside on the deck. And then when I saw the mess my husband and I were making, we went out and joined them. I don't really have a recipe for that, but you basically just layer 4-6 layers of filo (oiled between each sheet), and plop some curry onto the center and wrap it up and bake. I used Martha Stewart's recipe as guidance, because, Martha Stewart. Anyways, they turned out really delicious, and next time I make this keema curry, I'll probably double the recipe so I can have more of the hand pies.
So, add this recipe to your collection of last minute ground beef recipes!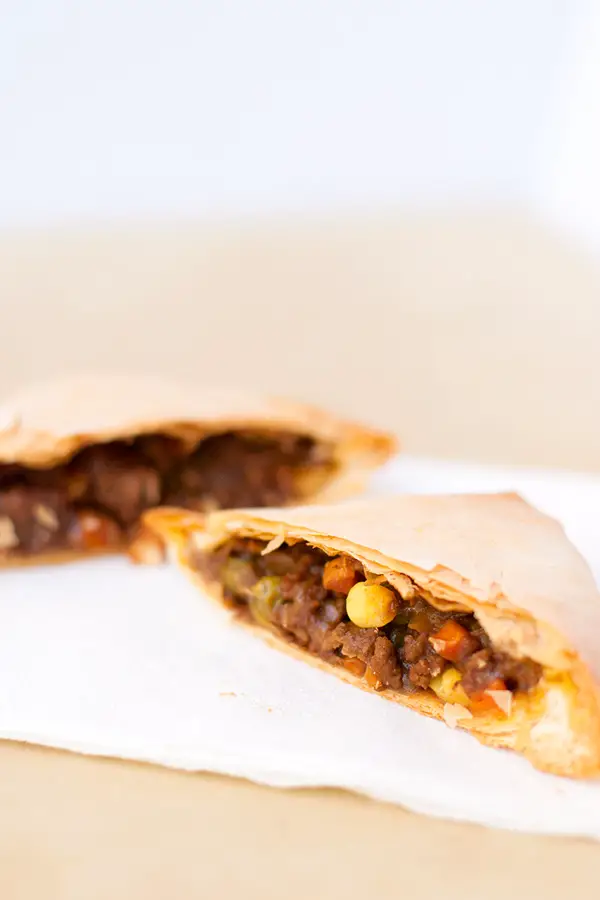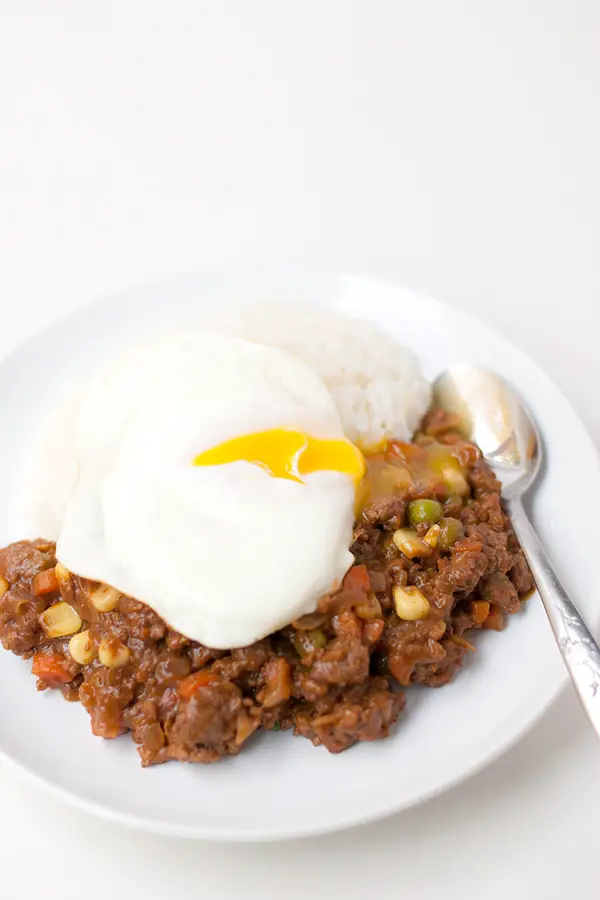 Keema Curry (Ground Beef)
This ground beef "dry" curry uses Japanese curry cubes to make a quick and easy weeknight dinner.
Instructions 
Dice the carrots and onion. Mince the garlic and ginger. Heat 1 T of oil over medium heat in a saucepan. Saute garlic and ginger and for about thirty seconds. Add the onion and continue cooking until softened. Add carrots and cook for a few minutes more. Add the ground beef and cook until no longer red. Add the peas and corn, stir until heated through, and take off heat. Combine the water, curry cubes, ketchup, and worcestershire sauce, and add to meat and veggies (cubes can still be solid, they will melt as you heat it through). Place back on heat and stir until heated through and combined. 

Add salt and pepper if desired. Serve with rice and top with fried egg (optional)