This pan fried tofu recipe combines classic Japanese flavors with tofu in soy sauce, sake, Marin, butter & garlic! This savory garlic tofu steak recipe is easy to make and packed with flavor. Learn how pan fry tofu with this easy-to-follow pan fried tofu steak recipe.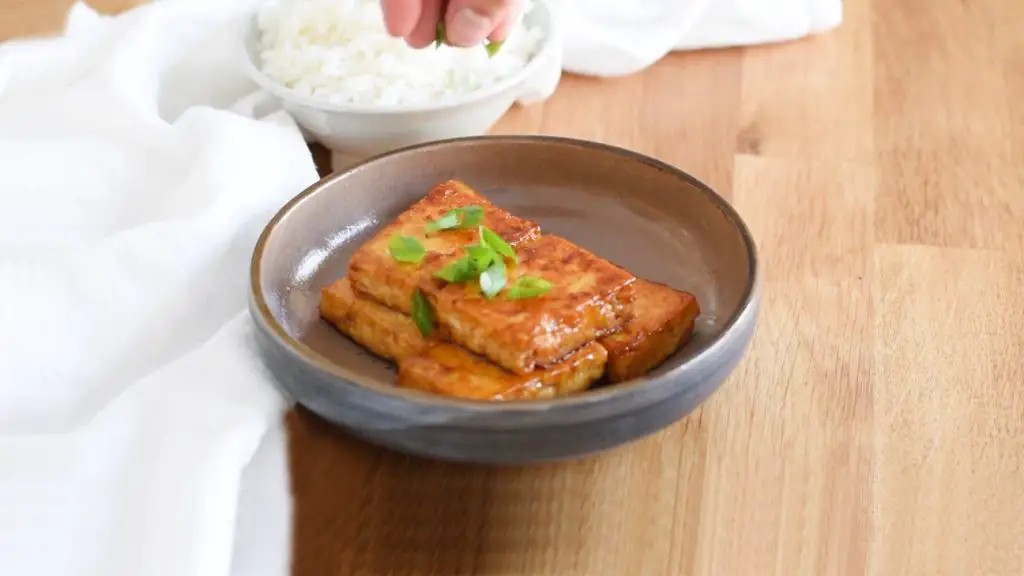 I grew up eating tofu, so I tend to like it no matter what you do with it. I mostly had it in miso soup, which may be the most well known way to use it.
Pan Fried Tofu Steak
That being said, NOW I tend to use tofu to make these tofu "steaks". (Last year I posted a miso pecan tofu, so check that out too!)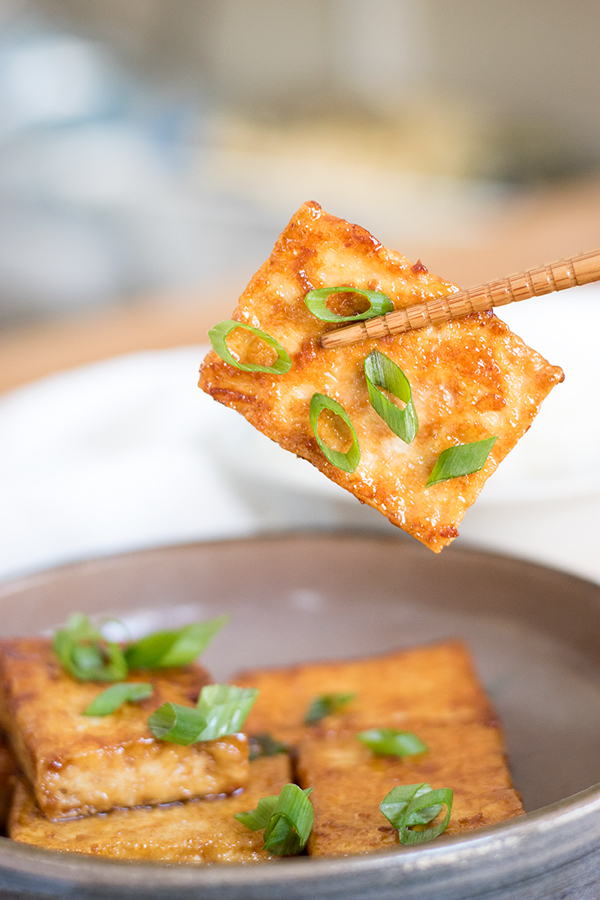 See, the thing about tofu is, it's cheap and it's easy to cook. Yes you have to press and drain it, but even if you hurry that process (I usually do, because I'm a last minute dinner planner) it still turns out yummy.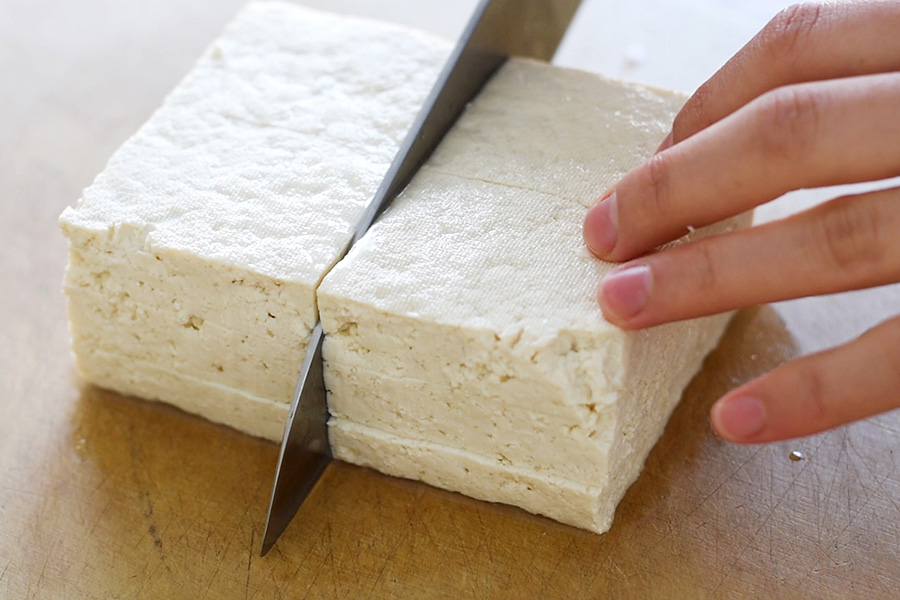 A block of tofu usually ranges from a little over a dollar up to a few bucks if you're buying sprouted organic small batch artisan tofu (actually, I buy that sometimes… Yum). Compared to many cuts of meat, it's really cheap!
Another benefit is that you don't have to worry about it being cooked through. I love chicken and beef and all types of meat, don't get me wrong. But I DO appreciate not having to think, hmm is this chicken breast done? Better cook it a few minutes longer. OOPS it's dry and barely edible now!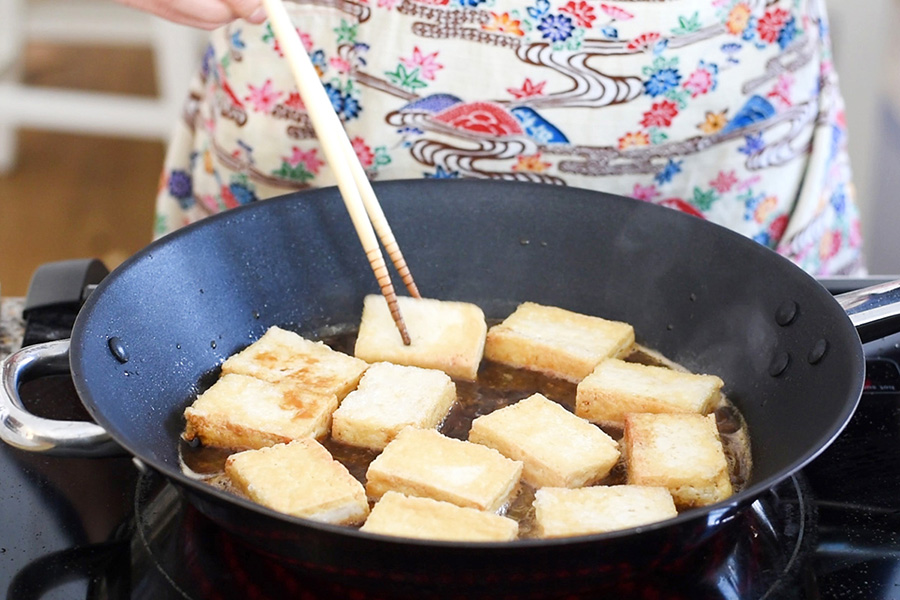 Soy Sauce, Butter & Garlic Tofu Steak Recipe with Marin
Lastly and not leastly (I made that word up), it's a great blank slate for flavors. And this soy sauce tofu has some good flavor. Basically, soy sauce is yummy. Add some mirin and sake for your classic teriyaki like flavor, and then add some butter to make it rich and smooth and, well, buttery. Yum.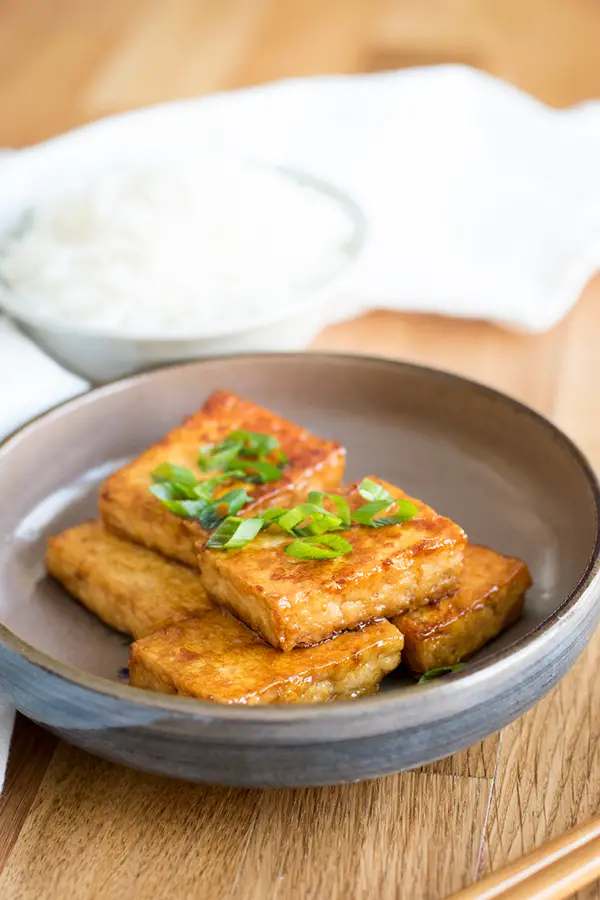 I hope you give this tofu soy sauce recipe a try for a weeknight dinner! My kids and husband love it!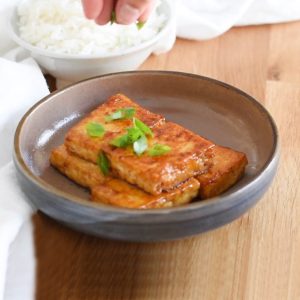 Soy Sauce and Butter Glazed Tofu
Soy sauce and butter pair beautifully for this easy main dish. Soy sauce tofu is easy to cook, economical, and delicious! 

Instructions 
Cut the block of tofu into smaller slabs. I usually cut the thickness into thirds and then cut the slices into quarters, to make 12 pieces. Place the pieces on a paper towel lined cutting board, place more paper towel on top. Place another cutting board, or another flat item (baking sheet?) and weight it with a can or pan or something to help drain the tofu. You don't want it to be TOO heavy, or the tofu will crumble. I sometimes slightly tilt it towards my sink so the extra water will drain. Otherwise, you may want to replace the paper towels with fresh ones half way through. Drain/press for 10-20 minutes.

Meanwhile, prepare the sauce. Combine the soy sauce, mirin, sake, water, sugar, and butter in a small mixing bowl. You don't need to melt the butter. Grate or mince the garlic and add it to the mix. Set aside. 

Lay the tofu pieces out and dust one side with potato/corn starch. Flip the pieces and dust the other side. 

Heat some oil over medium heat in a nonstick pan. You can choose how much you want to use here. Use just enough to cover the bottom to keep it lighter, or put more in for a more "fried" texture. I personally like to put about a centimeter's worth in. Place the tofu into the pan and cook until golden brown. Flip the tofu and cook the other side until golden brown. Do a quick sear on the sides, if desired. 

Remove the tofu and drain on a paper towel lined plate. Remove any excess oil left over in the pan, and add the sauce. Lower the heat to medium low and stir until the butter is melted. Add the tofu and push them around the pan, flipping occasionally, until the sauce is thickened and sticking to the tofu. The sauce should turn nice and shiny and glaze-y and coat the tofu. By the end, there should be very little sauce left in the pan.

Remove the tofu from the pan onto a plate and garnish with sliced green onions. Serve with rice!
Notes
Adapted from: Cookpad (Japanese). Get some mirin
and cooking sake
!
Nutrition
Nutrition Facts
Soy Sauce and Butter Glazed Tofu
Amount per Serving
% Daily Value*
* Percent Daily Values are based on a 2000 calorie diet.