A cute almond tart made in a muffin tin. Tart crust, almond filling, and a nougat almond topping. Top with whipped cream for an elegant dessert.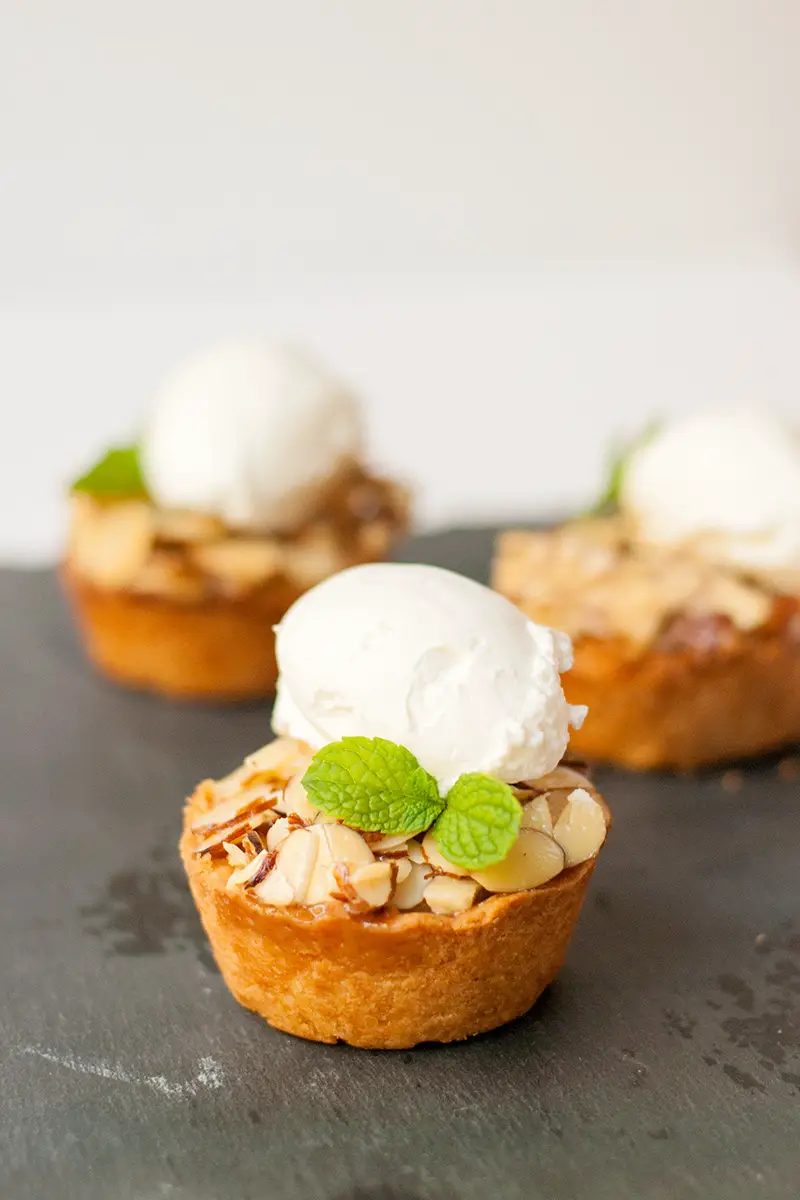 I'm not that great at food styling. I've always been more of a "taste is what matters!" type of person. But lets be honest, I was only saying that because I couldn't get my food to look good. Now that I'm blogging about food, that's a bit of a problem… so I'm working really hard to up my skills!
I'm telling you this because I gotta say, I think this almond tart might be one of the best looking desserts that I've created so far! It's so cute, and it looks delicious, don't you think? Look at the shine on those almonds! And my first attempt at a quenelle on the whipped cream is a little rough around the edges (literally), but it's pretty cute too! Okay, okay, enough of that.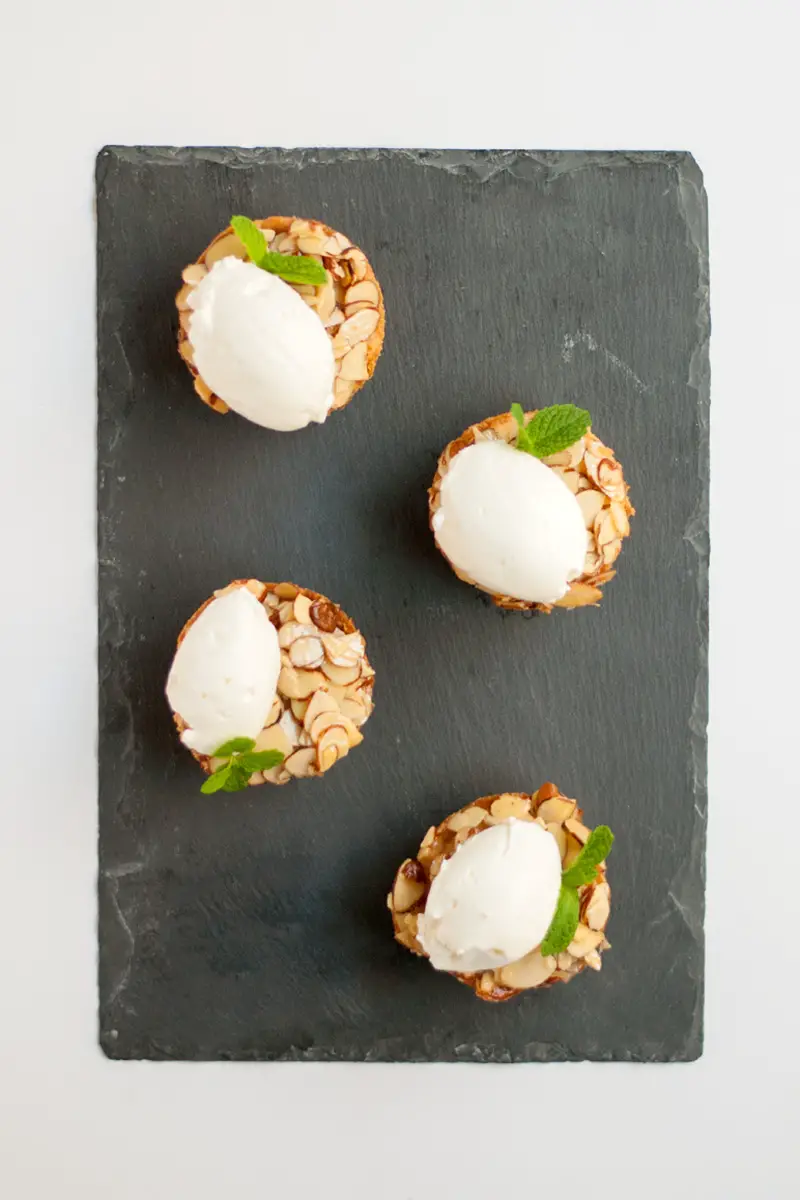 The thing I love about this tart is the fact that it's made using something every amateur baker has- a muffin tin. Tarts are so yummy, but if you don't have a tart pan, you may have given up on the idea of making one. Using a muffin tin solves that problem, and as an added bonus, it gives you a beautiful minimal look. The wavy edge on tart pans is cute, but this muffin tin shape is unexpectedly chic!
There are four components to this dessert: the tart shell, almond filling, almond topping, and whipped cream garnish. It may seem like a lot, but the ingredients are surprisingly similar. It's all about the almond, butter, and eggs. That's why you know it's going to be good! Now, make sure you give yourself a little time to make this, because the tart shell dough needs to sit in the fridge for about an hour. After that, it all comes together pretty quickly. If you want to make a cool little whipped cream garnish, try making this quenelle.
Also check out my other dessert recipes, and happy baking!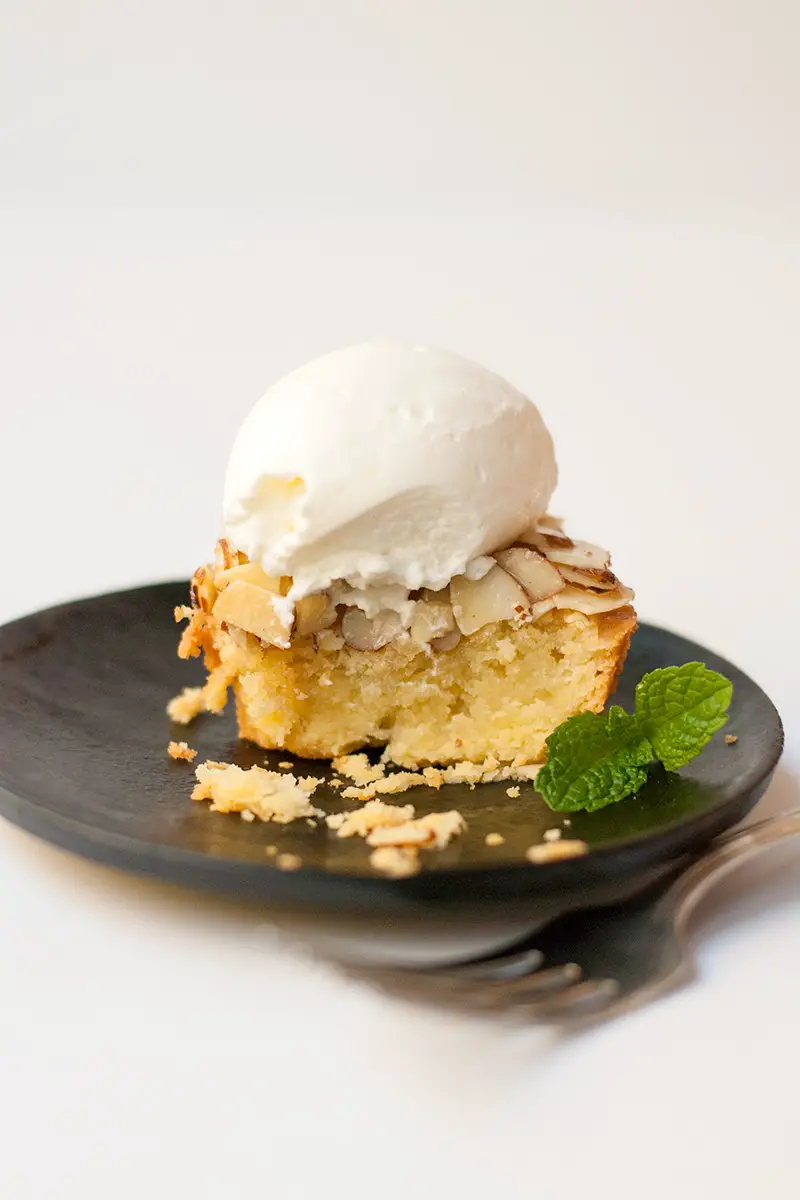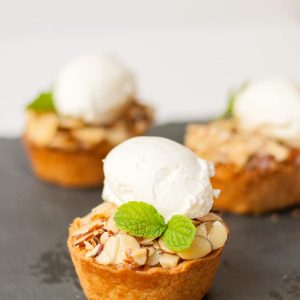 Muffin Tin Almond Tarts
A cute almond tart made in a muffin tin. Tart crust, almond filling, and a nougat almond topping. Top with whipped cream for an elegant dessert.
Instructions 
Prep
Grease the inside of each cup with some softened butter.
Tart Shell
Beat the softened butter and sugar together until light and fluffy.

70 g butter,

30 g granulated sugar

Sift together the cake flour and almond meal, and fold into wet mixture.

130 g cake flour,

20 g almond meal

Combine, wrap in plastic wrap, and refrigerate for an hour.

Remove pastry from the refrigerator and divide into eight equal portions.

Press each portion into the muffin tin, making the thickness as equal as possible along the bottom and the sides.

It should come a little over half way up the sides.

Pierce the bottom and sides a few times with a fork.

(I didn't do this and it was fine, but most recipes recommend it).
Almond Filling
Beat together the butter and sugar until light and fluffy.

Beat in the egg, and when combined.

Beat in the almond meal until combined.

Spoon the filling into the eight shells.
Bake
Bake in preheated oven for 20-25 minutes or until edges start to brown.

Remove from oven and set aside.
Almond Nougat Topping
Reduce oven heat to 300° F.

In a saucepan over medium heat, combine sugar, honey, and butter and stir until melted.

40 g honey,

40 g granulated sugar,

40 g butter

Add the sliced almonds and stir gently to coat.

When the mixture starts to brown, spoon on top of each tart and return to the oven to bake for 10-13 minutes.

Remove from oven and allow to cool before removing from tin.

Top with whipped cream and mint leaf garnish (optional).

Whipped cream for topping,

mint leaves for garnish
Nutrition
Nutrition Facts
Muffin Tin Almond Tarts
Amount per Serving
% Daily Value*
* Percent Daily Values are based on a 2000 calorie diet.