This fresh apple mousse is light, crisp, and refreshing. The chunks of apple add a nice texture, and the lack of spices lets the apple flavor really shine.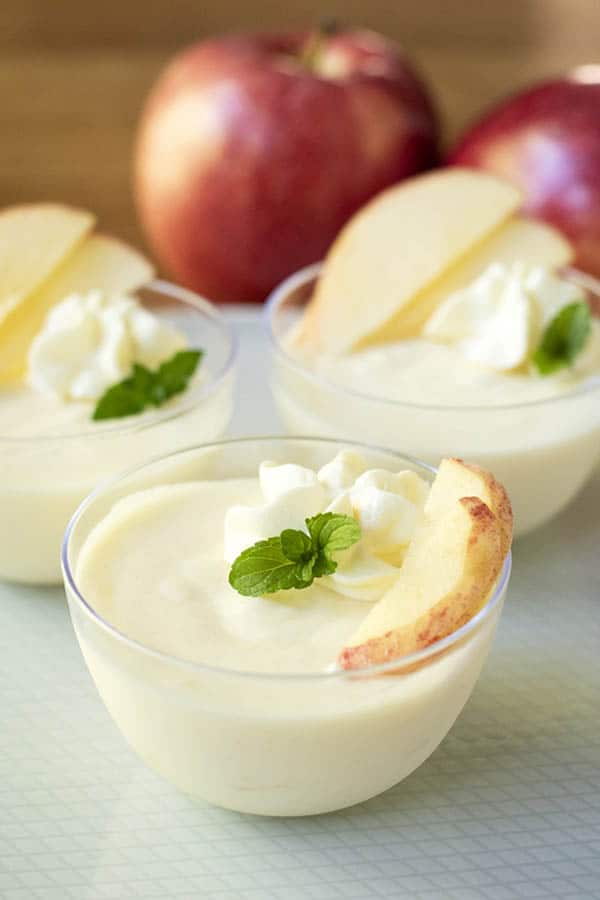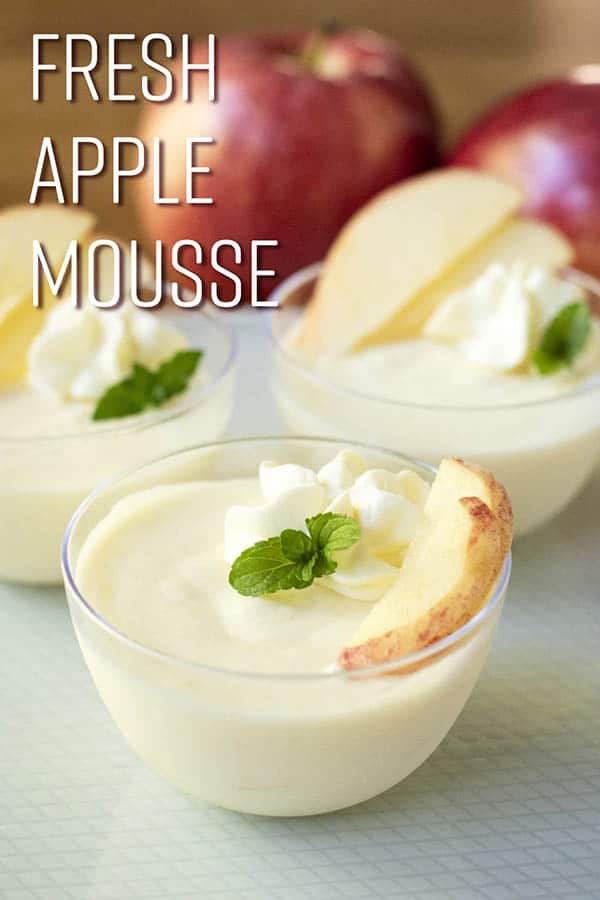 So here's a confession, I don't really like the fall pumpkin spice craze. And while I LIKE cinnamon with apple, I often prefer plain ol apple. Spices are good and definitely have their place (I use them all the time, duh), but they can sometimes overpower the natural flavor of whatever they are added to.
A Different Flavor of Mousse
When you think of mousse, you probably think of vanilla, chocolate, or maybe lemon. I bet you've never had apple mousse before! And FRESH apple mousse, at that. This mousse has some serious apple flavor, undefiled by any additional flavors.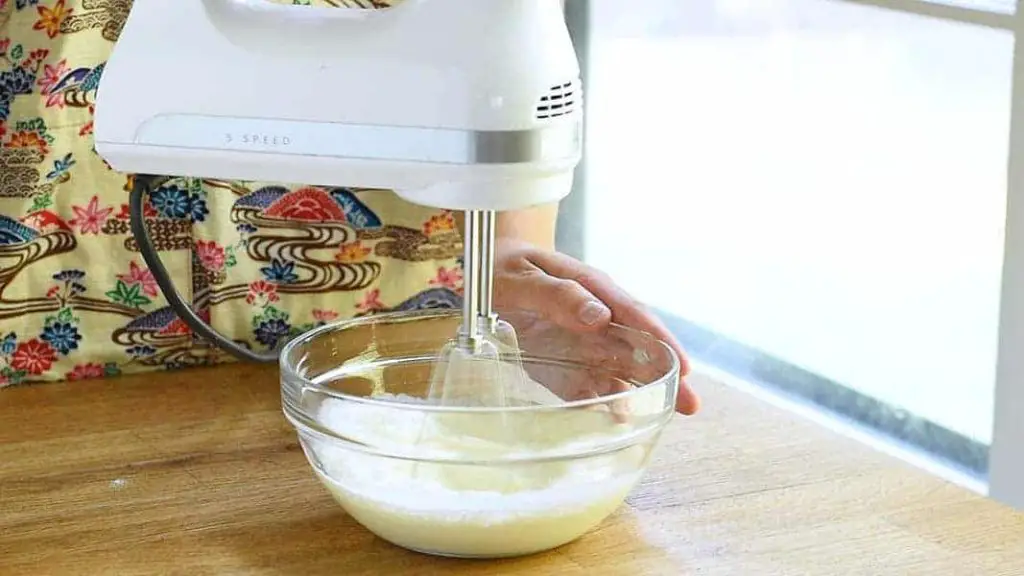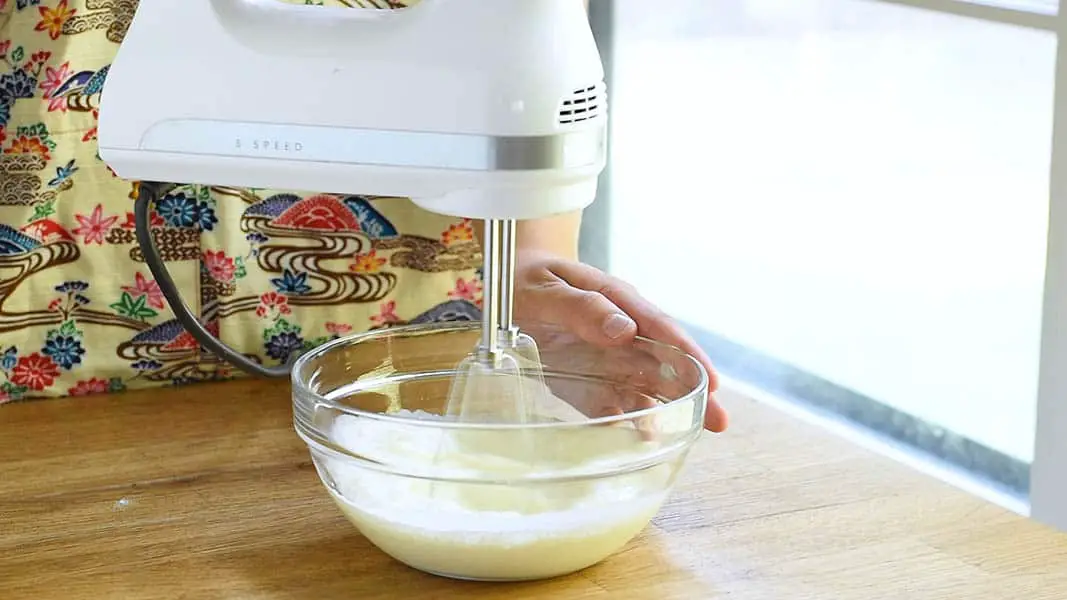 The texture is super light, with whipped cream folded in. I think cream is my number one favorite ingredient to work with when I make desserts. It's just so smooth and light and yummy.
There are also THREE different apple ingredients. We make a quick apple compote, fresh diced apples, and some fresh apple cider/juice. They're all important parts of the apple mousse recipe.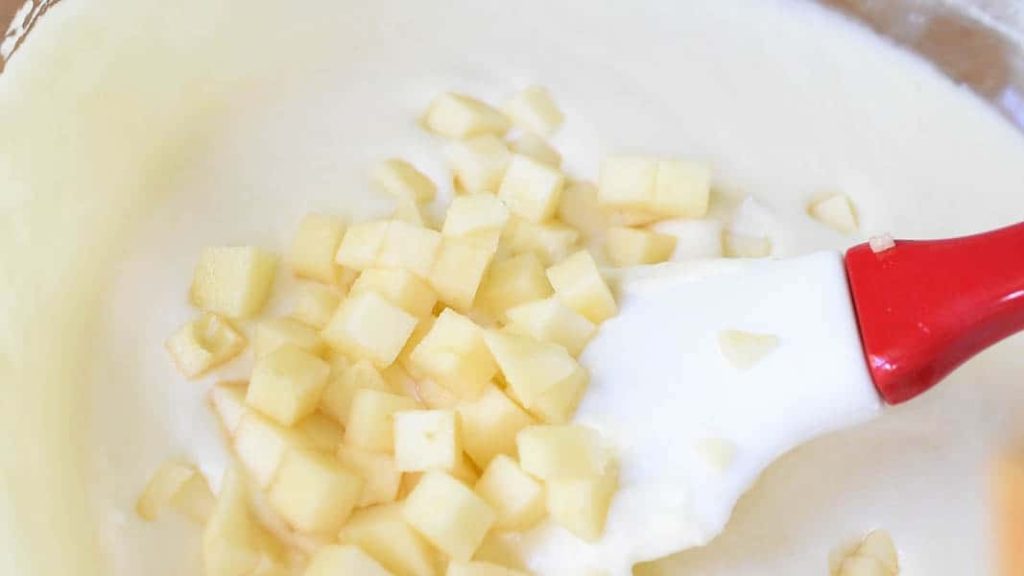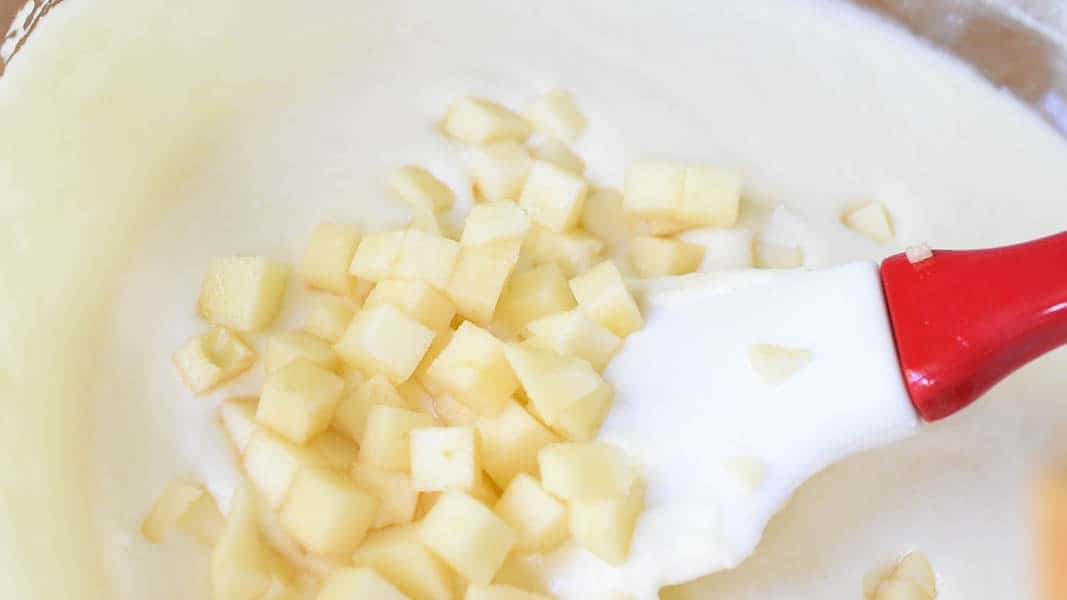 Gala or Granny Smith Apples Both Make a Great Apple Mousse
You can choose your favorite apple variety, but make sure it's one that can stand up to some cooking. I personally used gala apples, because it's the kind I always buy for my kids to snack on. It's nice and crisp, and one of the cheaper varieties. Double win! Another way that's also delicious is a Granny Smith apple mousse.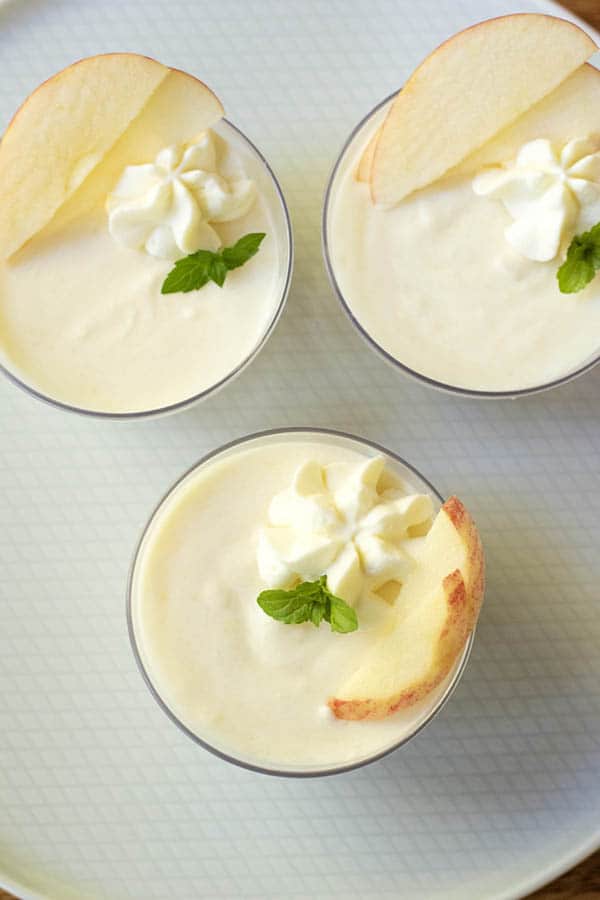 I like to put the mousse in little individual cups, because it's cuter that way. But the first time I made this, I just poured it into one big glass container and scooped it out with a spoon onto plates. If you want to add some extra cuteness, top it with a little whipped cream, (Who doesn't love apples and cream!) a sprig of mint, and some thinly sliced apples (Make sure to top it with the apple slices immediately before serving, so they don't brown!)
By the way, my mom found those plastic cups at the dollar store, like, 6 for a dollar. Aren't they so cute?! I totally stole some and took them home with me. I found some similar plastic dessert cups with included plastic spoons on Amazon. Those and few other fun ramekin and bowl sets are in the supplies list. Any of those would make for a great presentation for the apple mousse if you don't have some already.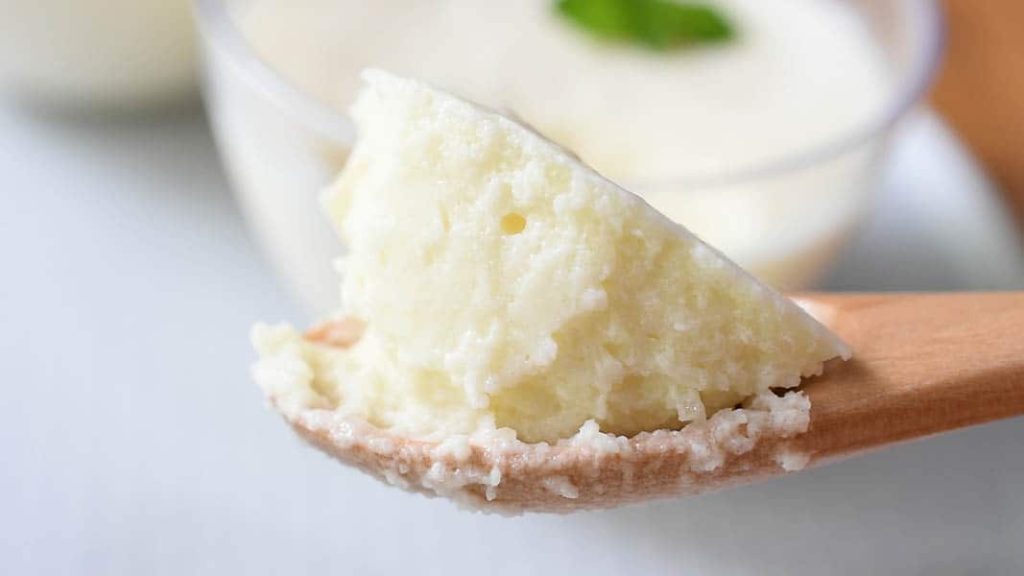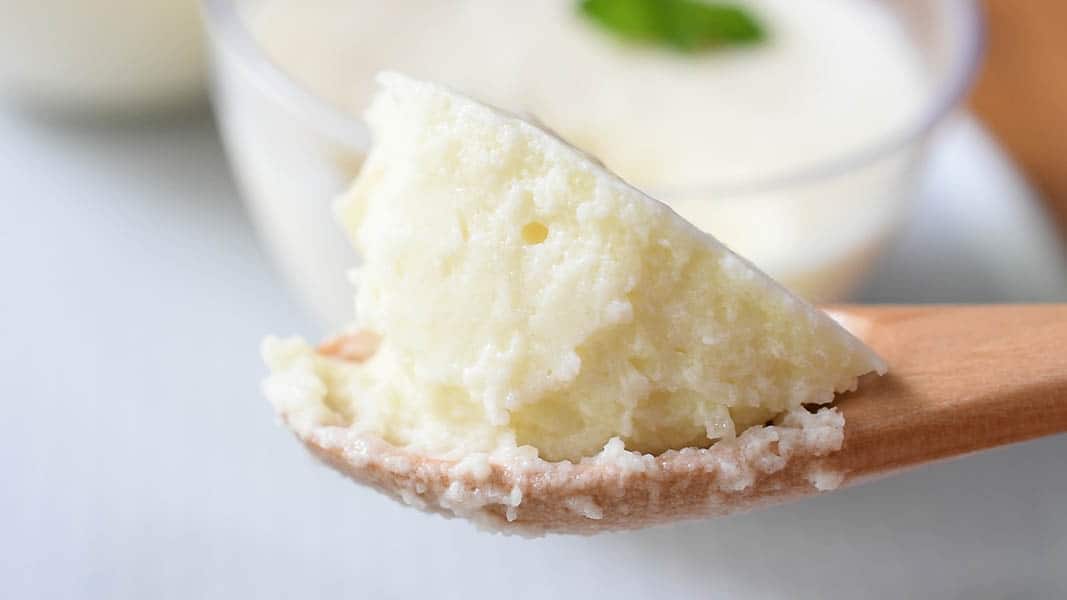 Look at that. You've probably never had mousse like this before, and you're gonna love it. See the video to watch me make the apple mousse recipe!
If you enjoy this recipe, try some of my other desserts like butter mochi or haupia.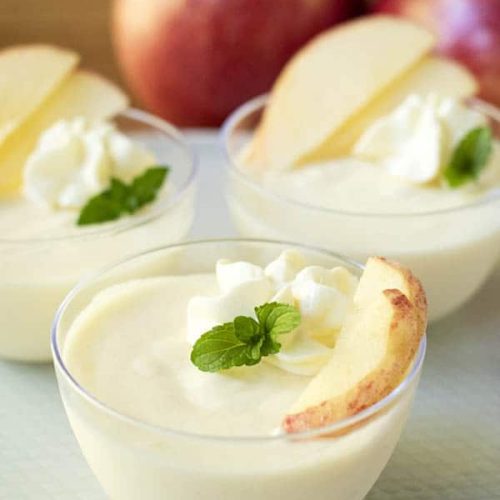 Fresh Apple Mousse
This fresh apple mousse is light, crisp, and refreshing. The chunks of apple add a nice texture, and the lack of spices lets the apple flavor really shine.
Instructions 
Apple Compote
Peel your apple and cut into about 10-12 equal pieces.

Add to a small saucepan along with the 1/4 cup sugar, 100 ml water, and lemon juice.

1/4 cup granulated sugar,

100 ml water,

2 teaspoons lemon juice

Stir together. Simmer until the apple is easily pierced with a fork, but not yet falling apart. 

Puree the apple compote until smooth.
Mousse
Prep the gelatin by sprinkling it over the cold water.

Set aside and allow to bloom. When fully bloomed, microwave for about ten seconds until melted.

1.5 teaspoons gelatin,

30 ml cold water

Add the pureed apples to a medium sized mixing bowl. Add the apple juice, the 2 tablespoons of sugar, Greek yogurt, and melted gelatin and whisk to combine.

2 tablespoons apple juice,

2 tablespoons granulated sugar,

3 tablespoons plain greek yogurt

Set aside, or place in fridge.

If you put it in the fridge, make sure not to leave it long enough for the gelatin to start to set. If you take it out right after the next step, you'll be totally fine.

In another small/medium mixing bowl, whip the cream until not-quite-stiff peaks form.

Add the cream to the apple mixture and mix with a spatula.

You can place the bowl over a bowl of ice to help it start to cool and thicken. Once it is fully combined, fold in the diced apples.

Ladle the mixture into individual cups/ramekins, or into one bigger container, and refrigerate for about an hour until fully set.

Feel free to garnish with whipped cream, mint leaf, and apple. 
Nutrition
Nutrition Facts
Fresh Apple Mousse
Amount per Serving
% Daily Value*
* Percent Daily Values are based on a 2000 calorie diet.