These adorable marshmallow baby seals are sure to bring a smile to your face! With their kawaii design and fluffy texture of piping marshmallow, these marshmallow animals are the perfect treat for anyone who loves all things cute and sweet.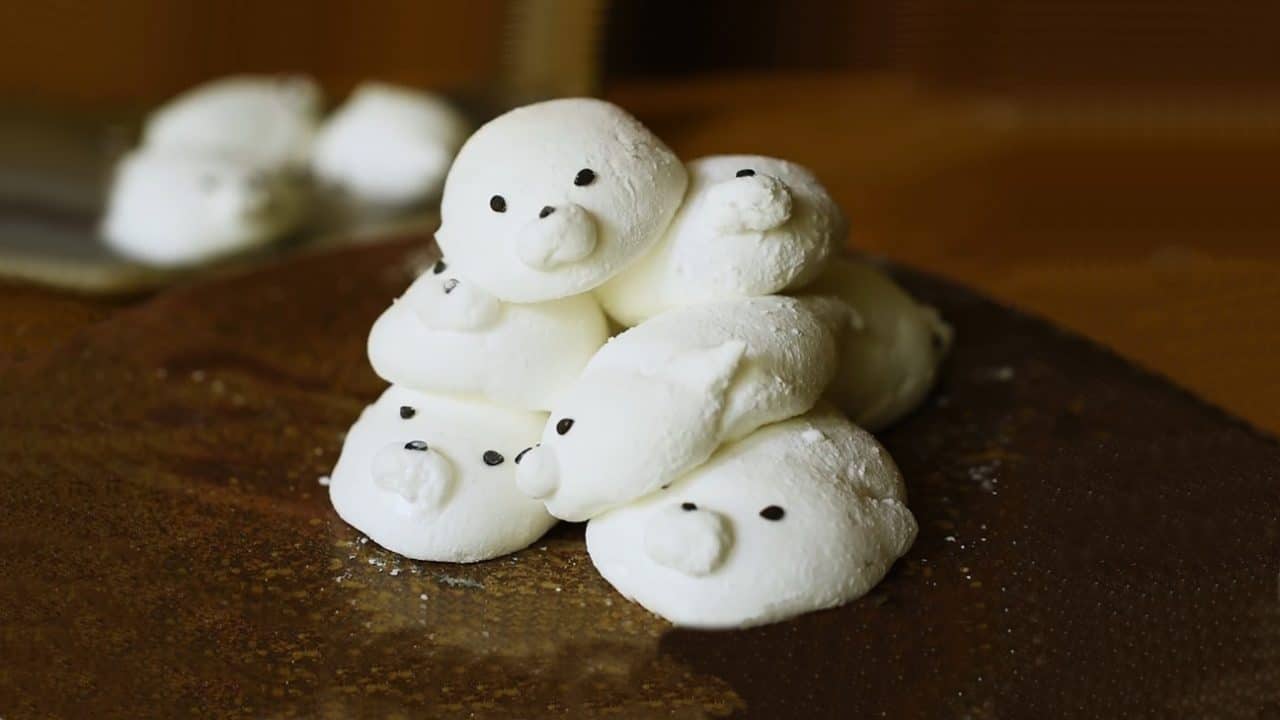 A while back, I saw some baby seal mochi videos floating around Facebook, and I thought, WOW those little marshmallow figures are so cute! But, of course, they were at a store in not-Kansas (actually, it was somewhere in Asia, pretty sure), so I had to give up on the idea.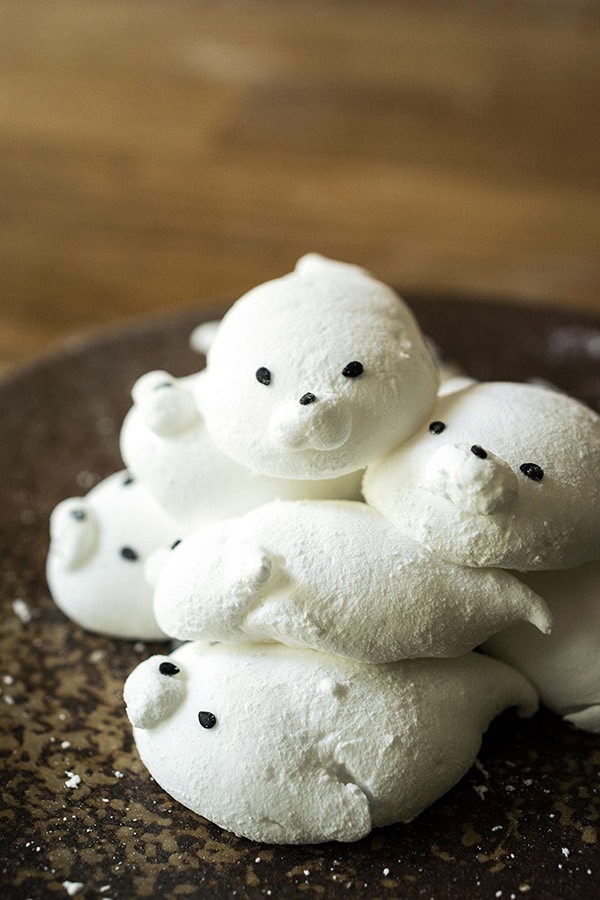 BUT, what if I recreated it myself? I started to think about baby seal mochis, and then I started thinking…. Okay, what else is white, squishy, and easier to make than mochi? I was feeling kind of lazy at the time, so I really didn't want to bother handling mochi.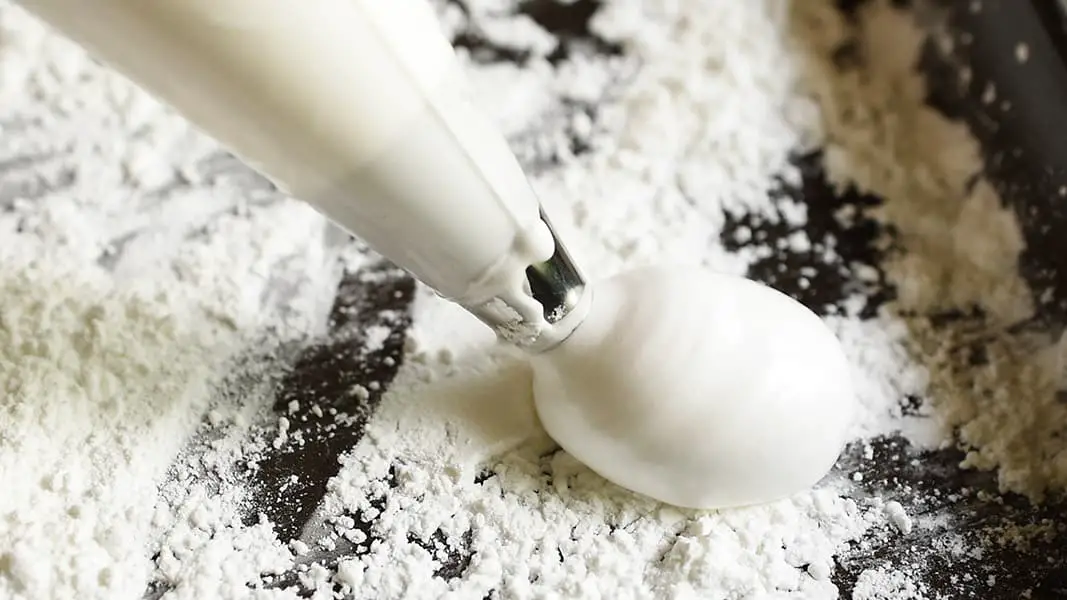 The answer is pipeable marshmallow. Baby marshmallow seals with piping marshmallow this is so much fun! I will say that mochi tastes better than piping marshmallow. However, this is easy enough that you might actually make it, so I think there's just a trade-off here.
Piping Marshmallow
Piping marshmallow is really easy to make, and I put a link to the recipe I used in the recipe comments section, so see below!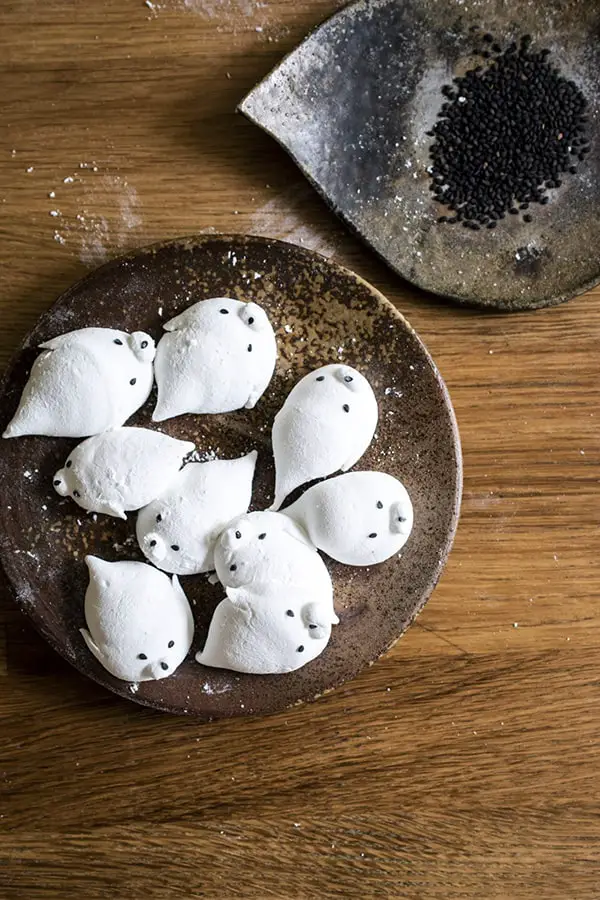 Remember, when piping, a steady hand is key! Don't move too fast, and make sure to move at a steady pace. If you stop and go, you will get ripples, and it won't be smooth.
I like to say, have a firm solid grip, but don't squeeze too hard. You might mess up the first few (I did), but there is a lot of marshmallow, so there's definitely room for error!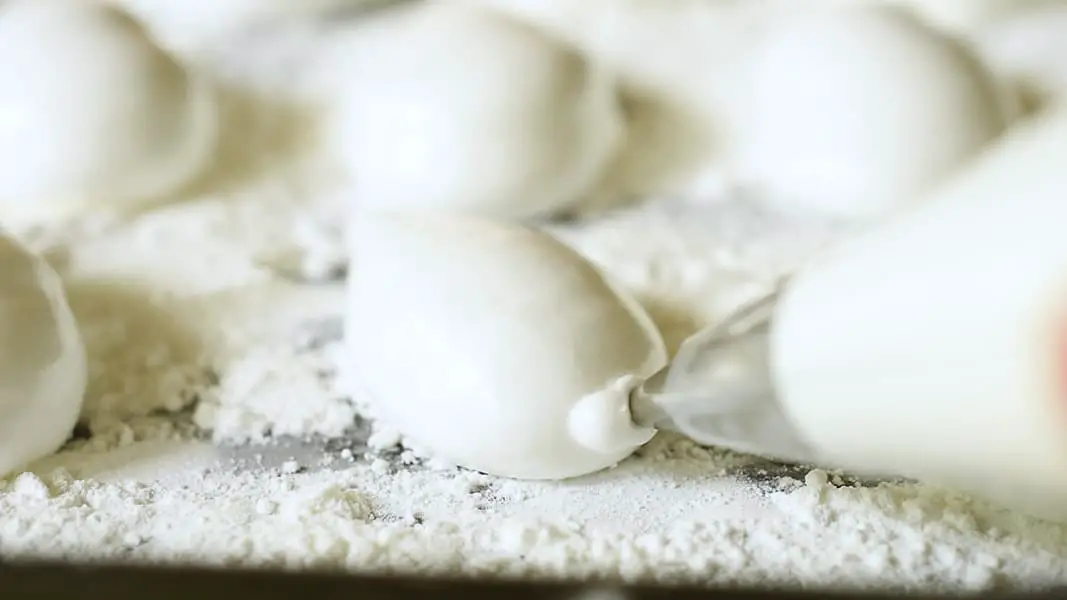 Cute Kawaii Marshmallow animals using sesame seeds
The other key is to get the black sesame positioned correctly. If you watch my video below, you can see my shaky hand desperately hoping to get it right! A couple of tips… Be aware of the direction the sesame seed is facing on your finger, so you know exactly what angle it will be at when you stick it on the marshmallow, and slightly wet your fingertip with some water, so the seed will stick to your finger easier.
By the way, this is the third time I've used black sesame seeds for eyes. I also used them for my hedgehog cookies and santa cupcakes! They are so perfect for eyes!
Watch the video below to see how I made these baby seal marshmallows! Here are some of my favorite videos of  marshmallow animals.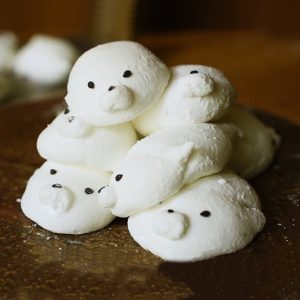 Cute Marshmallow Baby Seals
Baby seals are the cutest, and this marshmallow version is SO kawaii! Using just a few ingredients, you can create these squishy cute marshmallows at home! 

Instructions 
Make your piping marshmallow (see notes!).

Fit two piping bags with tips, the first with the #2A piping tip, tip and the other with the #6 piping tip.

Fill the piping bags with the completed piping marshmallow, add most of it to the first bag (#2A tip) and a small amount to the second bag (#6 tip). This can be done by placing the bags over mason jars as shown in the video.

The first bag will be for the bodies so it will need more marshmallow, and will use the #2A pipping tip. The second bag will be smaller and use the #6 tip,

1 piping marshmallow recipe

on a large baking sheet (you may need more than one), sprinkle cornstarch and powdered sugar until you have a thin layer covering the entire bottom. 
Use Piping Marshmallow to Create The baby Seals
With the #2A bag, start piping a round marshmallow shape, and then pull away to make a pointed "tail". You want your seal to be pretty round, so pipe slow and get plenty of marshmallow out. You want the body to be about 2 inches long, and then a short tail after that. 

#2A and #6 piping tips, two piping bags

After you've piped the bodies and tails, use the #6 piping tip to, pipe the muzzle (is that what it's called?), by piping a dot, and then another dot right next to it (see pictures and video…).

TIP: if it's pointy where you pull away, you can wet your finger tip and press down to flatten it out. 

#2A and #6 piping tips, two piping bags

Add two sesame seeds for eyes, and one on the muzzle for its nose.

1 Tablespoon black sesame seeds

Scoop the powdered sugar/cornstarch mixture over the seals (or sift more over the top), and roll them around so they are completely covered in the powder. Tap each seal to remove excess powder.

1/2 cup powdered sugar,

1/2 cup cornstarch

Using kitchen shears, cut little slits on each side to make the flippers. Add some more powder, so it doesn't stick back to the body.

1/2 cup powdered sugar,

1/2 cup cornstarch
Notes
I used Martha Stewart's recipe. I used a half batch, because it makes a lot, and because the marshmallow starts setting if you wait too long, which makes the muzzle harder to pipe. 
Nutrition
Nutrition Facts
Cute Marshmallow Baby Seals
Amount per Serving
% Daily Value*
* Percent Daily Values are based on a 2000 calorie diet.