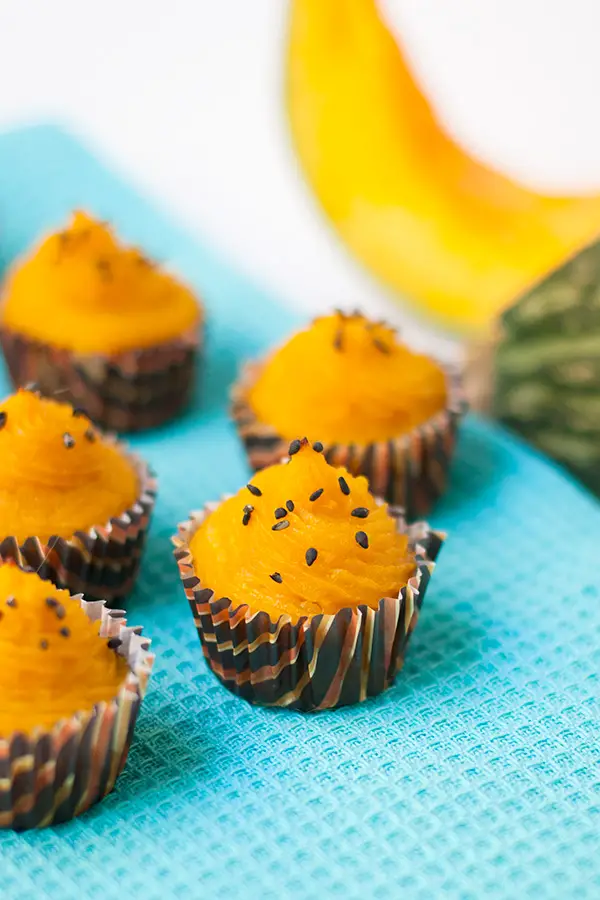 Kabocha is basically Japan's pumpkin. Actually, it's called the Japanese Pumpkin, so there you go. It's a squash, it's orange inside, and you make sweet and savory foods with it. The main difference, in my opinion, is that kabocha tastes better. It's described as being a cross between pumpkin and sweet potato. Just like most squash, kabocha has a thick hard skin, and it's kind of a pain to cut and peel, so you'll do best with a big heavy knife. Here's a great post on how to cut and peel a kabocha.
Kabocha is used in savory dishes like tempura, soup, and nimono (simmered until soft in a flavorful stock), and in sweet dishes like pudding, cakes, and breads. This dish, which I am calling sweet kabocha bites, is a velvety puree of kabocha combined with just a few ingredients, baked in the oven to set. The texture is a little reminiscent of custard.
You can adjust the amount of sugar in it to taste, so you can make this a really healthy treat! Kabocha is naturally sweet, more so than pumpkin, so you could probably even get by with no added sugar. What a great way to get your kids to eat some veggies!
I decided to use my mini muffin tin because I had some cute Halloween mini cupcake liners. Isn't the vibrant orange with the pop of black from the sesame perfect for Halloween? It's a great healthy alternative to cupcakes and cakes. If you're gonna get overloaded with sweets this Halloween, why not make a batch of these kabocha bites to balance things out?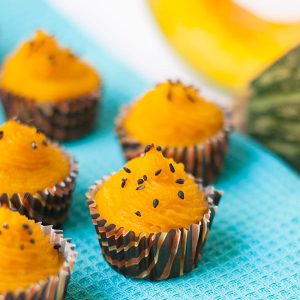 Sweet Kabocha Bites
Kabocha (Japanese Pumpkin) is combined with a few simple ingredients to make a healthy sweet treat. Feel free to adjust the amount of sugar to your liking.
Instructions 
Prep
Prepare 20 mini cupcake liners (optional: directly pipe onto silicone mat on baking sheet).
Kabocha Bites
Combine all ingredients except black sesame.

2 cups pureed kabocha,

4 T sugar,

1 1/2 T butter,

1 egg,

1 t vanilla

Pipe mixture into the cupcake liners (ex. Wilton tip 32) and sprinkle with black sesame.
Bake
Bake for about 15 minutes of until tips get lightly browned.
Notes
Tips for cutting kabocha at Pinch of Yum. You can also cut the squash without peeling and steam in the microwave and cut the outside off once it's all softened. 
Nutrition
Nutrition Facts
Sweet Kabocha Bites
Amount per Serving
% Daily Value*
* Percent Daily Values are based on a 2000 calorie diet.