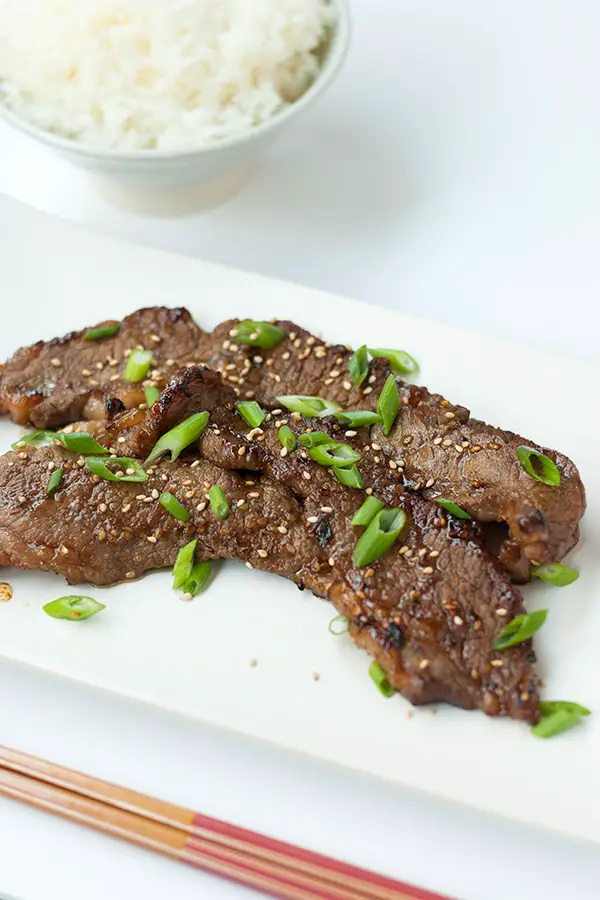 Since moving to Kansas City, I've become a huge fan of BBQ. We've only been here a couple of months and we've gotten barbecue like, ten times probably. We aren't planning on being here forever, so obviously we need to get our fill while we have the chance. <- That's the excuse I give myself whenever I look at the restaurant section of my monthly budget.
But long before I fell in love with American barbecue, I have loved Korean barbecue. Kalbi, or Galbi, is a popular dish where short ribs are marinated and then cooked over a hot grill. Don't have a grill, or don't want to grill? Well, it's also delicious if you just use a cast iron skillet, like I did.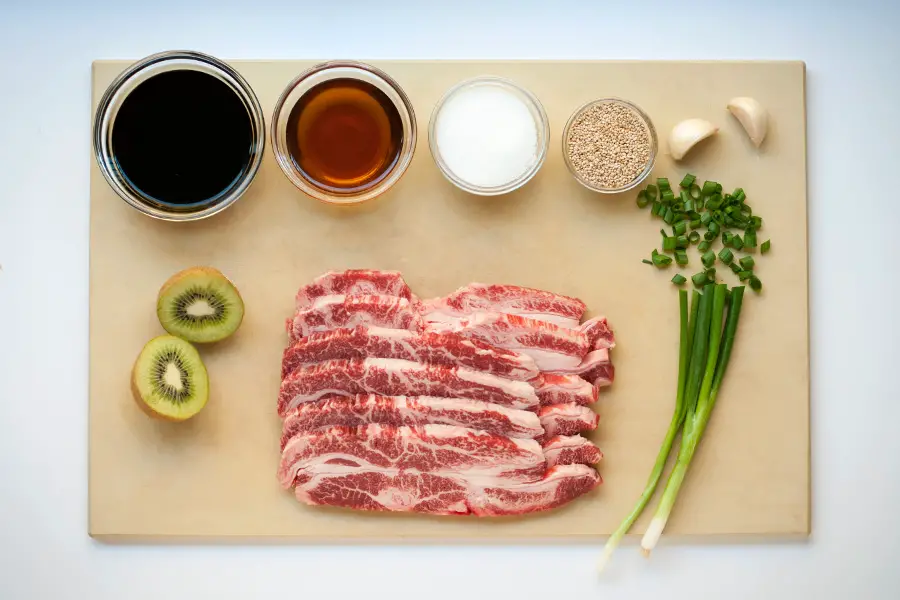 The type of short ribs you will want for this recipe is probably different from the ones you find at your local grocery store. American or European short ribs are a hunk of meat with a bone in it, but L. A. kalbi style short ribs are cut flanken style, meaning you have a strip of beef cut across the bones, so you have a few cross sections of bone running across the meat. I tried a slightly different cut of meat this time around. I was at the Korean market and saw a package of meat actually labelled as "kalbi". That's all it said, so I'm not 100% sure what the cut was, but it didn't have bone in it, which I personally prefer. This particular marinade has kiwi in it as a tenderizer, so even other tougher cuts of meat can be used (make sure it's thin sliced). You can even use it on pork or chicken! But if you want to keep with tradition, get the flanken cut short ribs at your local Asian market (you might also be able to find it at a Mexican grocery/butcher).
You can make these on the grill, which is more traditional, or you can just cook it up on your skillet. The marinade is delicious, and the enzymes from the kiwi help tenderize the meat perfectly. Yum!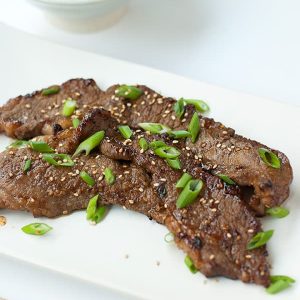 L. A. Kalbi- Korean Barbeque Short Ribs
Flanken style short ribs (or whatever meat you want to use) marinated in a delicious Korean style marinade.
Instructions 
Marinade
Combine all of the marinade ingredients except kiwi in a large resealable plastic bag and mix well.

6 T soy sauce,

3 T sugar,

3 T sesame oil,

2 T sesame seeds,

1-2 cloves garlic

Remove flesh from kiwi, mush, and add to marinade.

Add meat to plastic bag, remove air, and seal.

1-1 1/2 lb Korean style short ribs

Massage the marinade into the meat and marinate for 1 hour, turning occasionally.
Cook
Remove from marinade and cook over high heat.
Serve
Garnish w green onions and pepper.
Notes
Adapted from: cookpad (japanese). 
Make sure not to marinade too long, as the enzymes from the kiwi will continue to tenderize the meat while marinating. 
Nutrition
Nutrition Facts
L. A. Kalbi- Korean Barbeque Short Ribs
Amount per Serving
% Daily Value*
* Percent Daily Values are based on a 2000 calorie diet.