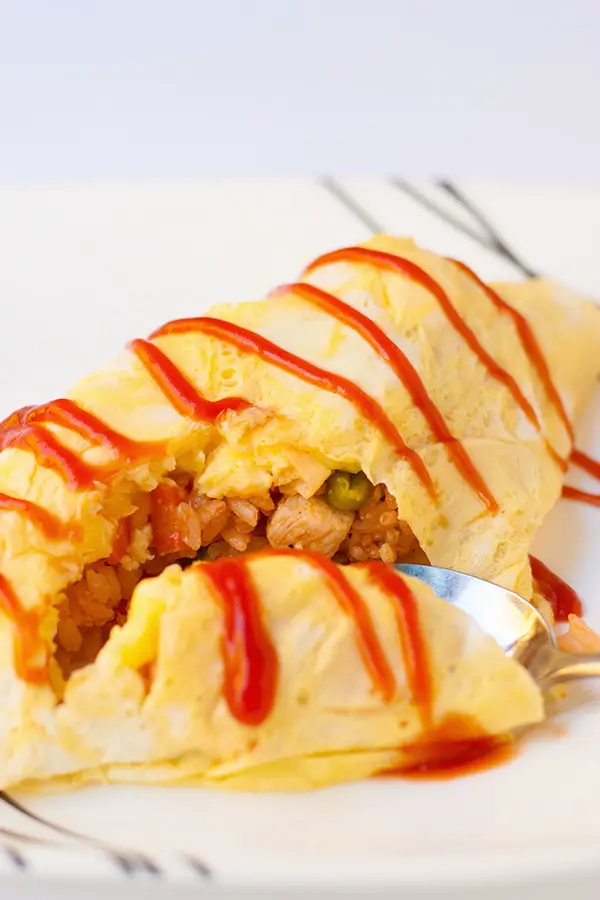 When you go to a cafe or a casual restaurant in Japan, you will most likely find a dish called "omurice". Japanese people LOVE to combine two words (or one long word) into one short word. Here are some examples. 1. Karaoke is kara (empty) orchestra, because you sing without… an orchestra or live music I guess. 2. Pokemon- pocket monsters 3. Pasokon- personal computer. Omurice is a combination of the words omelette and rice.
The filling is chicken rice, which is basically cooked chopped chicken, veggies, and rice flavored with ketchup. In this recipe, I use a lot of veggies and chicken because I want this to be a one plate dinner… and I want my kids to eat their veggies! When it's mixed with yummy rice, they eat it up.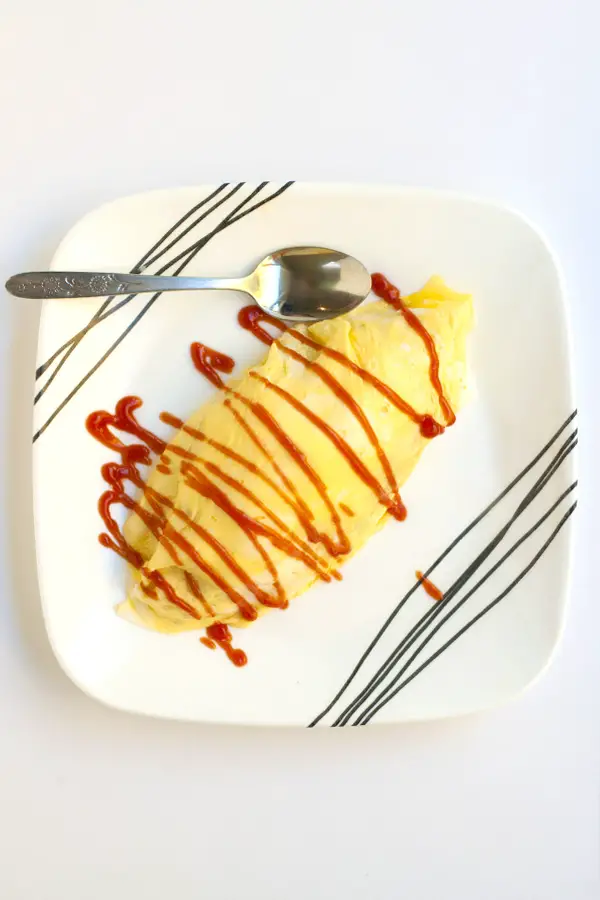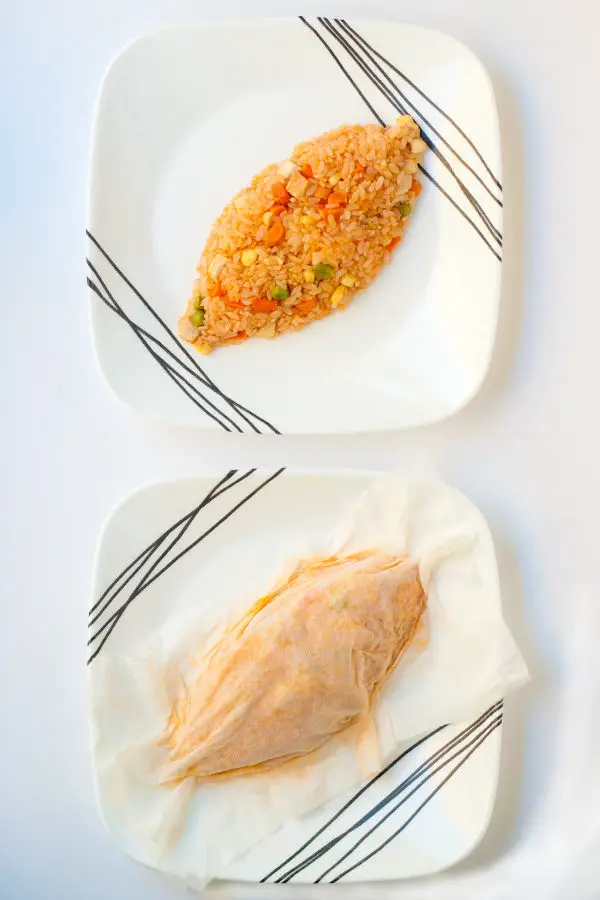 What makes this recipe a cheater recipe, is the way you prepare the egg. Now, Japanese people love their eggs a little undercooked. The key to a yummy omurice is fluffy egg on the inside, and a pretty and smooth outside (note: this isn't always the case, sometimes the outside isn't smooth, but it's still fluffy and delicious). The problem is, it's hard to get that pretty egg on your rice without it ripping. This is especially the case when you are working with fluffy soft egg, which is what we want. In a lot of recipes, you cook your egg in a nonstick pan, you place the rice onto the egg (while still in the pan), you delicately flip the egg over the rice to cover it, and you carefully transfer it to a plate… and you don't rip it, and it's perfectly shaped! Oh, and you also don't overcook the egg while trying to get the rice on there and shaped nicely. Well, that's too many potential disasters for me. I know, because my omurice is usually yummy, but ugly. I always told myself, "it's the flavor that matters!", but lets be honest… if you can make it pretty, you'd want to right?
The first step is to shape your rice into footballs. Using a damp paper towel makes this easy and keeps the rice from sticking. Next, you cook up your "outer layer", one eggs worth, swirled around the pan to make a thin layer of egg. Set aside and repeat to make enough layers for each omurice you are making. With the remaining egg, scramble in the pan until set but but not fully cooked through. Place scrambled egg over each rice football and cover with the thin layer of egg you made first. Using another damp paper towel, reshape and tuck in egg around the sides, if necessary. See how we use a layer of egg and scrambled eggs, instead of just doing the egg in one step? Sure, it's an extra step, but it takes the headache and the need for delicate handling out of the picture.
Now you can have fluffy omurice, and have it look good too!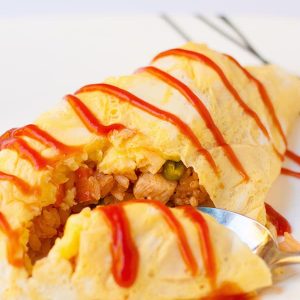 Cheater's Japanese Omelette Rice
You don't need chef skills to make a beautiful Japanese omelette rice with this trick. An easy meal that is loved by kids to adults.
Instructions 
Saute
Heat oil over medium heat in a large frying pan and saute garlic for a few seconds until fragrant.

Add chopped carrots and onion and saute until onions are translucent.

Add chopped chicken and cook through.

Salt to taste (we're adding ketchup next, so not too salty) and stir in rice.
Shape Rice
Take 1/3 of the chicken rice and place on a plate.

Use a damp paper towel to shape rice into a football shape.

Repeat with remaining rice, to make three footballs.
Make Eggs
Heat a large non-stick skillet over medium heat.

Whisk eggs, salt, and milk.

Pour one egg's worth into the skillet and swirl pan to evenly distribute.

Cook through and set aside on a plate. Repeat two more times.

Add the remaining 3 eggs worth and scramble until set, but not cooked through.

Add 1/3 of the scrambled egg on top of each rice football.

Place the thin cooked-egg "skin" over each football, and using another damp paper towel, fix the shape and tuck in the along the sides.
Serve
Drizzle top with extra ketchup and eat while hot.
Nutrition
Nutrition Facts
Cheater's Japanese Omelette Rice
Amount per Serving
% Daily Value*
* Percent Daily Values are based on a 2000 calorie diet.