Roasted kabocha squash soup is savory Japanese pumpkin dish. This kabocha squash soup recipe offers a naturally sweet and comforting flavor, setting it apart from other squash soups. Enhanced by savory mushrooms and onions, this recipe kabocha squash soup is both easy to make and irresistibly tasty. Whether you're new to kabocha squash soup recipes or a seasoned enthusiast, this soup promises a delightful experience. This step-by-step guide, complete with a video tutorial, will walk you through the process.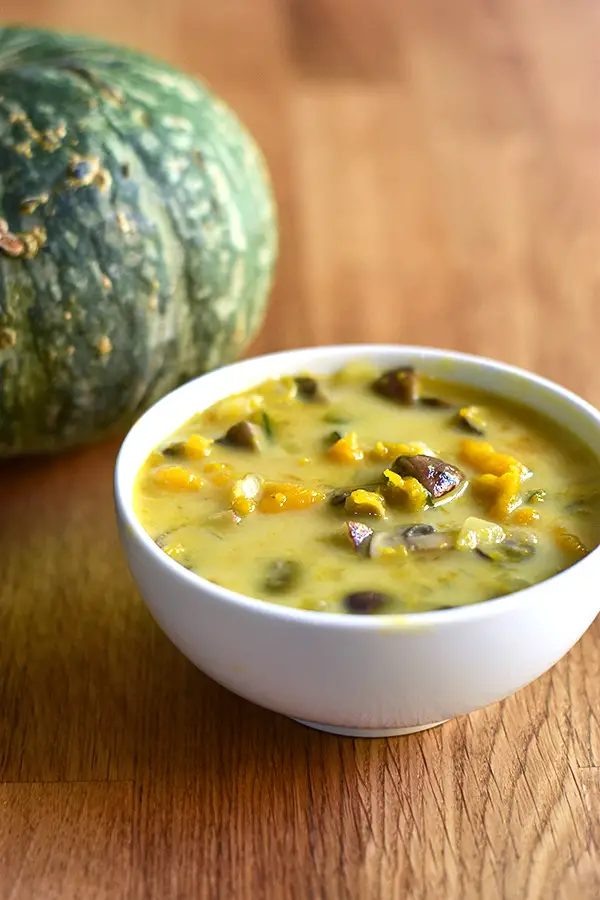 When fall comes, it's time for everyone to go pumpkin crazy. Except for me, because I think pumpkin is just okay.
That's probably because I grew up spoiled, eating kabocha squash. It's also known as the Japanese pumpkin, and has dark green skin and a bright orange flesh (sometimes you can find kabocha with a bright red-orange skin).
How to cut kabocha squash
There are a few things to know about cutting Kabocha squash:
Cut The Squash In Half
Stand the squash upright on one of its flat ends.
Position your knife at the top center of the squash.
Gently but firmly push the knife down through the center, cutting the squash in half. If it's too tough, you can use a gentle rocking motion to help the knife through.

Scoop Out the Seeds:
Once you've halved the squash, use a spoon or scoop to remove the seeds and stringy pulp from the center of each half. You can save the seeds for roasting if you like.
Slice or Cube
For slices: Lay each half flat side down on the cutting board and cut into desired thickness.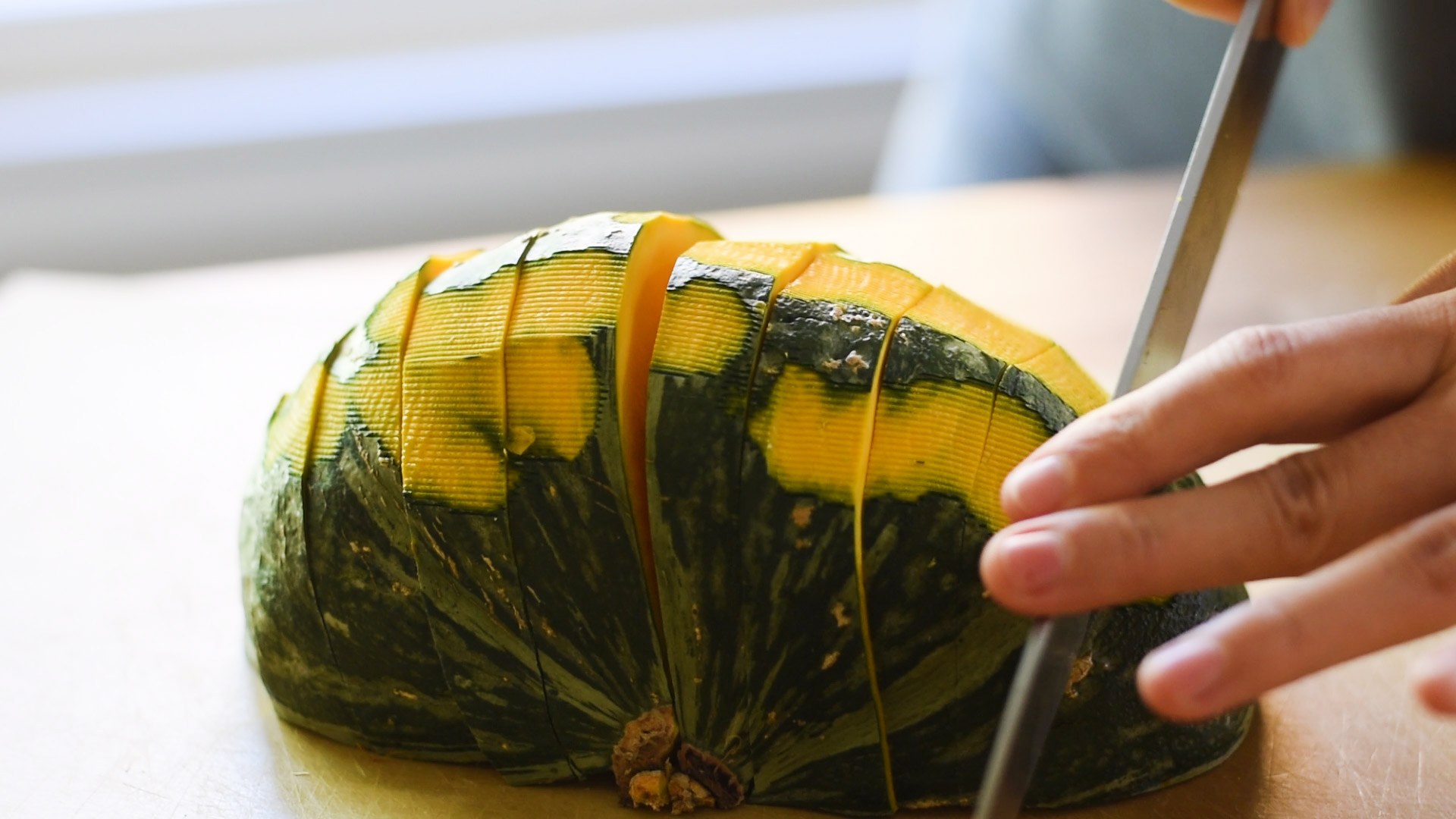 I LOVE love love kabocha because it is SO sweet. It's sweeter than pumpkin, for sure. It's even sweeter than butternut squash and fairly similar in color and texture to acorn squash. The texture cooks up fluffy and delicious.
Unlike some kabocha squash soup recipes, this one is quite sweet, but it's all natural. No added sweeteners. There are added savory notes from the mushrooms and onions, and it is an all around winner.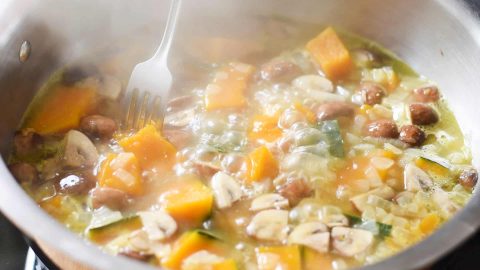 The wonderful thing about it is how EASY it is to make! Just chop up your veggies, sauté, simmer in chicken broth, add milk, salt and pepper, done. By the way, kabocha skin is edible! I peeled half of it off for this soup, but I personally love the skin.
Where to get Kabocha
So, where can you get kabocha squash? My local grocery stores don't carry it, so I just hop on over to any Asian market or get it online. It's squat and dark green with some light green spotting.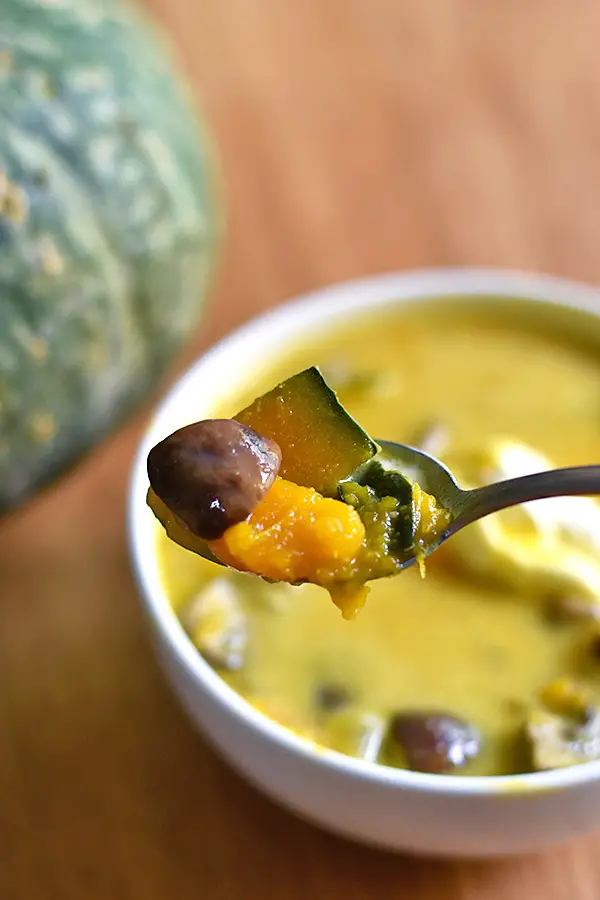 Keep in mind that this holds up well and you can also freeze it so making a big batch by doubling the recipe. Use the 2x or 3x features found in the recipe card for easy conversions.
So try this roasted kabocha squash soup out. And with the other half of the kabocha, try making simmered kabocha or sweet kabocha bites. Happy cold weather cooking!
Tips for Perfect Roasted Kabocha Squash Soup:
Kabocha Skin: Kabocha skin is not only edible but also packed with nutrients. Including it in your soup not only adds texture but also imparts a slightly nutty taste. However, if you're not fond of the texture, you can peel all of it off. For this recipe, half of the skin is peeled to achieve a balance between texture and flavor.
Squash Selection: When choosing a kabocha squash, look for one that feels heavy for its size. The skin should be firm and dull, not shiny. These indicators usually mean the squash is ripe and sweet.
Enhance the Sweetness: The natural sweetness of kabocha sets this soup apart. To further enhance it, you can roast the kabocha chunks in the oven for a short time before adding them to the soup. This caramelizes the natural sugars and deepens the flavor.
Mushroom Variety: While any mushroom can work, shiitake or maitake mushrooms offer a deeper umami flavor which complements the sweetness of the kabocha.
Broth Choice: The recipe suggests chicken broth, but for a vegetarian version, vegetable broth works wonderfully. If you prefer a richer flavor, consider using bone broth.
Consistency: If you prefer a smoother soup, consider blending the soup using an immersion blender or in batches in a countertop blender. Make sure to allow the soup to cool slightly before blending to avoid splashes.
Storage: This soup stores well. If you have leftovers, allow the soup to cool, then store it in an airtight container in the refrigerator for up to 4 days. It can also be frozen for up to 3 months.
Serving Suggestion: Garnish with some fresh herbs like parsley or chives. A sprinkle of toasted sesame seeds or a drizzle of sesame oil can also elevate the flavor profile.
Additional Flavor: Consider adding some minced garlic or ginger while sautéing the onions. They add another layer of warmth and depth to the soup.
Kabocha Prep: When prepping, make sure to use a sharp knife. Kabocha squash is dense, and a dull knife can slip, increasing the risk of cuts.
Remember, recipes are guidelines, and there's always room for personal touches. Don't be afraid to adjust based on your tastes and preferences!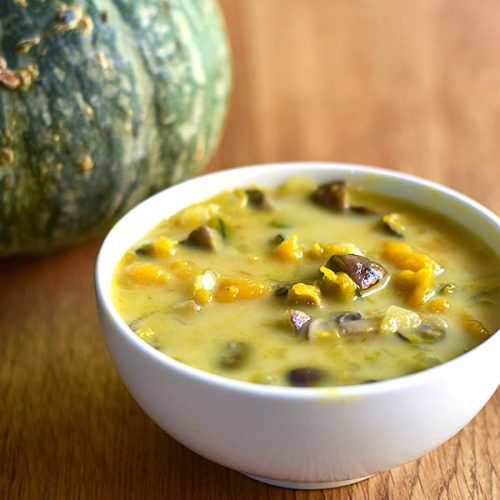 Kabocha Squash Soup
This kabocha squash soup is naturally sweet, and uses just a few simple ingredients to make a comforting and delicious winter soup. 
Instructions 
Prep by removing all the seeds from the inside of the kabocha, and peel about half of the skin off. slice and then chop into chunks, about bite sized. Cut the mushrooms into small bite sized chunks (quarter them, or just cut in half for very small mushrooms). Dice the onion. 

Melt the butter in a medium (4qt or so) pot over medium heat. Add the onions and saute until translucent. Add the mushrooms and saute. Salt the mushrooms and add the squash. Cook and stir for a couple of minutes, and add the chicken stock. Bring to a simmer, cover with lid, and cook on low until squash is tender and can be easily pierced with a fork, about 10-15 minutes. Using a wooden spoon, smash the kabocha up until about half smashed. You want about half "pureed" kabocha and half little chunks. Stir in the milk, and salt and pepper to taste. You will probably need a decent amount of salt. Serve immediately, or let it sit for a few hours or overnight to meld the flavors more. 
Notes
Recipe adapted from cookpad (Japanese). 
Nutrition
Nutrition Facts
Kabocha Squash Soup
Amount per Serving
% Daily Value*
* Percent Daily Values are based on a 2000 calorie diet.