This kabocha squash soup is naturally sweet, and uses just a few simple ingredients to make a comforting and delicious winter soup.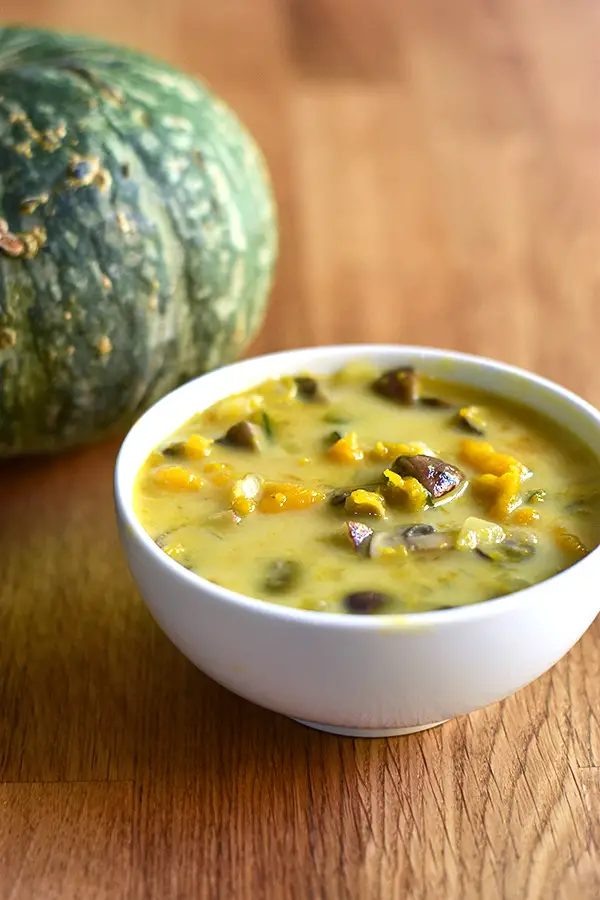 When fall comes, it's time for everyone to go pumpkin crazy. Except for me, because I think pumpkin is just okay.
That's probably because I grew up spoiled, eating kabocha squash. It's also known as the Japanese pumpkin, and has dark green skin and a bright orange flesh (sometimes you can find kabocha with a bright red-orange skin).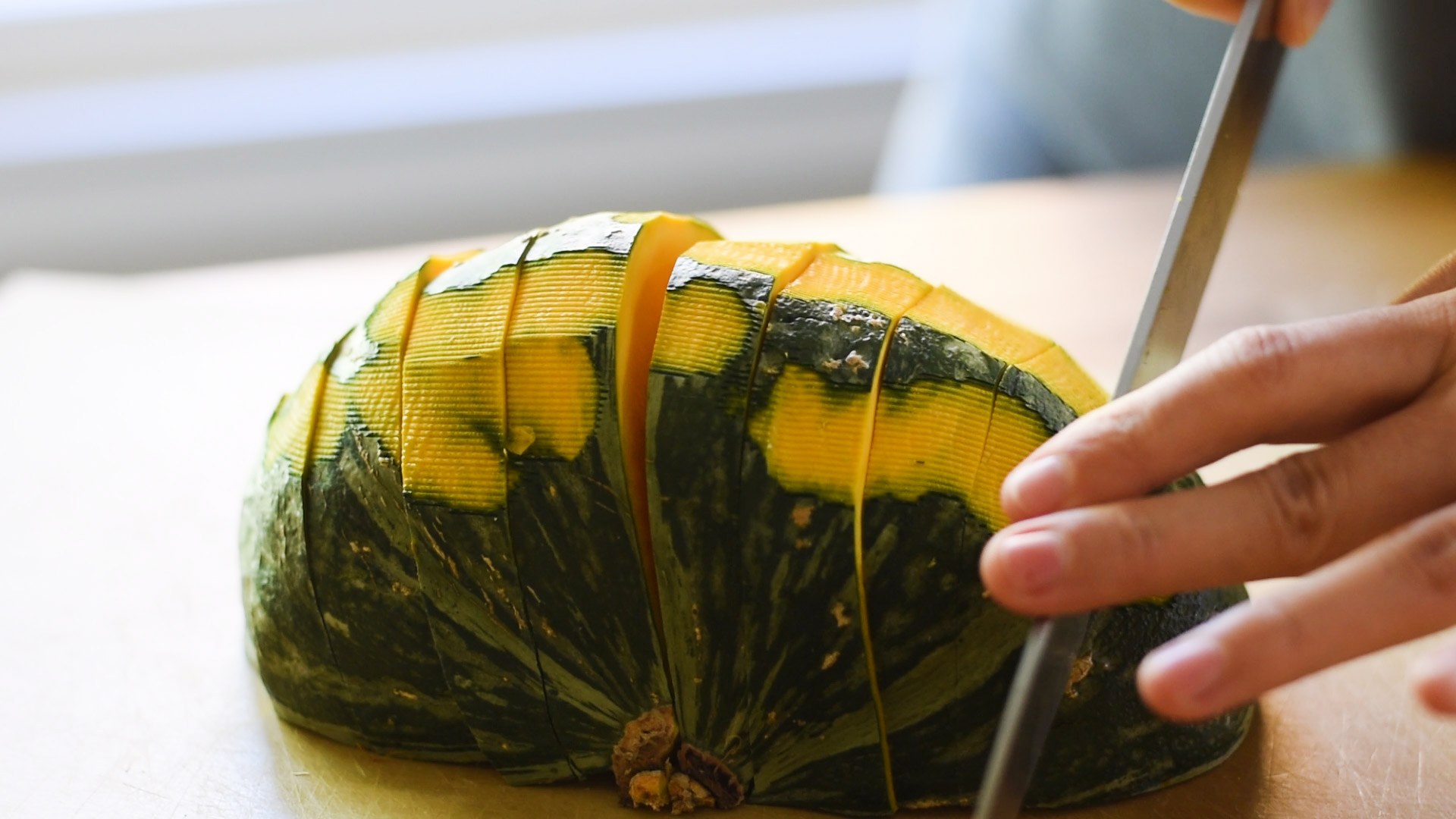 I LOVE love love kabocha because it is SO sweet. It's sweeter than pumpkin, for sure. It's even sweeter than butternut squash! The texture cooks up fluffy and delicious.
This kabocha squash soup is quite sweet, but it's all natural. No added sweeteners. There are added savory notes from the mushrooms and onions, and it is an all around winner.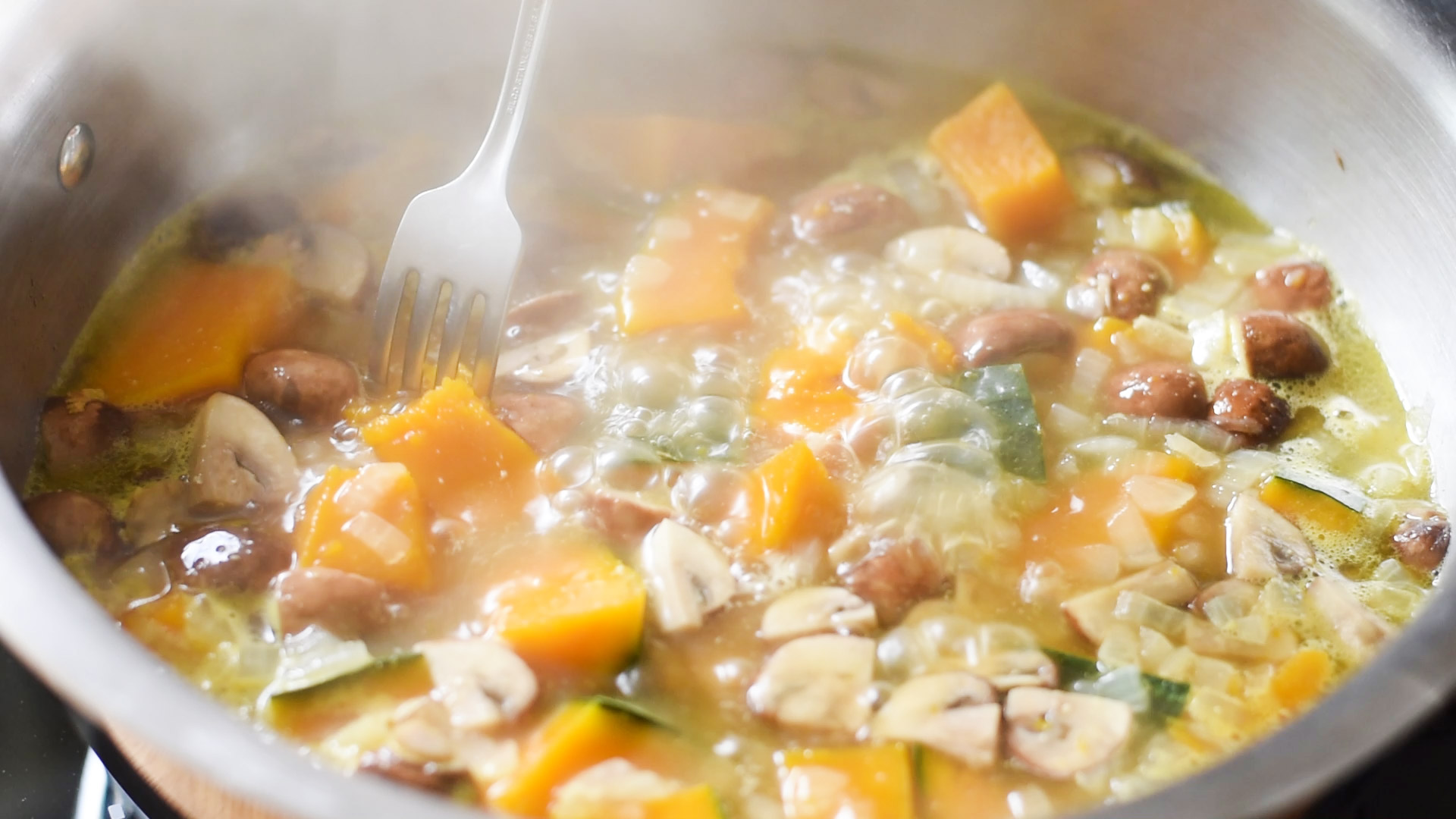 The wonderful thing about it is how EASY it is to make! Just chop up your veggies, sauté, simmer in chicken broth, add milk, salt and pepper, done. By the way, kabocha skin is edible! I peeled half of it off for this soup, but I personally love the skin.
So, where can you get kabocha squash? My local grocery stores don't carry it, so I just hop on over to any Asian market or get it online. It's squat and dark green with some light green spotting.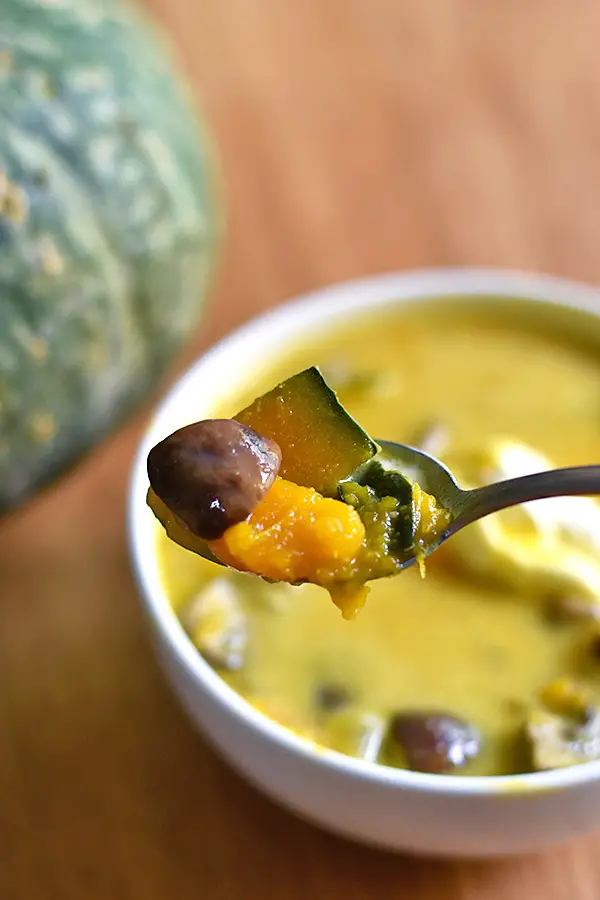 So try this kabocha squash soup out. And with the other half of the kabocha, try making simmered kabocha or sweet kabocha bites. Happy cold weather cooking!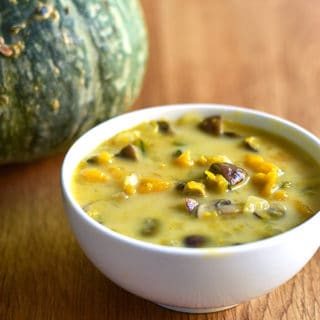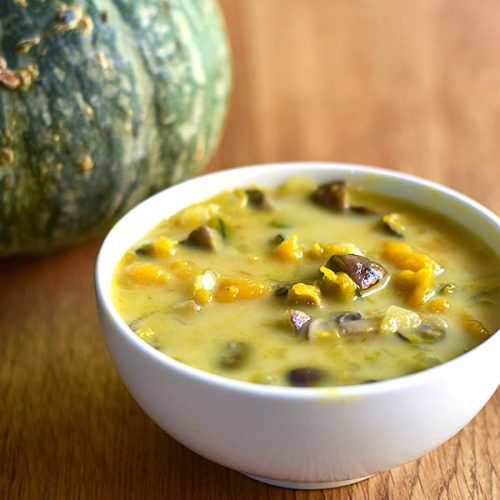 Kabocha Squash Soup
This kabocha squash soup is naturally sweet, and uses just a few simple ingredients to make a comforting and delicious winter soup. 
Instructions 
Prep
Prep by removing all the seeds from the inside of the kabocha, and peel about half of the skin off.

Slice and then chop into chunks, about bite sized.

Cut the mushrooms into small bite sized chunks (quarter them, or just cut in half for very small mushrooms).

1/2 pound baby portobello mushrooms
Soup
Melt the butter in a medium (4qt or so) pot over medium heat.

Add the onions and saute until translucent.

Add the mushrooms and saute.

Salt the mushrooms and add the squash.

Cook and stir for a couple of minutes, and add the chicken stock.

Bring to a simmer, cover with lid, and cook on low until squash is tender and can be easily pierced with a fork, about 10-15 minutes.

Using a wooden spoon, smash the kabocha up until about half smashed.

You want about half "pureed" kabocha and half little chunks.

Stir in the milk, and salt and pepper to taste.

You will probably need a decent amount of salt.

1 cup whole milk,

salt and pepper

Serve immediately, or let it sit for a few hours or overnight to meld the flavors more. 
Notes
Recipe adapted from cookpad (Japanese). 
Nutrition
Nutrition Facts
Kabocha Squash Soup
Amount per Serving
% Daily Value*
* Percent Daily Values are based on a 2000 calorie diet.