Kabocha squash is simmered in a delicious Japanese flavored stock until soft. Kabocha no nimono is an easy, savory, and healthy side dish.
So I've been on a bit of a kabocha kick lately, and I think a part of the reason is because I keep seeing pumpkin recipes all over, and every time I see a pumpkin recipe I think to myself… Oh man, kabocha is so much better than pumpkin (sorrynotsorry). This time I'm sharing a savory dish with you! Kabocha is naturally quite sweet, so the savory applications are extra delicious. What's better than sweet, and what's better than savory? Sweet AND savory. Okay, maybe all three of those things are good, and it just depends on your mood. BUT I promise you that you'll be in the mood for this simmered kabocha, aka kabocha no nimono.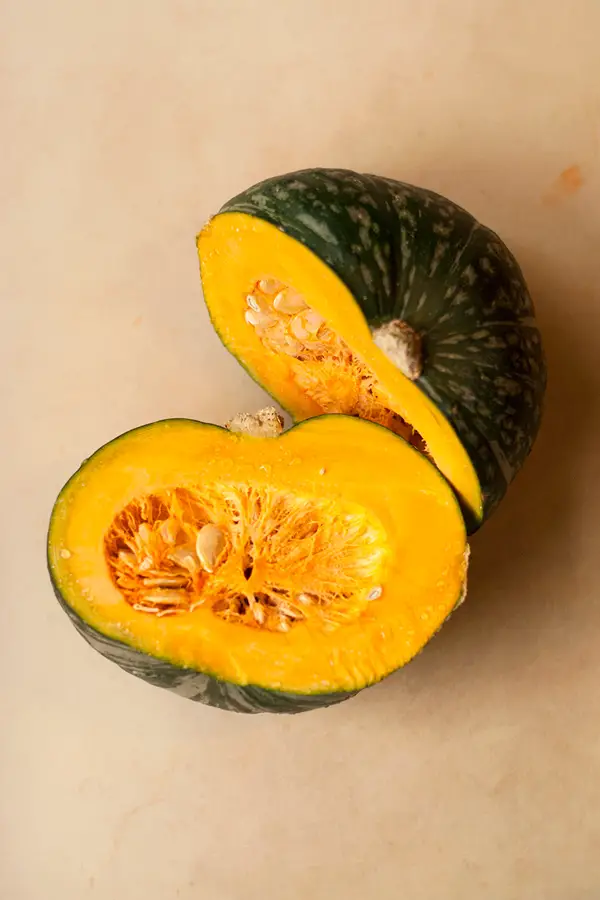 Nimono basically means simmered dish (which is why I called this simmered kabocha! Bam!) , and it is a very common food genre in Japan. There are allll types of nimono, with the basic recipe being stock, and things being simmered, whether it's one thing or a combination of several. Pretty straight forward. What makes kabocha no nimono SO good and comforting is that with the simmering, your food really soaks in the delicious stock flavor. I like it even better when I make it ahead and let it sit for a while for ultimate. flavor.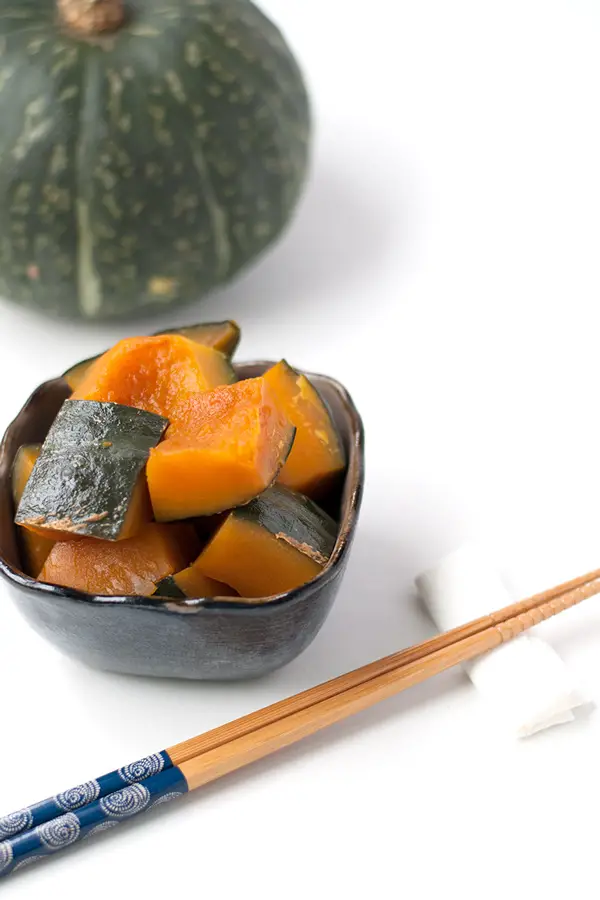 The extra special thing about kabocha no nimono is the ratio we use. It's so easy I could tell you once and you'll remember. Okay here it is: 100 to 1. As in, 100ml of water to one tablespoon each of the flavoring. The ingredients might be a little harder to remember, if you don't use them often in the kitchen, but even then it's very straight forward. Sugar, sake, mirin, soy sauce, and that's it. Just mix with water and bring to a simmer. Add your chopped kabocha and simmer away until you can easily pierce it through. And then, if you planned ahead and have some time, you can let it sit for a bit to soak in the flavor. Just reheat and eat!
Here's a little picture to show you how I had my lid on, but slightly propped open. Isn't this little guy cute? My husband brought it home from a business trip in Hong Kong. You can either just slightly offset your lid so there's a little steam escaping, or you can use one of those lids that has a little steam escapey hole on it. Traditionally you should use an otoshibuta but I don't have one and usually can't be bothered to make one, so I don't. I dunno, maybe it will turn out better for you if you do! But don't stress, this recipe is easy and forgiving to make, and delicious and comforting to eat.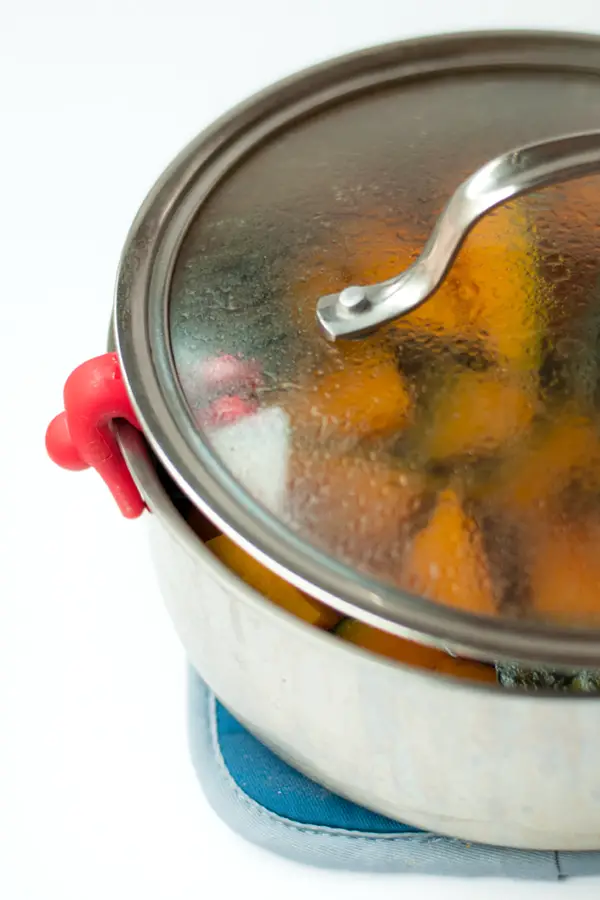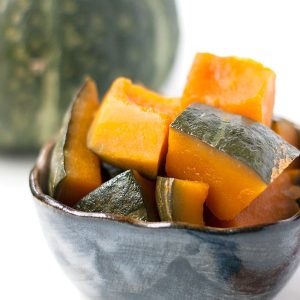 Simmered Kabocha Squash (Kabocha no Nimono)
Kabocha squash is simmered in a delicious Japanese flavored stock until soft. A easy and healthy side dish that is savory with the perfect amount of sweet.

Instructions 
Wash the kabocha and cut into approximately 1.5 inch chunks.

Keeping the sizes regular will help with even cooking.

Combine the remainder of the ingredients in a saucepan over medium heat.

300 ml water,

3 T soy sauce,

3 T sugar,

3 T sake,

3 T mirin

Stir until sugar melts and add the kabocha pieces.

Place lid on (slightly ajar to let out some steam), and bring to a boil.

Lower heat to a simmer and allow kabocha to simmer until softened and easily pierced.

Serve, or allow to sit and soak in flavor, and reheat before serving. 
Notes
If you are using less, or more kabocha, adjust the amount of stock. Just keep the 100 to 1, 1, 1, 1 ratio. 
Nutrition
Nutrition Facts
Simmered Kabocha Squash (Kabocha no Nimono)
Amount per Serving
% Daily Value*
* Percent Daily Values are based on a 2000 calorie diet.