These soy sauce sticky wings are baked, but SO crispy, with a sweet and salty glaze.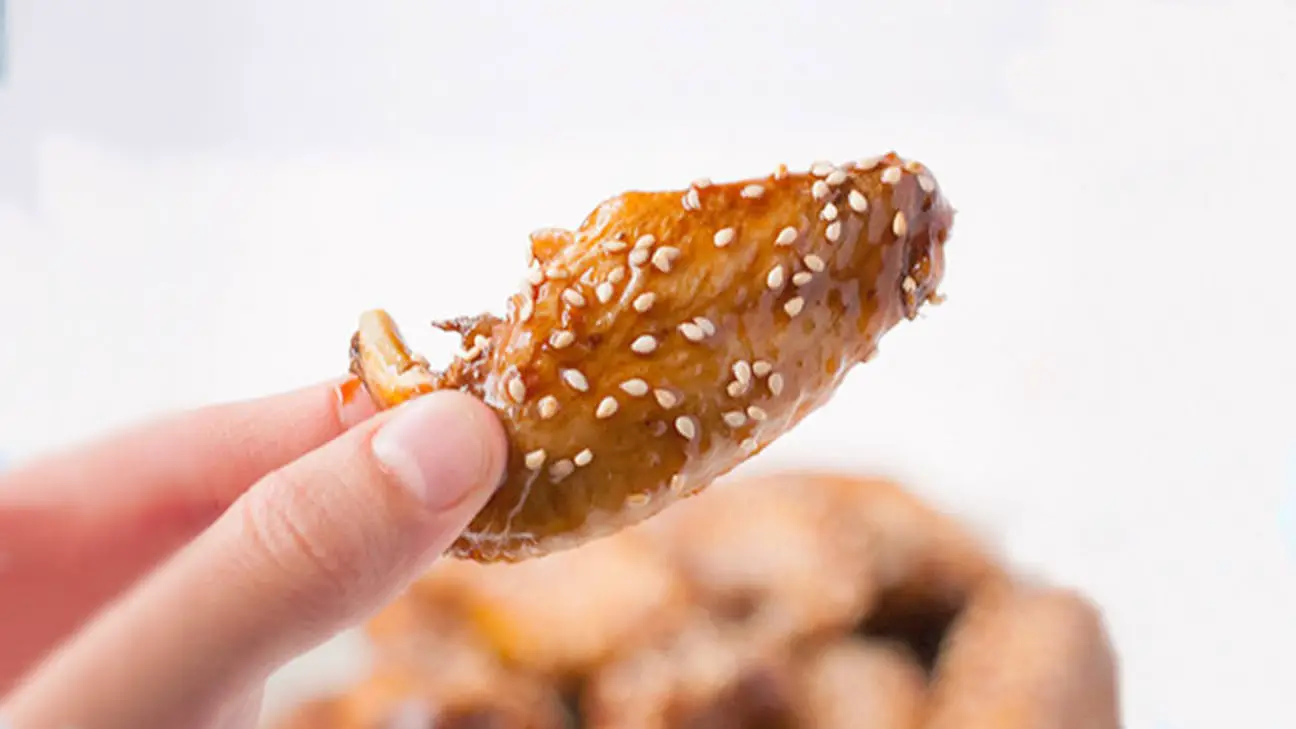 I didn't eat my first wings until college. I'm not even kidding! I grew up in America and I never ever had wings! My mom is anti having bones in chicken, so I just never had the opportunity to eat it. My husband introduced me to wings when we were dating, and I haven't looked back since.
Well, no, that's not completely true. My first few times eating it I was apprehensive, because… there are BONES in this chicken and I am picking meat off the BONES, whaaaat?! But then I got over it, because it's so delicious, just like this soy sauce wings recipe.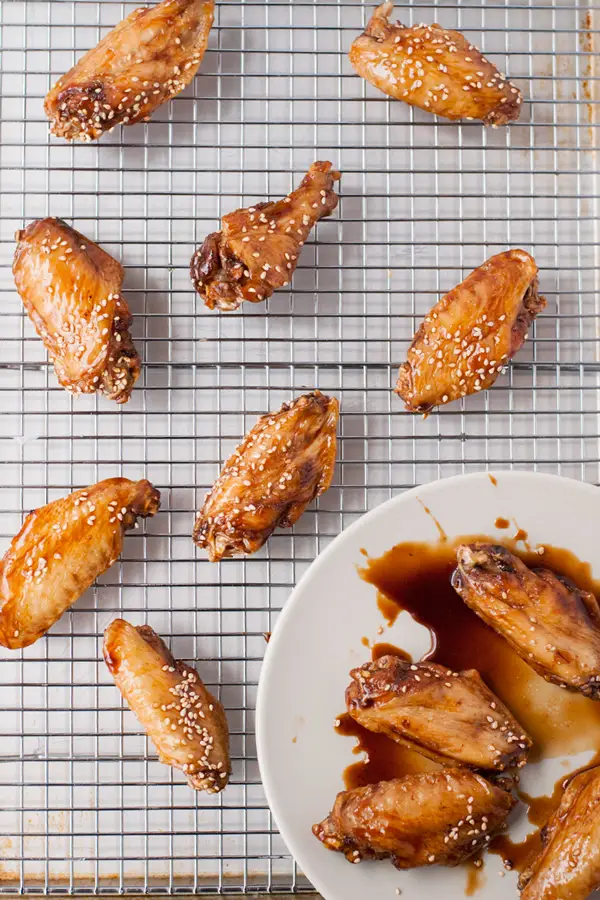 Anyways, I don't really like to fry food when I don't have to because, while delicious, it's kind of a lot of work! 
I've fried wings before and they turn out… okay. Not as crispy as I would like. So, whoda thought that BAKING wings can make super super crispy yummy wings?! I discovered the recipe on The Cookful and now it's my go to method for making wings!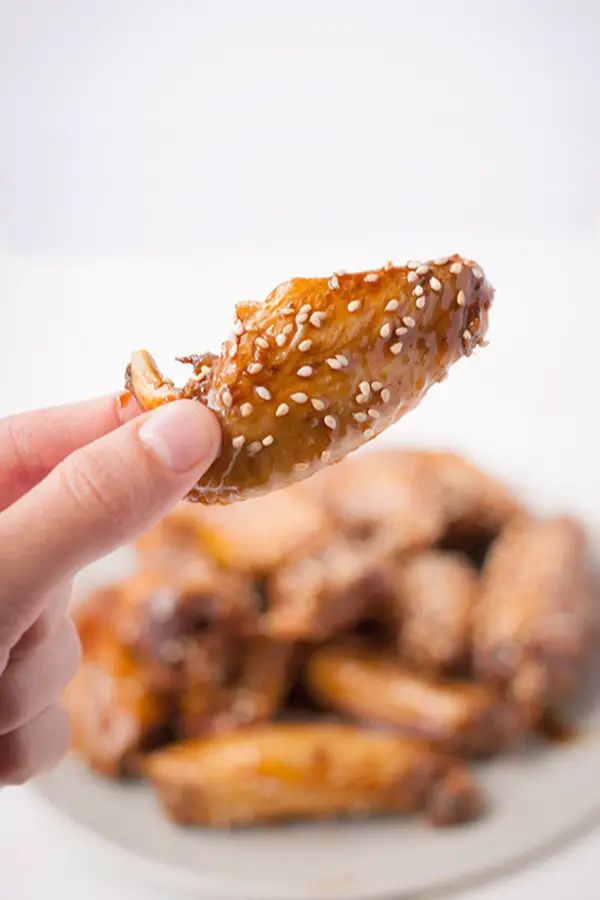 The glaze for the soy sauce wings is a simple but delicious combo of soy sauce, sugar, and sesame oil. Soy sauce and sugar is seriously one of my favorite combinations (remember these gnocchi mochi?), and you basically can't go wrong with it. Unless you burn the glaze. That would be very wrong.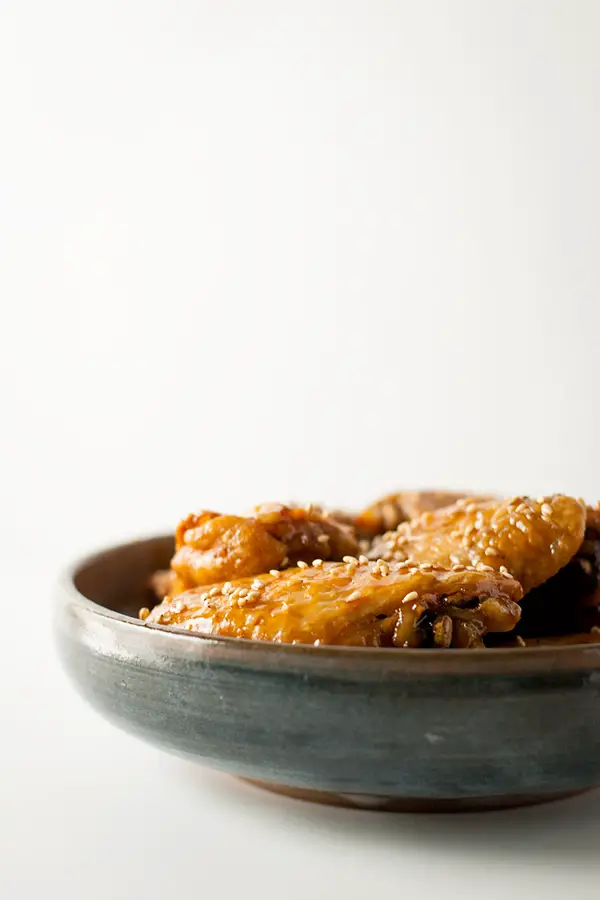 So, one thing to note… baking the soy sauce wings takes time! BUT let's not forget that it's hands off time. You just pop it in the oven, and there's one temperature change. That's it! No slaving over hot oil! If you haven't tried baking wings yet, you HAVE to give it a try!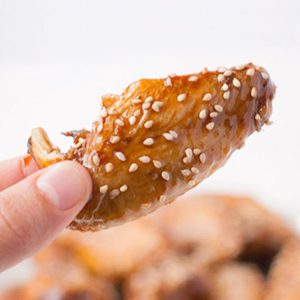 Baked Soy Sauce Sticky Wings
These wings are baked, but SUPER crispy, and tossed in an irresistible soy sauce-sugar glaze.  
Instructions 
Prepare The Wings to Bake
Preheat oven to 250 degrees F. Place a cooking rack in a sheet pan.

In a large bowl, toss the chicken with 1 T baking powder (not soda!!!) to evenly coat.
Baking The Wings
Place the wings on the cooking rack, and bake for 30 minutes.

Without opening the oven, turn the heat up to 425 degrees F. Bake for 40-50 minutes or until they are crispy and golden. 
Prepare the Glaze and Glaze the Wings
When wings are done, or just about done, start making the glaze. In a small saucepan, heat the soy sauce and sugar over medium heat and stir until sugar is completely melted.

Allow the mixture to simmer and thicken, about 5 minutes, and add a drizzle of sesame oil, to taste.

Transfer to a large bowl and toss with the wings. Serve topped with sesame seeds!
Nutrition
Nutrition Facts
Baked Soy Sauce Sticky Wings
Amount per Serving
% Daily Value*
* Percent Daily Values are based on a 2000 calorie diet.