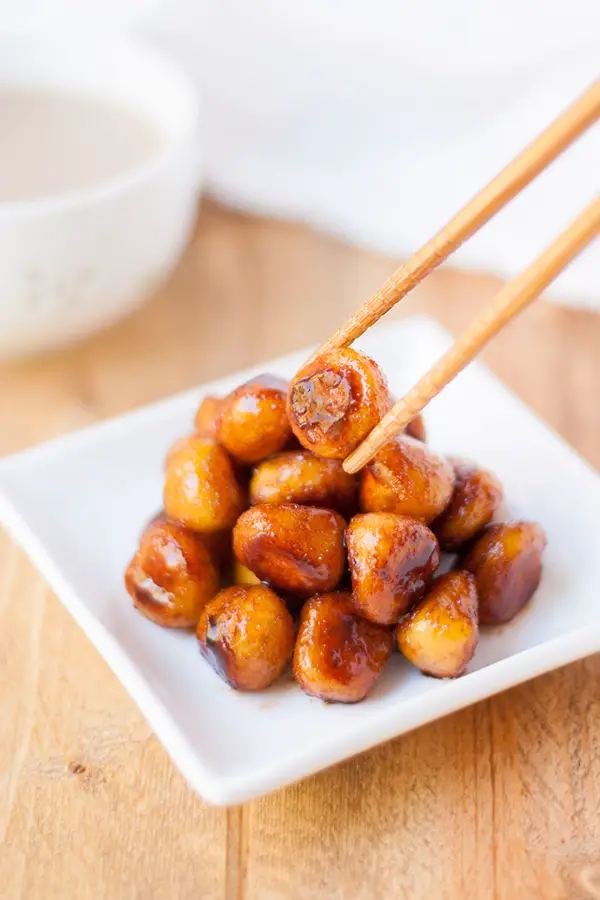 So I was at Costco (seriously, I'm always there because it's my fav place to get groceries), and came across these bags of gnocchi. They are round, which I thought was interesting, since gnocchi usually is kind of flatter-oval-y-fork-crimped-y looking right? Anyways, I grabbed it because gnocchi is SUCH an easy weeknight dinner. While we were eating it for dinner the other night (with some pasta sauce and parmesan cheese), my husband said, "You know, the bite of gnocchi kind of reminds me of mochi". I almost dropped my fork as I realized, yeah, whoa, IT KIND OF DOES!
See, I love love love love mochi (here's a Hawaiian mochi recipe I recently posted). The texture, the bite, the way you can flavor it with some of my other fav things including kinako (soybean flour- better than it sounds I promise), and soysauce sugar glaze… But it's kind of hard to get good mochi around here. My mom actually has an electric "pounder" where you can pour the mochi rice in with some water and it magically makes it fresh for you. We used to do that during new years and eat fresh mochi for days, but now I have a couple states between me and that machine, so… boo. And no, gnocchi does not have the same bite as freshly made mochi. But it DOES have a very pleasant chewiness, does it not?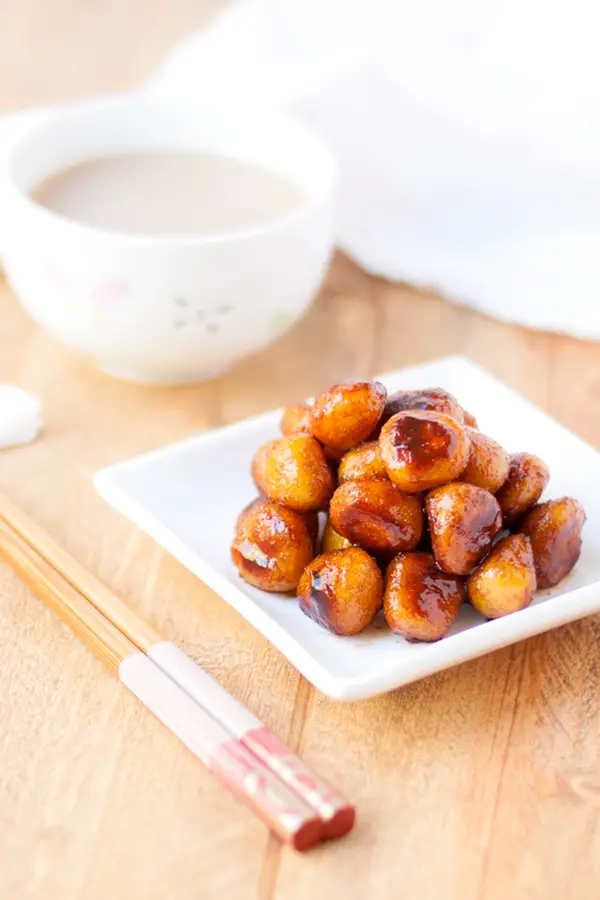 Actually, potato mochi is a thing in Japan, and it's quite easy to make. But you know what's even easier? Just using gnocchi! So, I gave it a try and it was delicious! You just boil the gnocchi according to package directions (or a little less, since we will saute next), and then throw butter in a nonstick pan and saute the drained gnocchi until it gets a little crispy, and then throw in a sugar soy sauce mix to glaze it. Look. at. that. glaze. jafkljeabgk it's so good. Soy sauce and sugar are so right together. My kids LOVED this, and so did my husband. We finished it off so quickly that I went and made another batch that same afternoon!
No, it's not mochi, but it so works. And it's so easy. You have to try it!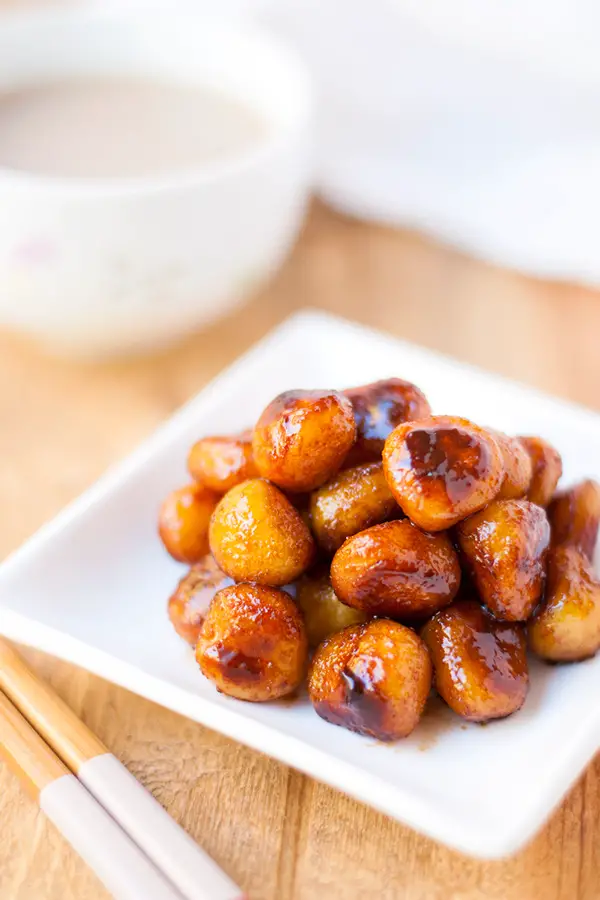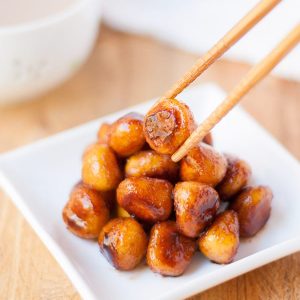 Easy mochi style gnocchi
Gnocchi is reimagined as mochi in this sweet and salty snack made with a soy sauce and sugar glaze. 

Instructions 
Gnocchi
Boil gnocchi according to package directions (or you can even take it out a little earlier).

While boiling, add butter to a nonstick pan and turn heat to medium high.

Drain gnocchi well, and saute in the butter until browned.
Glaze
Meanwhile, stir together the soy sauce and sugar.
Combine
Turn the heat to medium, and add the soy sauce sugar mixture to the gnocchi and quickly stir to coat the gnocchi in the glaze.

Remove from heat and serve. 
Nutrition
Nutrition Facts
Easy mochi style gnocchi
Amount per Serving
% Daily Value*
* Percent Daily Values are based on a 2000 calorie diet.