These waffle tacos are filled with chopped fruit and sealed with a homemade maple cream cheese. It comes together so easily, you could serve this on a weekday morning! 
This shop has been compensated by Collective Bias, Inc. and its advertiser. All opinions are mine alone. #EggoMyWay #CollectiveBias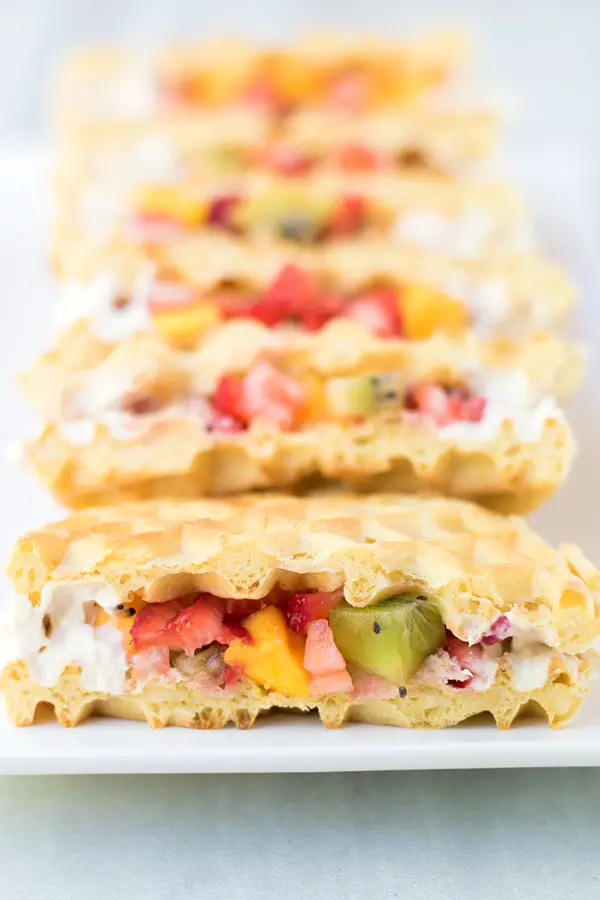 I'm so excited to share with you the dish I came up with to promote Eggo's new "green banner"! Eggo is now made with no artificial flavors or colors- look for the green banner on the box. I wanted to make a kid friendly breakfast (or snack, or dessert because these are really delicious), that adults could enjoy as well. Waffle tacos seemed like a perfect option.
Now, breakfast time is hard for me, because I have a baby that still (she's too old for this, really) wakes me up at least 2-3 times a night. So actually, a lot of mornings I roll around in bed while my husband gets up and gets the kids cereal and whatnot. What did I do to deserve such wonderful treatment?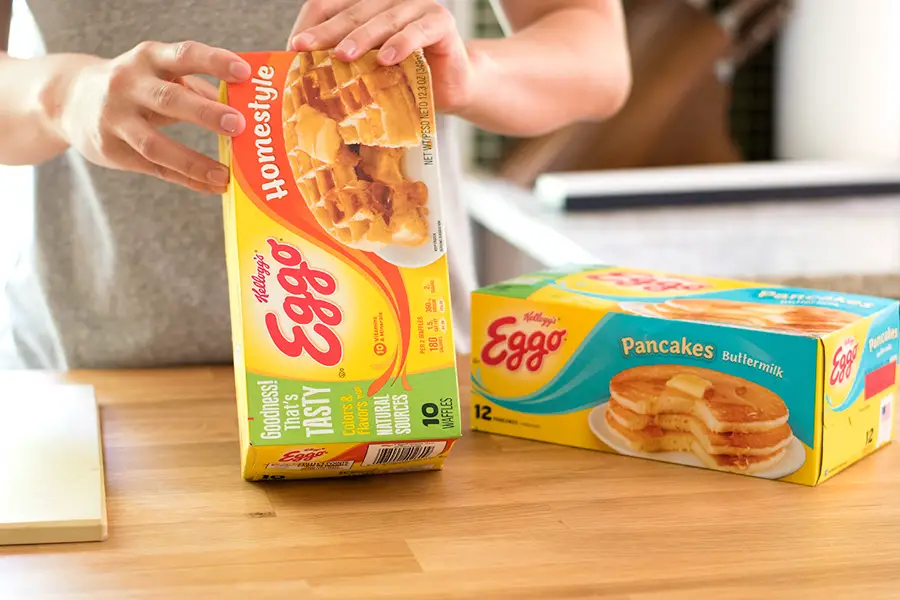 But some days when I get some extra good rest, or it's the weekend, or my husband seems extra tired, I'll drag myself out of bed first. Now, I said cereal was my go-to, but sometimes I like to switch it up a bit, or make something "extra special".
These waffle tacos are definitely "extra special". You have your delicious but SO easy to make maple cream cheese, and you have lots and lots of fresh fruit!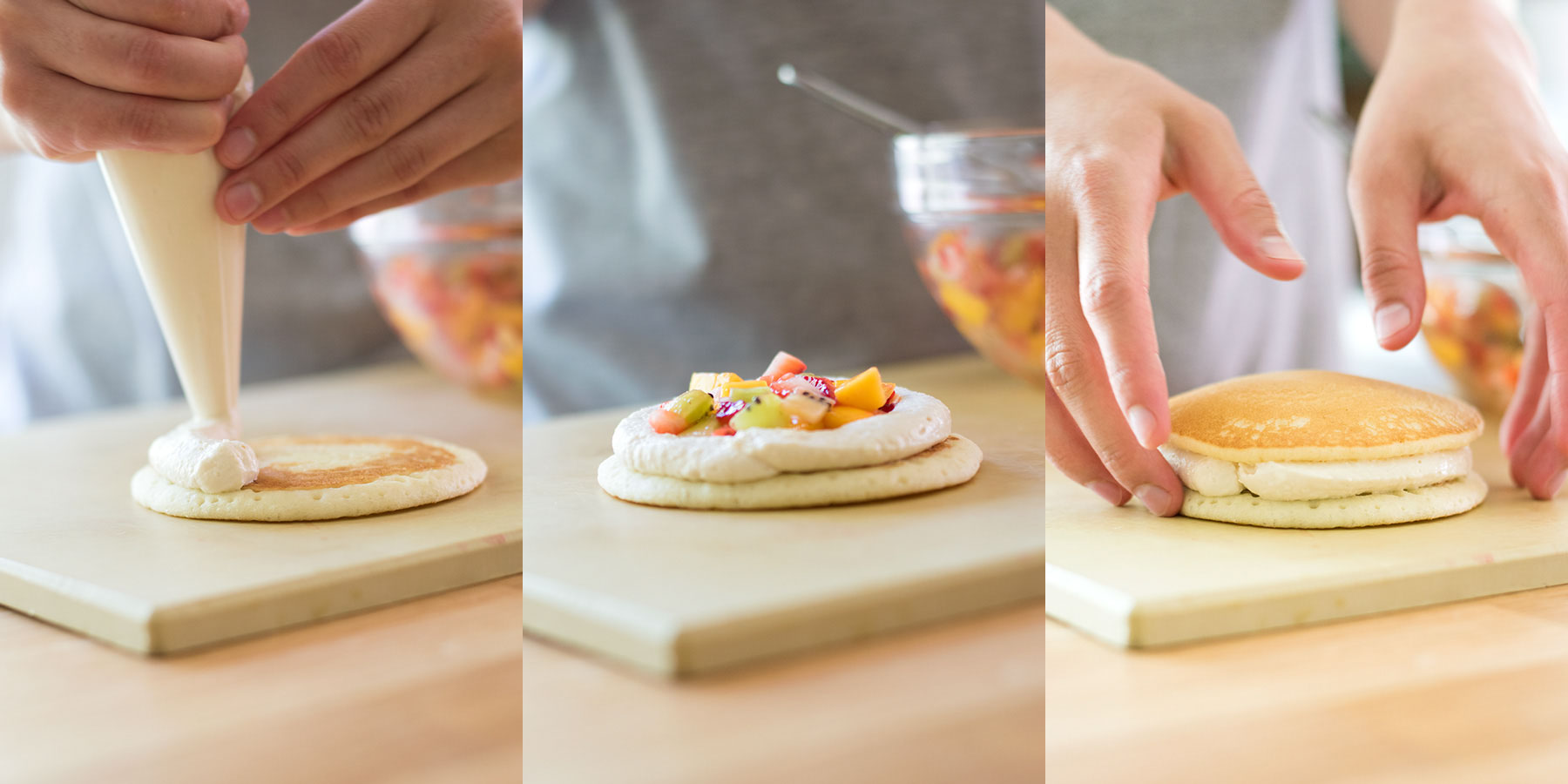 And the result is so cute! In the picture above, I used pancakes. It works for either, so pick whichever one you/your children like better!
Want to make these waffle tacos even easier in the mornings? Have your fruit (if you are concerned about browning, maybe you could try sprinkling a bit of lemon juice on it?) and maple cream cheese prepped the night before! Then it will come together in just a few minutes!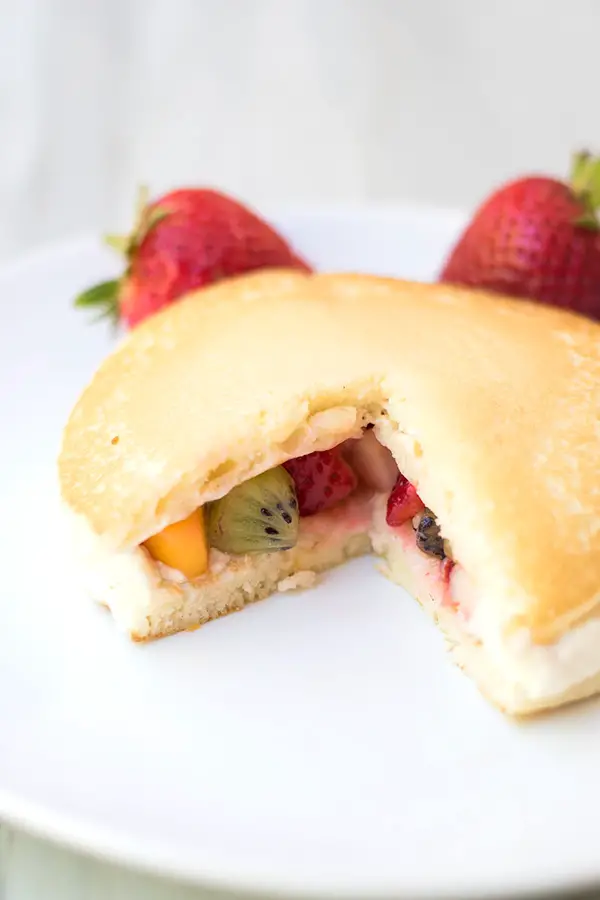 I chose to use mangos, strawberries, and kiwi, because it's what I had on hand. Also I liked the combination of colors! My husband actually doesn't like kiwi but TOO BAD FOR HIM, because it's yummy and it's stayin' in there.
I used Eggo Homestyle Waffles, and Eggo Buttermilk Pancakes, to keep the flavors simple. If I had given my kids the choice, they probably would've chosen one of the flavored ones. As long as you use one of the thinner varieties (you can try the thick and fluffy for the waffle tacos, but you have to get back to me and tell me how it worked!), you can pick whichever one you want.
These are also easy on the wallet, which, depending on how many mouths you have to feed, is really nice. You can get Eggo Waffles on Amazon!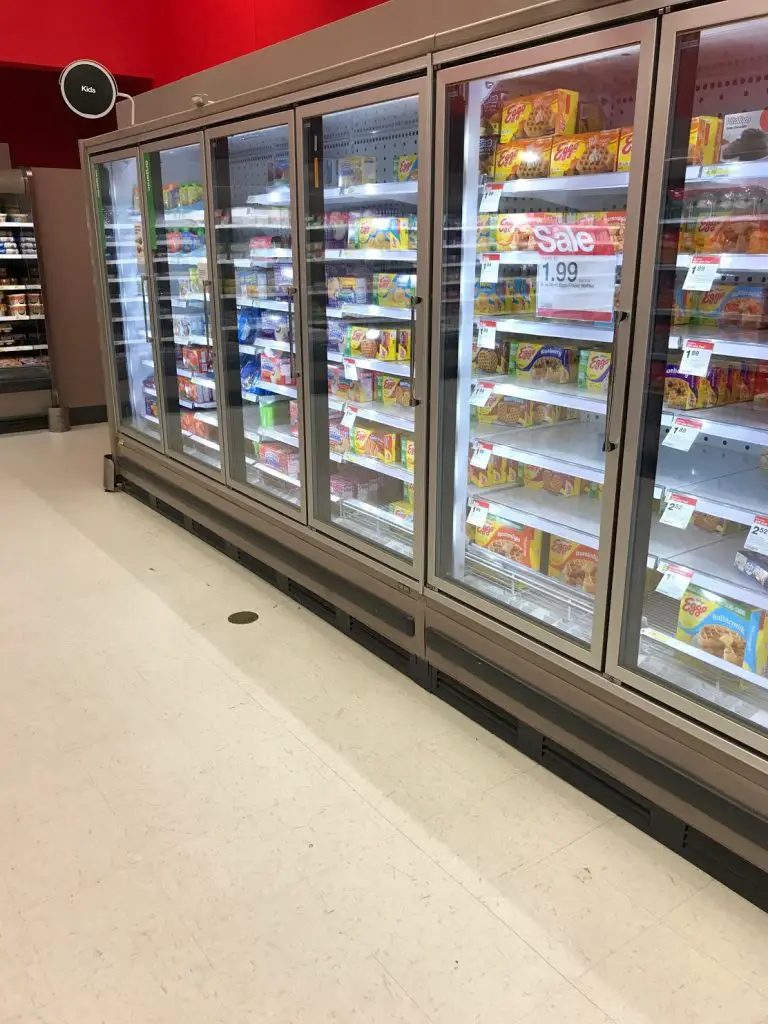 Target has them on an endcap right now for easy finding, but of course my store is running behind, and it was in the kids frozen foods section. I also want to direct you to the Eggo site so you can check out great ideas by other bloggers.
By the way, I thought these waffle tacos were great because you can just eat it with your hands, sans utensils. Well, my husband proved me wrong, as he kept spilling the fruit onto the floor. Really? I thought my kids might do that but… Anyways, I was able to eat mine without spilling any. I guess I can't guarantee that your spouse can. Just make sure you provide a plate to catch any spills.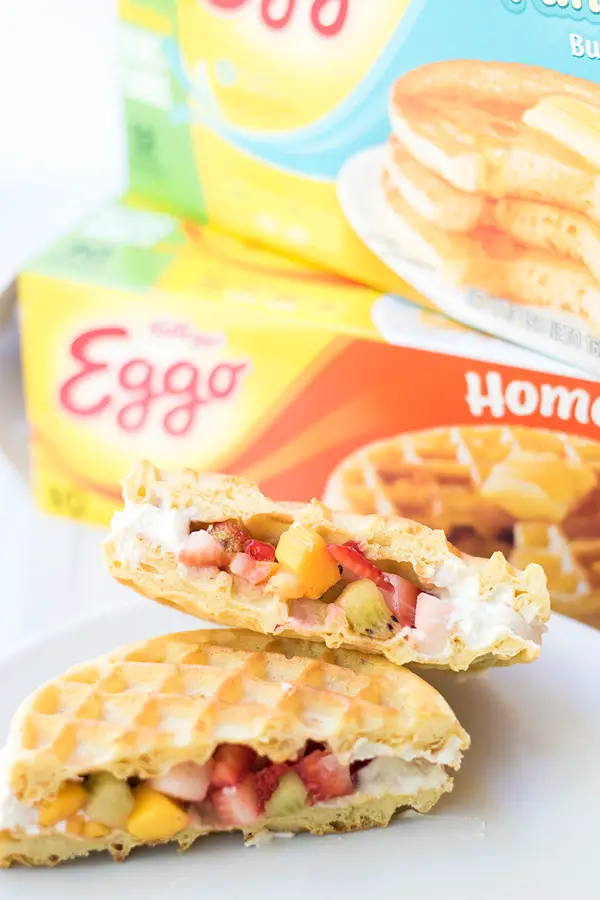 Alright, do you need anymore convincing? No? You should make these. Soon. And here's a little video, so you can see how I made mine!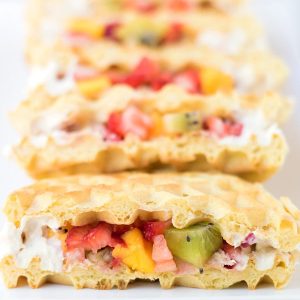 Fruit and Maple Waffle Tacos
These waffle tacos are filled with chopped fruit and sealed with a homemade maple cream cheese. It comes together so easily, you could serve this on a weekday morning!

Instructions 
Toast your waffles while you prep ingredients. You want them cooled down before you pipe your maple cream cheese, or the cream cheese will get all melty and messy.

In a medium sized bowl, cream together the cream cheese and maple syrup. You can warm the cream cheese up for smoother creaming, but you will have to cool it down in the refrigerator before piping. I just beat it with a handmixer straight out of the fridge. It wasn't as smooth, but it is quicker!

Chop/rough chop the fruit into small-ish pieces and combine in a bowl. 

Place the maple cream cheese in a piping bag, or use a large ziploc bag, and cut the corner off. Pipe onto the waffle/pancake, all around the edge, to hold in the fruit (see video above).

Spoon the fruit into the center, and place another waffle/pancake on top. You may want to place it in the fridge to set the cream cheese up a bit. You can either eat it as is, or cut in half to make a "taco" of sorts. 
Nutrition
Nutrition Facts
Fruit and Maple Waffle Tacos
Amount per Serving
% Daily Value*
* Percent Daily Values are based on a 2000 calorie diet.