Japanese carrot salad: Carrots and corn come together with a sesame mayo dressing to make a delicious, tangy carrot and sesame salad. The dressing is customizable to your tastes, and is delicious on salads and great for dipping.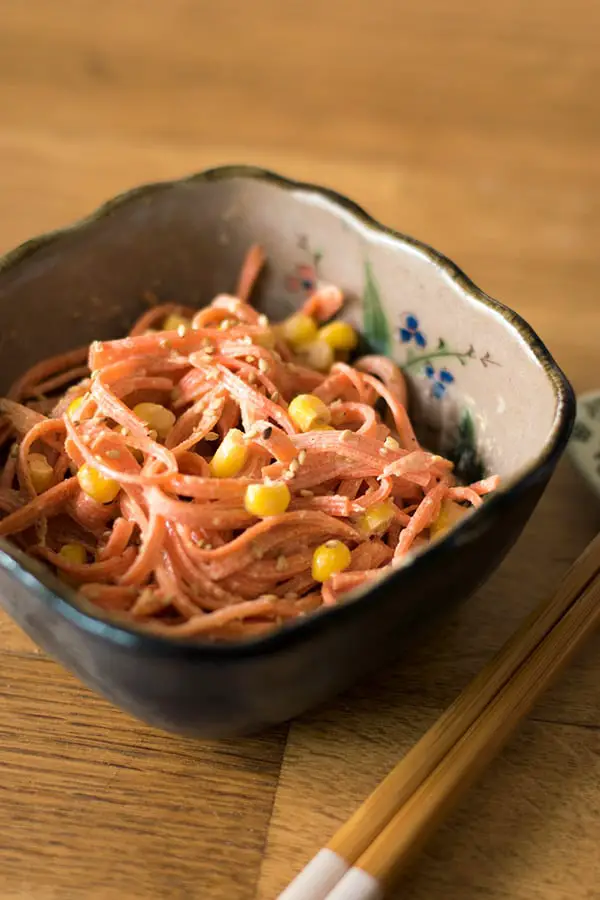 Asian Carrot Salad With A Japanese Mayo Twist
The best dressings are sesame dressings. It's just a fact. Roasted sesame seeds add the perfect flavor to… well, anything, but especially an asian carrot salad like this. I have a healthy sesame dressing that is made with veggies in it, that I love, and this time I wanted to share a sesame mayo dressing.
Japanese Mayo Salad Dressing
When I say mayo, I mean Japanese mayo
. Okay, BIG DISCLAIMER HERE. Japanese mayo has msg in it. Yup, it does, and that's why it tastes so good. I try to avoid msg where I can, but I make exceptions, and Japanese mayonnaise is one of them.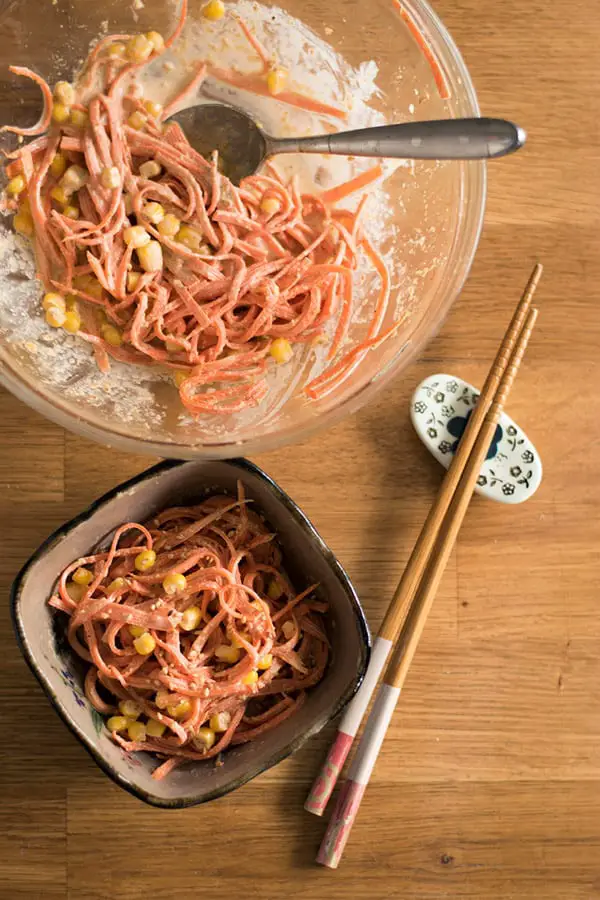 Tips for Making Japanese Carrot Salad
Okay, so let's talk about my carrots. I like to use my peeler to make thin layers and then cut them into strips. It's more work than using a grater, but I like the end texture better. But really… if you want to, you can use the food processor. I've done it. Still tastes good.
Another thing I like about this dressing is that it's easy to customize it to your tastes, and to the taste of the carrots. I've had carrots that are sweet and great, and then I've had carrots that are just not quite there in the flavor department. You can add more sugar if your carrots aren't sweet, or you can add more vinegar if you like more tang. I often will taste test it and add a little soy sauce or a little sugar here and there to match it to my preference of the moment. There are so many options for the dressing on this Japanese carrot salad.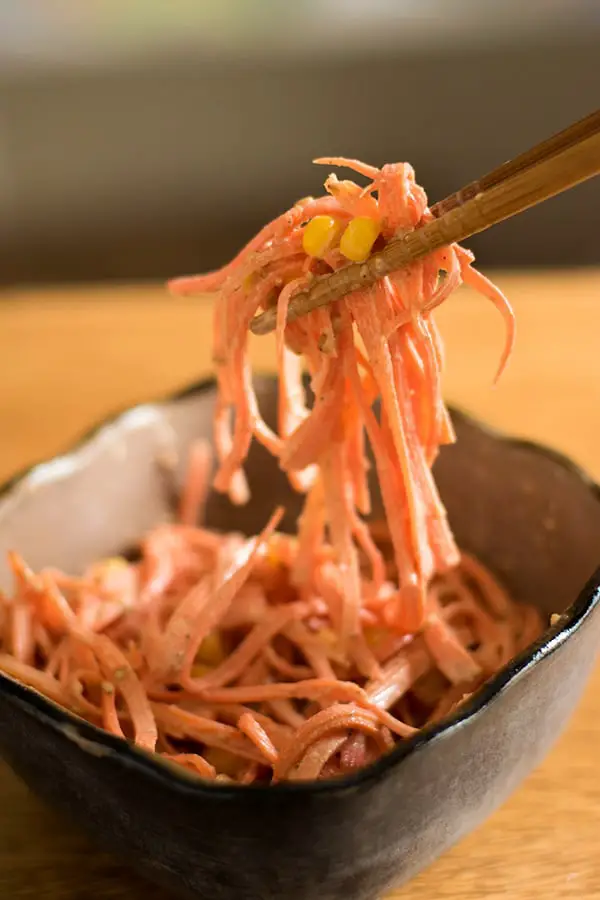 The original recipe I got my inspiration from uses gobo (burdock root) and carrots, and it's really great that way! That being said, a lot of people in the US probably don't know what burdock root is, and aren't really looking to try it. I wanted to make this recipe more accessible so I decided to go with corn and carrots. The corn adds a great sweetness to the salad, and I think it's just perfect!
I hope you give this Japanese carrot salad a try!
Check out the video links for some of my other great recipes!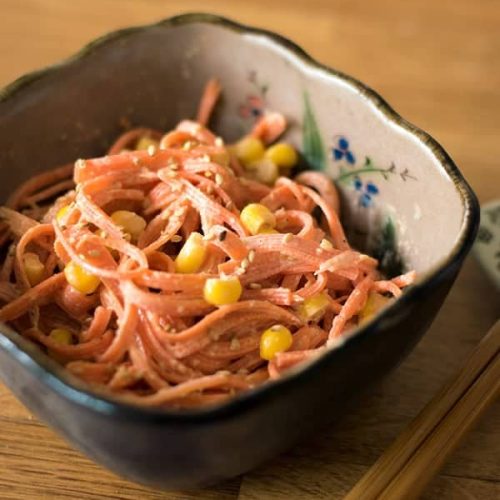 Japanese Carrot Salad with Sesame Dressing
Carrots and corn come together with a sesame mayo dressing to make a tangy, roasty, and smooth salad. The dressing is customizable to your tastes, and is delicious on salads and great for dipping. 

Instructions 
Prep Carrots
Cut the carrots into a thin matchstick size (see video to see how I use a peeler to do this). 

Place the carrots in a microwave safe bowl and add the frozen corn.

Cover with plastic wrap and microwave for a minute, to thaw the corn and to slightly soften the carrots.

This step is optional. If you want extra crunchy carrots, just add the thawed corn to the carrots.
Dressing
Grind your sesame seeds to a rough powder.

It doesn't have to be completely powdered, but it can be if you want. It's pretty flexible. 

3 Tablespoons roasted sesame seeds

In a small bowl, combine the ground sesame seeds, mayonnaise, rice vinegar, sugar, and soy sauce.

Taste the dressing and adjust to taste, if desired.

1/4 cup Japanese mayonnaise,

1 Tablespoon rice vinegar,

3/4 Tablespoon granulated sugar,

1 Tablespoon soy sauce
Assemble
Add the dressing to the carrots and toss to combine. 
Notes
You can get Japanese mayonnaise on Amazon
, but you can find it at most Asian markets. The brand I always get is Kewpie. It will come in a soft squeeze tube.
You can also find sesame seeds and rice vinegar at the Asian market (you can also find them both at whole foods and many other well stocked grocery stores), but here are some Amazon links: Sesame seeds
, rice vinegar
 . 
Adapted from: cookpad (Japanese)
Nutrition
Nutrition Facts
Japanese Carrot Salad with Sesame Dressing
Amount per Serving
% Daily Value*
* Percent Daily Values are based on a 2000 calorie diet.