This ultra thin dark chocolate rosemary bark is loaded with sea salt, roasted almond pieces, and chopped fresh rosemary. 
Up until two weeks ago I had never had rosemary and chocolate together. Shame on me.
The other night at a church activity a friend of mine brought some dark chocolate rosemary bark to share. I looked at it and thought… rosemary, peanuts, salt… that sounds amazing. And it was. I LOVED the herby rosemary with the dark chocolate! I loved it so much that I had to recreate it.
I made a couple of tweaks, and am quite pleased with the results. I decided to go ultra thin for this bark, because I really wanted to let the toppings shine. Dark chocolate is really intense, so I didn't want it to overpower the other ingredients. I also went with roasted and chopped almonds, because I just like almonds more than peanuts. I think this bark would be delicious with peanuts, pecans, walnuts, pistachios, you name it!
The sea salt works really well to temper the sweetness and bring another dimension of flavor in. I'm all about sea salt on desserts, so I went to town with the salt. Does that sound gross to you? The thing I love about this chocolate rosemary bark is that it is so adaptable. If you don't want a lot of salt, then don't put a lot of salt. I piled on allllll the toppings, but you can adjust the amounts to your taste.
This is a very simple treat, with a small ingredients list. Each ingredient really shines, so, make sure to use a quality dark chocolate! The dark chocolate is the base, and if you don't have a good base, you won't get as good of a final result. I used a 70% dark chocolate for my bark. Use the percentage that you like best.
So, now that I've tried rosemary, I'm wondering what other herbs I should try using in sweet applications. If you have any good suggestions, please let me know!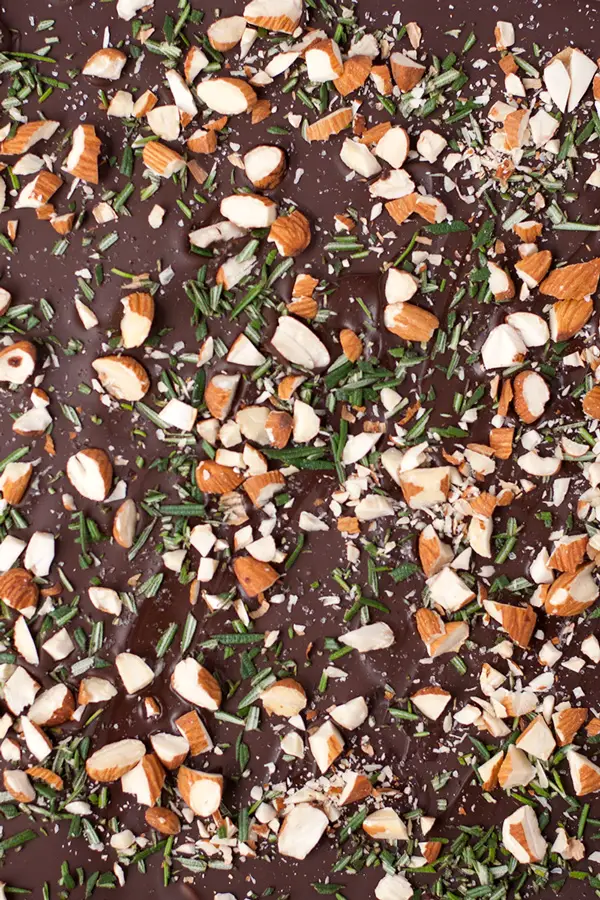 Check out the video below for a quick tutorial on rosemary bark!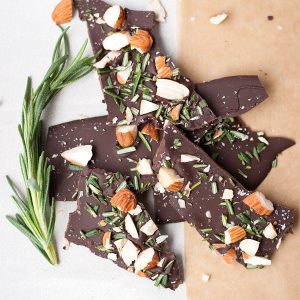 Dark Chocolate Rosemary Bark
This ultra thin dark chocolate rosemary bark is loaded with sea salt, roasted almond pieces, and chopped fresh rosemary. 
Instructions 
Toast the almonds in a heavy bottom skillet over medium heat for a couple of minutes, until they give off a nice, toasty, nutty smell. Remove from heat and allow to cool. Chop into small pieces.

Chop the rosemary. 

Prepare a piece of parchment paper to pour the melted chocolate on (around 11″x17″).

Break the chocolate into small pieces and place in a microwave safe glass bowl. Heat in the microwave for 30 second intervals, stirring well after each time, until most of the chocolate is melted. Remove from the microwave and stir until completely melted. Pour onto the parchment paper and use a flat icing spatula, or spatula to spread out until the chocolate is 2-3mm thick. Sprinkle sea salt, rosemary, and almonds over the chocolate. Press the toppings into the chocolate to set. Allow chocolate to completely cool and harden, then break into pieces. 

Store in an airtight container, preferably in the refrigerator. 
Nutrition
Nutrition Facts
Dark Chocolate Rosemary Bark
Amount per Serving
% Daily Value*
* Percent Daily Values are based on a 2000 calorie diet.