Inspired by the Japanese snack Pie no mi, these bite sized treats are flaky, sweet, and filled with chocolate.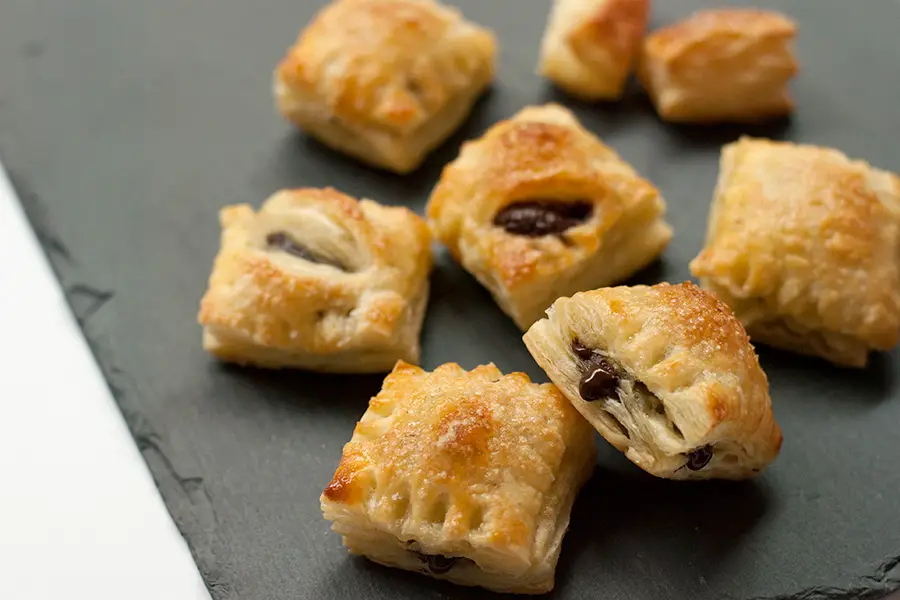 Have you ever seen a Japanese snack called Pie No Mi ? They are yummy little bite sized "pies". I really like them, but since they are imported, they are kind of expensive. Also, not all Asian stores I've been to carry them. But then I thought about it. These are basically just puff pastry with chocolate in it. I CAN MAKE THAT!
Lately I've been on a puff pastry kick. I don't know why I never used it much before, but now I'm in love with the stuff. I use it for both sweet and savory dishes. It's SO easy to use, and while purists might say made-from-scratch is better, I don't think the flavor difference can make up for the convenience difference. I had just one third of a sheet left in my freezer so I made a small batch, but I'll definitely be making these again when I go and get MORE PUFF PASTRY mmmmm.
The key to these little bite sized pies is good chocolate. I mean, they are basically just puff pastry with chocolate inside, so if you don't use yummy chocolate, you won't get yummy pies. This time I used my left over baker's chocolate bar- german sweet chocolate, which is 48% cacao. It was yummy, but when I make this recipe again (which I will be doing soon), I will probably experiment with both milk and semi-sweet, and see which I like better.
The key to making them pretty is to properly crimp the edges and to not accidentally cut through some of your puff pastry while cutting your chocolate. I did neither of these things and so above we see chocolate coming out the side, and cuts across the tops of a couple of them. But, um, the imperfections make them all the more cute? Maybe? The other key is to use an egg wash on the top. And sprinkle some sugar on there for good measure.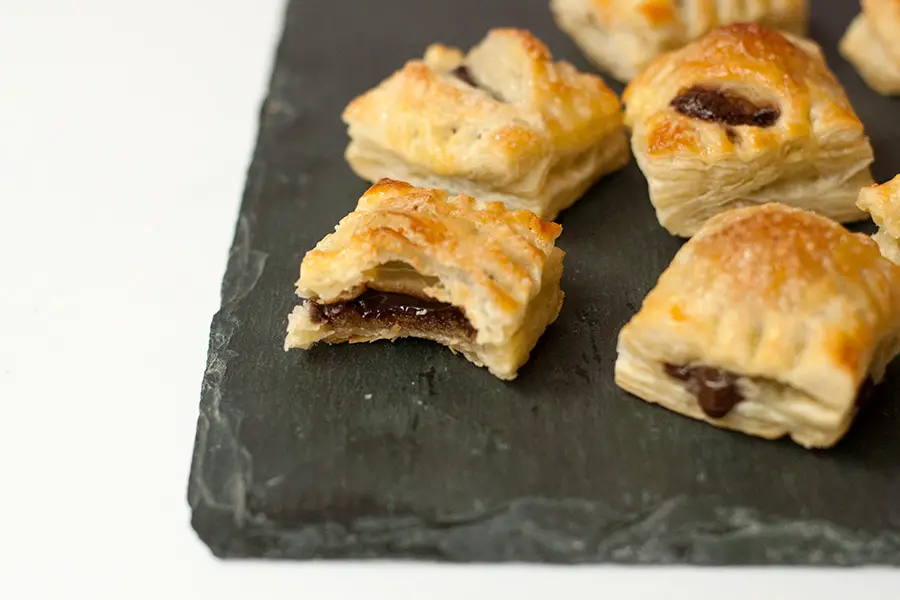 These come together so quickly and they are a great snack! However, I made my kids take them outside to eat, because puff pastry can get a little messy when in the hands of messy children. I don't want flakes of pastry all over the floor! I just eat mine in one bite. Yums.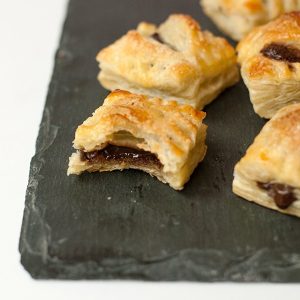 Mini Chocolate Pie Bites
Inspired by the Japanese snack Pie no mi, these bite sized treats are flaky, sweet, and filled with chocolate.
Instructions 
Preheat oven to 425 f. Take your puff pastry out and allow to thaw for a few minutes, until you can unfold. Cut pastry into approx. 1.5″ squares. Place a square of chocolate onto half of the pastry squares and push down gently. Place another square of pastry on top and cover chocolate. Crimp edges with fork. Beat egg and use a pastry brush (or your finger tip if you don't have one!) to brush the tops of each pie, and sprinkle sugar on the tops. Bake in oven for 10-15 minutes until golden brown and puffed up. Remove from oven, allow to cool.
Notes
Cut your chocolate into squares about half the size of the square pastry. It's not an exact science, just make sure you can completely cover and crimp the edges around the chocolate or it will ooze out. If your chocolate bar is thin, consider stacking two pieces. 
Nutrition
Nutrition Facts
Mini Chocolate Pie Bites
Amount per Serving
% Daily Value*
* Percent Daily Values are based on a 2000 calorie diet.