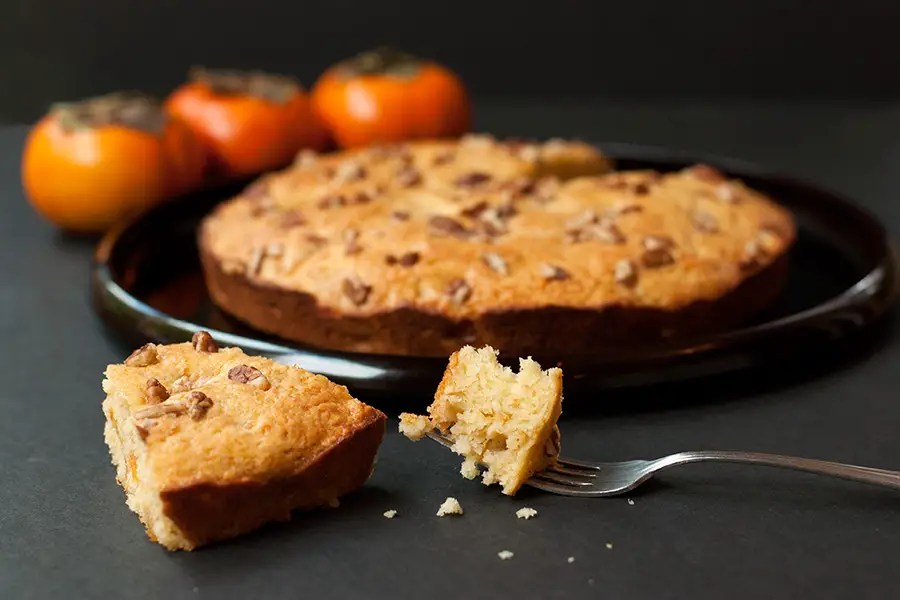 Persimmons. They aren't very popular in America, but everyone eats them in Japan. They are a popular fall-winter fruit. Here's your fact of the day: the persimmon is Japan's national fruit! If you've never seen one before, well, they kind of look like an orange tomato! But unlike a tomato, you have to peel them. And they are sweet. And they don't have gooey little seeds in them. So basically they are nothing like a tomato except the outward appearance. Oooh, here's another fun fact. Did you know that tomatoes and persimmons are both berries?! Yup, Wikipedia just told me. Interesting huh? I knew tomatoes were fruits, but I didn't know they were berries! And Persimmons grow on trees and seem more plum or peach-ish in that sense, but… berries.
Even though my mom is Japanese, I somehow never had persimmon until I was in 4th or 5th grade. It was during lunch time at my Saturday Japanese school, and my friend had some peeled and cut pieces in her lunch. I was curious and asked her for a piece, and my mom says I came home that day and was like, "why have I never had persimmons?!" and so we occasionally ate persimmons from then on. Good story! I don't eat them that regularly, but when I saw a box of them at Costco I just had to get it. It's just… so fall. Yes pumpkins are fall, but eeeeverybody and their mom share pumpkin recipes (actually I have one coming soon too, so…), so I wanted to shine some well deserved light on this less popular fall produce.
When you are picking out persimmons, try and find ones that have a very saturated color. For this recipe we are using Fuyu persimmons, which is the most popular and easily found type here in the USA. Fuyus are a little more forgiving, in that you can eat them when they are still a little firm. We will be stewing the fruit in this recipe, so you don't have to worry toooo much about it being soft. As a matter of fact, the last time I made it, I had one that was soft and one that was still a little firm.
This recipe uses about 2.5 persimmons, so feel free to snack on half of the ripest one while the cake is baking!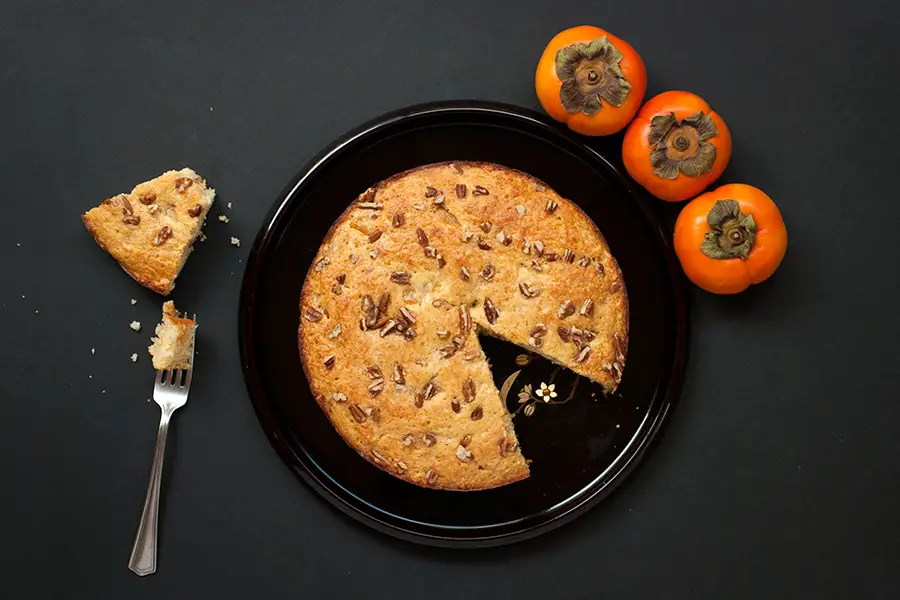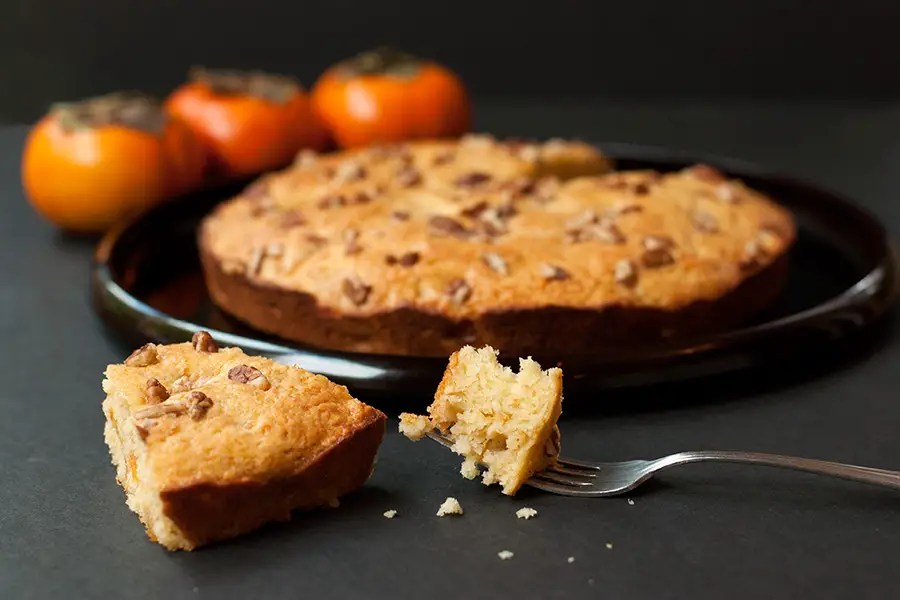 Persimmon Cake
A delicious fall flavored cake made with stewed and chopped persimmons, topped with either chopped pecans or sliced almonds.
Instructions 
Oil or grease a 9 inch cake pan, preheat oven to 350 f. Peel the persimmons and slice 5mm thick. Place in a sauce pan and add the 4 1/2 T of sugar and 3 T water. Bring to a low simmer and simmer for about 5 minutes, making sure to stir occasionally to coat all of the slices with the sugar water. Drain off most of the sugar water and set the persimmons aside to cool.

Place softened butter and the 90 g of sugar in a medium or large bowl and combine well. Add the eggs and combine well. Add the vanilla and stir in. Sift together the cake flour, baking powder and almond flour. Add 2/3 of the dry mix to the wet mix and fold in, making sure not to over mix.

Roughly chop the cooled persimmons and combine with the remaining 1/3 of the dry mix. Fold into the batter and mix until there is no longer powder visible. Pour into cake pan and top with either toasted chopped pecans or sliced almonds.

Bake for 30-40 minutes or until a toothpick comes out clean. Allow to cool before cutting.