This Hawaiian Chocolate Haupia Pie recipe combines rich chocolate with creamy Hawaiian coconut pudding, to create a chocolate and coconut pie. Follow our easy recipe and impress your guests with this indulgent Hawaiian treat.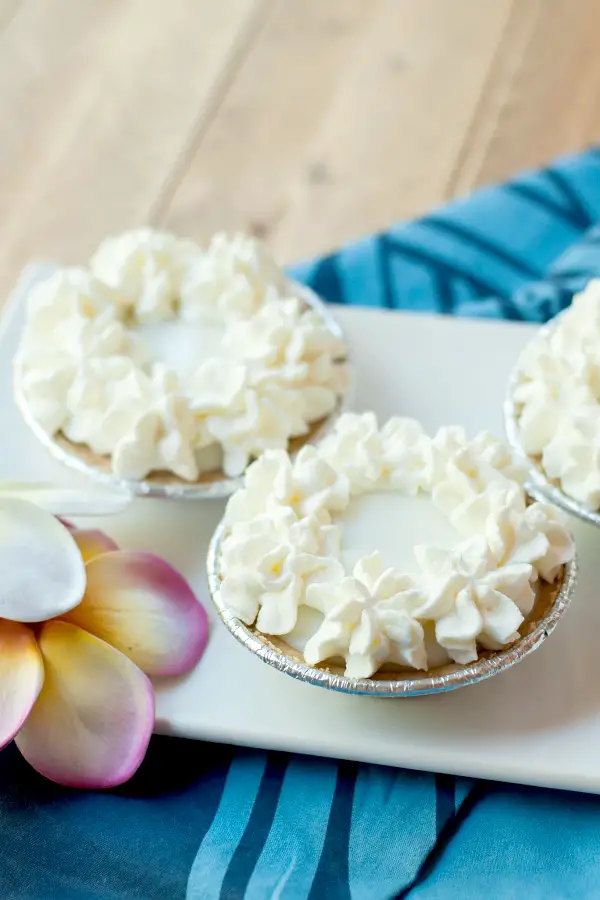 Another Hawaiian dish. This time it's dessert! Haupia is a traditional Hawaiian dessert that is basically like a coconut-y pudding-y jello-y… Okay, it's technically a pudding, since it's thickened with cornstarch, but it is thickened to the point that you can cut it into squares and pick it up and eat it. If you've never had haupia, try my traditional haupia recipe! Chocolate haupia pie is taking haupia, adding some chocolate, and putting it in a pie. Did I need to explain that, or did the name give it away?!
Classic chocolate haupia pie is made in a standard pie shell. That's fine and good and all, but sometimes I like graham cracker crust more than pie crust. I also like individual mini-sized desserts, so this time I decided to use mini graham cracker pie crusts. I just got these ones. You can make your own graham cracker crust, but I was feelin a little lazy, and these are cute.
Chocolate Haupia Pie Recipe
So basically the anatomy of chocolate haupia pie is: pie crust, chocolate coconut layer, coconut layer, whipped cream topping. I decided to make big "flowers" with the whipped cream, reminiscent of a Hawaiian lei. Creative, riiight?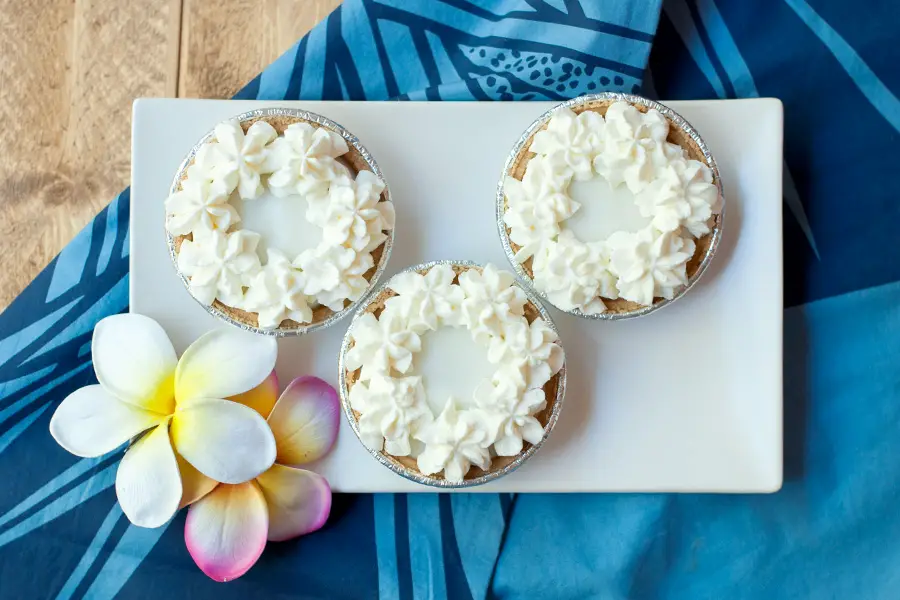 As a side note, see those flowers there? Clearly fake, especially since I'm not living in Hawaii… It's a plastic plumeria hair piece that I wore for my wedding (which was in Hawaii, where my husband is from). Woohoo, I got some use out of it again! It makes me happy when I actually use my wedding stuff again. Like, I spent all this money on everything, I should be able to get more than one use out of it right??? So that made me a little happy.
These chocolate haupia pies are sooo yummy, like a bite of the tropics… plus chocolate! Win and win.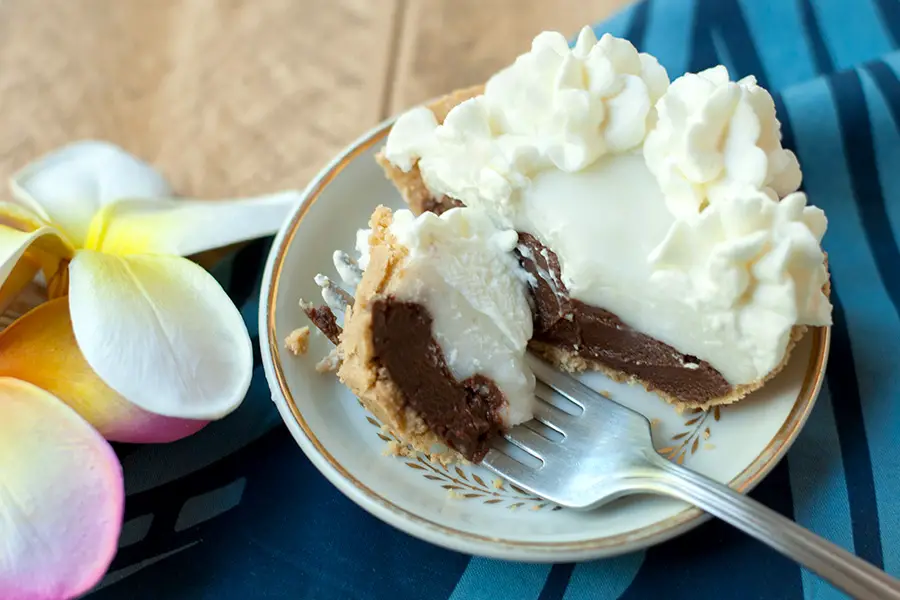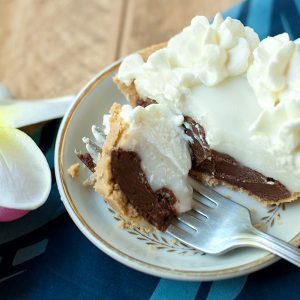 Chocolate Haupia Pie
A popular Hawaiian dish, chocolate haupia pie is made with a chocolate coconut layer, a coconut layer, and a whipped cream topping in a pie (or in this case, graham) shell.
Instructions 
Make Coconut Mixture
In a medium saucepan, combine milk, sugar, and coconut milk.

1 can coconut milk,

1 cup milk,

1/2 cup sugar

Meanwhile, combine cornstarch and water and whisk to fully combine.

1/2 cup cornstarch,

1 cup water

Once coconut milk is boiling, reduce to a simmer and whisk in cornstarch slurry.

Continue to stir over low heat until mixture is thickened, to the consistency of pudding.
Make Chocolate
Melt chocolate chips in a glass bowl in the microwave (make sure to stir occasionally so it doesn't burn).

1 1/4 cup semi-sweet chocolate chips
Combine
Divide coconut mixture evenly into two bowls and stir chocolate in to one.

Spread chocolate mixture onto the bottoms of pie shells and smooth out.

10 mini graham cracker pie/tart shells

Top with coconut mixture and smooth out.
Serve
Before serving, whip the cream with sugar and layer on the pies.

Optional: garnish with chocolate shavings.

1 cup whipping cream,

2 tbsp sugar
Notes
You can use a regular pie crust, a graham cracker pie crust, or individual sized graham cracker pie shells. BUT the individual size shells come in packs of six. I made six and then put the rest into regular containers and ate it without the crust. Also delicious. 
Nutrition
Nutrition Facts
Chocolate Haupia Pie
Amount per Serving
% Daily Value*
* Percent Daily Values are based on a 2000 calorie diet.